Light plays a crucial role when it comes to off-roading or simply making a statement on the road. That's why we're thrilled to introduce the Morimoto Rock Light System, a game-changer in automotive lighting. Designed for the most popular trucks, SUVs, and even powersports, this system is the epitome of performance, intensity, and reliability. Let's dive into what makes this rock light system the ultimate choice for your vehicle.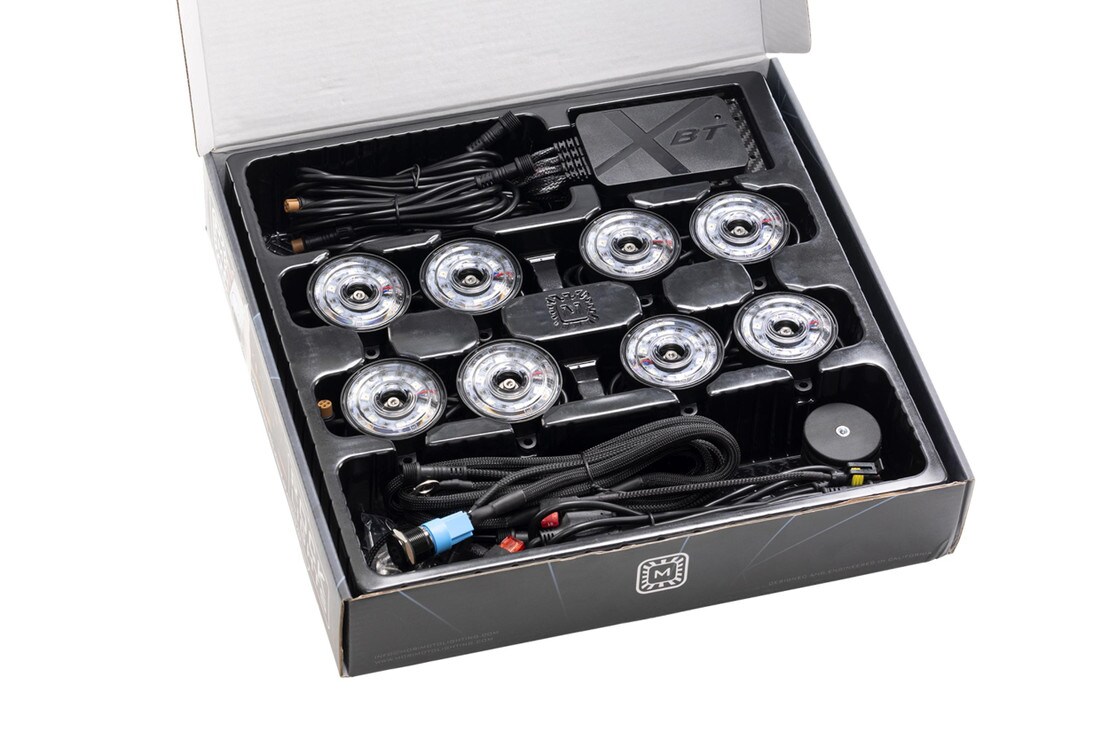 MORIMOTO ROCK LIGHT KIT: COLOR CHANGING RGB (8 PC)
Starting at $400
Features That Set Us Apart
You don't want to compromise when it comes to automotive lighting, especially for off-road adventures or city cruising. That's why we've focused on four key areas that truly set the Morimoto Rock Light System apart from the competition. We've thought of everything from unparalleled brightness and smart control capabilities to hassle-free installation and a plug-and-play system. Let's delve into each of these standout features to see why this rock light system is the ultimate choice for your vehicle.
Unmatched Brightness
These second-gen rock lights are designed to maximize intensity, whether you're on a trail or a city street. Each puck uses 6x 3W RGB LEDs, projecting through a high-clarity polycarbonate lens. One puck alone can illuminate an entire wheel well in a virtually infinite variety of colors.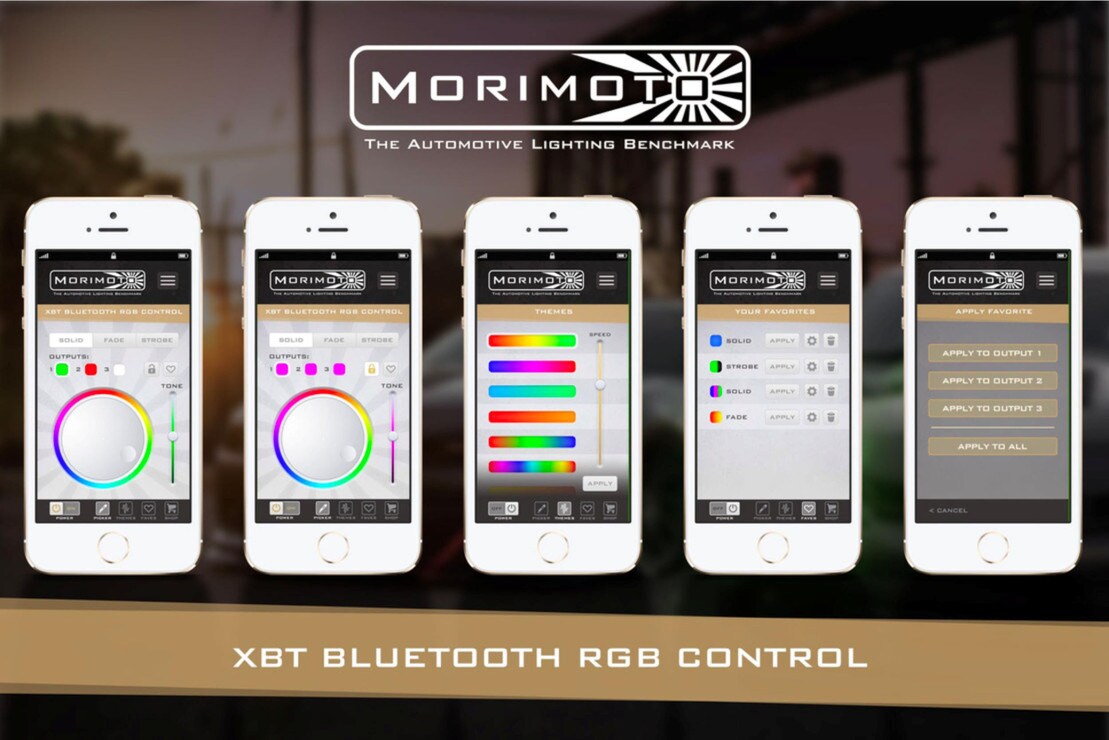 Smart Control with RGB Bluetooth Controller
Manage zones, colors, effects, and more with the Morimoto XBT Color Control app, compatible with the latest Android and iOS phones. The controller even has an extra output channel for additional RGB or RGBW lights, all controllable from the same app.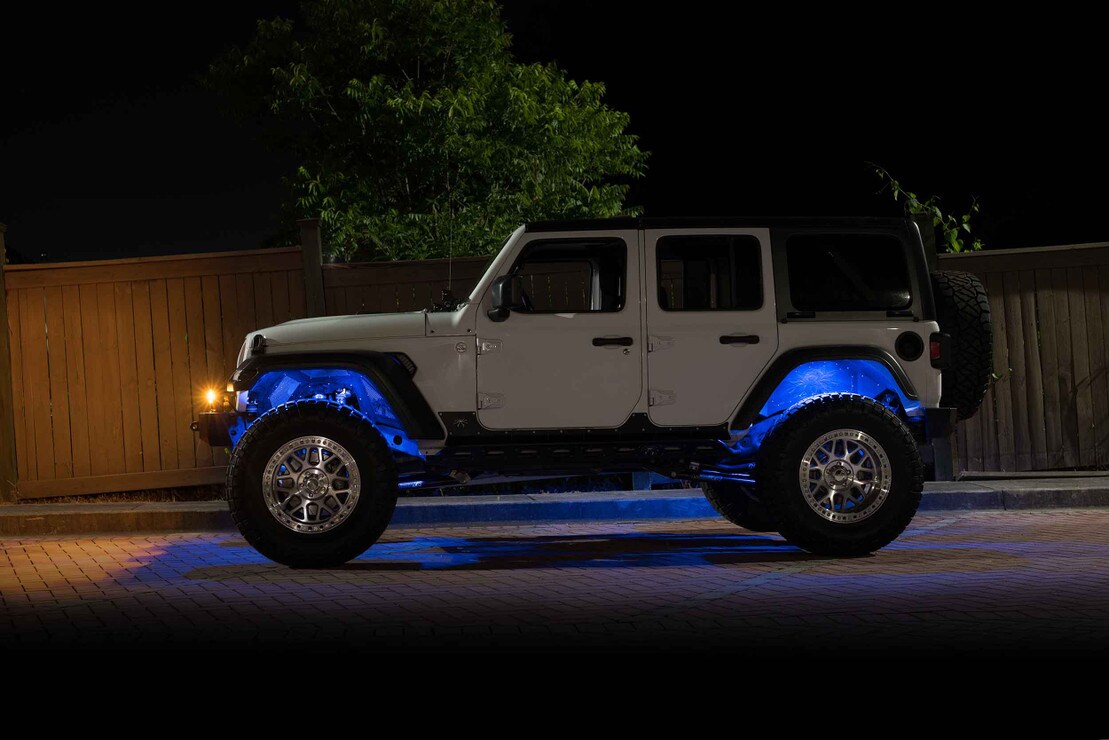 Hassle-Free Installation
Morimoto offers two different mounting options for a seamless installation process. Choose between integrated mounting points or rubberized magnetic mounts that require no drilling. Each magnet can hold up to an 8kg (17.6lbs) load, ensuring a secure fit.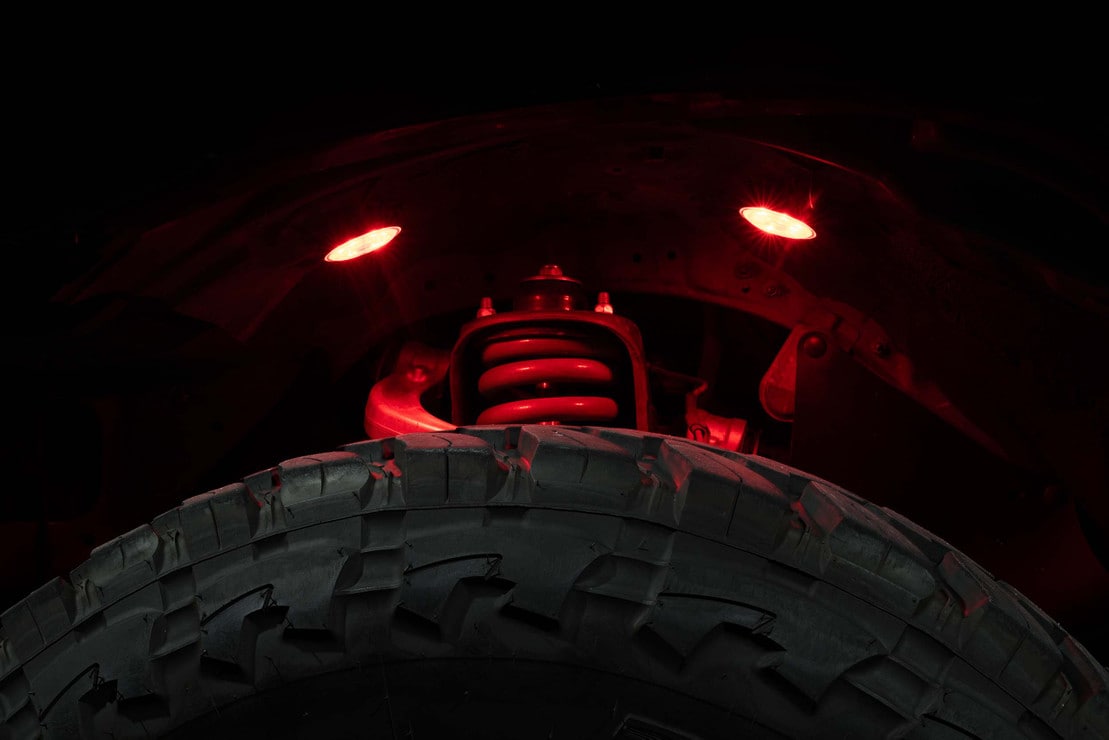 Plug N Play System
This kit comes complete with a wire harness controlled by an in-cabin push-button switch. It includes all necessary splitters and extensions, making the installation process a breeze.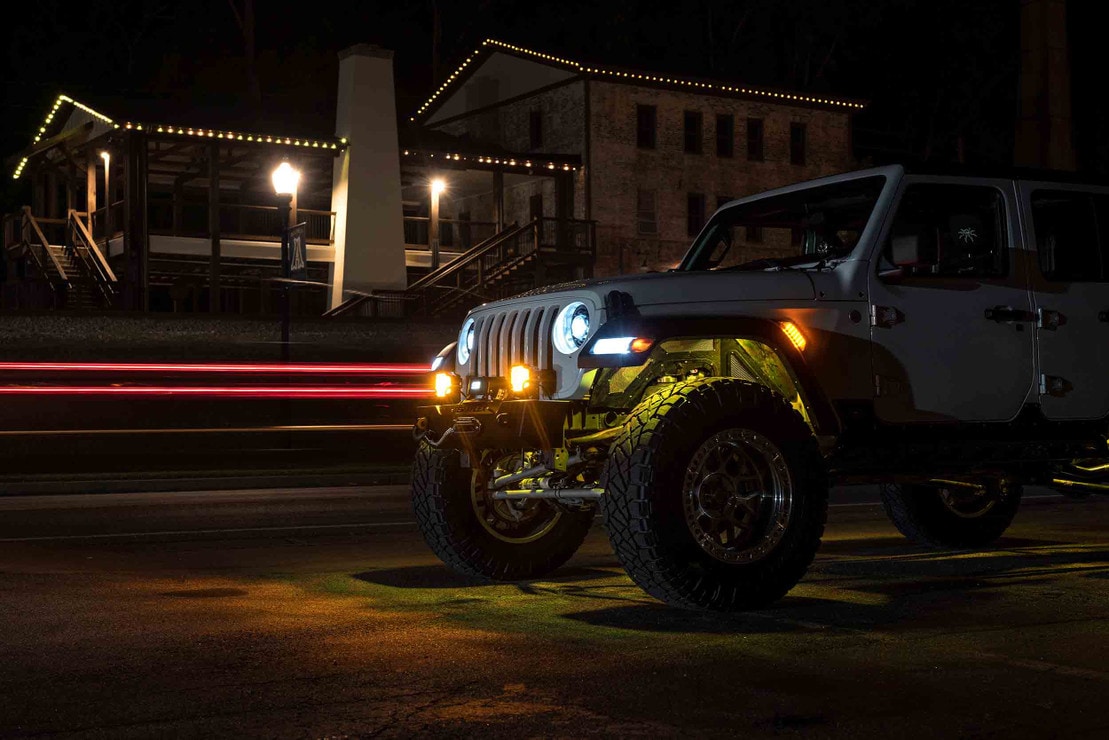 Built to Last
Durability is often the make-or-break factor when choosing the right rock light system for your vehicle. After all, what good is a high-performance lighting system if it can't withstand the rigors of off-road adventures or daily wear and tear? That's Morimoto has engineered the Rock Light System to be as rugged as the vehicles it's designed for. From its bash-proof design to the rigorous testing it undergoes, let's explore what makes this system a long-lasting investment for your lighting needs.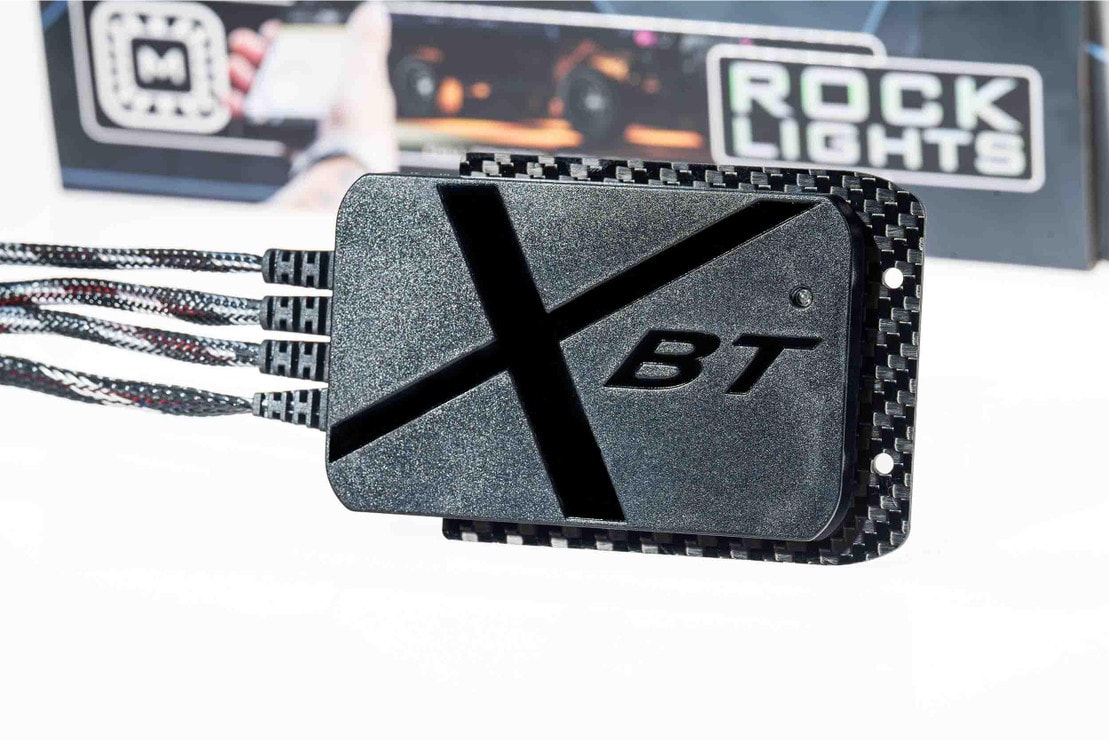 Bash-Proof Design
Constructed with beefy diecast housings and a 2mm thick Makrolon Polycarbonate lens, these lights are built to withstand extreme conditions. They come with a limited lifetime warranty, so you can adventure without worry.
HR Tested and Approved
At Headlight Revolution, we rigorously test all products to ensure they meet our high standards. We're brand-agnostic, committed to delivering the best product for your specific needs.
What's Included
8x Morimoto V2 Color Changing Rock Lights

1x Morimoto XBT-V2 Bluetooth RGB Controller

Plug n Play w/ In-Cabin push button

Mini and Micro Fuse Adapters

2x Over-molded two-way splitters

4x Over-molded Extension Cables (6ft / 185cm)

8x Screw-on 8kg/17.6lb Magnet mounts

Screws, Zip Ties, User-Guide

Limited Lifetime Warranty
Compatibility and Tech Specs
Perfect for Trucks, Jeeps, SUVs, and Powersports

Electrical Systems: 09-18V

Lifespan: 50,000 hours

Bluetooth: Works with latest iOS and Android smart phones
The Morimoto Rock Light System is not just another lighting accessory; it's an investment in quality, performance, and reliability. Whether you're an off-road enthusiast or someone who loves making a statement on the road, this system has covered you.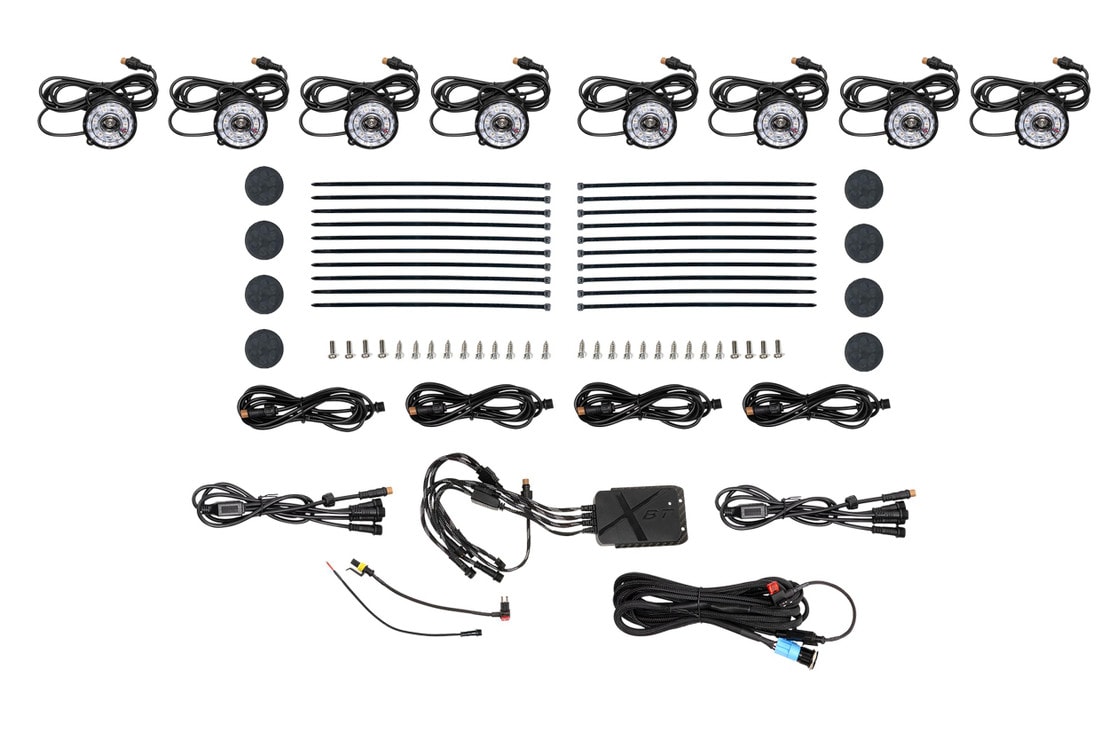 MORIMOTO ROCK LIGHT KIT: COLOR CHANGING RGB (8 PC)
Starting at $400
Ready to Illuminate Your World?
Head over to Headlight Revolution to grab your Morimoto Rock Light System today. Got questions or experiences to share? Drop them in the comment section below. Let's light up your adventures!