Do you want top-quality fog-cutting lights for your Jeep JL/JT? You should think about upgrading to the high-performance Morimoto 4Banger LED fog lights. Let's explore why these 4Banger lighting units are the ultimate choice for your Jeep JL/JT.
Why You Should Choose Morimoto 4Banger LED Fog Lights
Custom Engineered for Jeep JL/JT
Morimoto engineers devoted countless hours in the garage, perfecting the design and fitment of the 4Banger brackets. The result is a set of fog light brackets specifically tailored for Wrangler JL or Gladiator JT owners. This helps provide the perfect fit for your Jeep fog lights.
Easy Installation of LED Fog Lights
The 4Banger LED fog lights are designed to bolt-on and plug-n-play for both factory plastic and factory steel bumpers. No modifications to your vehicle or wiring are necessary. Each kit includes the required hardware and high-quality wiring adapters to connect with your factory fog light harness.
Fully Adjustable Jeep Fog Lights
With +/- 6 degrees of vertical adjustability, you can control the aim of these powerful LED fog lights. This makes sure the intensity ends up on the road ahead, not in the eyes of oncoming traffic.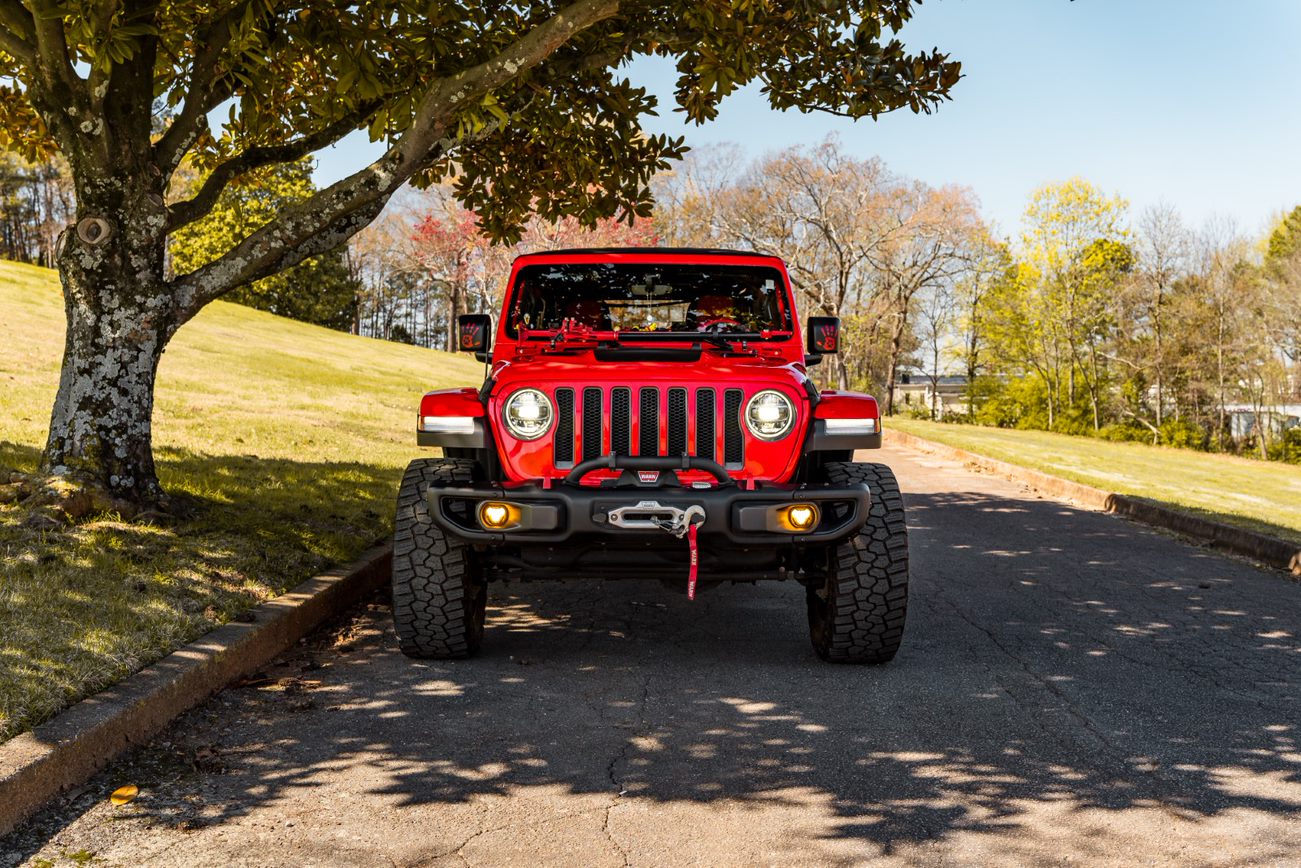 Air-Cooled Design for LED Fog Lights
The brackets include ductwork that actively cools the LED pods. They improve lumen maintenance and eliminate heat-soak common in other LED pod fog light kits.
All-Weather Performance of 4Banger Fog Lights
Choose between white-output and yellow-output versions. The white-output version is ideal for all-around visibility, while the yellow-output version excels in rain, snow, or fog.
NCS Wide Beam for Jeep Fog Lights
The NCS Wide Beam pattern is backed with Nichia LEDs, offering superior vertical gradient control and meeting SAE F photometric standards for on-road fog light use. The NCS Wide beam is 14% brighter than its closest competitor while consuming 28% less power.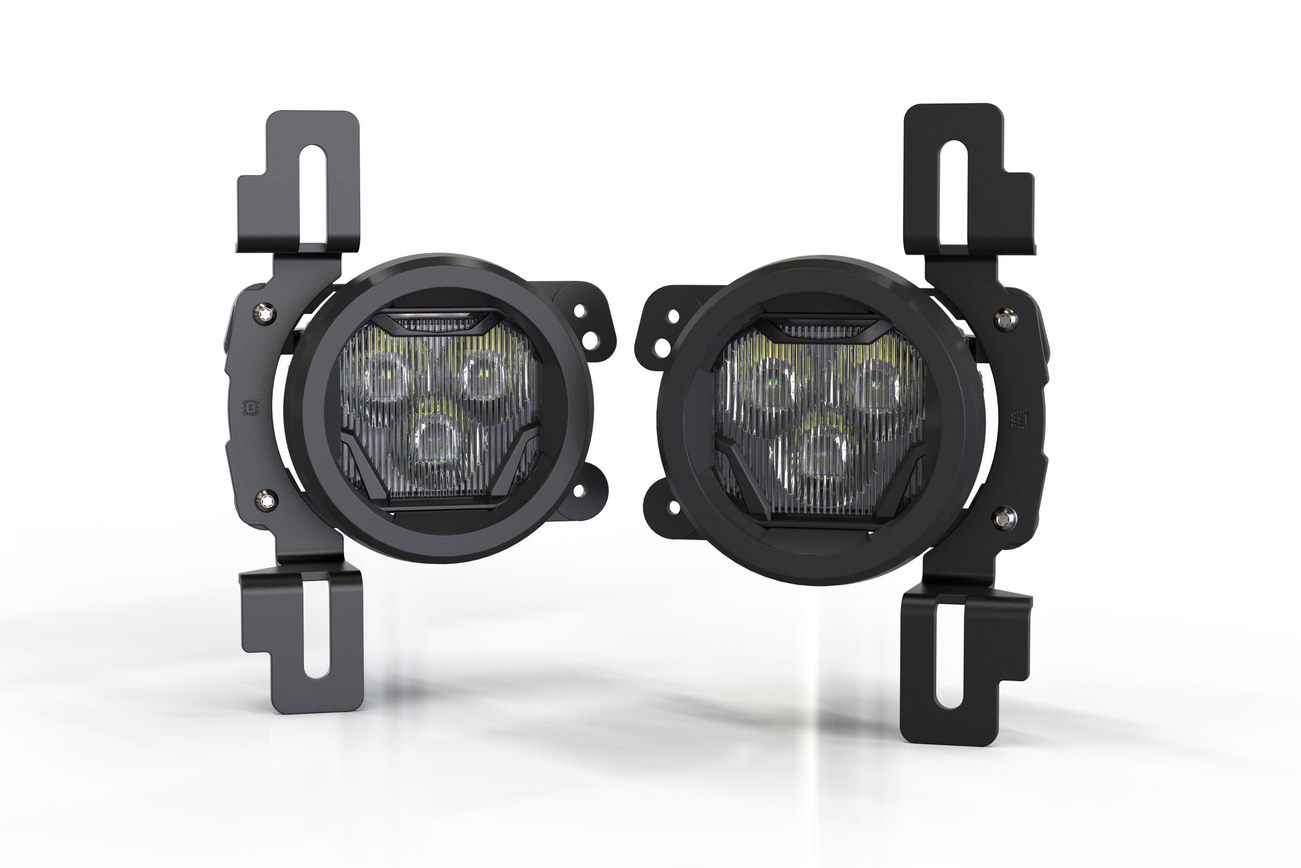 MORIMOTO 4BANGER LED FOG LIGHTS: JEEP JL / JT
What's Included
2x Fog Light Brackets (One Pair) for Morimoto Steel or Plastic Brackets
2x LED Pods (One Pair) Morimoto 4Banger NCS Wide (Optional Color)
Complete Stainless Steel Hardware Pack
Plug N Play Connection Kit
Limited Lifetime Warranty
Compatibility
The Morimoto 4Banger LED Fog Lights are compatible with 2017+ Jeep Wrangler JL (excluding Sport Trim) and 2020+ Jeep Gladiator JT (excluding Sport Trim). The wide beam photometrics are SAE F 20 compliant.
In a Nutshell: Amplify Your Jeep JL/JT Adventure with Morimoto 4Banger LED Fog Lights
To sum it up, the Morimoto 4Banger LED Fog Lights are the ultimate game-changer for your Jeep JL/JT. With easy installation, superior visibility, and energy-efficient design, these fog lights transform your driving experience, regardless of the weather condition.
Seize the opportunity to enhance safety and style – gear up your Jeep JL/JT with Morimoto 4Banger LED Fog Lights today! Remember, settling for less is not an option when it comes to your vehicle's lighting.