Morimoto 4Banger LED Pod Off-Road Lights | HR Tested
Could these be the greatest pod lights to date? Quite possibly. The mixture of design, output, and versatility give great marks to the new Morimoto 4Banger LED Pod Off-Road lights. To put them to the test, we will take an in-depth look at each 4Banger model.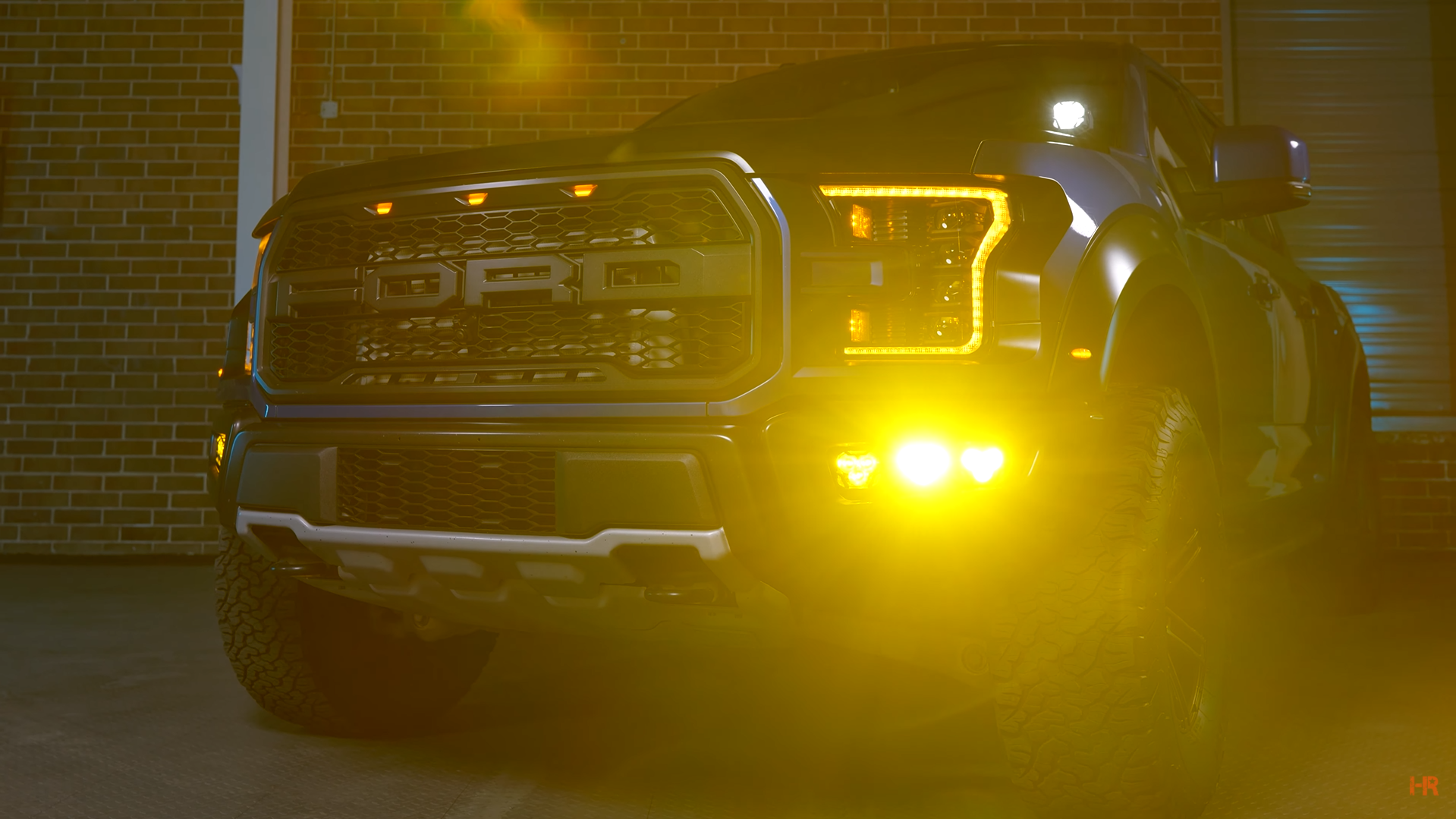 The 4Banger introduces a new edition to the LED pod off-road light market in its level of versatility and light output. Its compact design and unique styling set this light apart from the crowd. We have put them to the test so you can be ready to pull the trigger when they hit stores on 11/19/2021!
ABOUT
With the new 4Banger LED pod lights, Morimoto has offered two different trim levels. The first is the premium model 4Banger HXB that utilizes Osram HX Boost LED chips. The second is the entry-level 4Banger NCS that runs Nichia LED chips for its output source.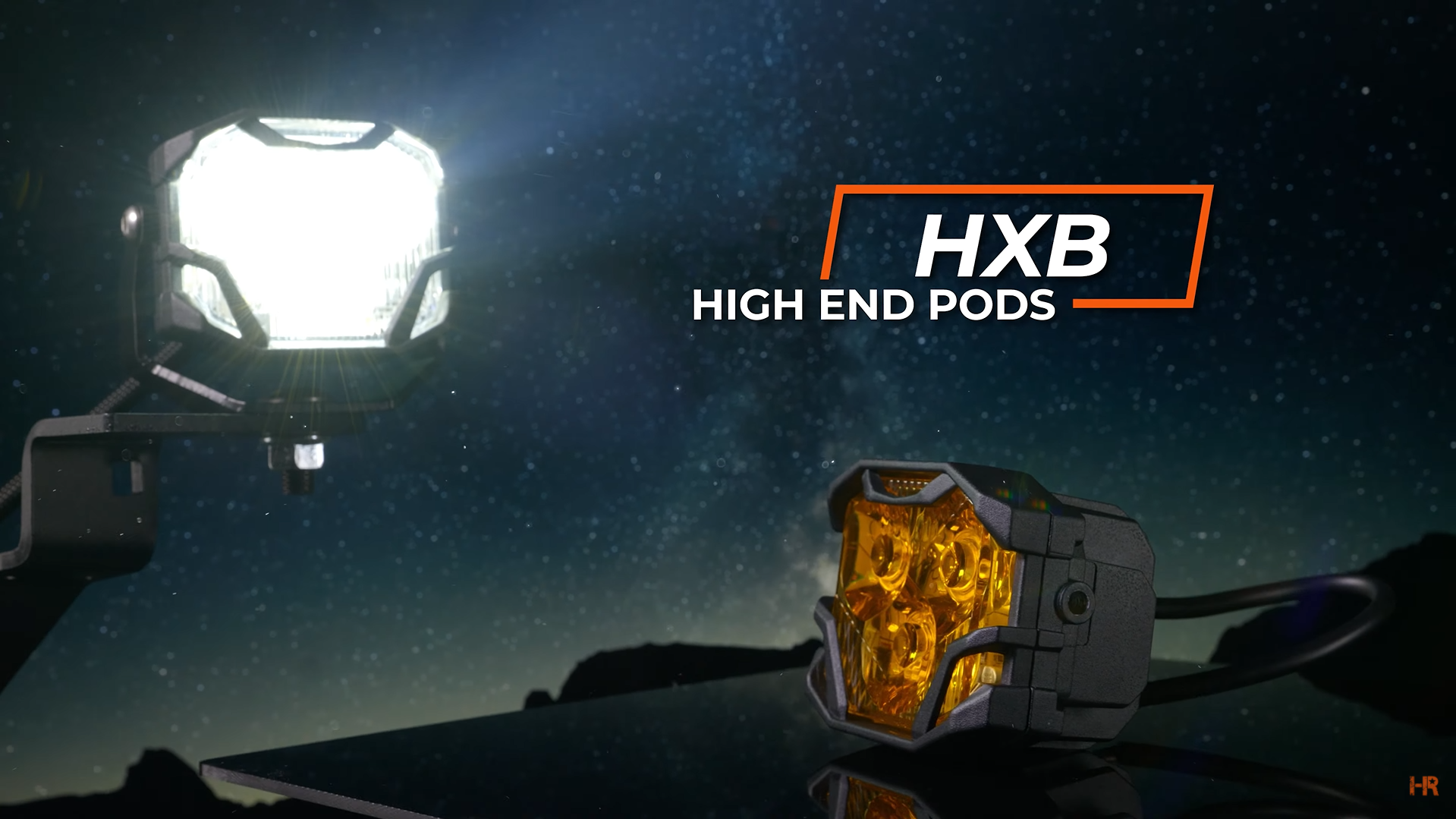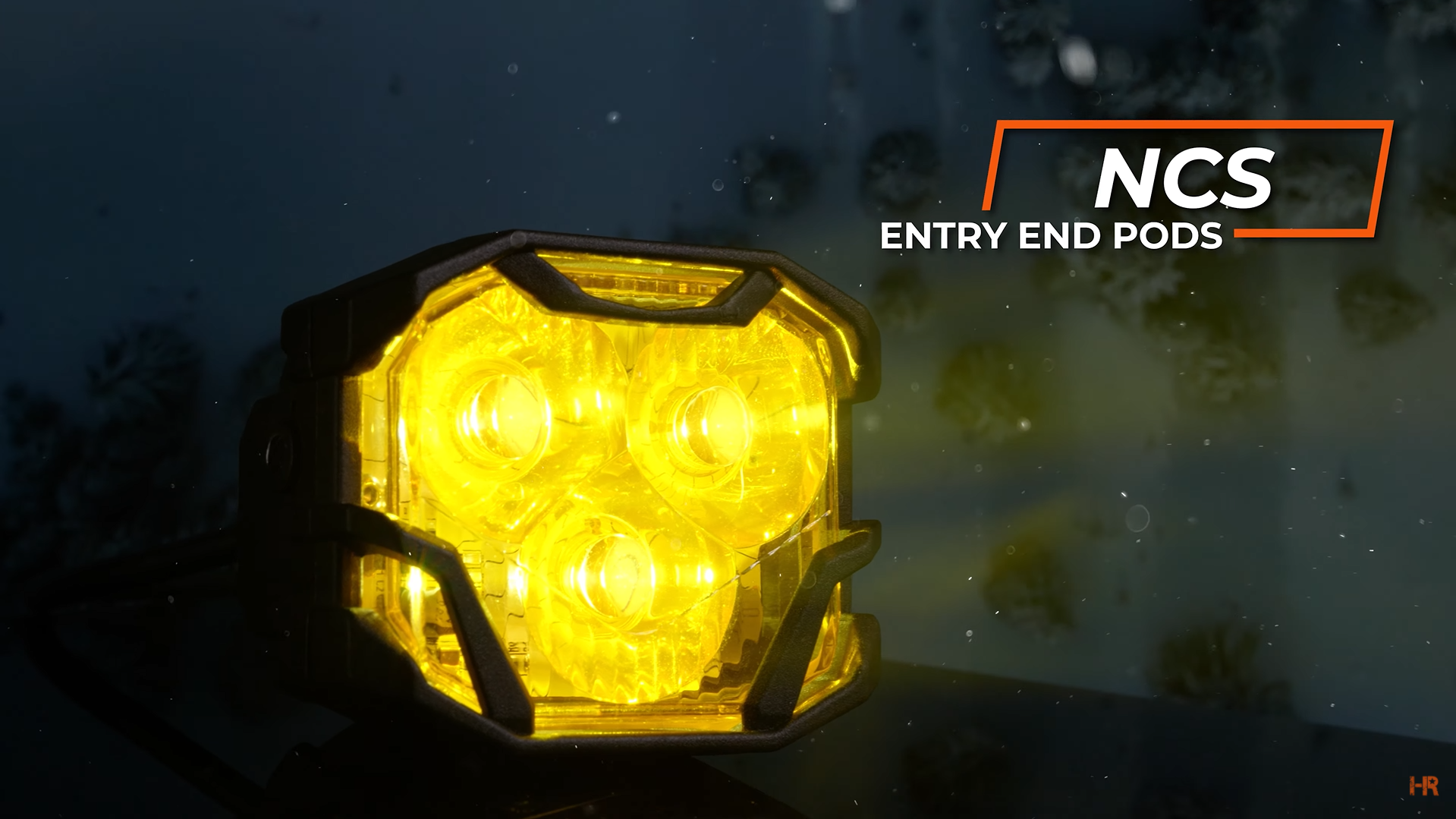 Morimoto has offered these lights in three different beam patterns: wide, spot, and combo. The most common application for these lights will either be A-Pillar mounted lights or integrated fog lights. However, these lights are incredibly flexible thanks to the compact design and can really be used in several different ways. So, if you can dream it, these pods will most likely suit your need.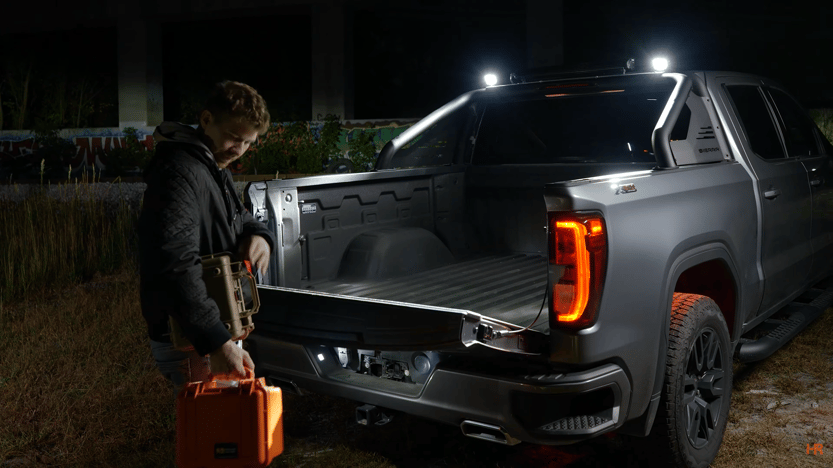 The A-Pillar and integrated fog light mounts are also vehicle-specific. Morimoto has designed these LED pod lights to work with a range of vehicles to ensure you get the best fit. Not to mention, the 4Bangers's overall size is 30% more compact than every other LED pod light on the market. The smaller size plays a huge factor in allowing the 4Banger's to have OE fitment in fog light applications.
Take the Gen 2 Raptor for example. Here we can see how the Diode Dynamic SS3 pod lights fit in this application. The pod light on the far left is cut off by the bumper, and the middle pod light is crooked and overlapped by the pod light on the far right.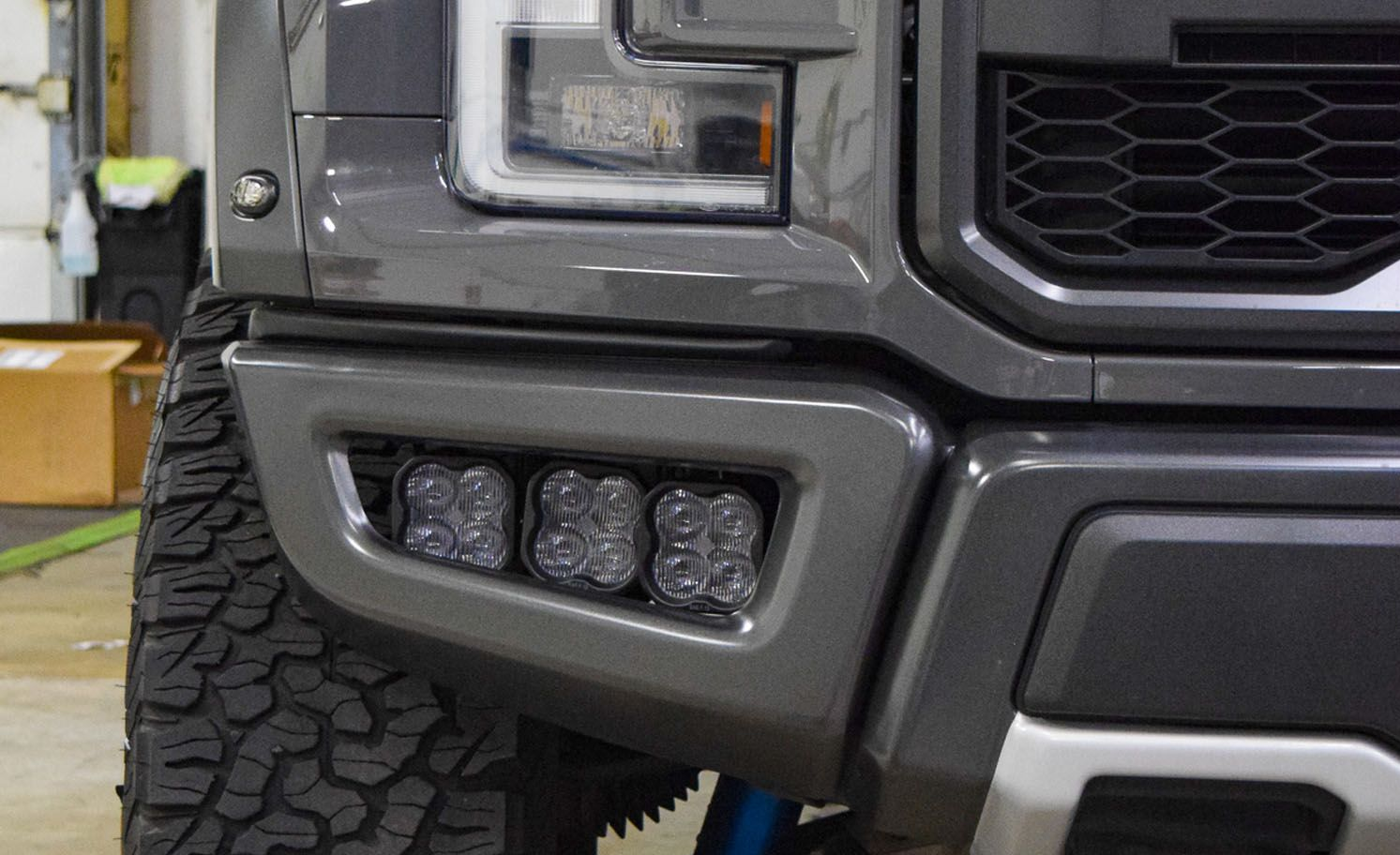 Now here is the 4Banger kit for the Gen 2 Raptor. As you can see, these pod lights fit perfectly with no overlapping, no crooked pods, and none of the lights are cut off by the bumper.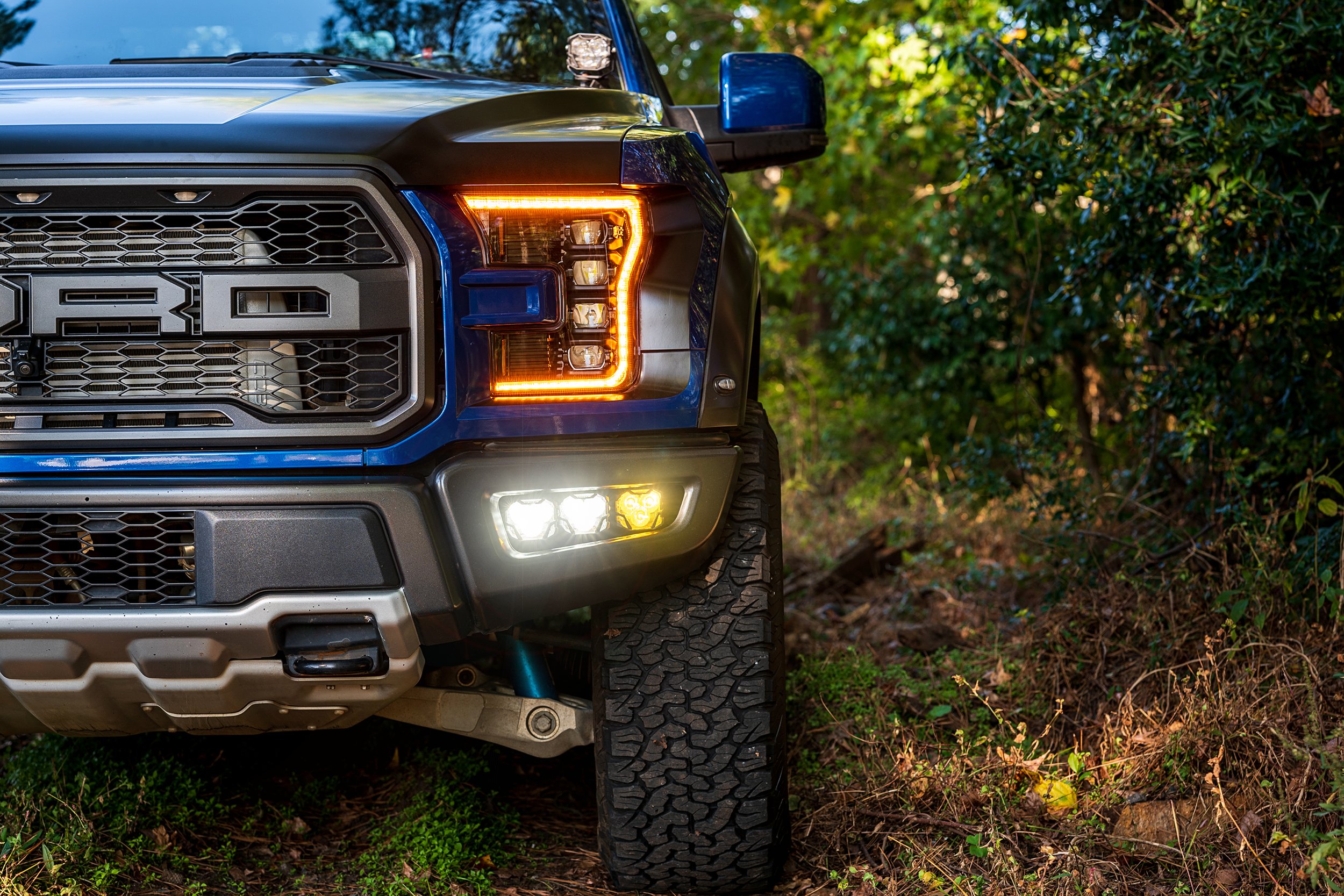 To make things easier, the 4Bangers come equipped with OEM fog light connectors that are catered to your vehicle. If you are not going with the integrated fog light application, you can get a universal relay and a light-up Morimoto switch that you can use to install and use the lights.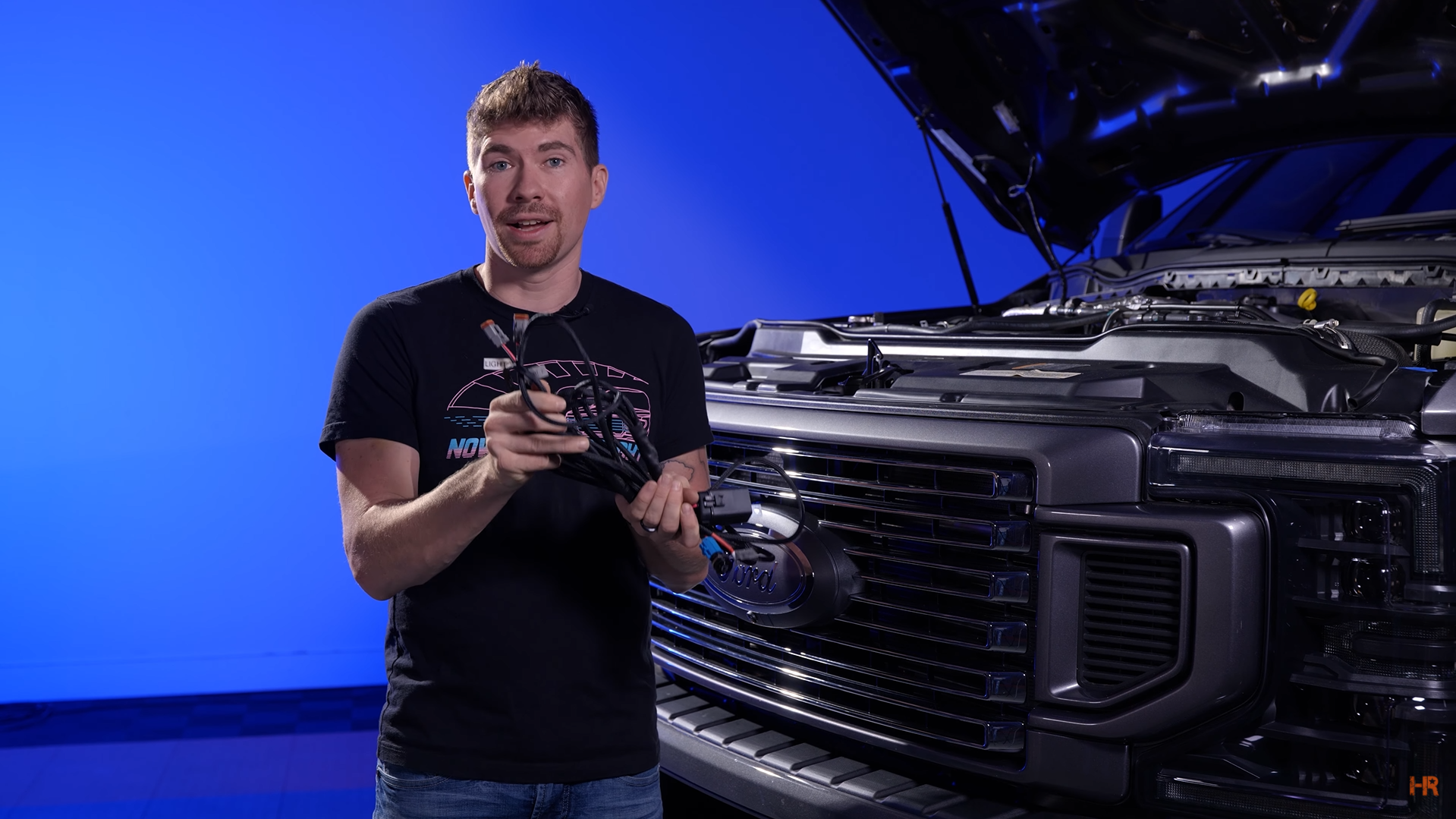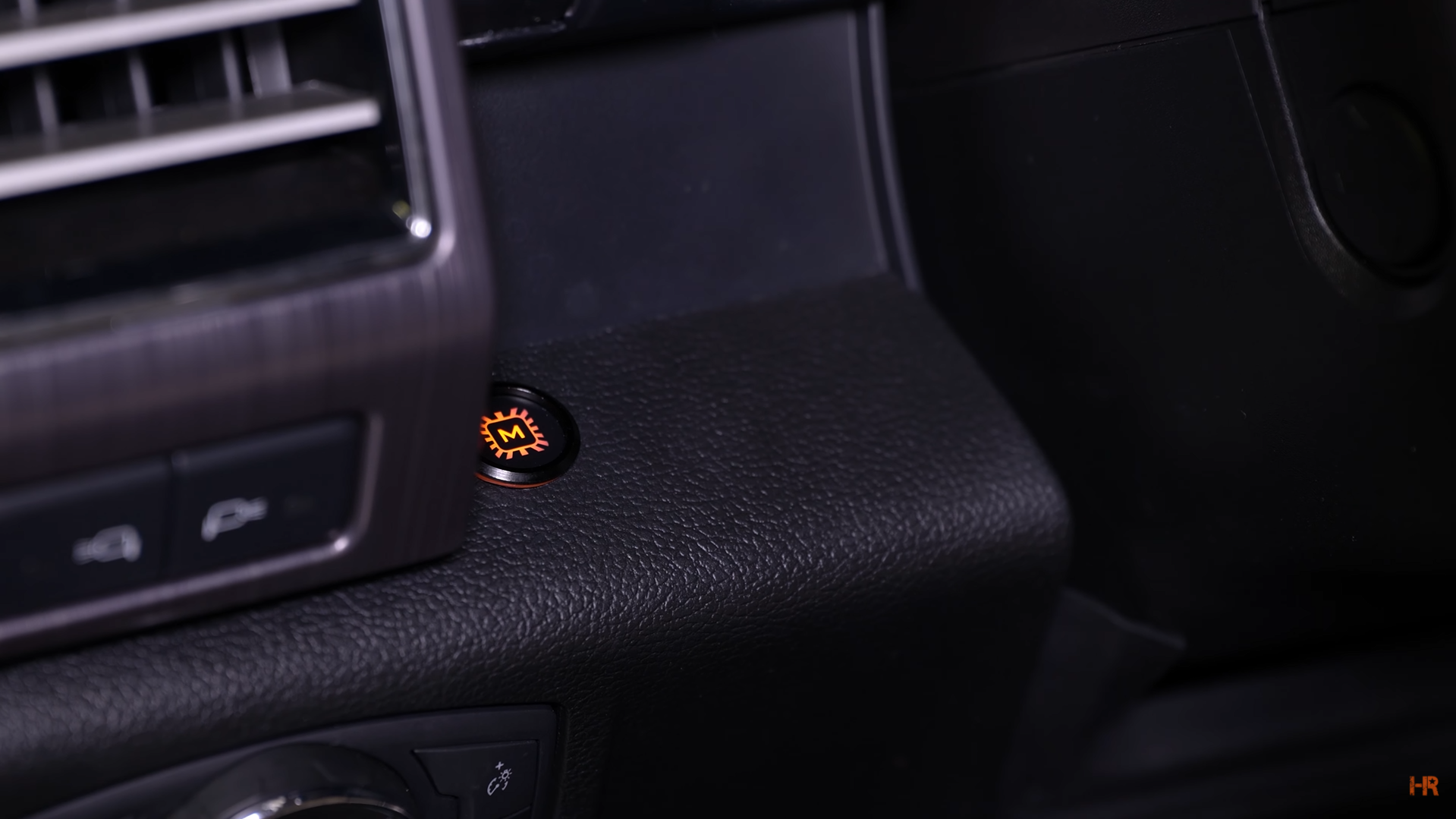 If you are looking for the most usable light, the wide beam patterns are what most drivers will need. A lot of times spot beams are too focused and combo beam patterns are just not wide enough for practical road use.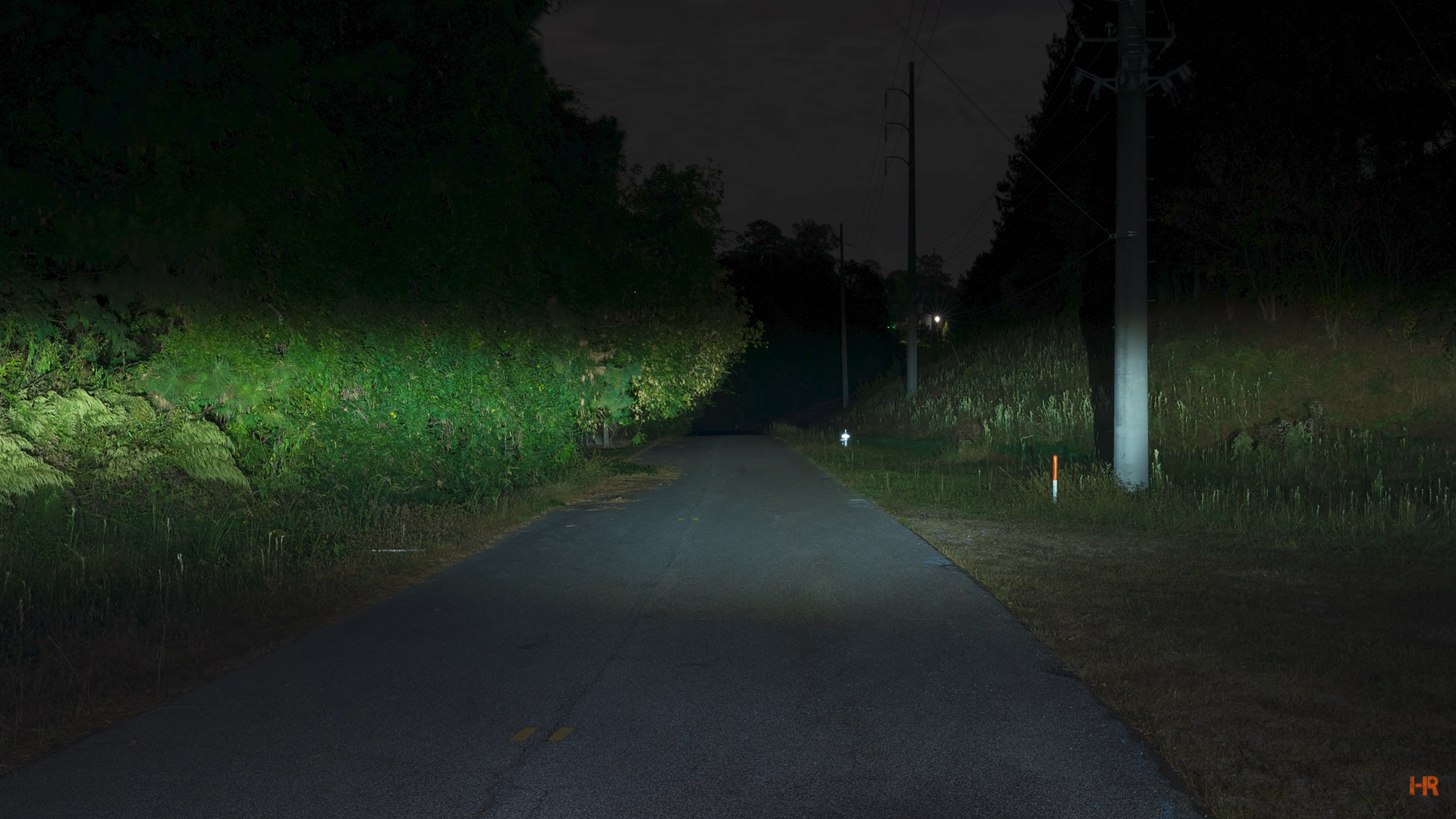 TECH TALK
Once you have decided what you will be using these LED pods for, you can then choose from two colors: yellow and white. With the premium HXB model, the yellow version comes with a white Osram XB Boost LED Chip with a yellow lens filter. In the entry-level NCS model, the yellow version of the light utilizes both a yellow filtered lens and a Nichia Phosphorus converted yellow LED chip.
When comparing the output between the HXB white and yellow options, you will lose roughly 30% of your brightness when you switch from the premium white HXB 4Banger to the premium yellow HXB. For the entry-level NCS model, due to the yellow NCS chip, you will see a smaller decrease in brightness when comparing the white NCS and yellow NCS models. Essentially, you are more likely to notice the difference in the HXB colors than the NCS colors.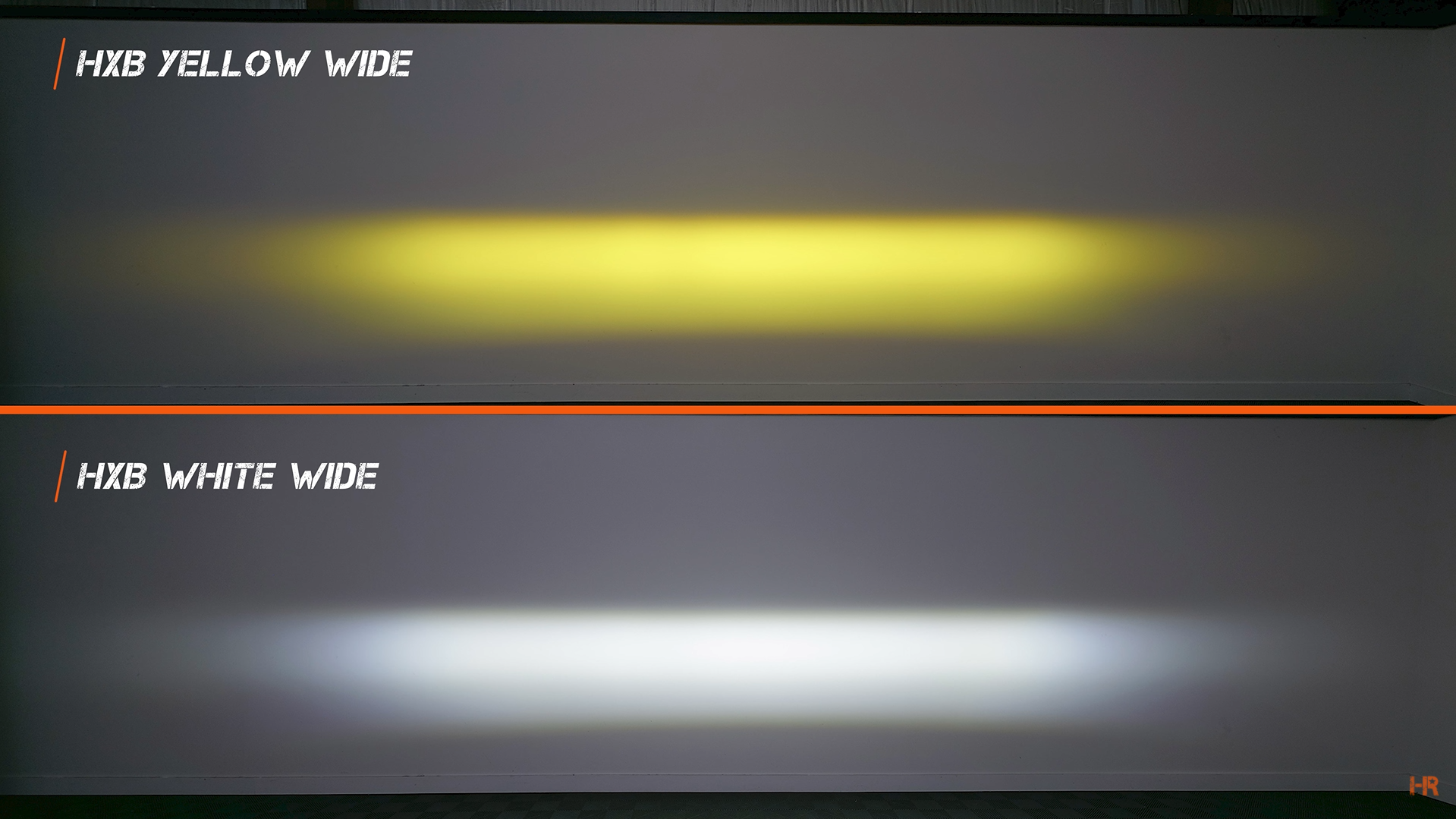 Another thing to note about the color is that the NCS and HXB have slightly different yellows to them. The NCS has a darker yellow to its beam than the HXB, which has more of a lighter yellow.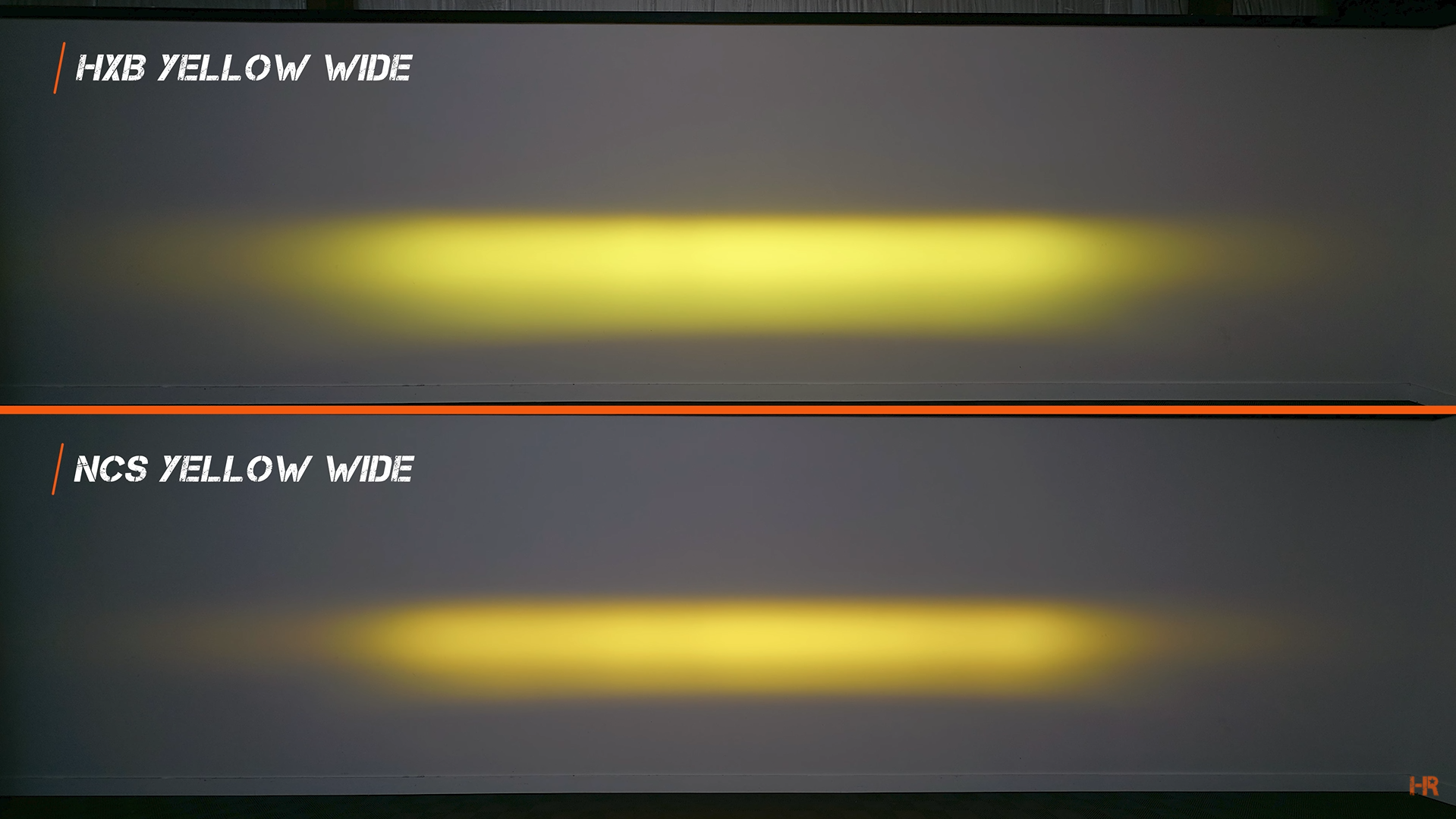 The advanced brightness and optimal beam pattern are in part due to the high-quality Total Internal Reflector (TIR) optic that each of the Morimoto LED pods uses. Other brands use a more traditional optic with a reflector or projector with a lens over it.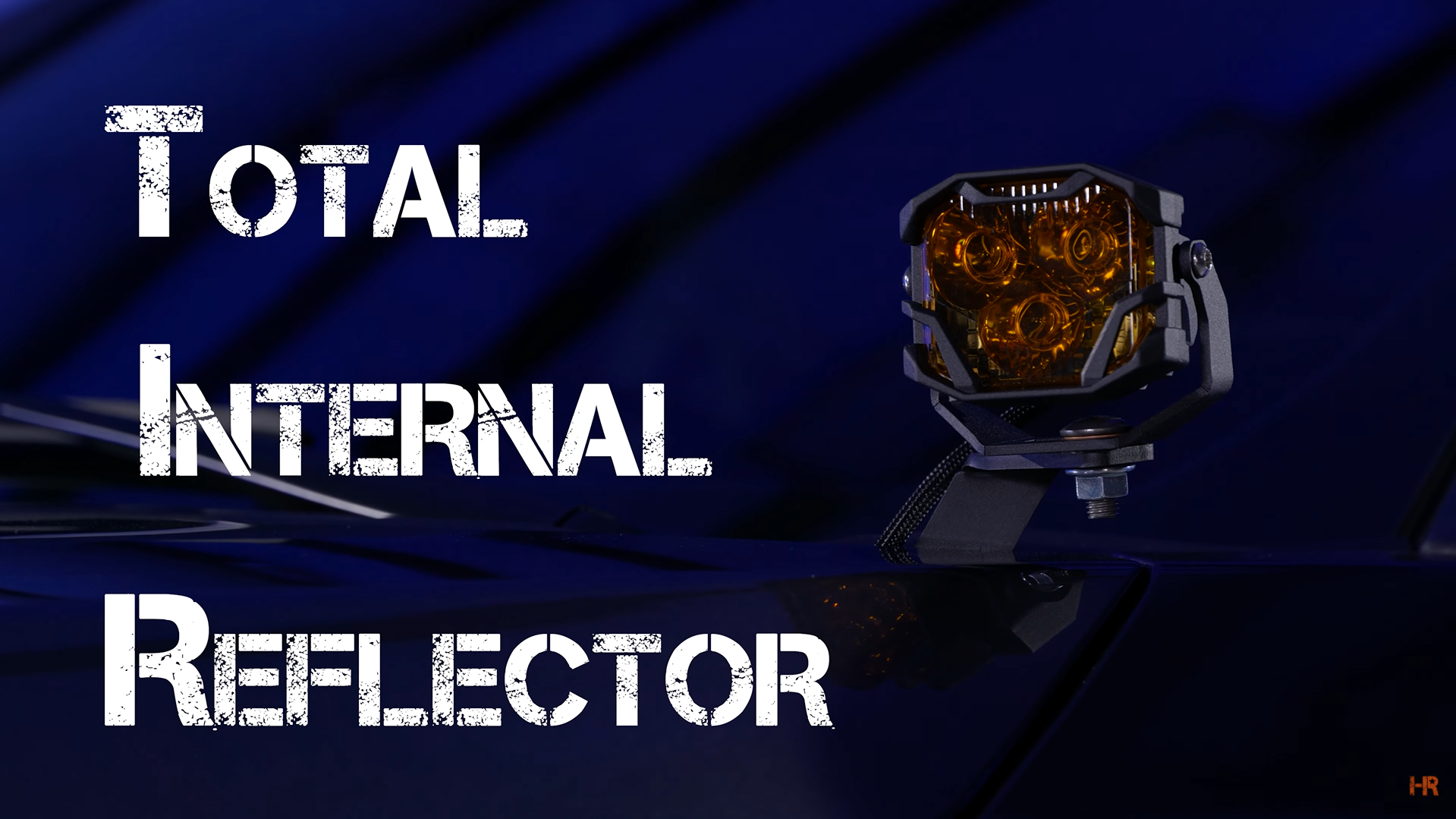 4BANGER LENSES
Rather than catering each pod light to a specific beam pattern, Morimoto took advantage of their lenses to generate the beam patterns. This is where the TIR optic comes into play.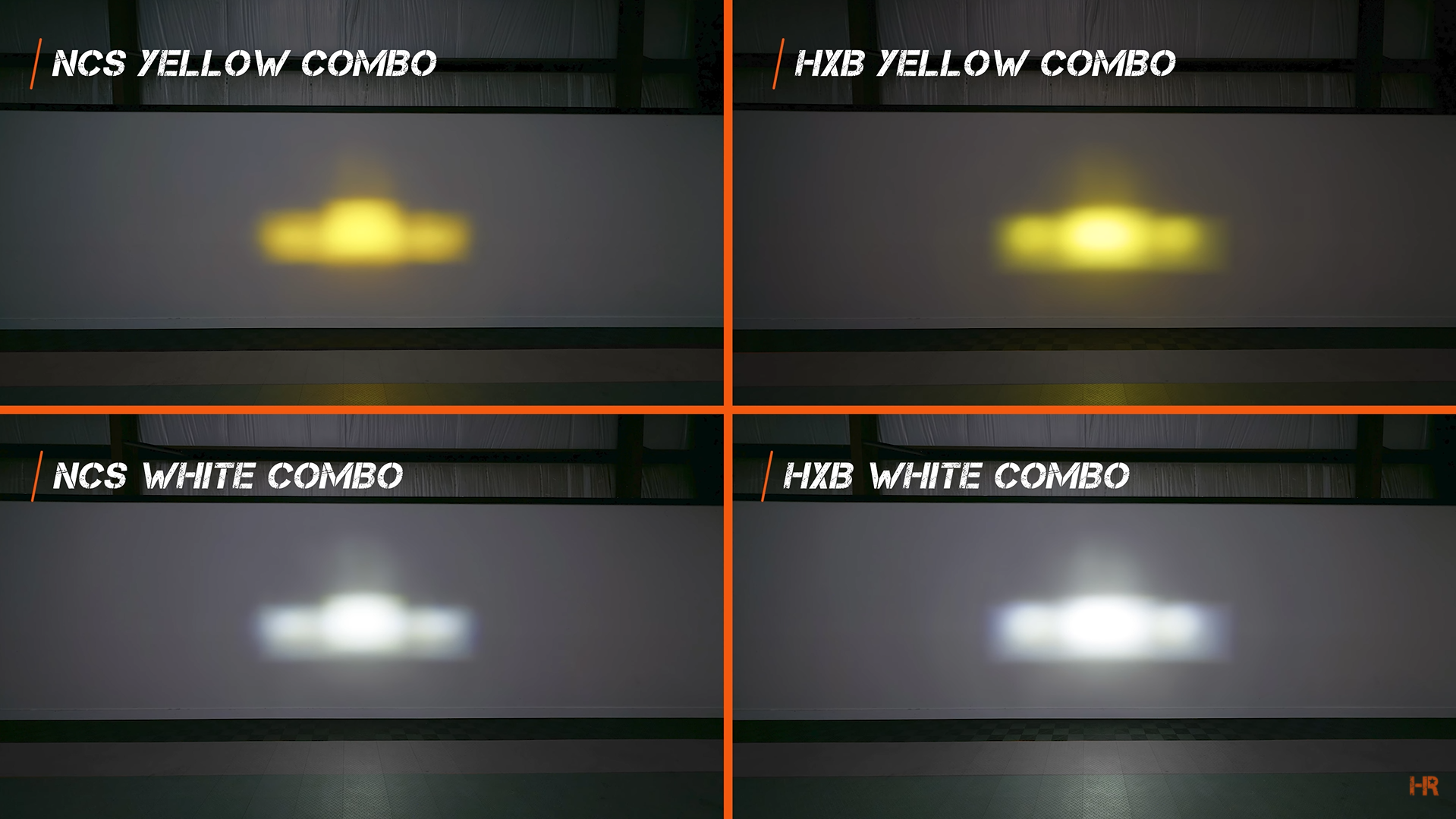 For example, the LED pod with vertical lines built into the plastic lens creates a wide beam. On the spot beam pod, there are no fluting lines at all on the lens. With the lack of lines, the light can organically flow through the optic without the fluting altering the beam's spread.
THE TEST
As per usual, to test the lights we set them up 25 feet away from a wall to see how they perform. This environment is not 100% reflective of how these lights will perform in the real world. However, this test will give you an idea of how bright they are and what the pattern looks like.
For extra security, we did put the 4Banger pods on one of our trucks and tested them out in the real world to best illustrate their performance.
Wide Beam
To begin with, we will look at the wide beam pattern. This is the most common beam pattern for daily use. A wide beam, or driving beam as some brands call it, gives a great fog light-type pattern. Out of all these wide beam fog lights, the Morimoto 4Banger NCS and HXB are the only LED pod lights at are SAE Compliant for road use.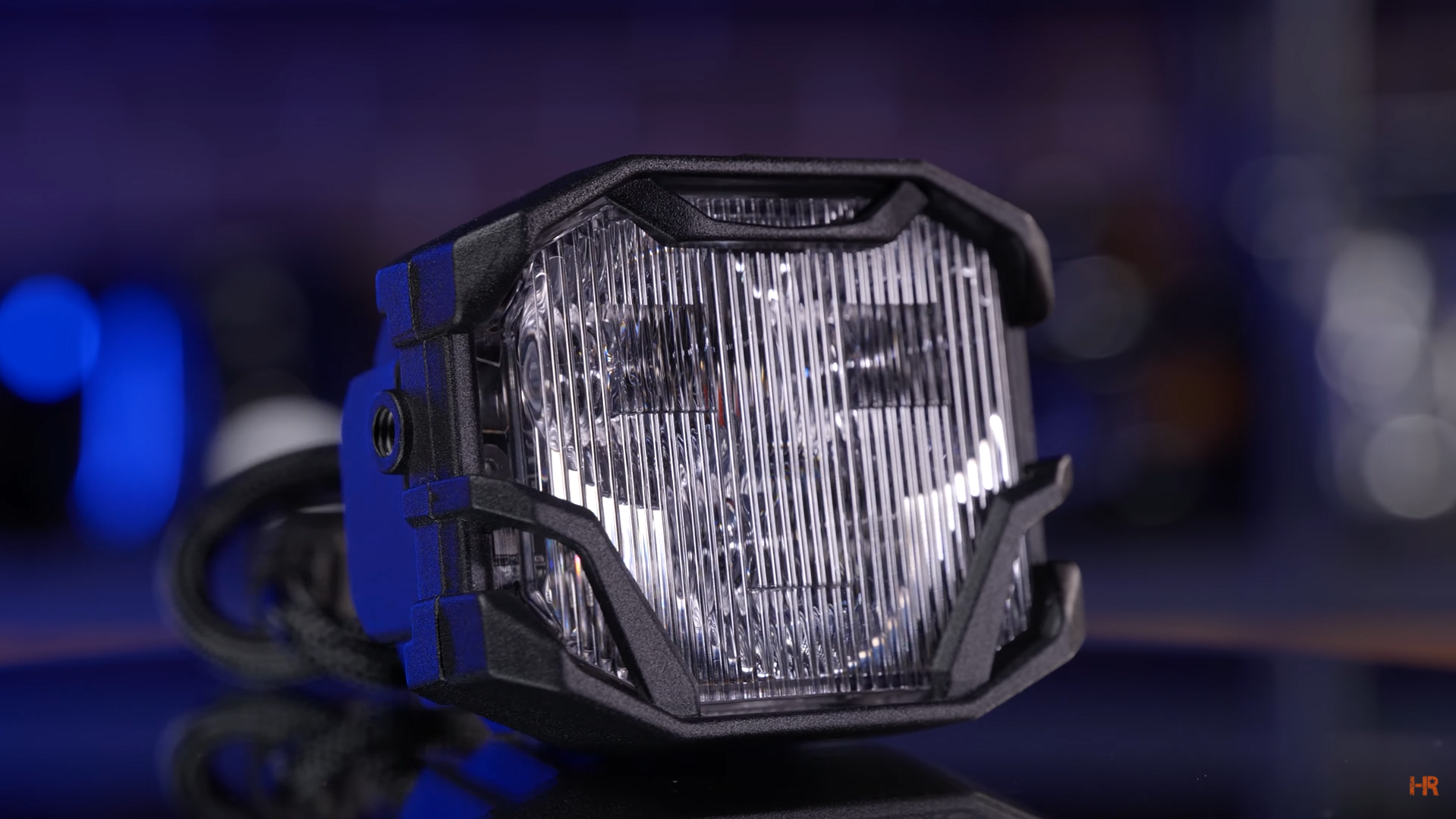 Morimoto 4Banger HXB (White)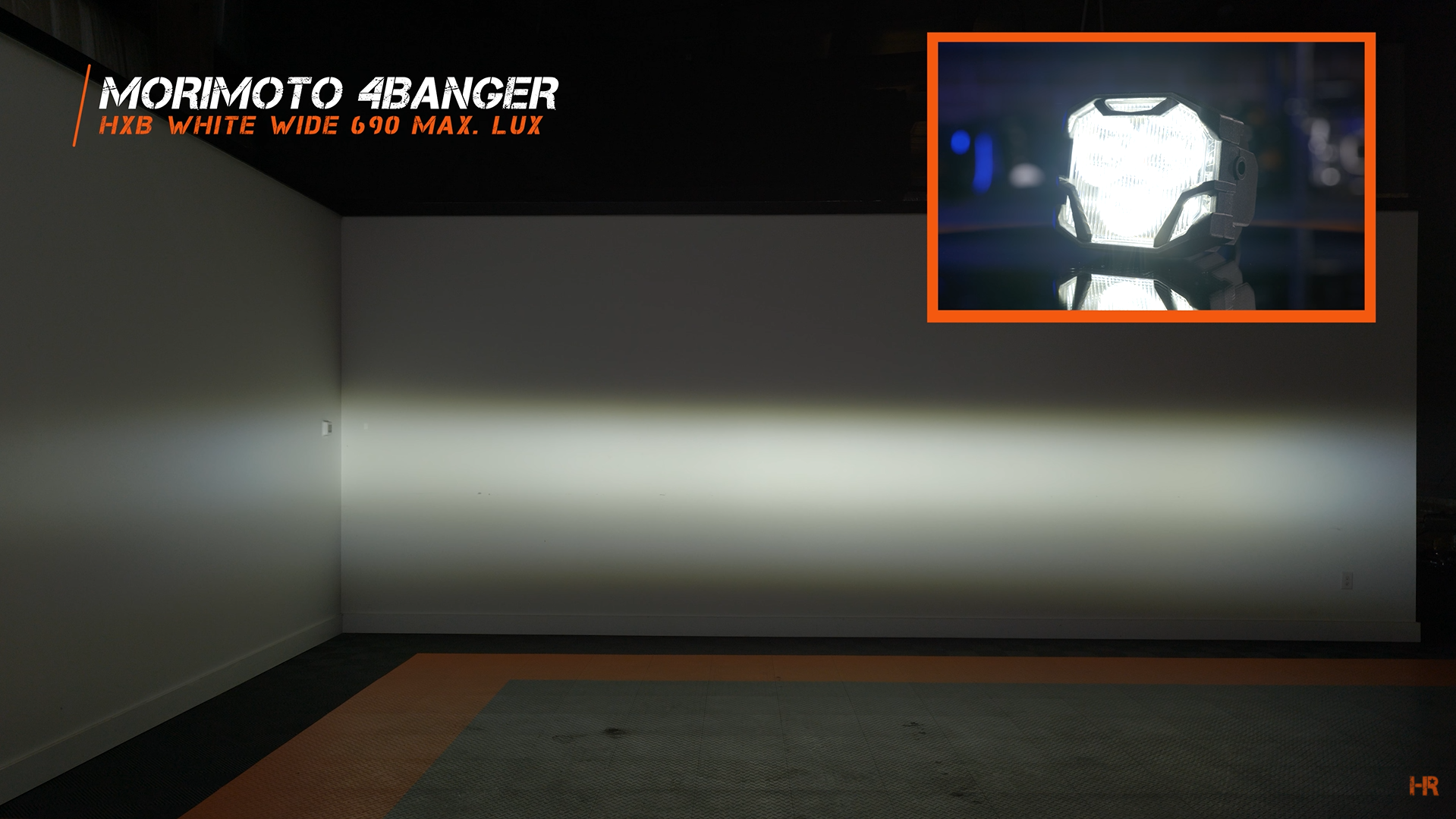 By far the brightest of the wide beams we tested, the 4Banger HXB Wide puts out 690 max. Lux. Something we really love about this specific model is how the pattern is brightest at the top of the beam. Additionally, the beam is uniformly bright from the left-most side of the light to the right-most side.
Diode Dynamics SS3 Max Fog (White)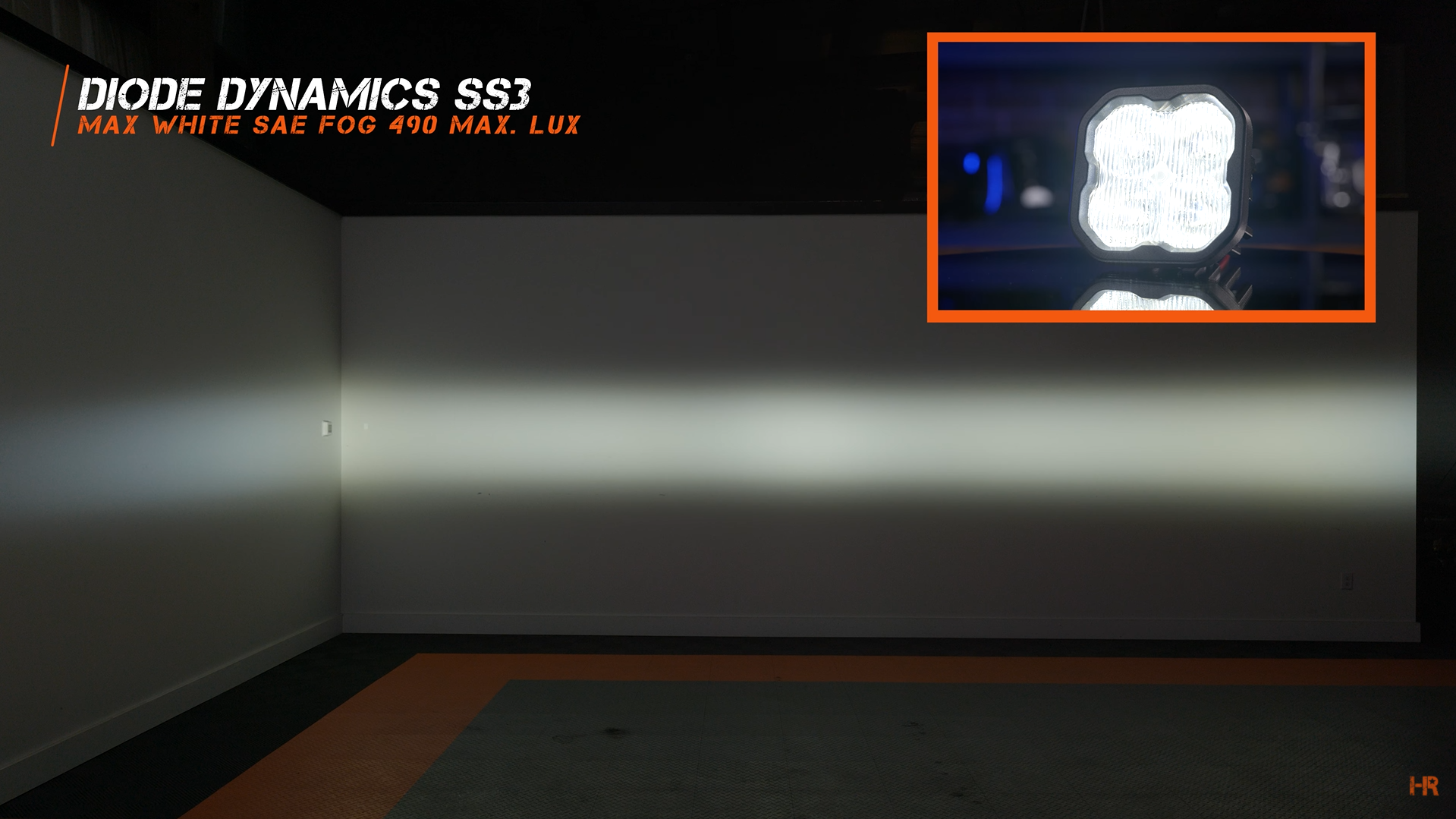 Coming in behind the 4Banger HXB Wide, the SS3 Max puts out 490 max. Lux. This light has an extremely wide beam pattern, and the output is very impressive. Compared to the HXB Wide, the intensity is not as consistent across the pattern, but this pod remains a good option.
Baja Designs Squadron Pro Wide Cornering (White)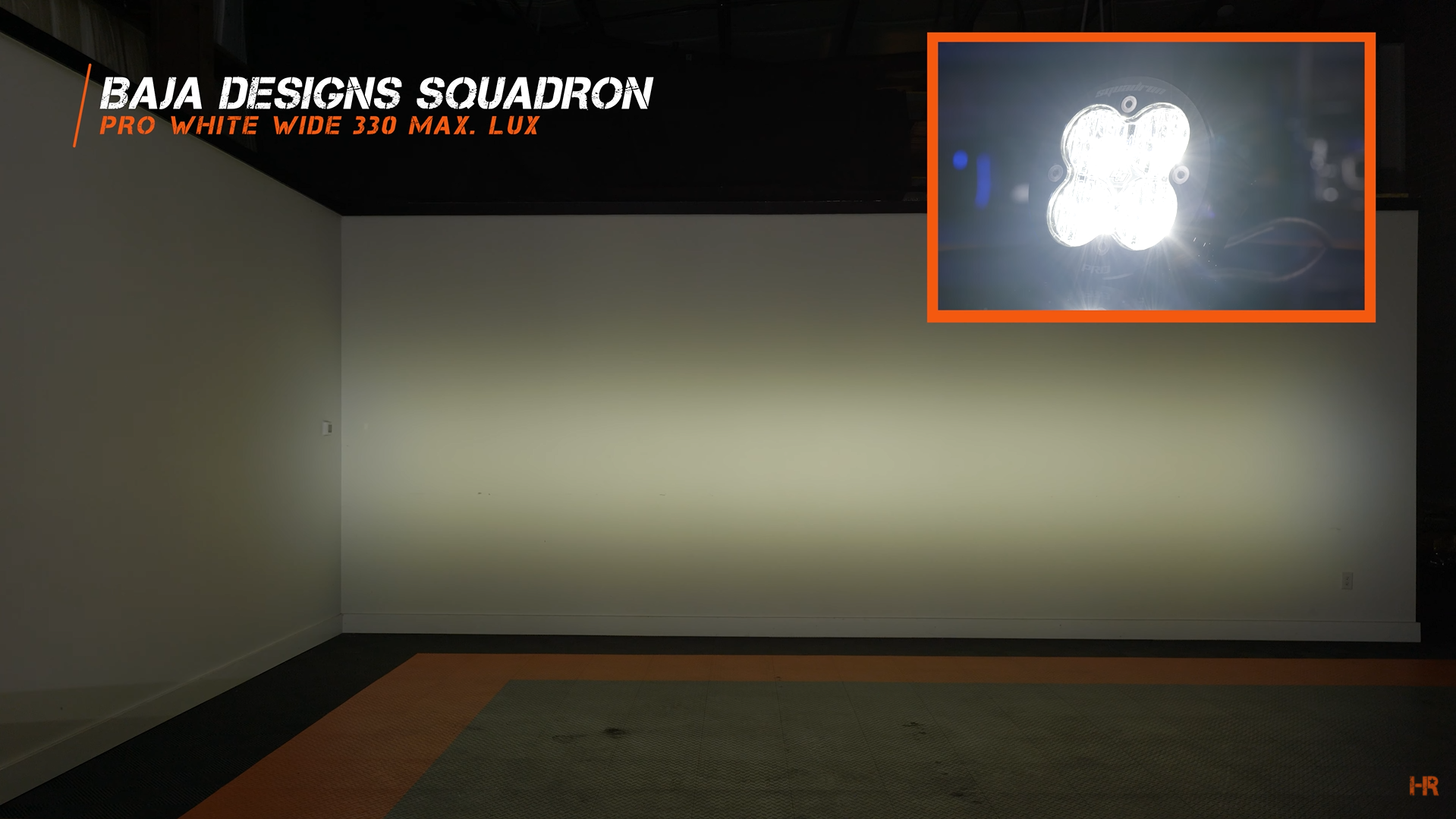 Taking a considerable step down from the prior two LED pods, the Squadron Pros emit 330 max. Lux. The beam pattern is not all that impressive with the vague edges and dim projection.
Baja Designs typically perform better than this, but most of their top-performing products will be purpose-built lights for off-road racing. Something you will not need unless your commute looks like a King of Hammers stage.
Morimoto 4Banger NCS SAE Wide (White)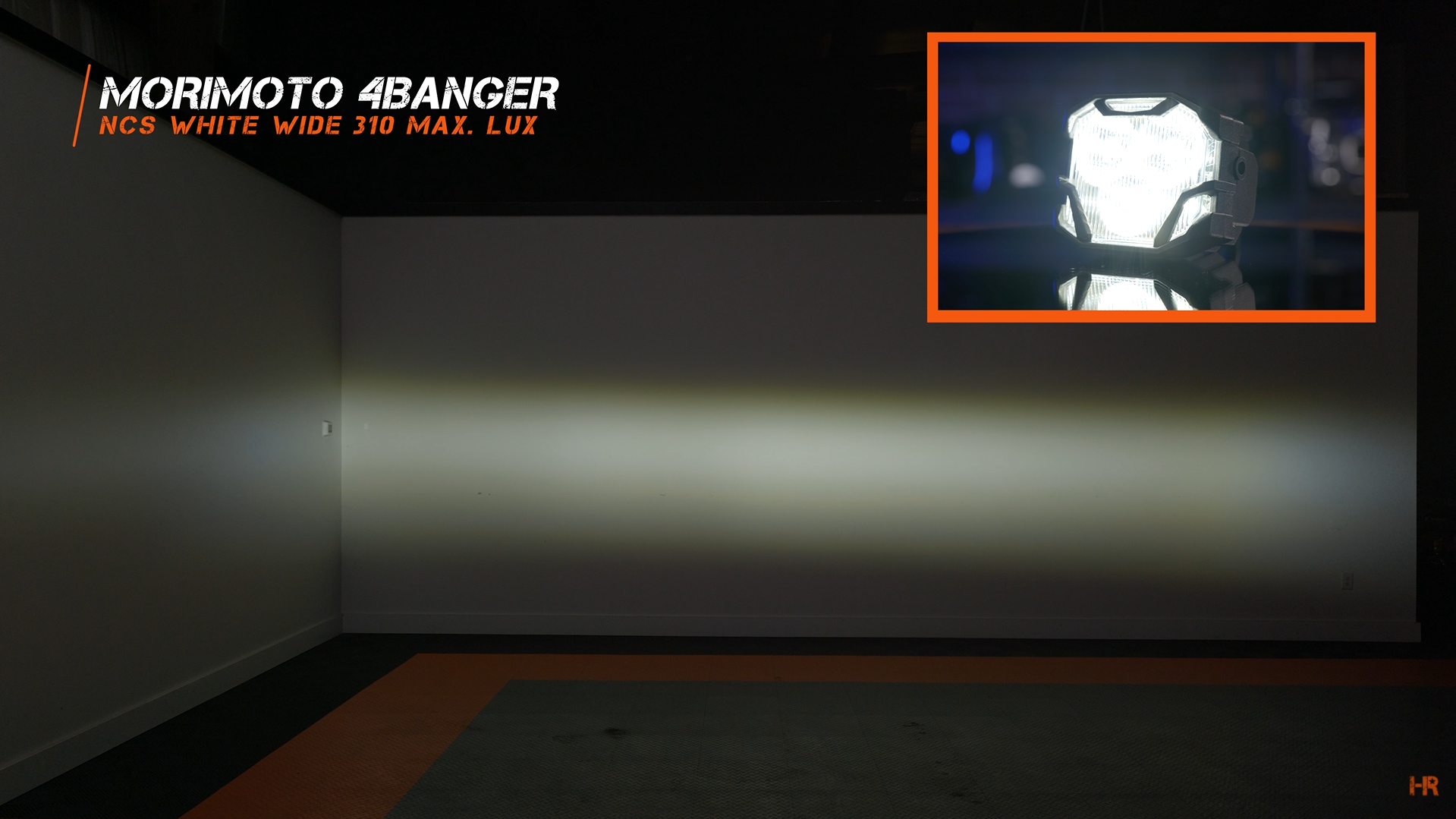 Considering this is the entry-level model, the output is excellent. Rated at 310 max. Lux, the NCS wide offers a great beam pattern with consistent intensity across the beam. While the beam cutoff is not as clean or as wide as the HXB model, the trade-off is a fair one.
Many people feel that a super bright fog light is not as useful for that application. So if you are in that boat, the NCS is a good option.
Diode Dynamics SS3 Sport Fog (White)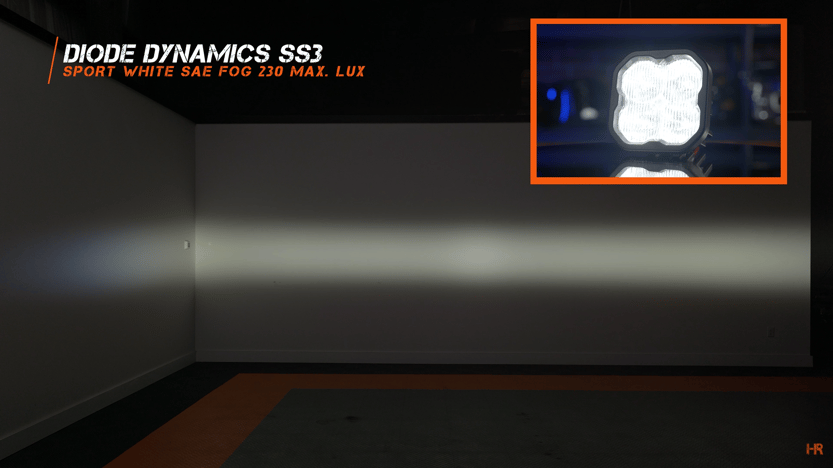 This light comes in at 230 max. Lux and acts as the entry-level model for Diode Dynamics' LED pod product line.
---
Spotlight
Spot beam patterns are not the most usable lights. If you are not going ten-tenths through the Baja 1000 in the dead of night, a spot beam is likely not your fit. Spotlights are meant to illuminate your path at an extreme distance. Nevertheless, Morimoto has come through with a 4Banger spotlight LED pod.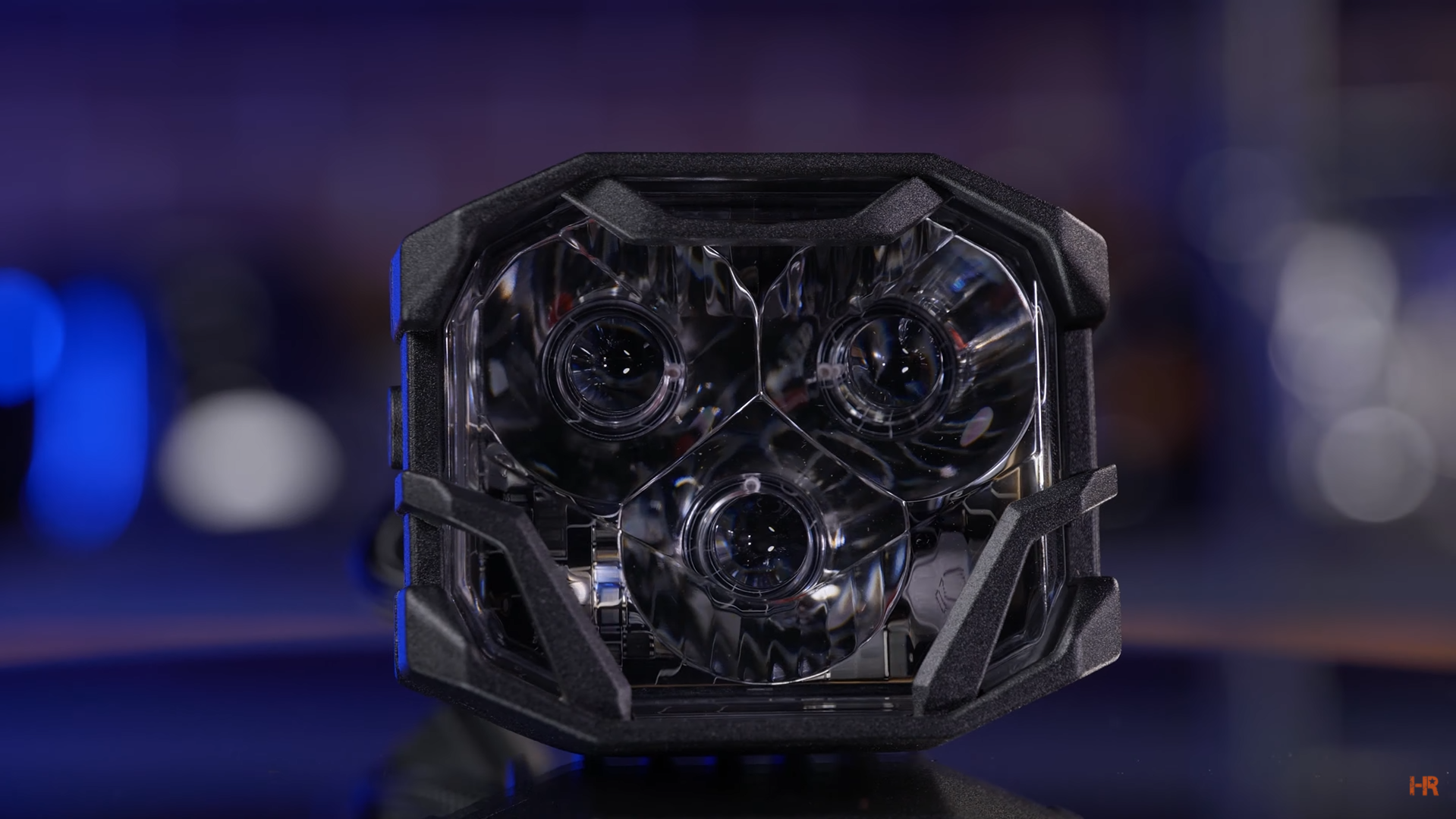 Diode Dynamics SS3 Sport Spot (White)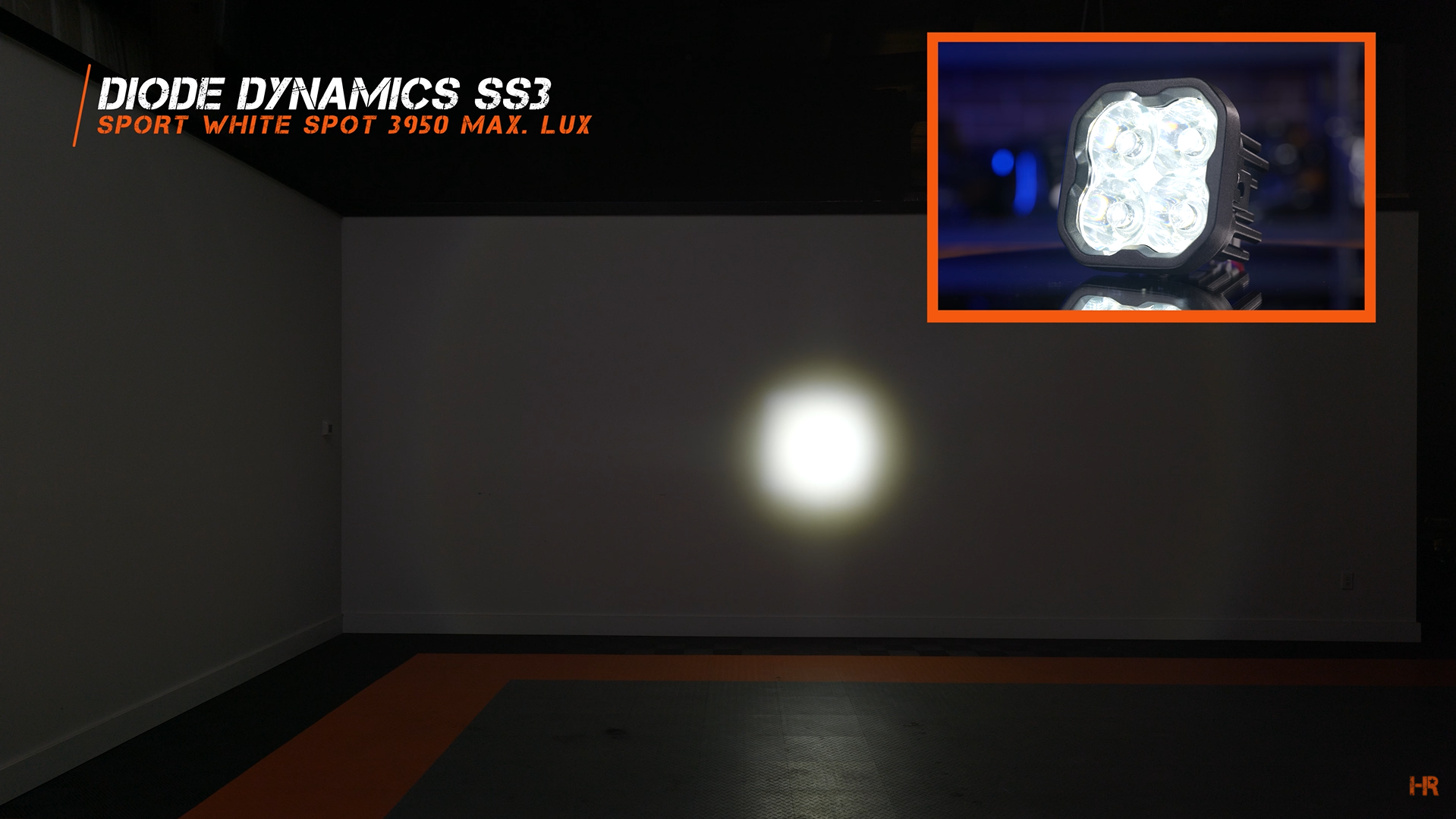 From their entry-level line, the SS3 Sport rates at 3950 max. Lux and emits a good beam pattern. We were not able to get our hands on the SS3 Max, but we are certain it will be even brighter than this.
Morimoto 4Banger HXB Spot (White)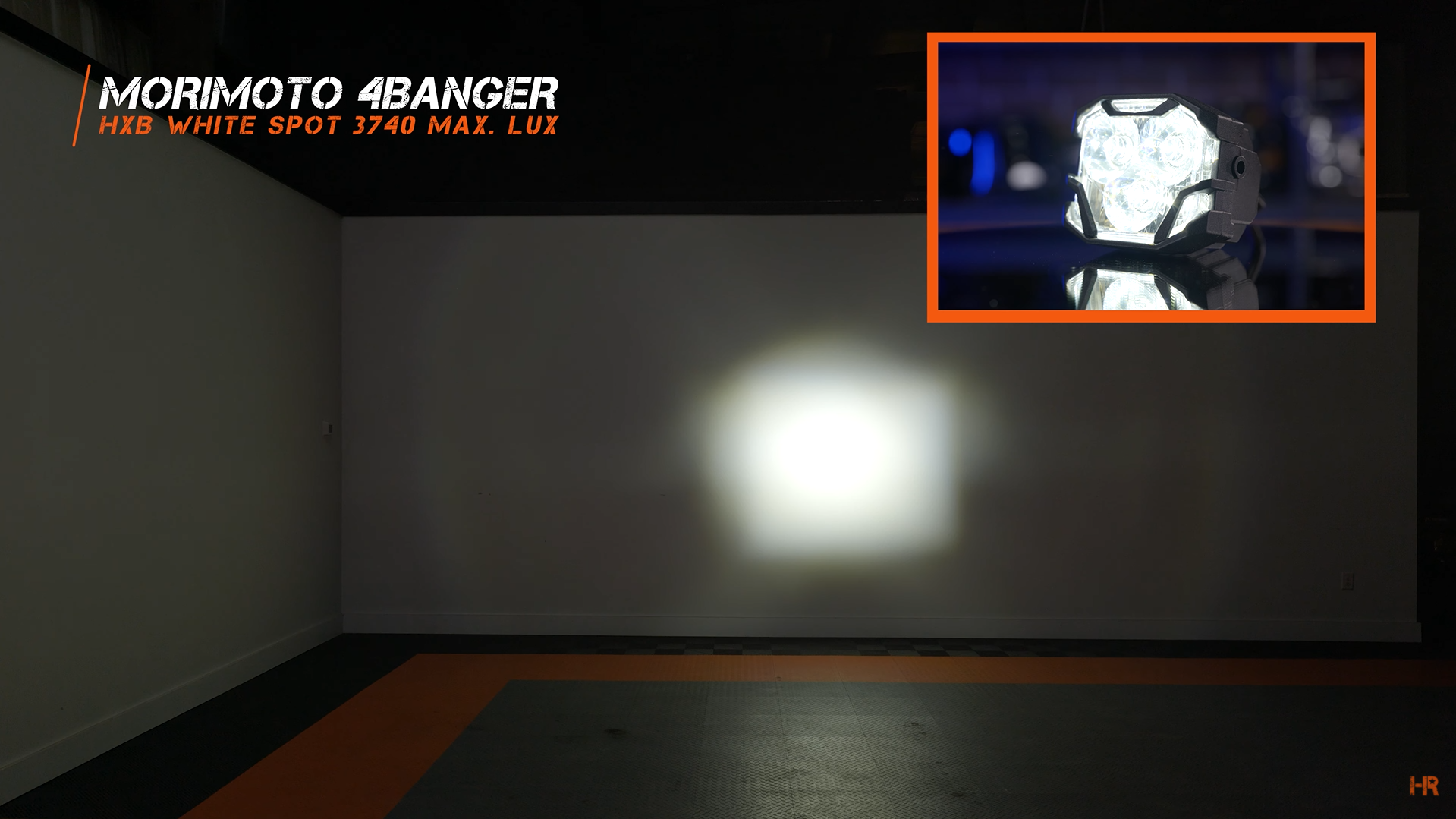 This pod comes in a close second to the SS3 Sport. This time you are getting a little larger beam pattern and a more squared shape to it. Unlike the circular SS3 Sport beam pattern, this pod is rated at 3740 max. Lux.
Rigid Industries D-Series Hyper Spot (White)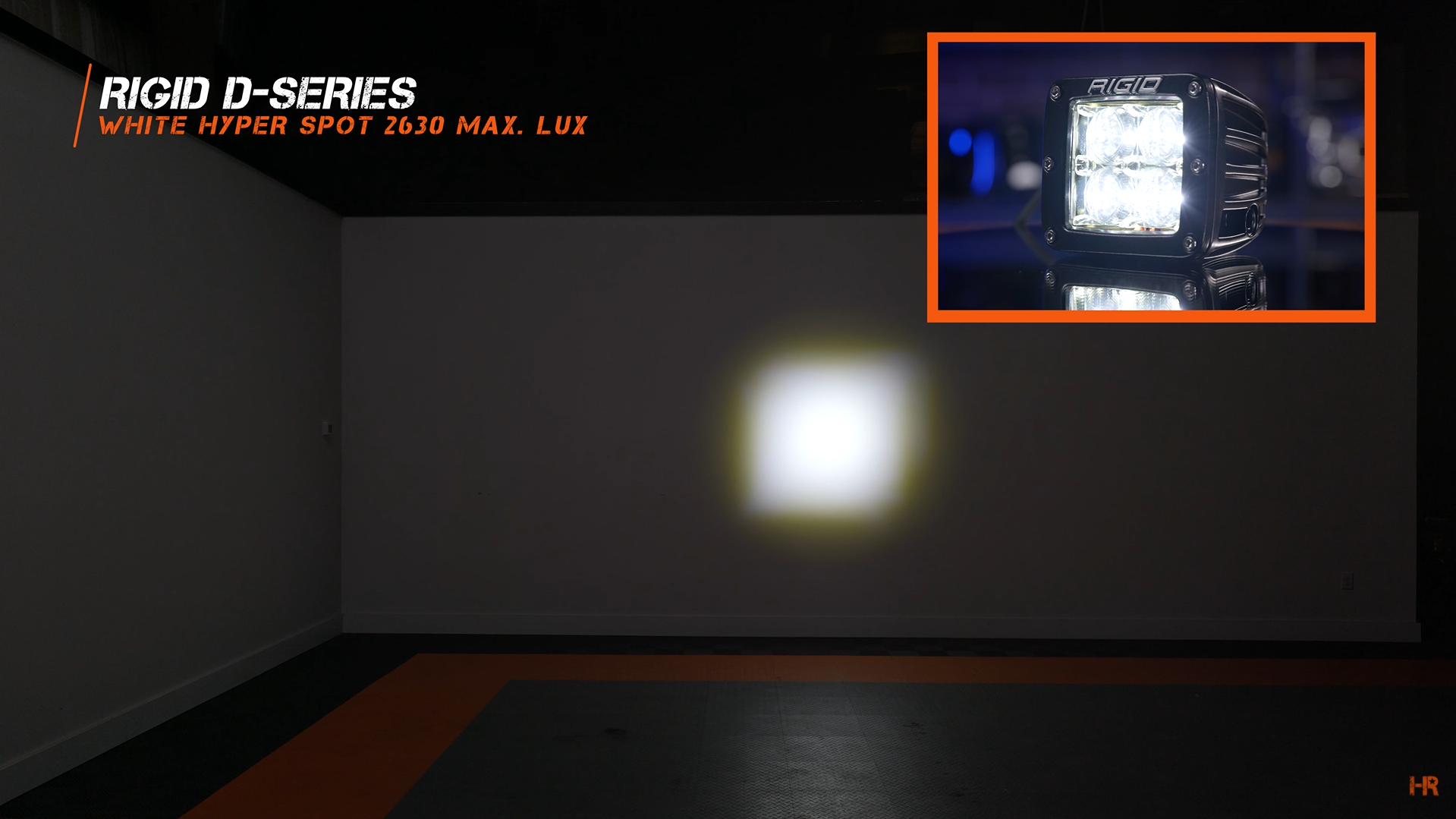 This behemoth of an LED Pod rates at 2630 max. Lux. With respect to its beam pattern, it is more concise than the other two, but you are sacrificing size and brightness with this option.
Morimoto 4Banger HXB Spot (Yellow)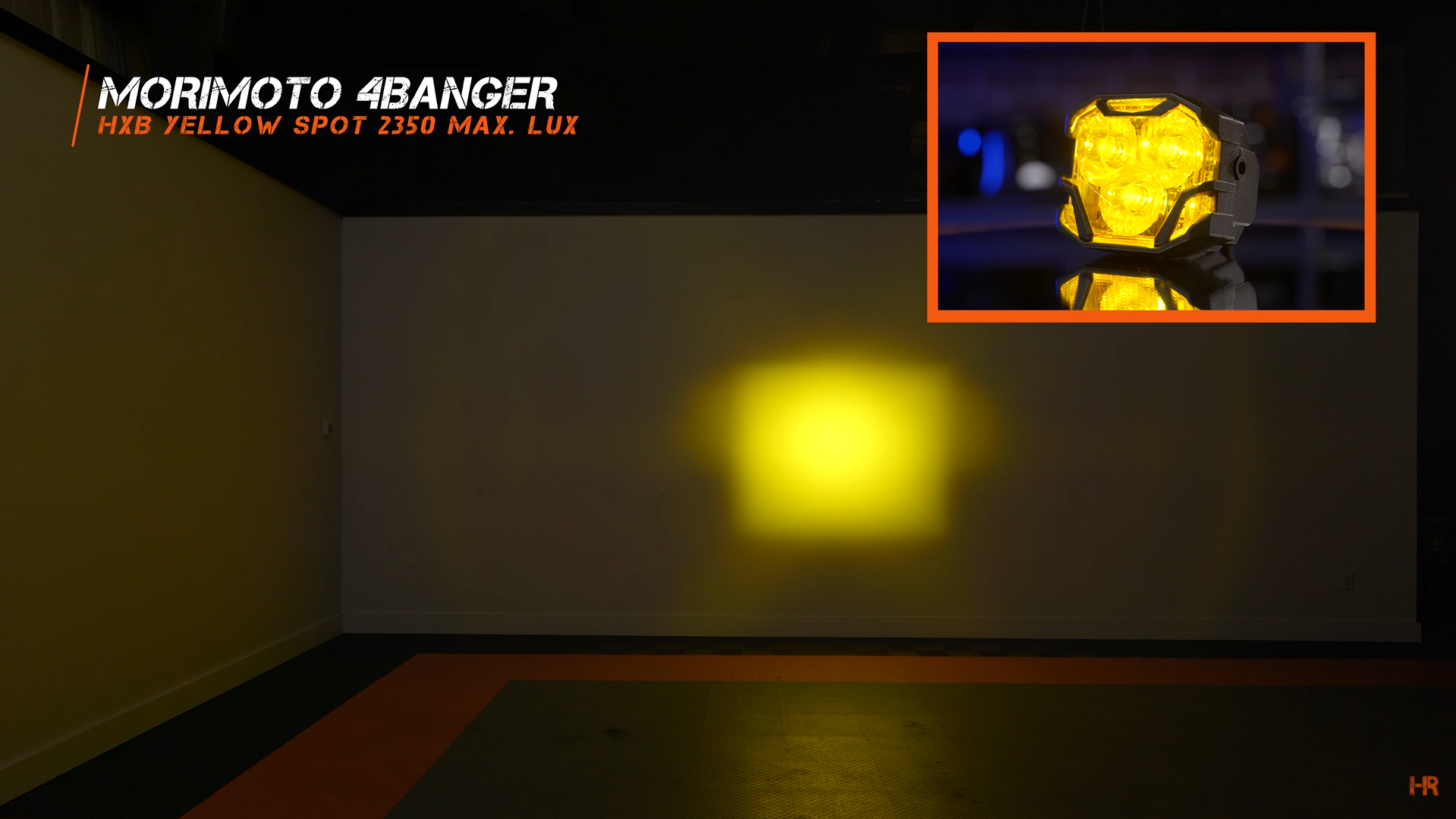 Morimoto has been excellent at keeping their beam patterns consistent. With this premium yellow LED Pod, you get 2350 max. Lux and crisp yellow color.
Morimoto 4Banger NCS Spot (White)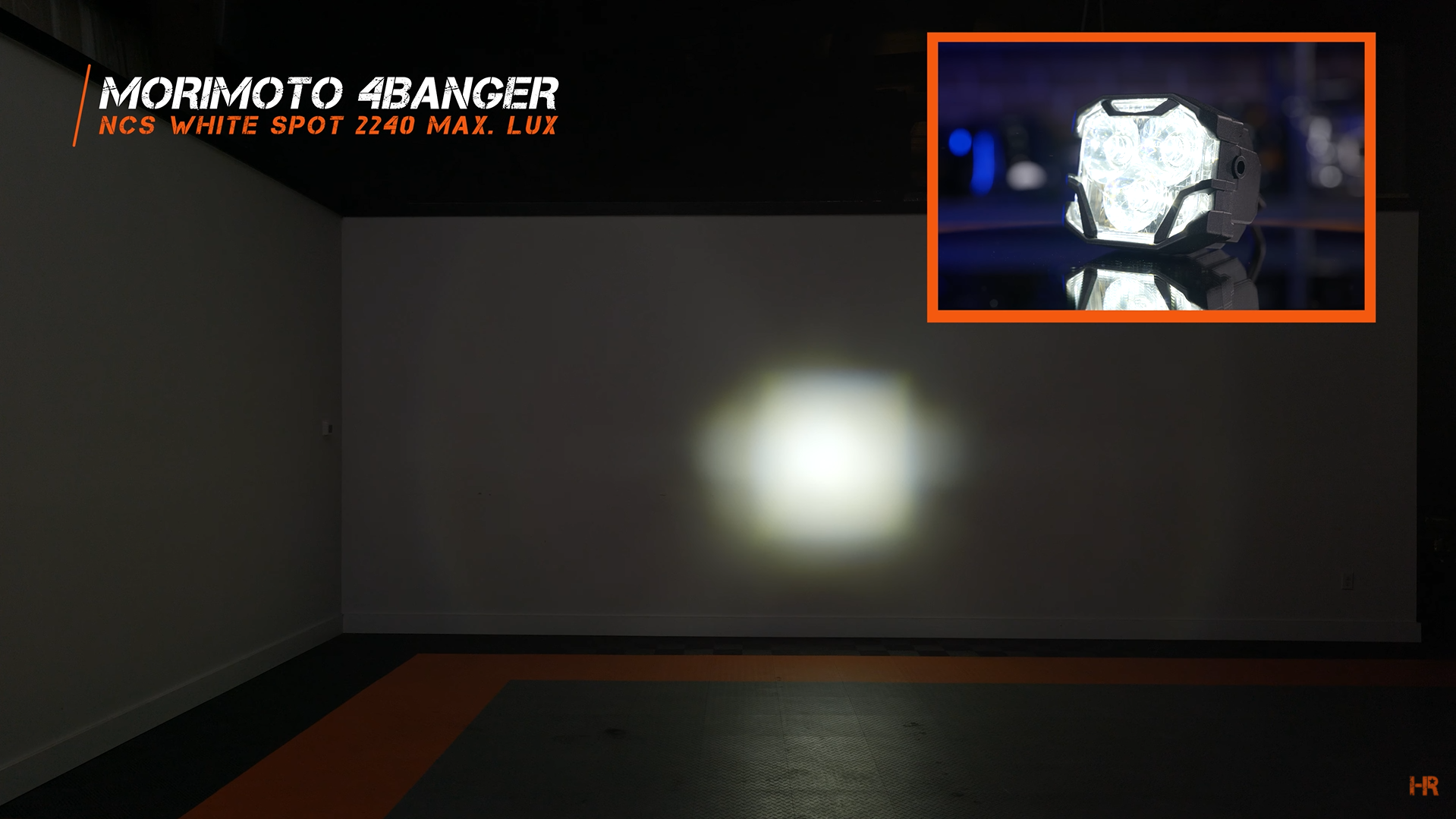 Next up is the entry-level NCS spot that we rated at 2240 max. Lux.
Vision X Cannon Spot (White)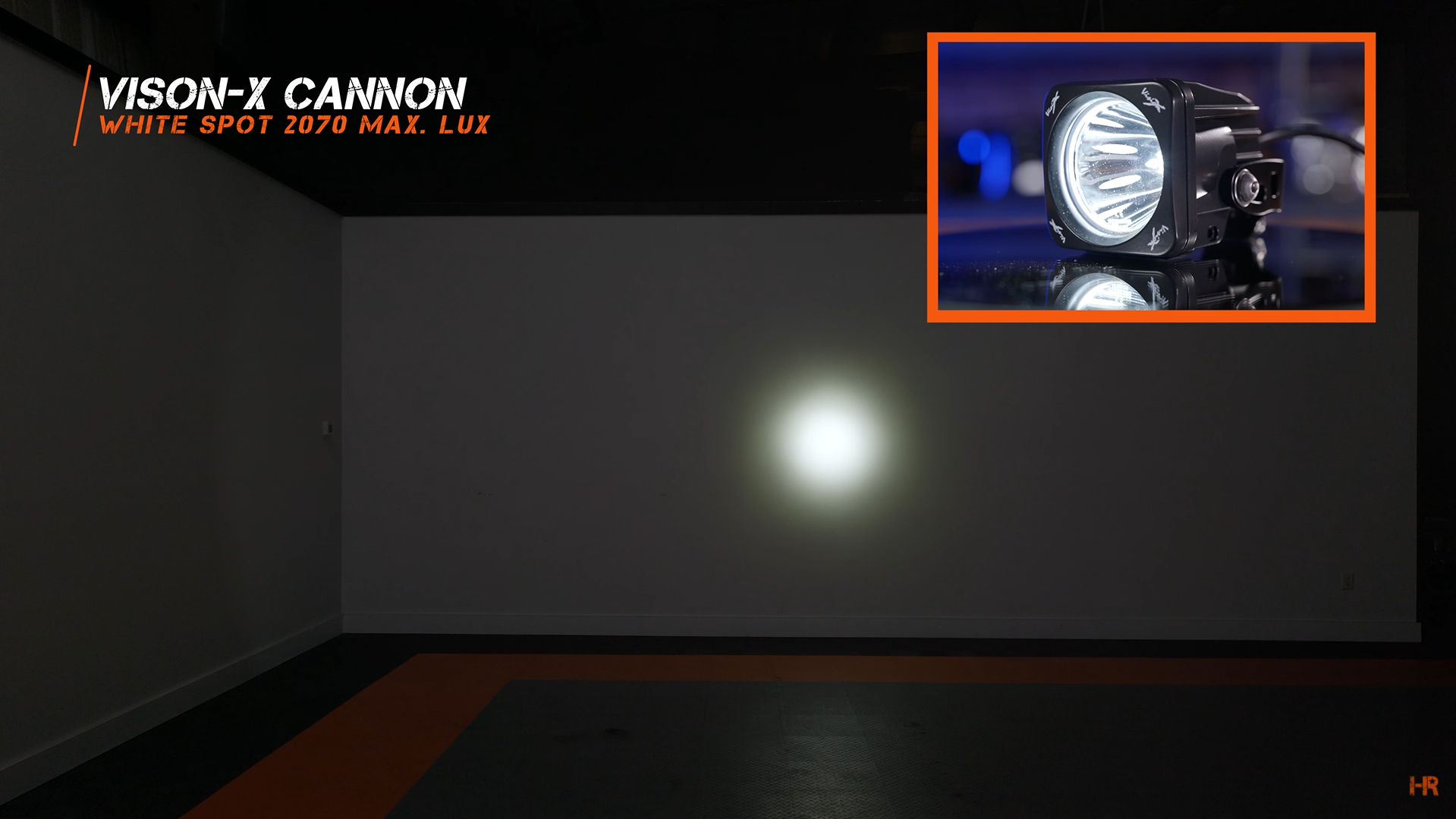 Light cannon is more of a descriptor of this LED pod's size than its output. Coming in at 2070 max. Lux, this is a step below the entry-level 4Banger.
KC HiLites C3 Spot (White)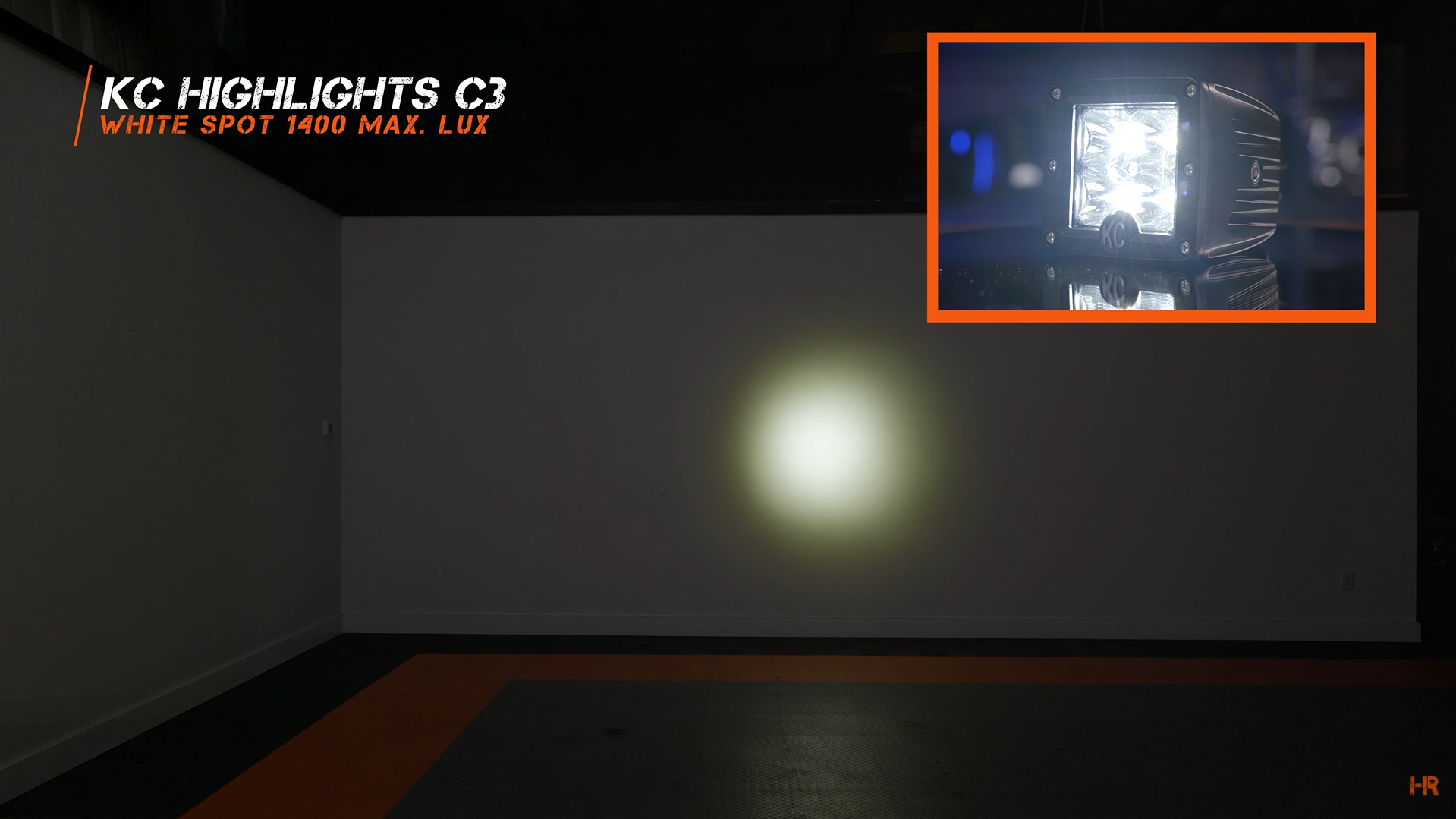 KC HiLites rarely performs well in our tests. With a 1400 max. Lux and disappointing beam pattern, the C3s are not a great option.
Dark Defense S4 Pro Spot (White)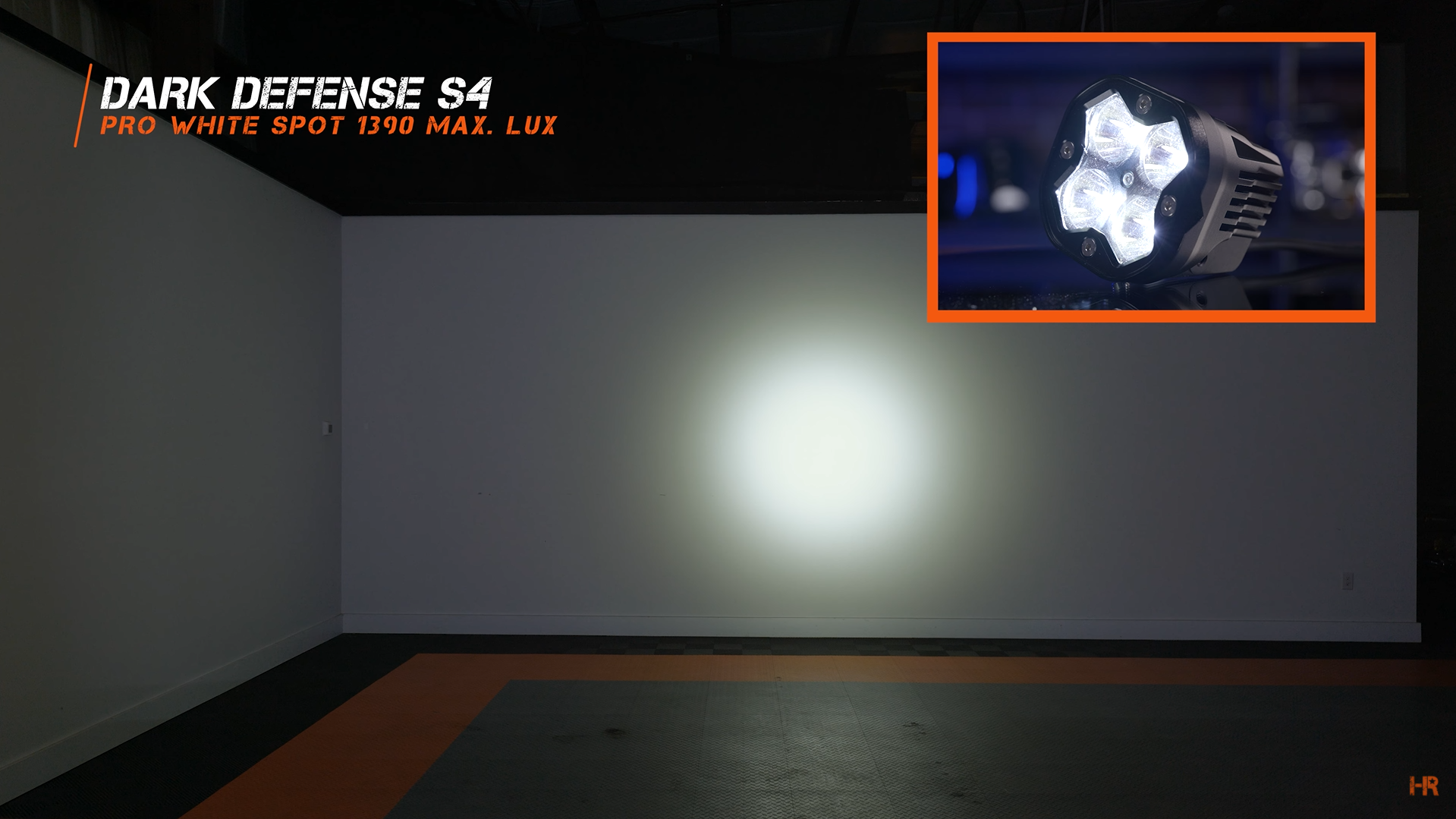 This pod was recommended by our viewers, and we were previously unaware of the brand. Nevertheless, this one is rated at 1390 max. Lux.
Morimoto 4Banger NCS Spot (Yellow)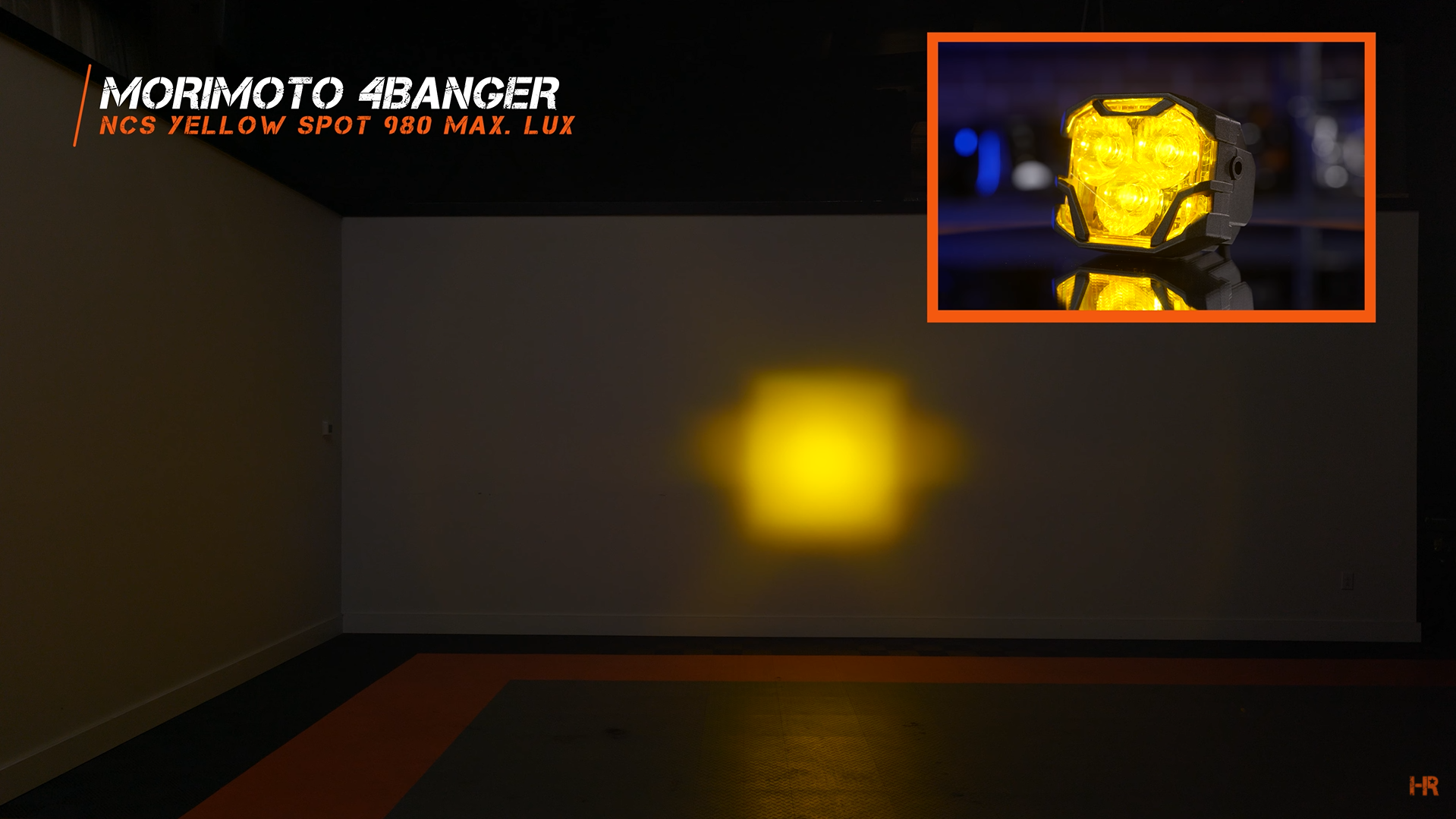 This entry-level LED pod from Morimoto comes in at 980 max. Once again, Morimoto has maintained the same quality beam pattern across their 4Banger Spot lineup.
FCKLightbars Spot (White)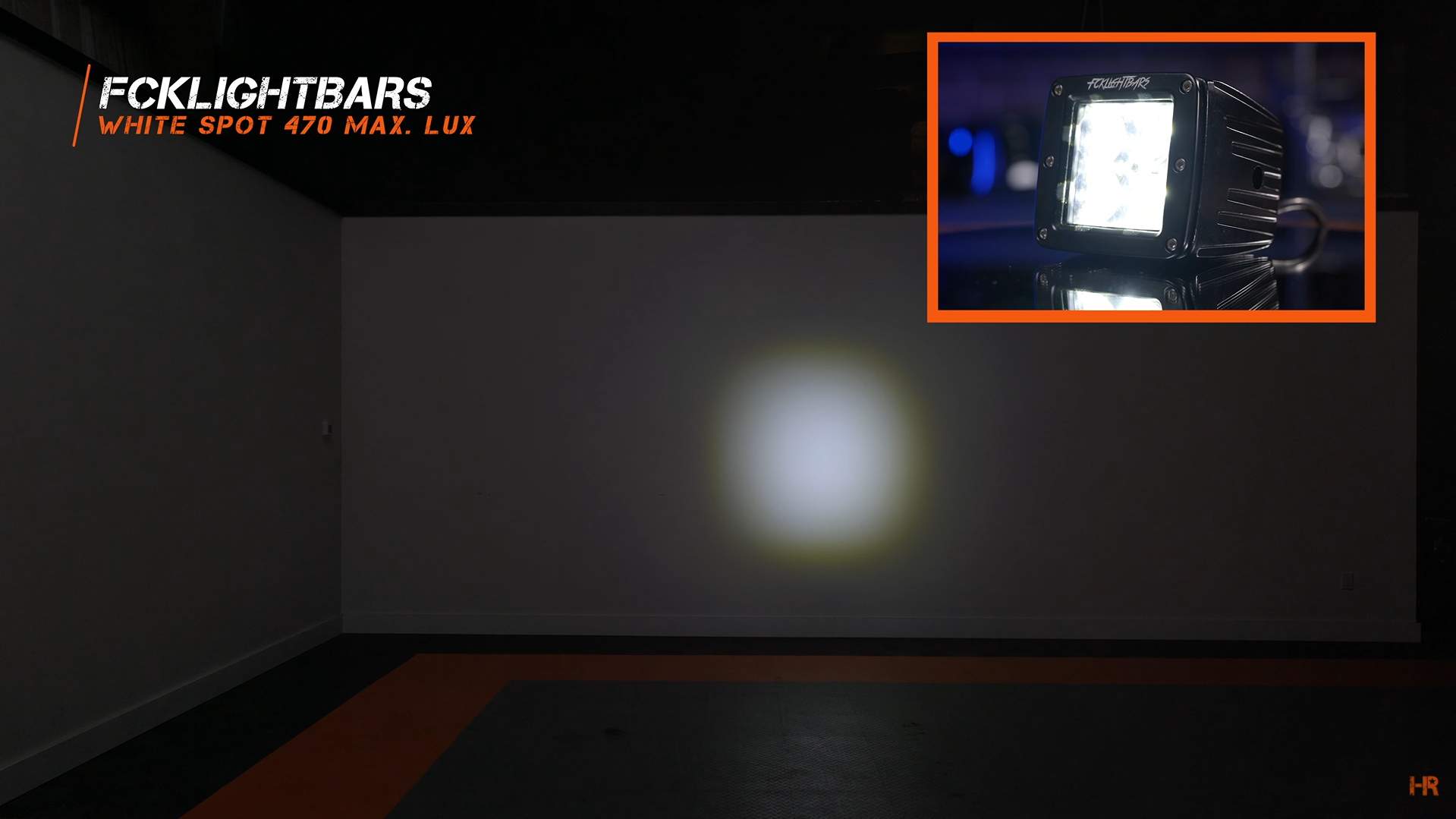 This is another lesser-known brand that we tested. FCKLightbars emits a dismal 470 max. Lux with their spotlight.
Rough Country Spot (White)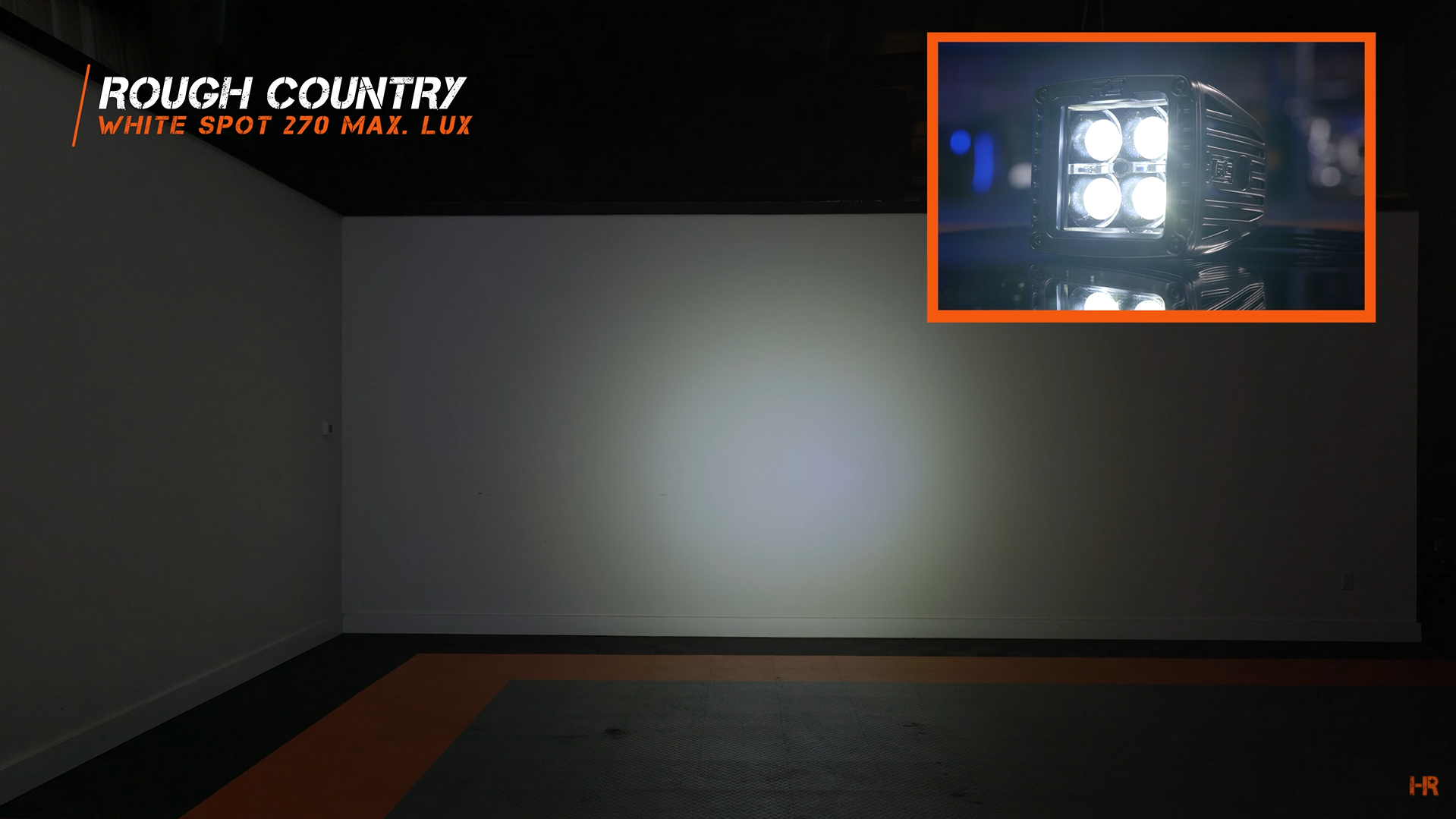 Somehow Rough Country made it to our list with their abysmal entry into the LED Spotlight market. Coming in at 270 max. Lux, this spotlight has a beam pattern that is far too wide and lacks any sort of intensity.
Auxbeam Spot (White)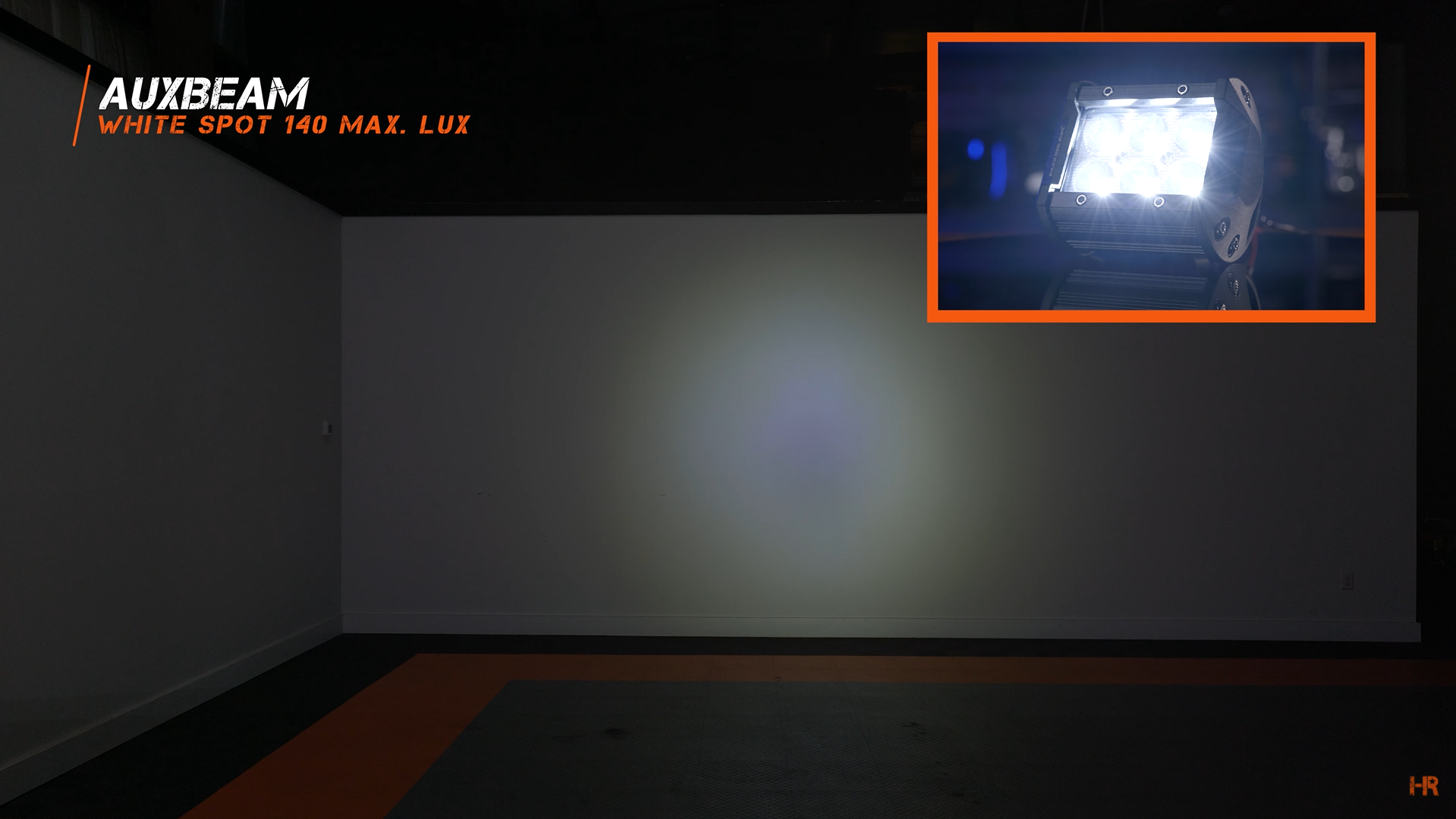 In dead last, is the Auxbeam spotlight. It only produces 140 max. Lux and we have seen flashlights with better output than this.
---
Combo
Spotlights are cool, but they are not terribly practical for everyday use. If you are in the market for an LED pod, then the combo or driving pattern is likely where you want to be looking. Essentially, this light is a mix between the intense spotlight and the wide fog patterns.
On the Morimoto 4Bangers, you can tell if a light is a combo or driving light by looking for the trapezoidal shape at the top of the lens and the vertical fluting lines.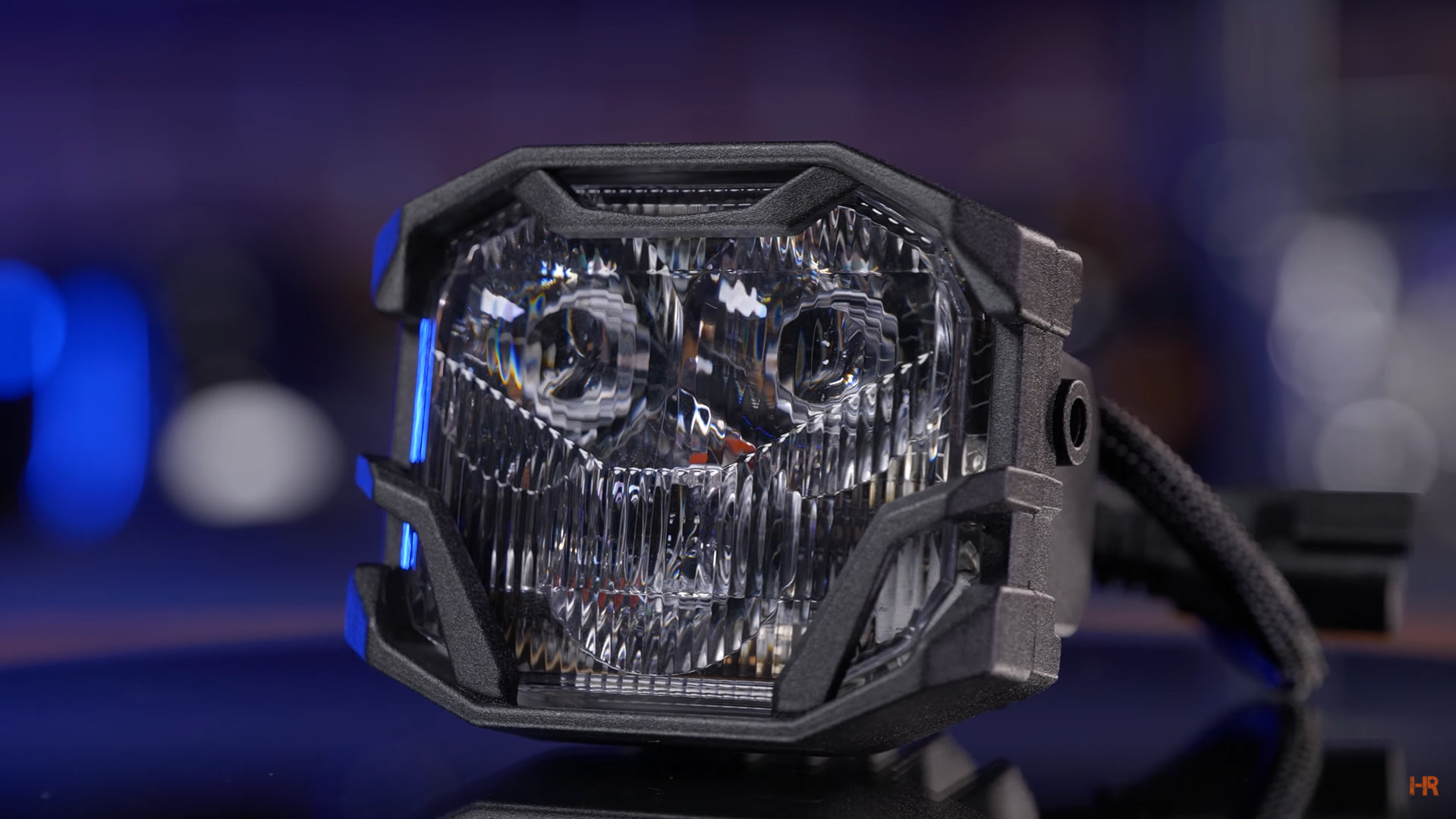 Diode Dynamics SS3 Max Driving (White)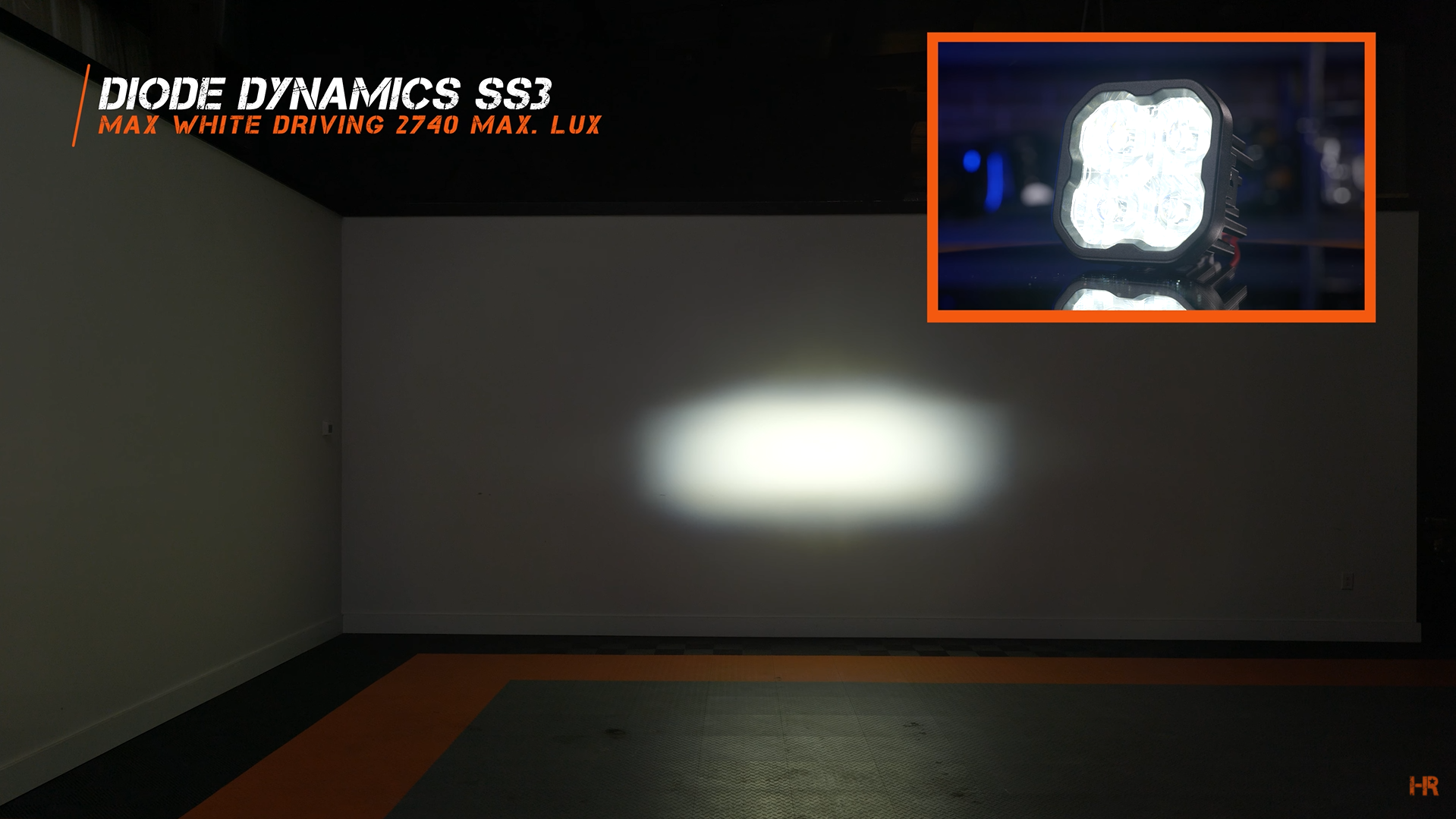 To begin with, we have the Max White Driving light from Diode Dynamics. This one comes in at 2740 max. Lux.
Morimoto 4Banger HXB Combo (White)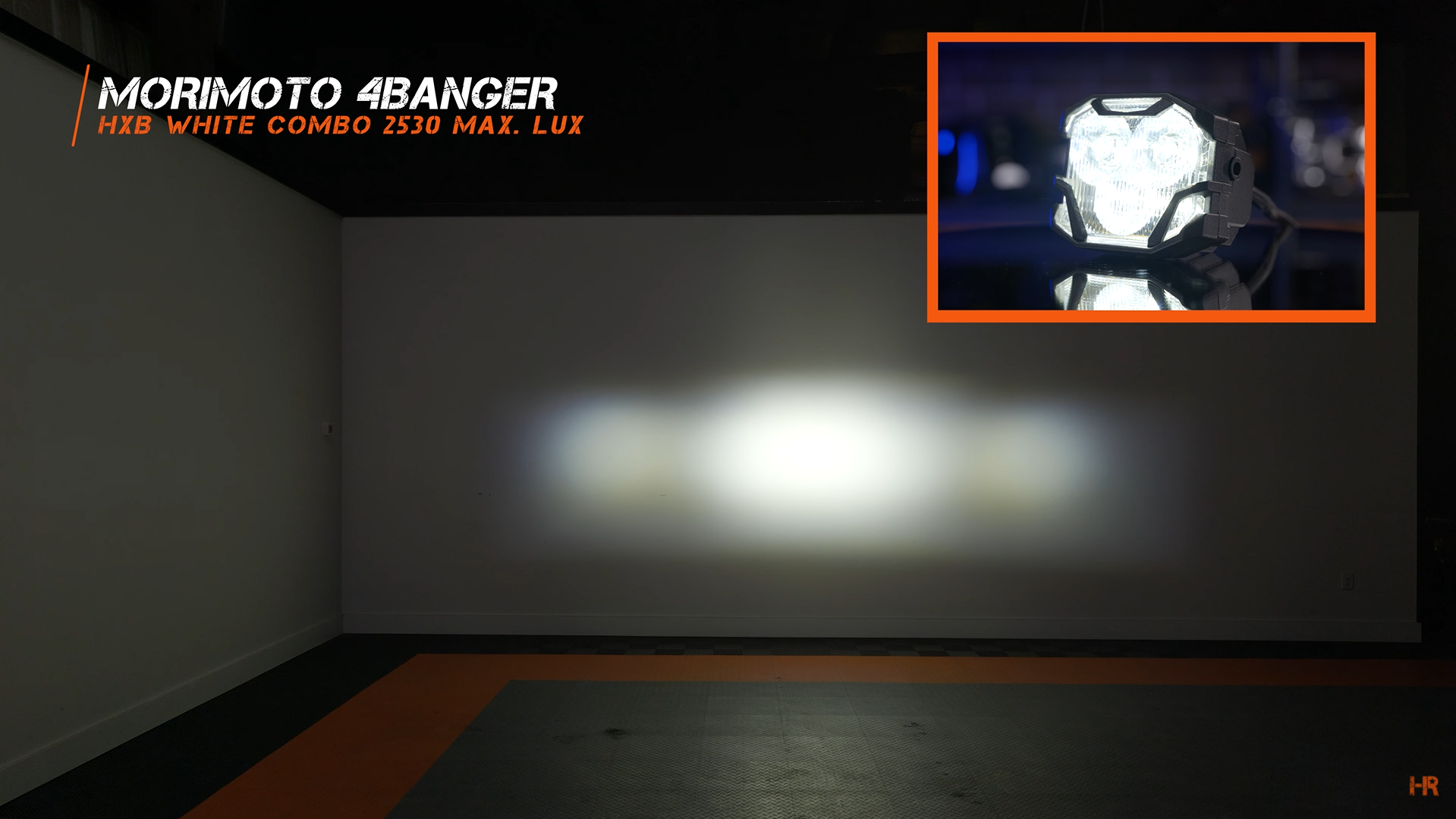 Morimoto's premium HXB model comes in at 2530 max. Lux. and boasts a great beam pattern.
Morimoto 4Banger HXB Combo (Yellow)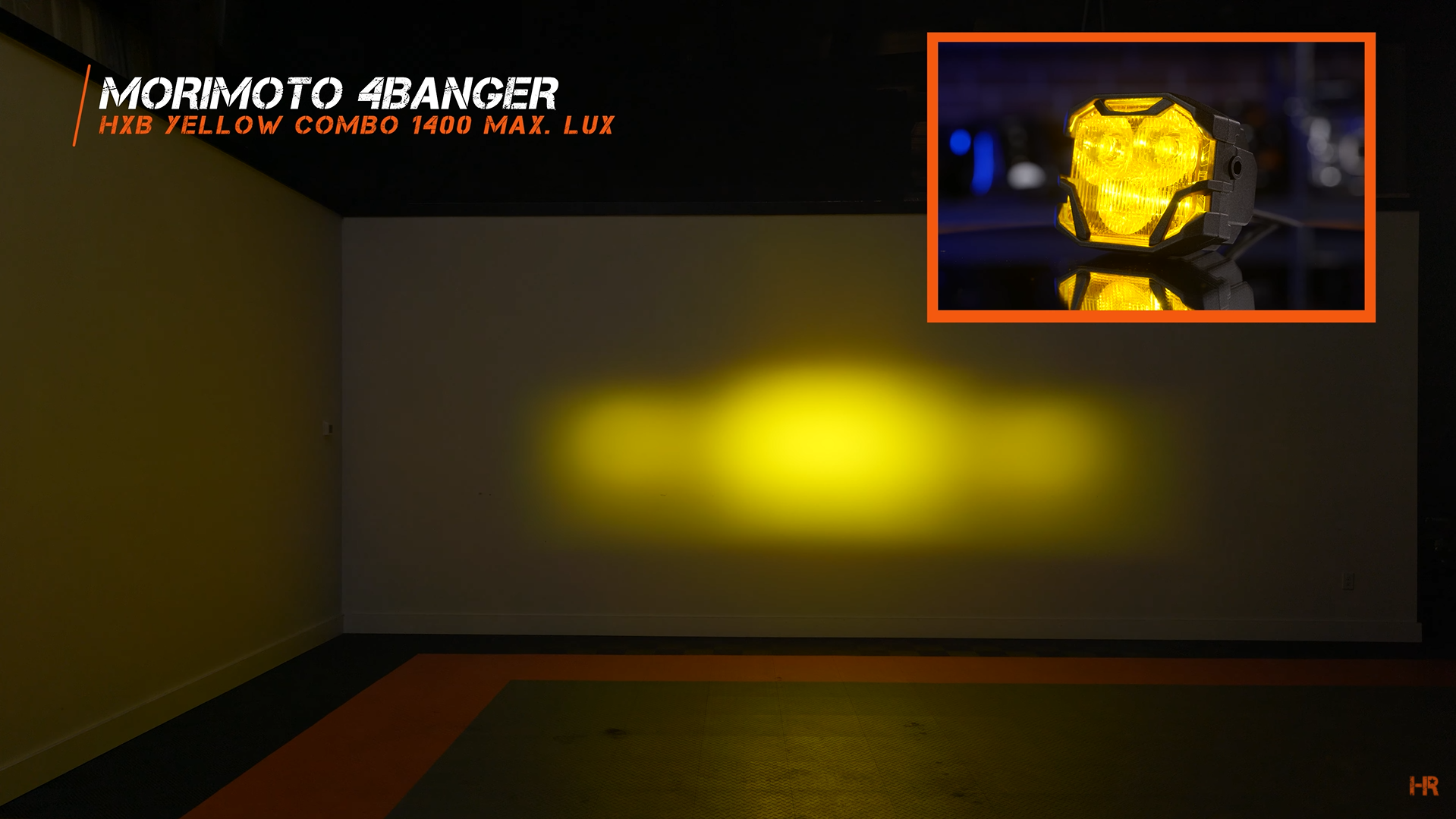 The amber version of the premium HXB 4Banger model is rated at 1400 max. Lux.
Morimoto 4Banger NCS Combo (White)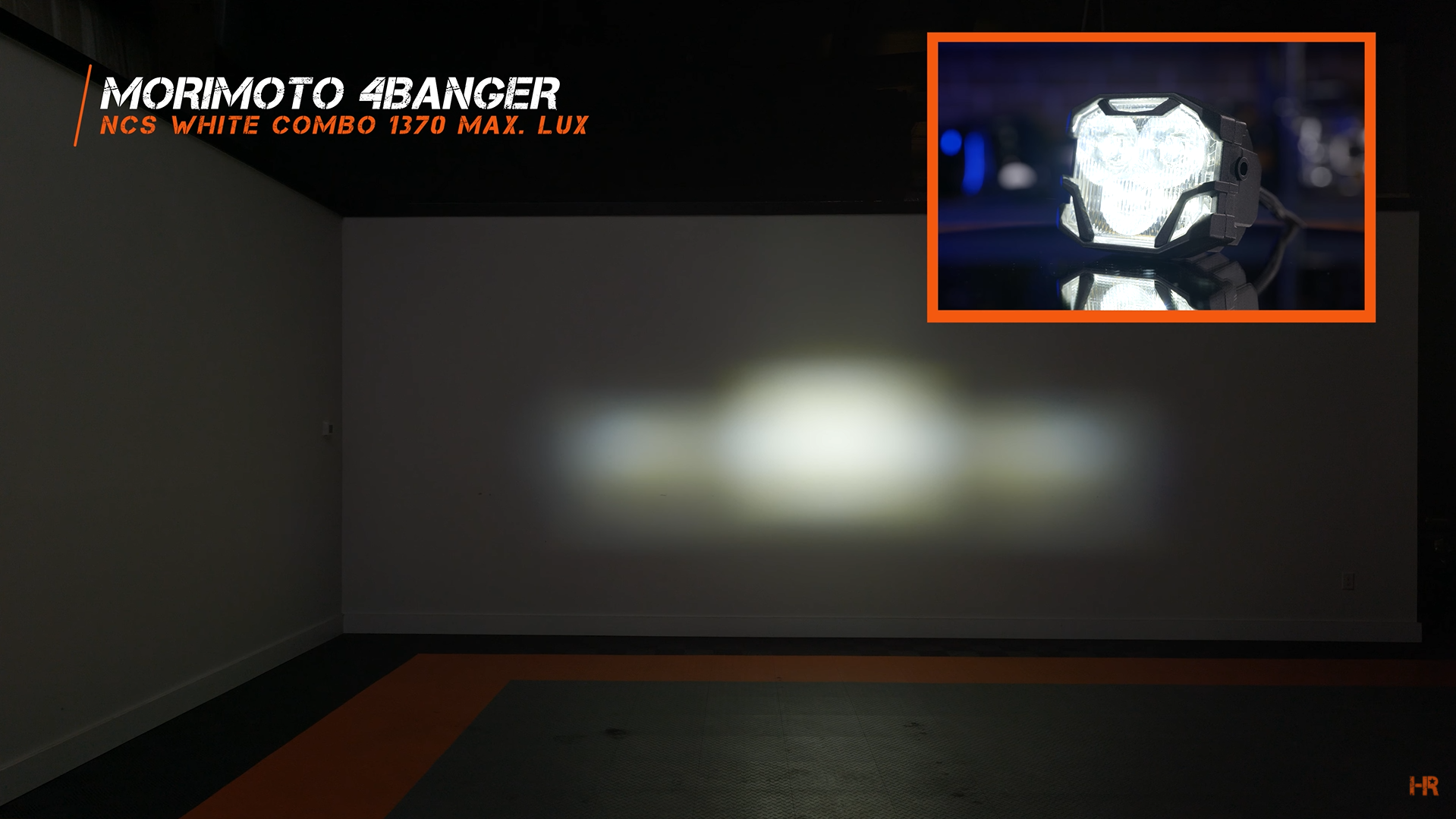 Coming in at 1370 max. Lux, the entry-level NCS Combo from Morimoto is a solid option for your driving light application.
Rigid Industries D-Series SR Pro Driving (White)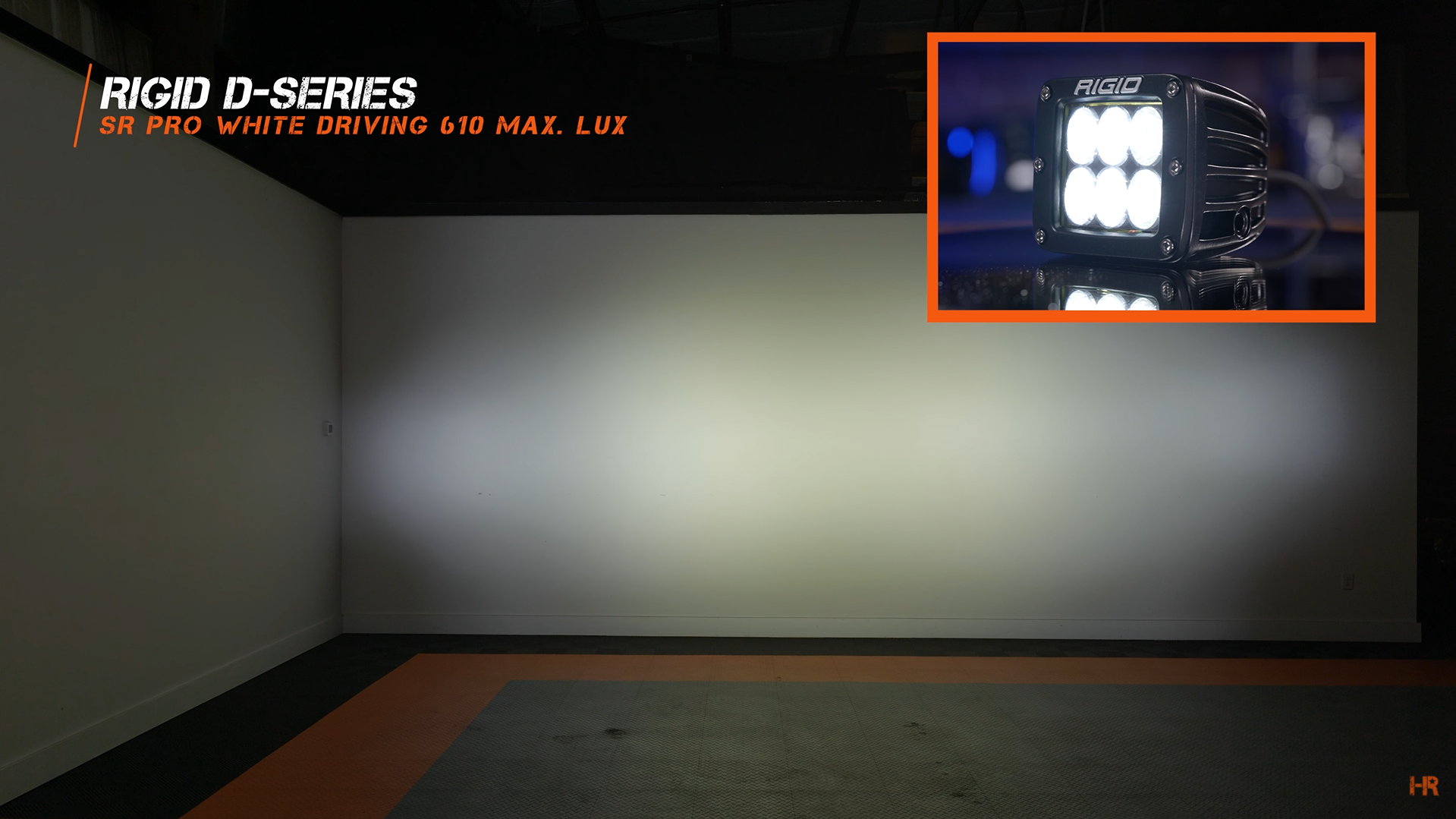 Despite the trim level, the D-Series SR Pro is weak compared to the other options on our list here. We tested this LED pod at 610 max. Lux.
Morimoto 4Banger NCS Combo (Yellow)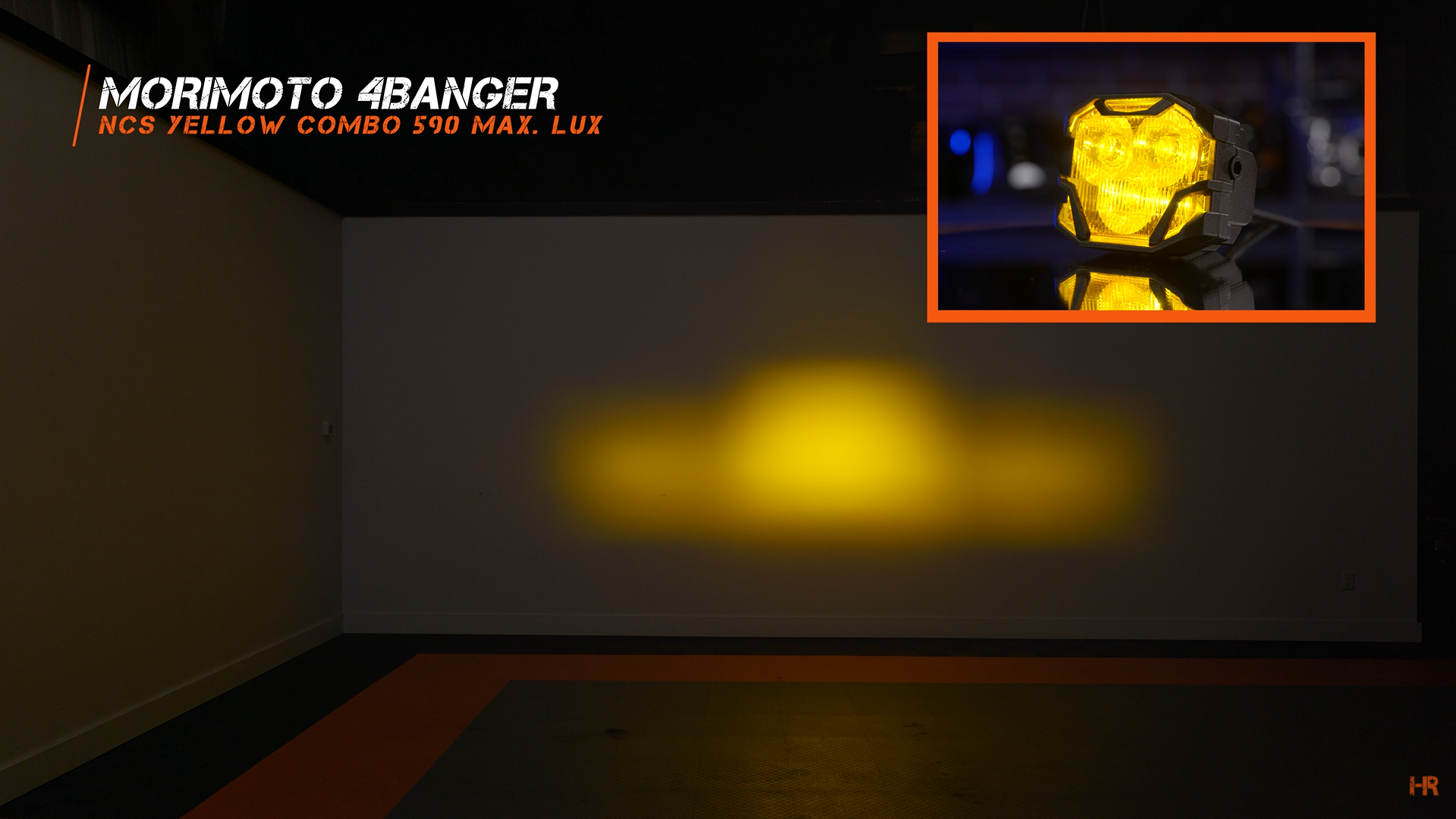 Last, but not least, we have the NCS Yellow Combo LED pod that we tested at 590 max. Lux.
---
Phew! That was a lot to look at. With the introduction of a new Morimoto product, it is important to see where they stand in the market of LED pods. Whether you are using the vehicle-specific a-pillar brackets or going with built-in fog light, making a sensible purchase is important. We hope you enjoyed our tests as much as we enjoy putting them together for you.
Do not forget! Morimoto's 4Banger LED Pods will be hitting shelves on 11/19/2021! Keep an eye out on this space for an official release announcement!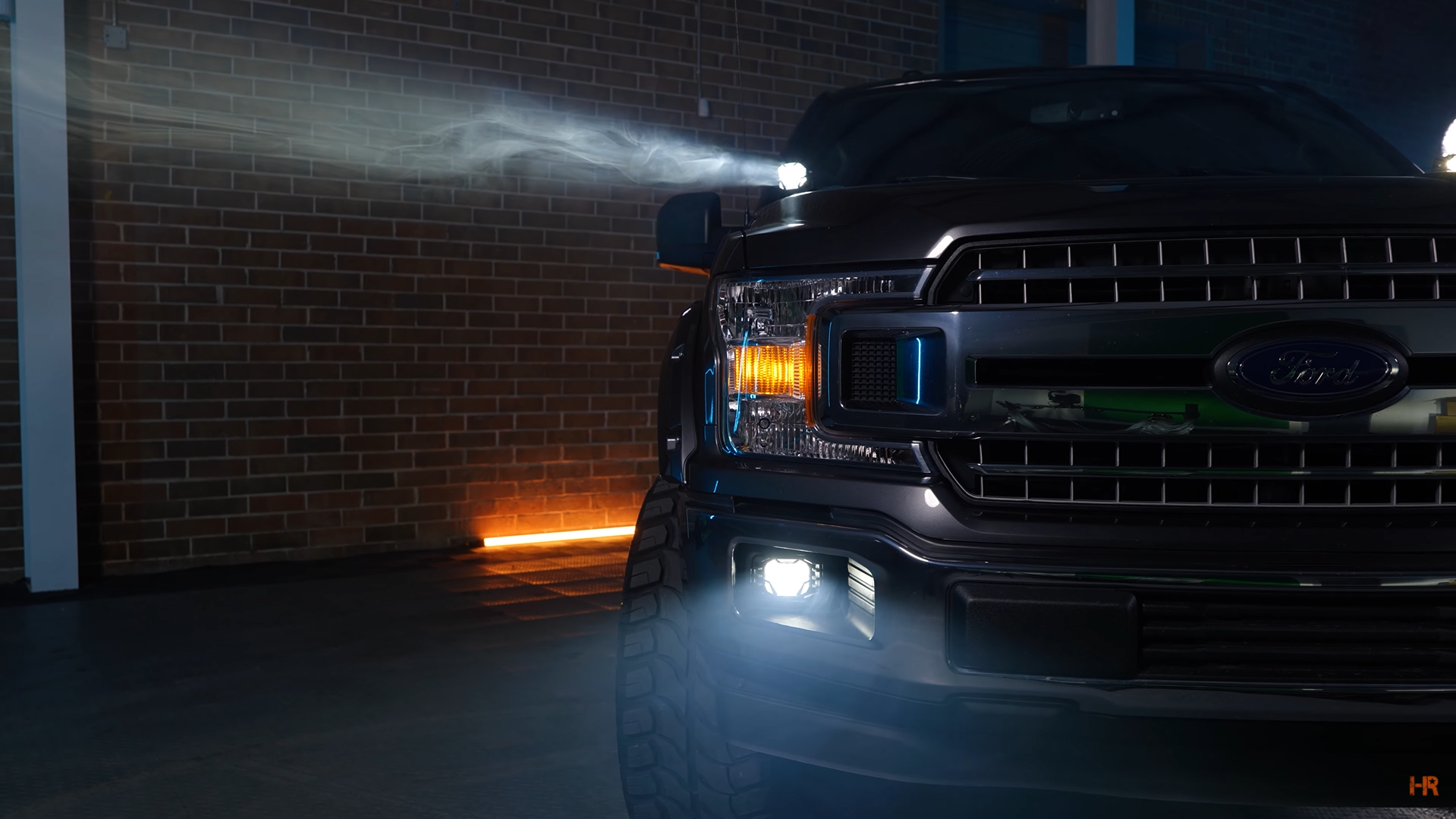 If you are more of a visual learner, be sure to check out our video on the Morimoto 4Banger LED Pods. While you are there, make sure to like and subscribe to our channel for the latest lighting upgrades for your vehicle.
Have any questions about one of the products we mentioned? Contact us today, and our customer service team would be happy to help.