Why the Vision X LED Light Cannons are some of the Best Off-road Lights in the World
The Vision X Light Cannon series of lights is one of the most popular and most valuable products from their lighting lineup. The first generation Light Cannon was an instant hit, and today, they have released the second generation of their Light Cannon product line, making changes to the mounts, the body, the light output, and the number of LEDs.

The level of versatility in this light is insane when it comes to the number of beam patterns: a whopping 25 patterns. We will show how you can use this light effectively and all the changes from the first generation to the second. Additionally, we will give you a close-up look at each model for that in-depth perspective.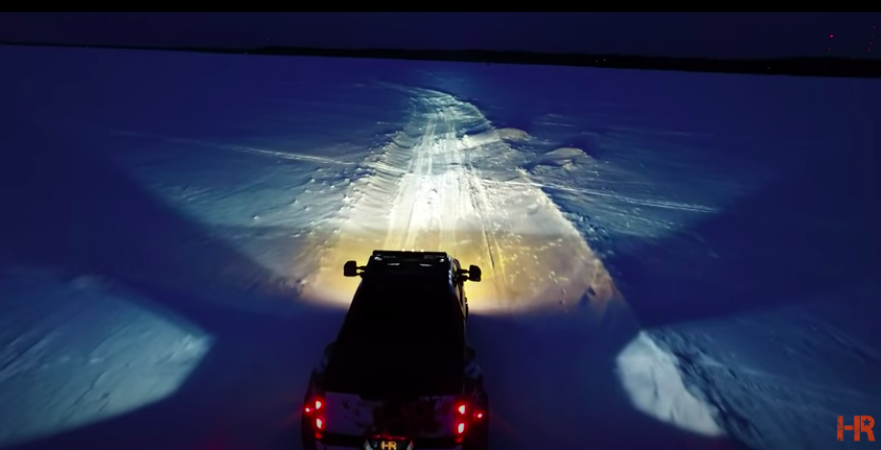 The crew at Vision X has been busy. When they first came out with the original Light Cannon years ago, they built this iris reflector bulb with a single 25-watt LED chip deep down inside. This thing produced 1,000 feet of usable light.

To put things into perspective, a regulation-sized professional football field is 360ft. So this light can illuminate up to 2.8 football fields. How is that for a hail-mary pass? For the new model, you can extend that light length to 1,600 feet total, or about 4.4 football fields. It's unbelievable. With the upgrade came a switch from a 25-watt chip to a 40-watt chip.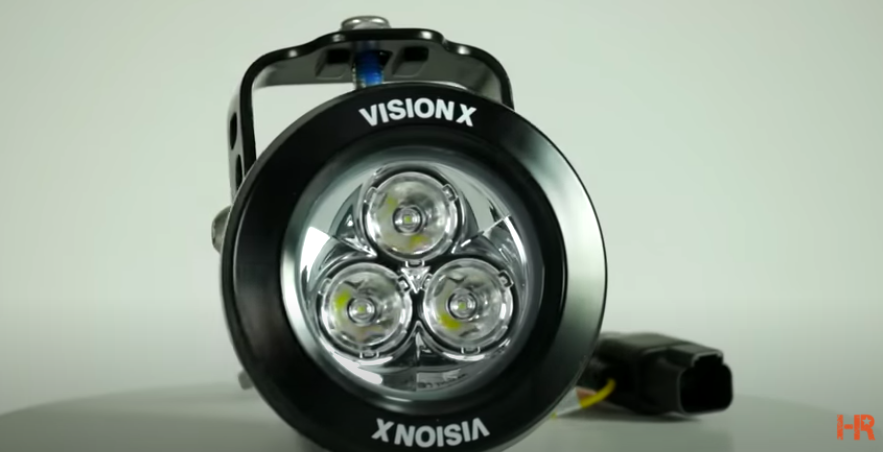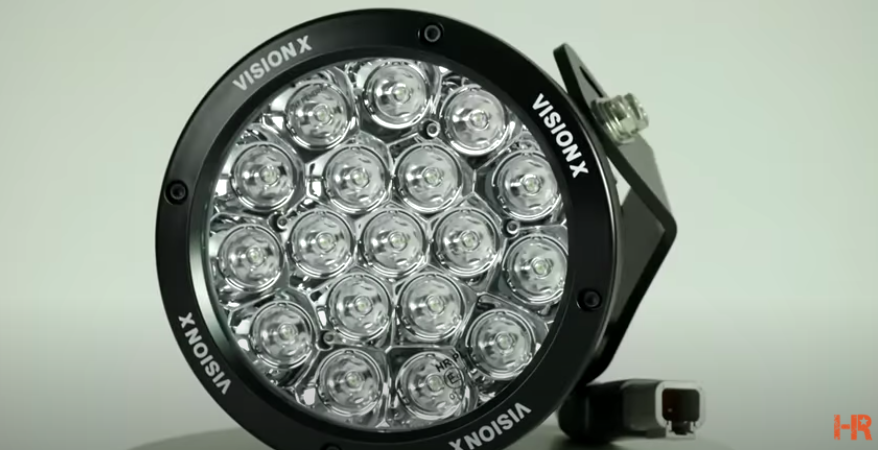 With an already forward-thinking (lighting?) design and package, it is hard to improve upon perfection. I mean, this thing was ahead of its time. It was ahead of the curve, and Vision X made it better. Not only does it use more power and make more light, but it is also smaller with a newly designed bracket.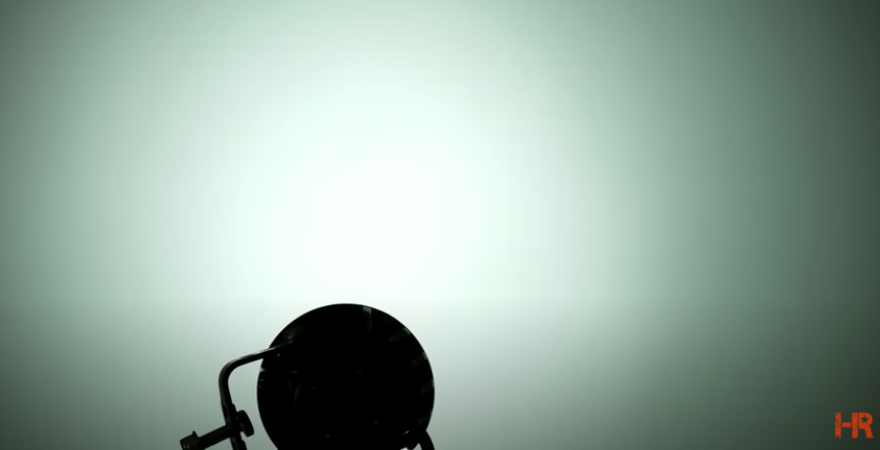 If mounting was an issue, it will not be anymore. Now there are more adjustable trunnion brackets than the original pedestal bracket, a lower profile, and an improved cable system out the back. All these new features can be pushed harder with the improved thermal efficiency and use of the latest and greatest LED chip technology.


A single LED chip inside a massive reflector like this is a long-distance flight. It's a spot and a pencil beam, a light pattern typically reserved for off-roading and track use.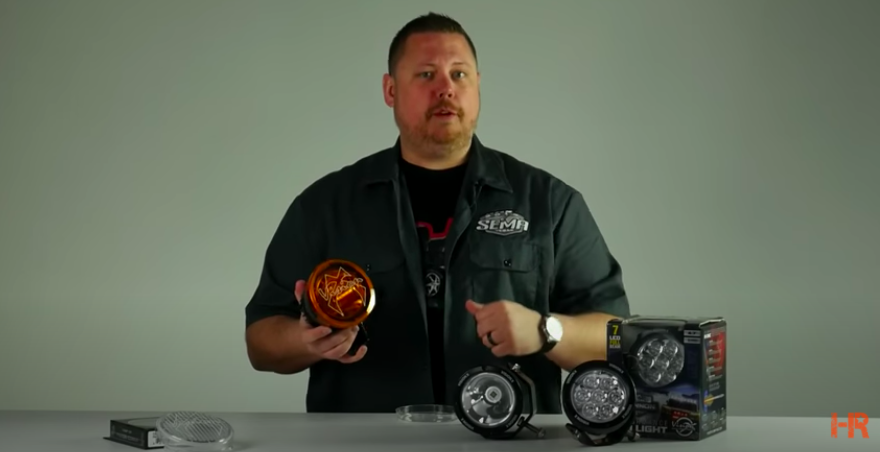 They created this ingenious system to pop on and pop off different beam patterns quickly. The beam pattern can be changed to white, blue, amber, and red. Since these are easy and quick filters for the light, it allows the user to maintain the same beam pattern.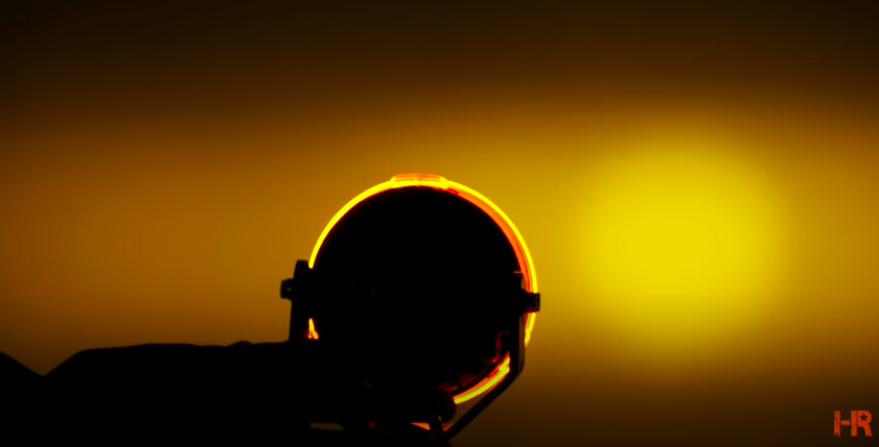 So if you don't have a cover, you will have a long-distance spotlight. If you want to keep a clear light, you can pop on the elliptical beam, and you'll have a rectangular-shaped beam pattern.

Do you see all the grooves and the shapes inside the lens? This is known as fluting, and it diffuses the light and allows for it to go from a spot to a flood. Then you have a solid driving beam. Additionally, you have different applications for snow, dust, dirt, and fog.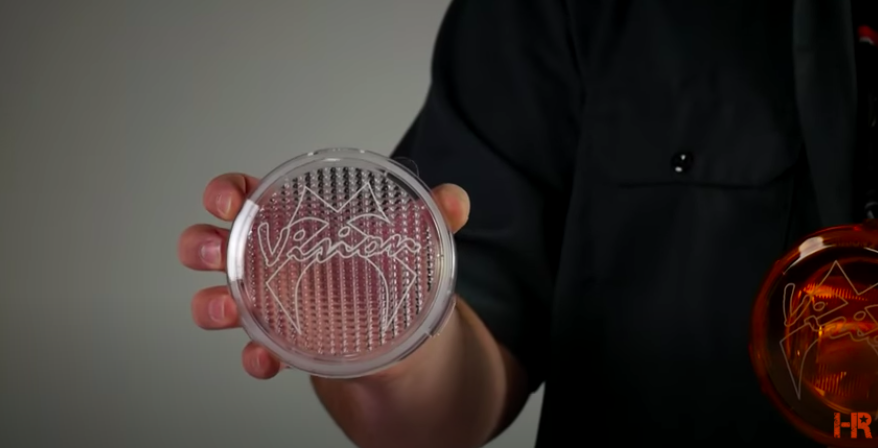 It is just as simple as pulling your covers out of your glove box. If you think ahead, throw them in there, walk up to the front of your vehicle, and pop them on when needed. Whether it is the early morning light, driving in the fog, deep in the mountains, or out in the scorching desert. Wherever you are traveling, you can pop on the right covers and you have a completely different use of the light.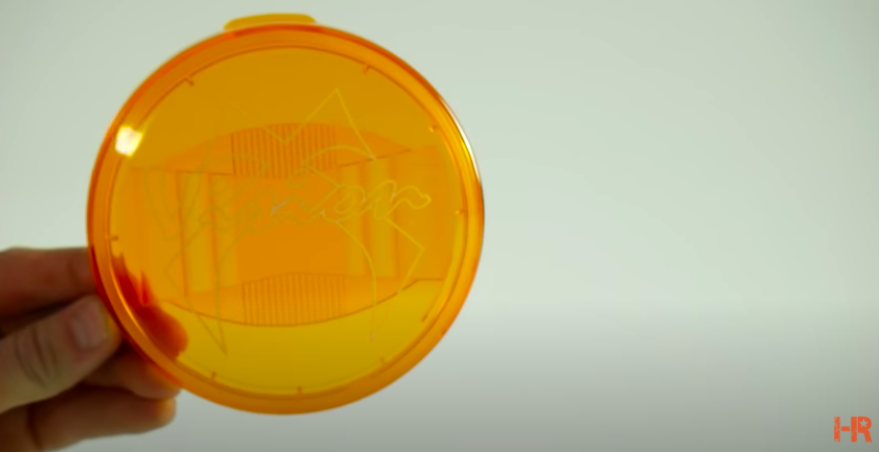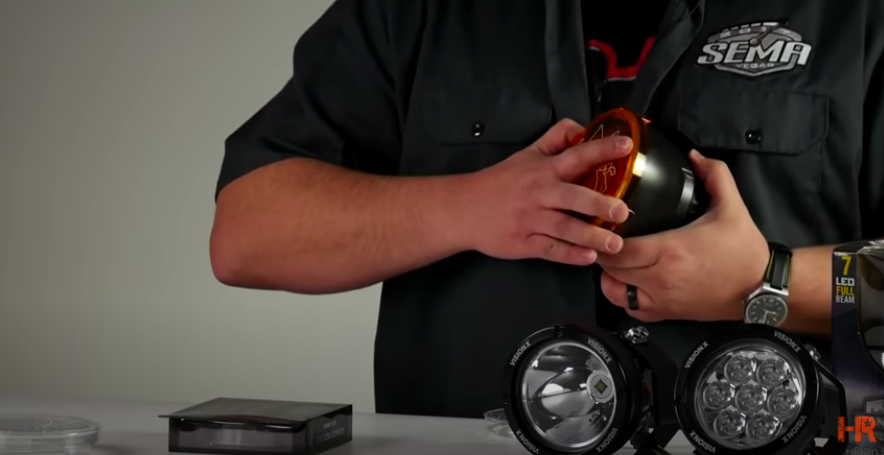 With the second-generation Light Cannon, you have the same functionality there. So not only are the new ones more affordable, but they're also a better value with their improved brightness, they have long distances, and you can still use the covers and create 25 different beam patterns.
The other significant improvement they did, going from the first generation to the second generation Light Cannon, is the invention of the multi-LED cannon.
We go from a single 40 watt LED to multiple LEDs at 49 watts. Now the multi-LED is just a massive assault of light. The Light Cannon with multi LEDs is just unbelievably bright, but you sacrifice distance. As you can see, compared to the single LED version, the optics are not designed for super long distances.
So you go from the long-distance beam of the single LED to a medium distance beam of the multi-LED. This thing is about half the distance of the single LED light output, but it's still coming in at 700 feet. The trade-off is less distance but way more light.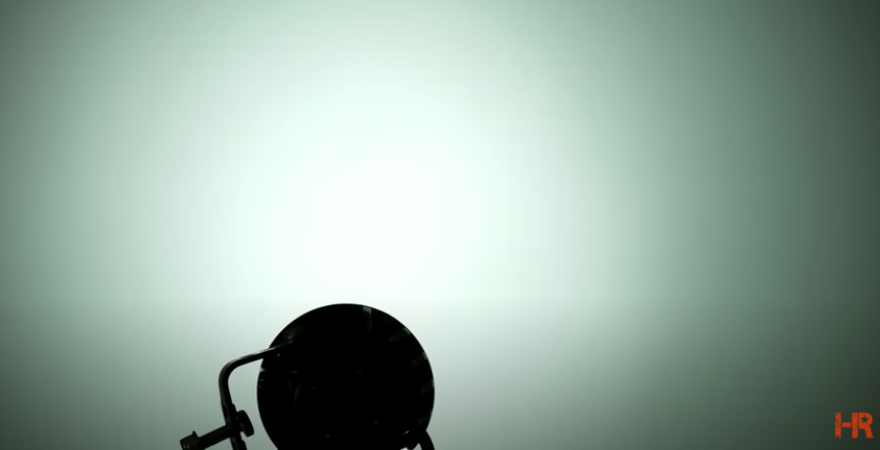 We are going from 3,000 lumens from the single LED to 5,000 lumens on the multi-LED. So think about if you combine these on the front of your vehicle. Let's say you did two long-distance lights and two super-bright medium distance lights. This will give you a good mix of brightness and distance for your vehicle. All while maintaining Light Cannon's high-quality construction.

To illustrate this, we are going to do just that on our Ford Super Duty build. We are using the brand new Vision X grill designed explicitly for the CG2 Light Cannons. It is going to be epic. If you want to see that, check out our other videos.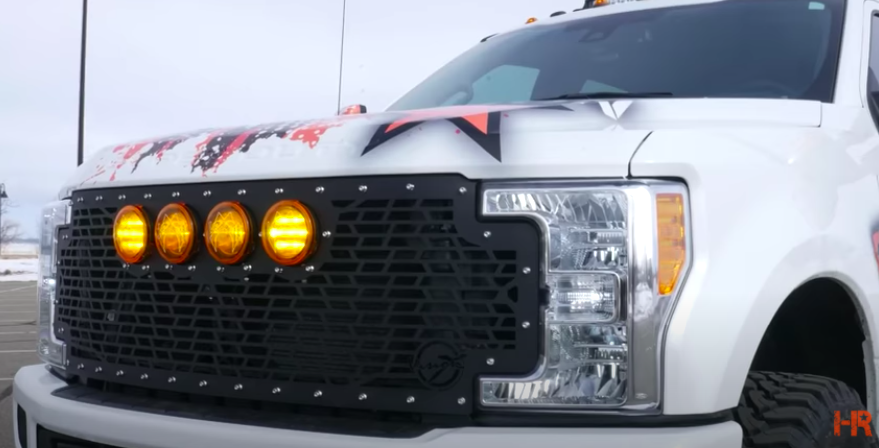 Huge benefactor of the Light Cannon series: They have a size to fit every application and need. Firstly, you have the three-and-a-half-inch round that comes in a single or a multi-chip option. This comes in both a single diode and a multi-diode.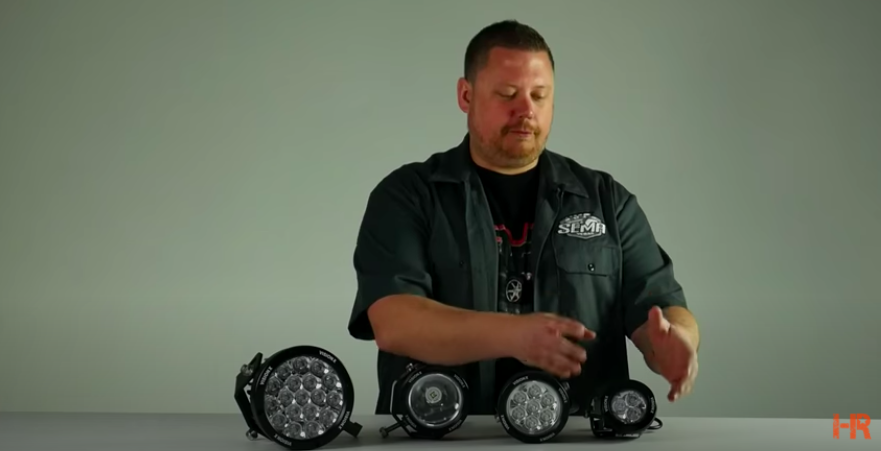 Then you have the four-and-a-half-inch round that comes in a single diode or a multi-diode, the six-and-a-half-inch round (also comes in single and multi), and then you have an even bigger one that is eight-and-a-half inches around. That is a vast, massive light that would be mind-blowing to put to use on your rig.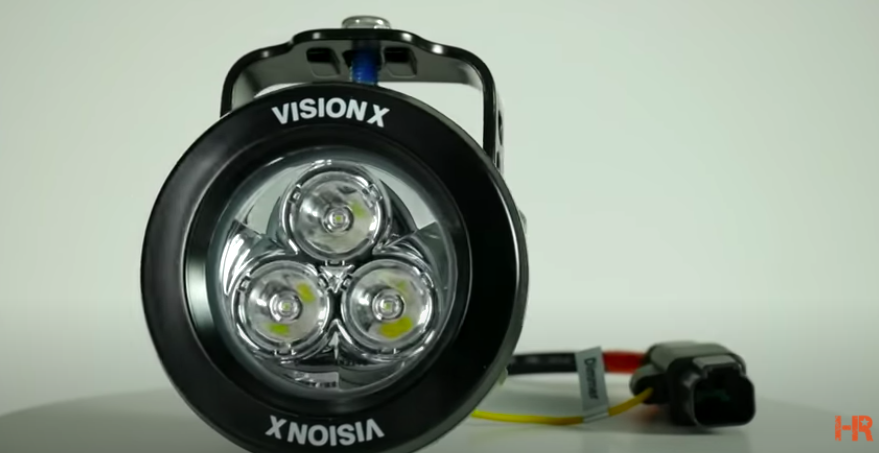 You can read more about the specs, the pricing, more pictures, other application data on our website, www.headlightrevolution.com.