The LED light bar that fits a 2014+ Toyota Tundra hood bulge, made by NSV, and also referred to as the Night Rider Light bar, is one of the coolest upgrades you can do to your truck! But with all complex electronics (the NSV light bar) - that integrate with other complex electronics (your Toyota Tundra) - sometimes there are complications. Luckily for you, both NSV and Headlight Revolution have a LOT of experience with this product and we can help you get it working. In this article you'll find the most Frequently Asked NSV Light Bar Questions and their answers. We'll also show you some common troubleshooting tips and tricks to get your light bar working right!
BEFORE INSTALL, WATCH THIS VIDEO: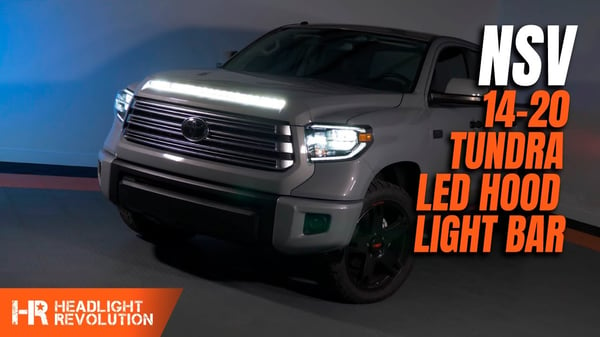 ---
Customer Problem: I want to buy the NSV Light Bar but I can't find it for sale. Where is it?
HR Solution: Right Here: Click Here to buy the NSV Toyota Tundra LED Light Bar
---
Customer Problem: How do you install it on 2020 - 2021 Tundra trucks with the different wiring?
HR Solution: This video shows you the difference between the old switch, and the new single-switch, and how to install on 2020+ model year Tundra trucks: NSV LED Light Bar Single Switch Update for 2020+ Toyota Tundra
---
Customer Problem: I need help installing my light bar on my 2014 - 2019 Tundra truck. Do you have instructions?
HR Solution: Yes, we have a step by step NSV Install Video you can watch HERE, or you can download the install instructions from from our website: CLICK HERE and check the product description section for a link to the PDF document.
---
Customer Problem: NSV Light Bar installed in my 2019 Tundra as shown in the video, and cut the blue wire because I have factory LED Toyota headlights but now I'm having issues with blowing out the tail light fuse when I turn on the headlights. And the front turn signals don't work at all!
HR Solution: There is a recall from Toyota (Safety Recall 20TA12) affecting certain 2018 - 2020 Tundras that needs to be addressed for this problem to go away. Essentially it requires re-pinning of the turn signal connector. This can be done by yourself if you have all the info - or ask your local Toyota dealer to do it for you. In the meantime, disable the light bar install until the recall has been completed. You can find all the details about this recall here: TECHNICAL INSTRUCTIONS FOR SAFETY RECALL 20TA12 FRONT TURN SIGNAL BULB BRIGHTNESS
---
Customer Problem: Can the NSV Light Bar be turned on without turning on the high beams?
HR Solution: No, it cannot. When developing this light bar, NSV wanted it to feature a quick way to turn the light bar on and off. Fumbling around trying to find a switch to turn the light bar on/off can be very distracting and unsafe. So they added this extra safety precaution to make the use of this light bar as seamless as possible.
---
Customer Problem: Are there covers for the Day Time Running Lights?
HR Solution: There are not currently any covers for the Daytime Running Lights (DRL) at this time. However, if you'd like to change the color of your DRLs, you can do so by using Lamin-X film!
---
Customer Problem: The light bar has been installed, but nothing is working!
HR Solution: Something small was likely missed. Double back and ensure that all your connections are correct and plugged in properly. A common install mistake we see is when the two main wires for the switch panel get connected wrong. They should both go to power, not 1 to power and 1 to ground. If all else fails, reach out to us and we will be more than happy to help you get the light bar working! (Even if you purchased it elsewhere)
---
Customer Problem: Can full light bar function be wired to a different switch?
HR Solution: While it can technically be wired to a separate switch, it is not recommended. Doing so will void the manufacture warranty with NSV.
---
Customer Problem: Little DRL sections of the light bar dim a little when my parking lights turn on.
HR Solution: This is a totally normal function that mimics OEM operation of Daytime Running Lights on stock headlights. When the parking lights or headlights turn on, the DRL on any vehicle needs to dim - NSV designed the Tundra light bar this way to comply with federal law.
---
Customer Problem: Installed the OEM LED headlights with an aftermarket adapter harness and light bar doesn't work right.
HR Solution: When installing the OEM LED headlights with an aftermarket adapter harness, you need to follow the NSV instructions as if you still have the old halogen reflector headlights with the incandescent turn signal. Just because you converted to the OEM Toyota LED headlights, doesn't mean your original truck wiring is set up the same way. Follow the instructions based on your truck's original headlight configuration.
---
Customer Problem: The Red switches in the new NSV Switch panel don't fit my 2020+ Tundra – everything is a different shape on my truck than what's shown in the videos."
HR Solution: In April 2021 NSV released a new 3-in-1 switch to work with their multi-function hood light bar that is designed for use in 2020+ trucks with the updated dash style. It conveniently replaces any OEM single rectangle switch, or switch blank, making it very easy to install. In the install video at the top of this page, follow all the install steps, but when it comes to the switch install, use the guide provided in THIS video: Single Switch for 2020+ Tundra Trucks – WATCH NOW