7-Inch Round sealed beam led Headlight Shootout
There are a ton of 7-inch round seal beam headlights out there that are junk. Today we are putting 23 aftermarket 7-inch round LED headlights up against popular stock headlights, and this is the final six. It is absolutely insane that only 6 of the headlights we tested today are any good. Let me show you why...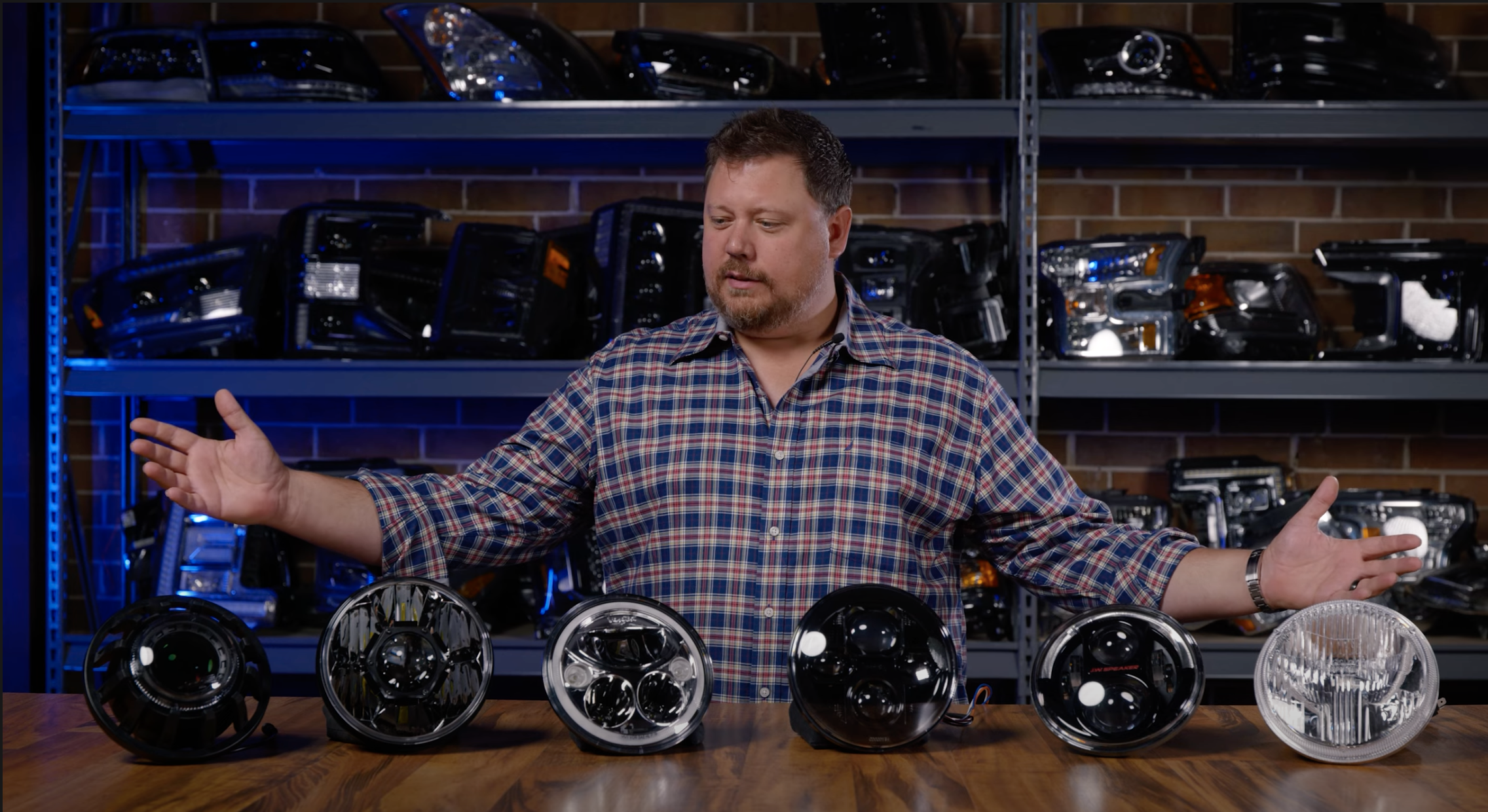 These headlights are the best of the best, and today, we're going to show you how we came to that conclusion. We will go over which one is better for each application and how it stacks up against the bad examples. We will also show you what we do to the bad ones here at the Headlight Revolution (check out the video at the bottom!).
Want to skip ahead? We've got you.
---
Any of these five headlights will work if you are putting aftermarket LED headlights on your Jeep Wrangler or Jeep Gladiator. There is much garbage out there and going with any of the following lights is a great choice. What I recommend is the Morimoto Super 7 or the KC HiLites Gravity projector (shown below).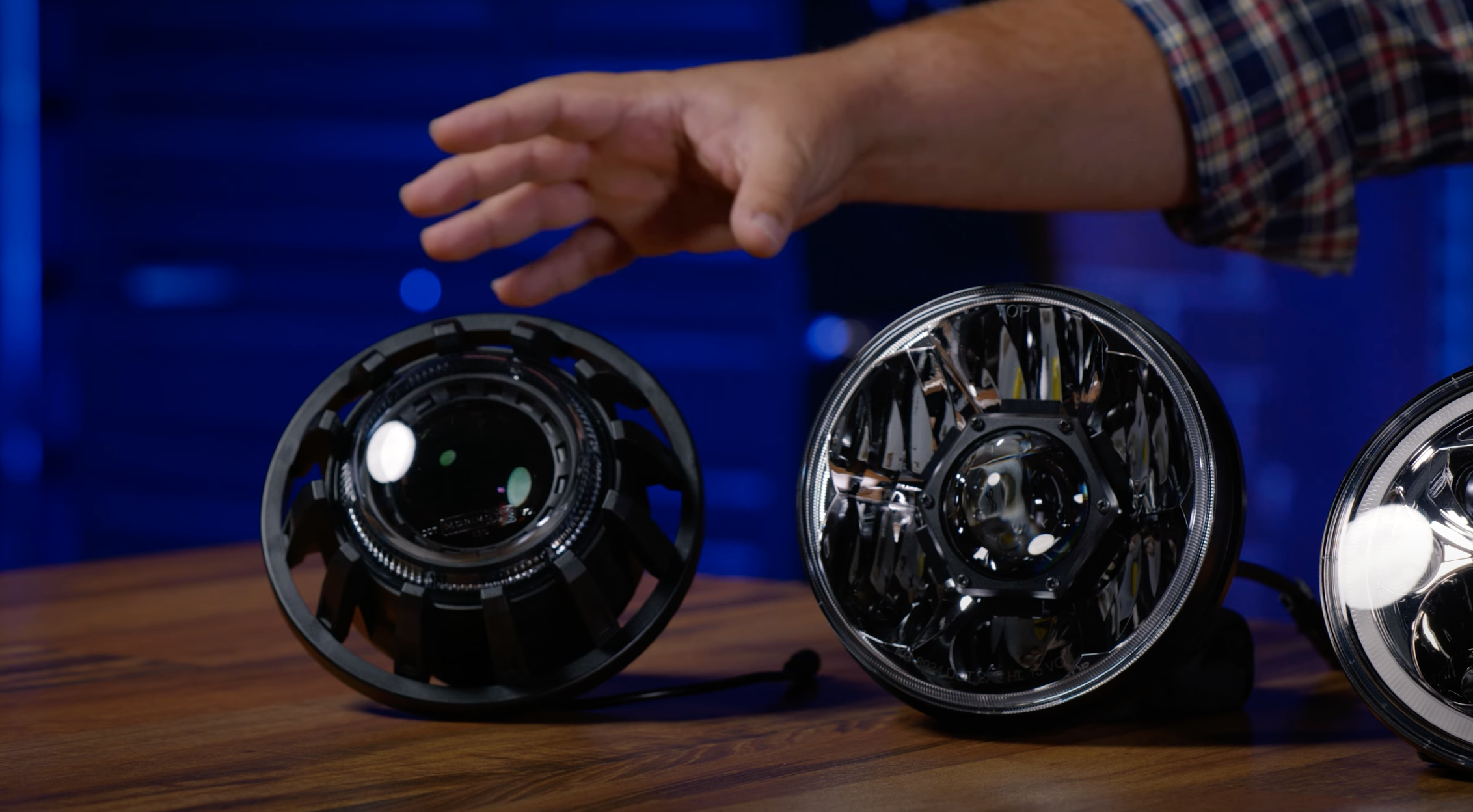 If you have 7-inch round headlights on your motorcycle, we recommend one of these three: the Vision X VX7RD, the Morimoto Sealed 7, and the JW Speaker 8700 J2 (shown below).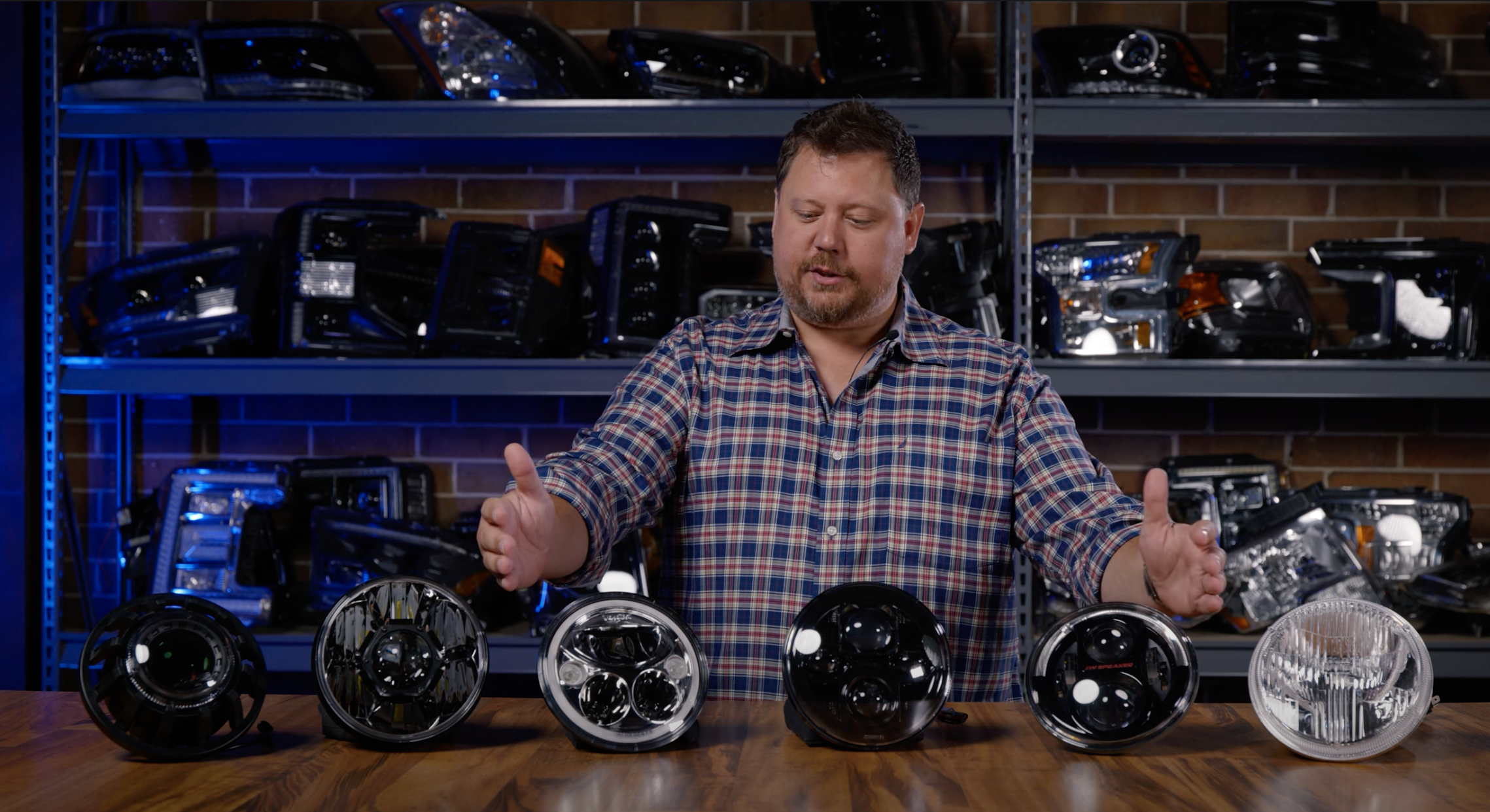 If you have a classic vehicle and you want to retain that original style, but you want modern performance, this headlight from Holley, the classic sealed beam LED, is the best choice out there.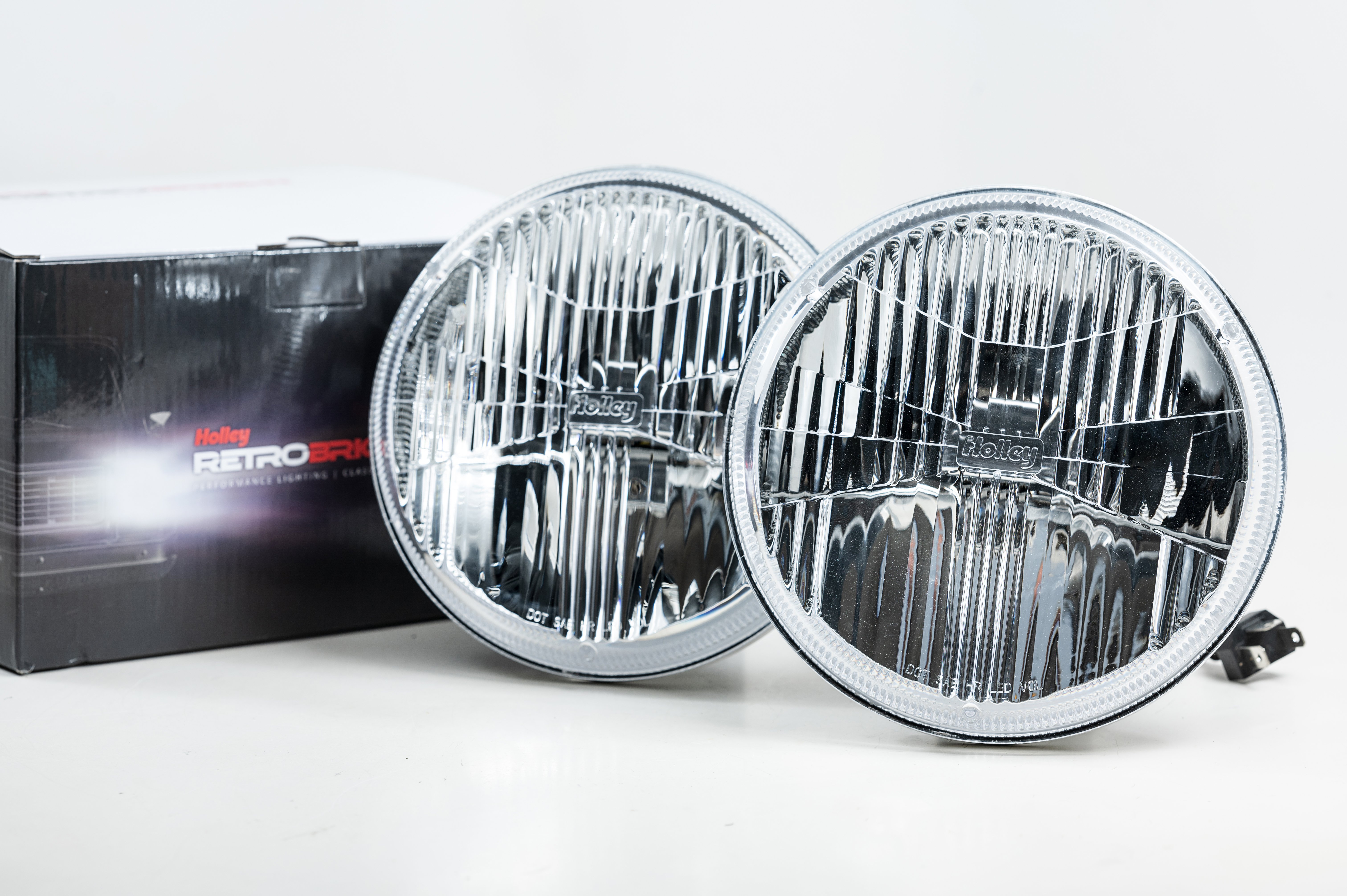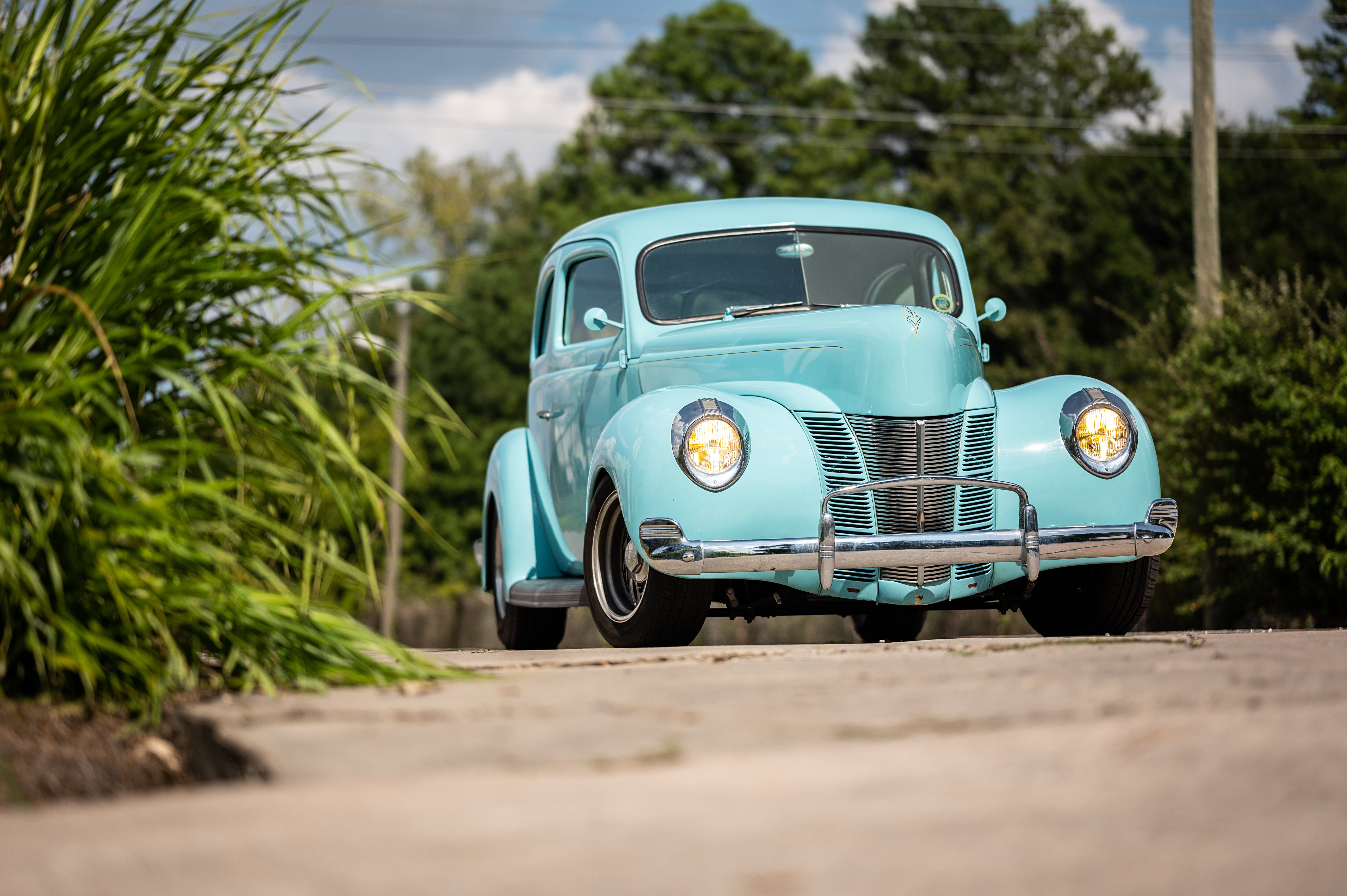 We are going to compare these six headlights against 23 of their peers and show you why these are the only headlights you should consider for any headlight upgrade.

Stock Vs. LED Aftermarket
We have got three stock headlights over here to examine and test. Everything else that follows is aftermarket LED 7-inch round headlights. To use any of these headlights on a JL or JT Jeep, you will need a headlight adapter. This is because the JL and JT have a 9" headlight housing. For more information, check out our video here.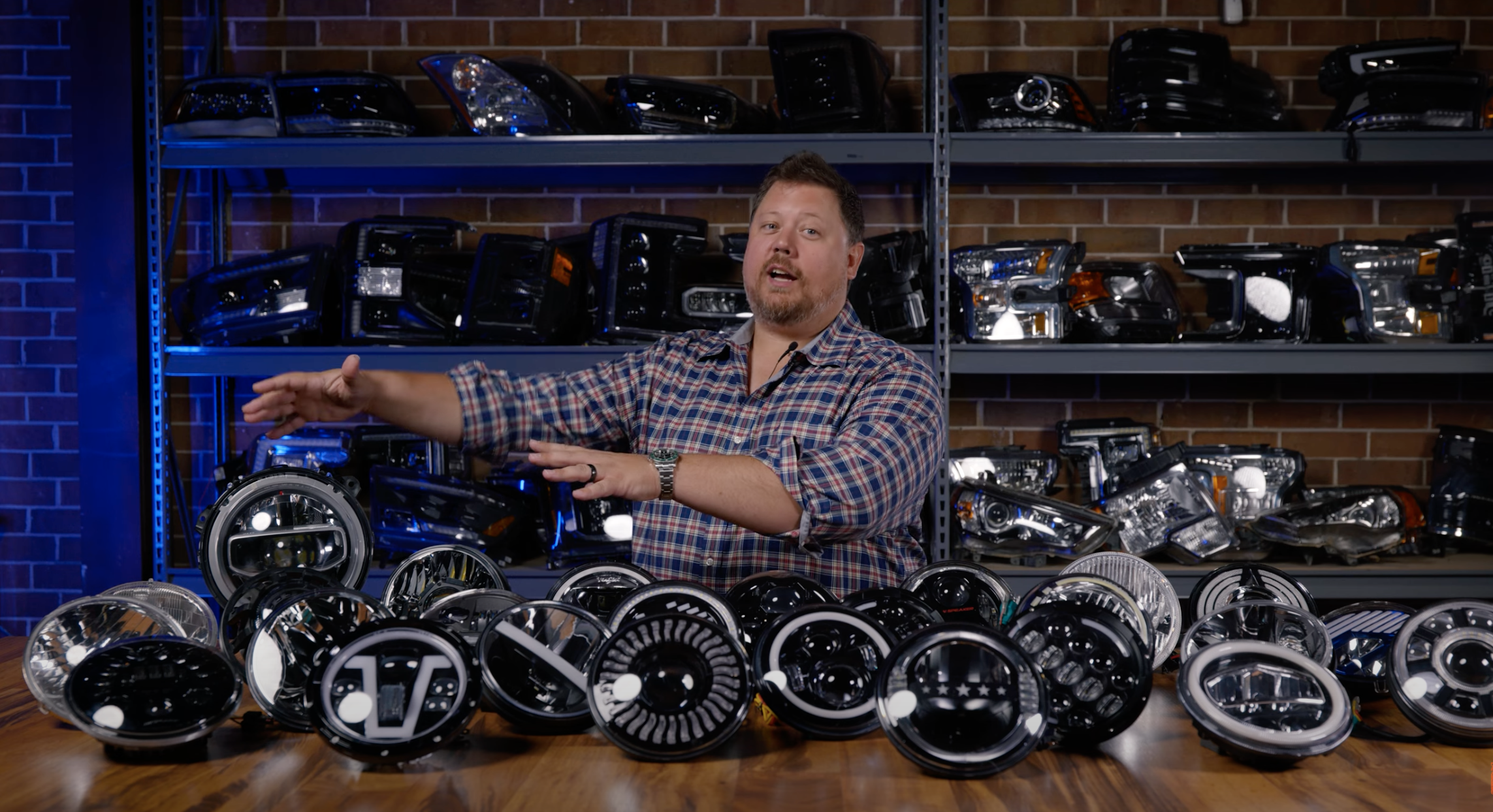 As you can see, we have got pretty much everything that is out there and emptied our wallets so you do not have to because, frankly, people are lying to you. Some companies bring these headlights into the states, market them as if they are legal, DOT compliant, and safe to drive, and they simply are not any of those things.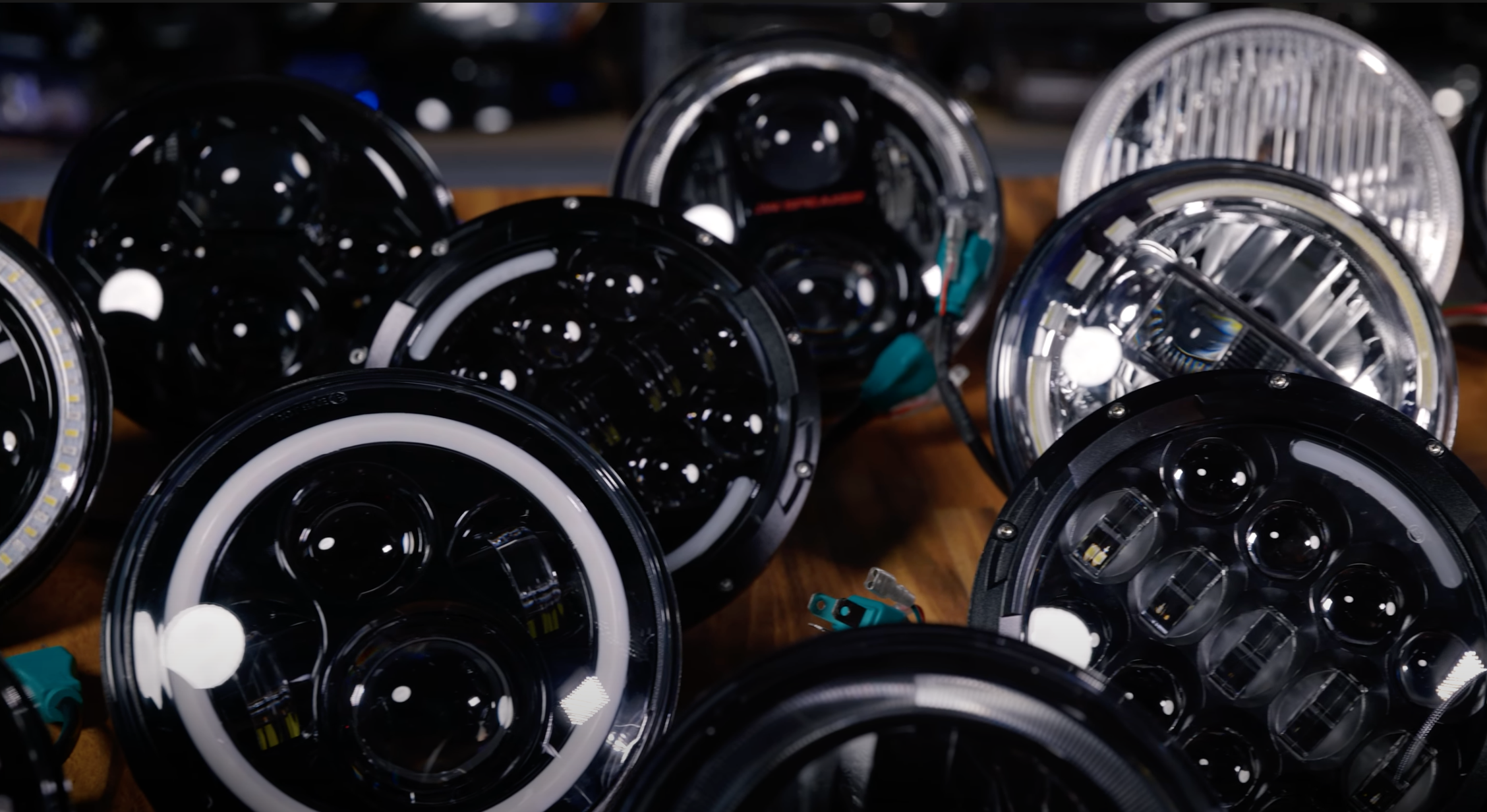 Some of these headlights are downright scary! If these are on your vehicle, pull them off, put your stock headlights on and get one of the six recommended as soon as possible. You will thank yourself when you do.
---
Comparing Stock 7 Inch Round Headlights
The way that we are going to test to prove that these six are the best (and the only ones worth putting on your vehicle) is by starting with the three stock headlights: classic, glass sealed beam 7-inch round, Jeep Wrangler JK 7-inch round, and the Jeep Wrangler JL/Gladiator 9-inch round headlight. These three options (and maybe a motorcycle) will be similar to what we have here.
We are going to shine these 7-inch Round stock headlights against the wall at 25 feet, measure their maximum brightness in lux, talk about the color and examine the beam pattern. Then, we do the same test with every single one of these aftermarket LED headlights. Depending on your application, you get to compare these with the originals.

Based on which vehicle you are shopping for, it will influence how you digest this article and what is important to you. For example, if you have a Jeep Wrangler JL or a Jeep Gladiator JT with this monstrosity (shown below), you are putting out 800 maximum Lux on a stock headlight. To get aftermarket headlights you should go with the 7-inch round headlight with an adapter bucket.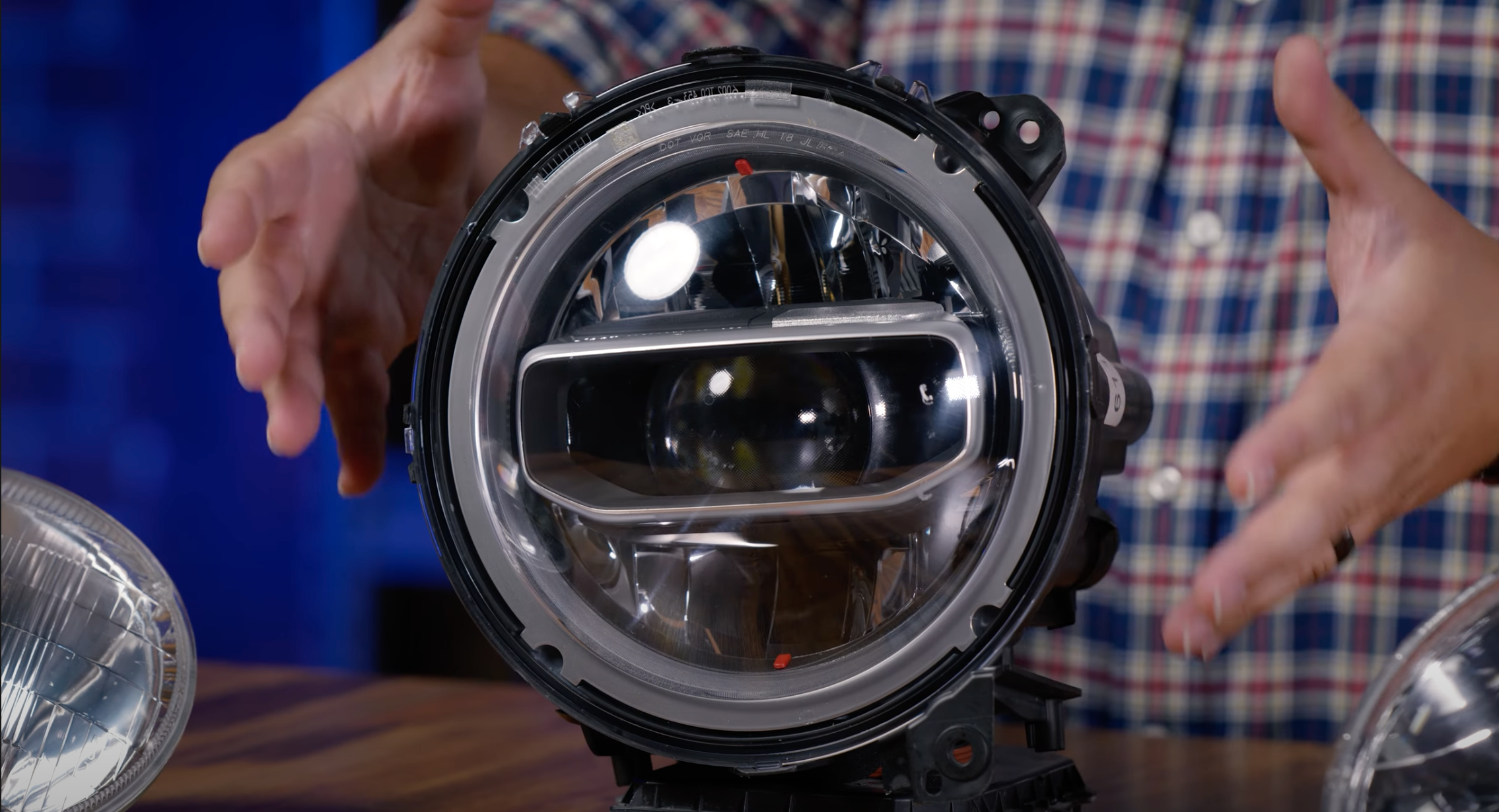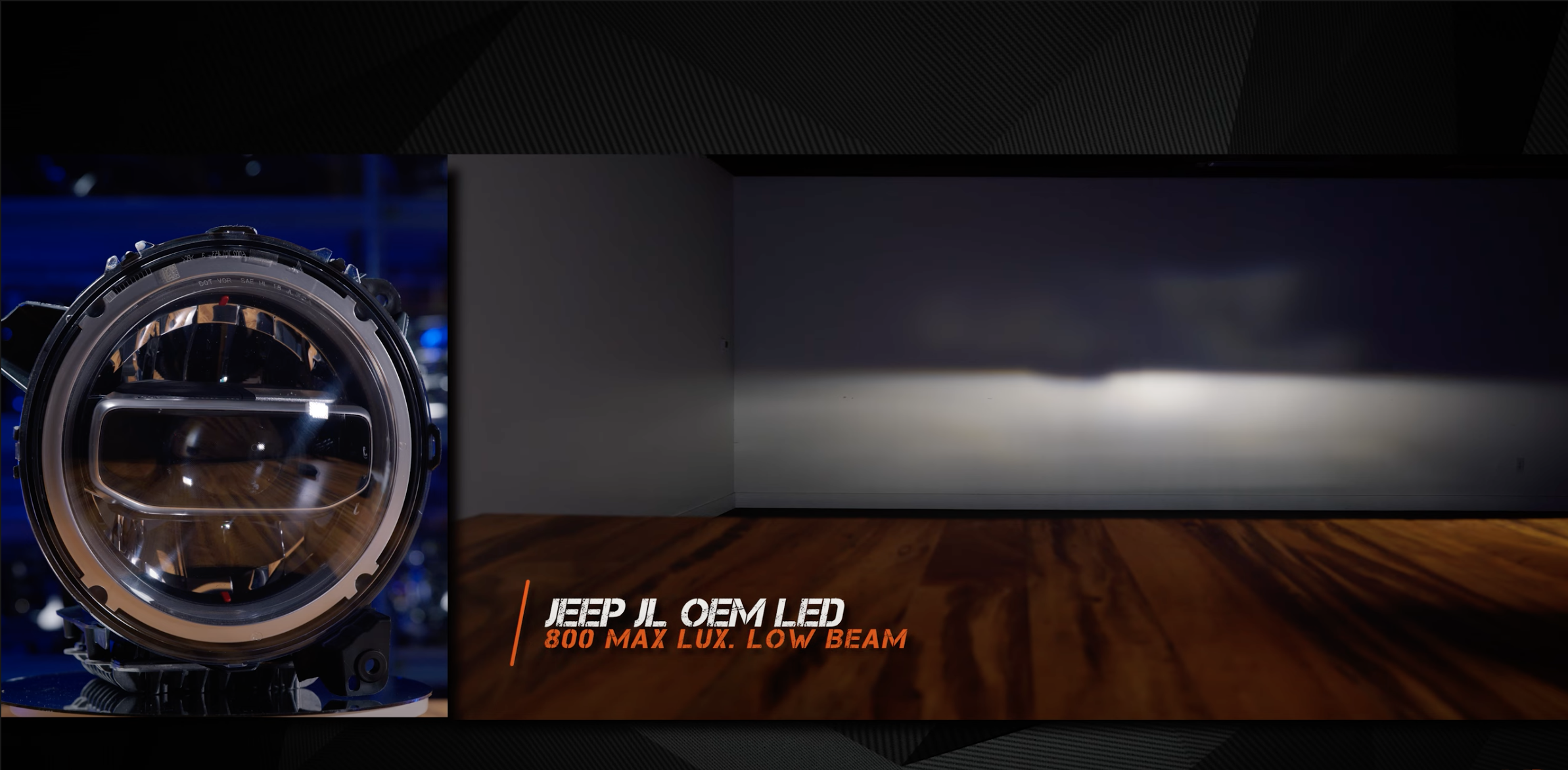 It is important to note that Lux is different from lumens. What to look for is the difference between the Lux of the stock headlight and the Lux of the aftermarket headlights. Lux is the actual, usable measurable brightness at a certain distance at a certain point in space. So when you're on the road, Lux is really what defines an effectual light output. For a more in-depth look at the difference between Lux and Lumen, check this out.
If you have an older Jeep Wrangler, motorcycle, or Harley Davidson that uses a sealed beam headlight, we are going to be talking about something like this (shown below) coming in at 510 maximum Lux on a low beam. Keep in mind that some headlights are brighter than others, and some headlights have different beam patterns. If your headlight looks like this one, refer to this pattern to that of the headlights we are about to go over.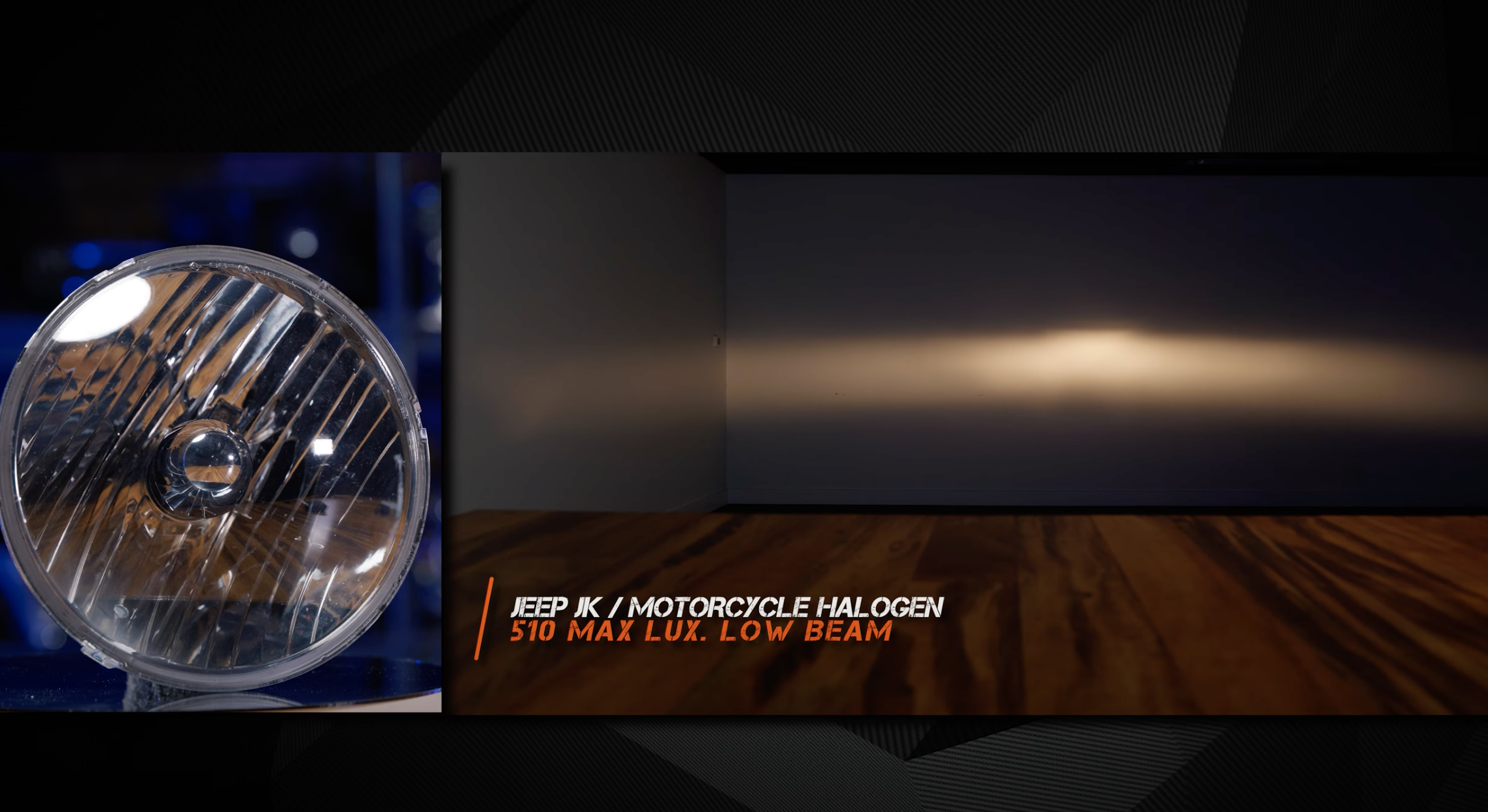 If you have a classic car or truck that uses the old-style glass sealed beam headlights like this H6024, chances are the majority of what we go over today will not fit your vehicle. The mounting depth is so tiny on those older cars, so keep that in mind most of what we go over will probably be brighter, but most will not fit. However, I will be going over the ones that will fit shortly.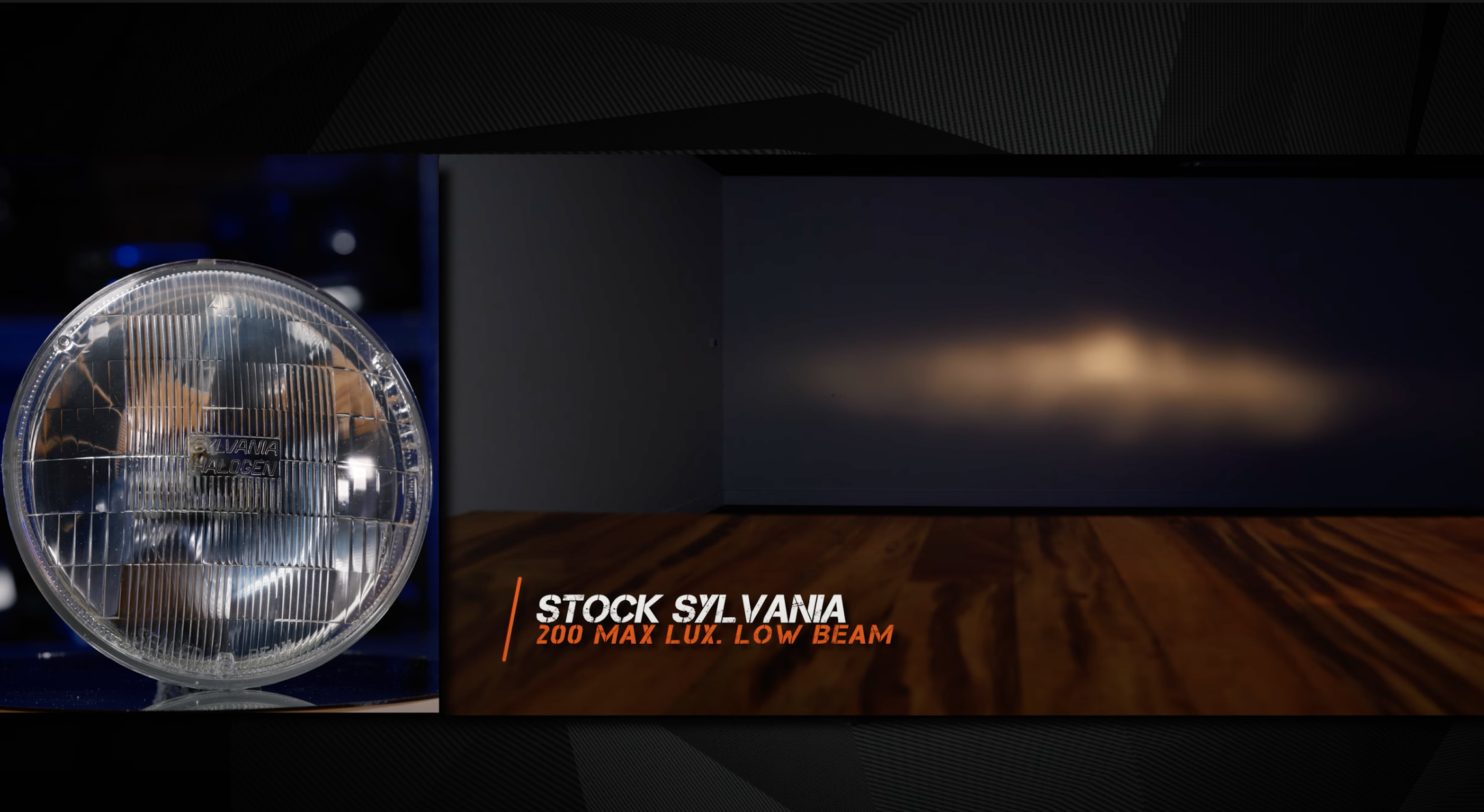 As shown above, this old-school glass sealed beam headlight has a tiny beam pattern that not only is not very bright at 200 maximum Lux. Also, it's a dingy, yellow color and not very wide. This look reflects the technology of the time, and nearly anything is an upgrade to this Sylvania.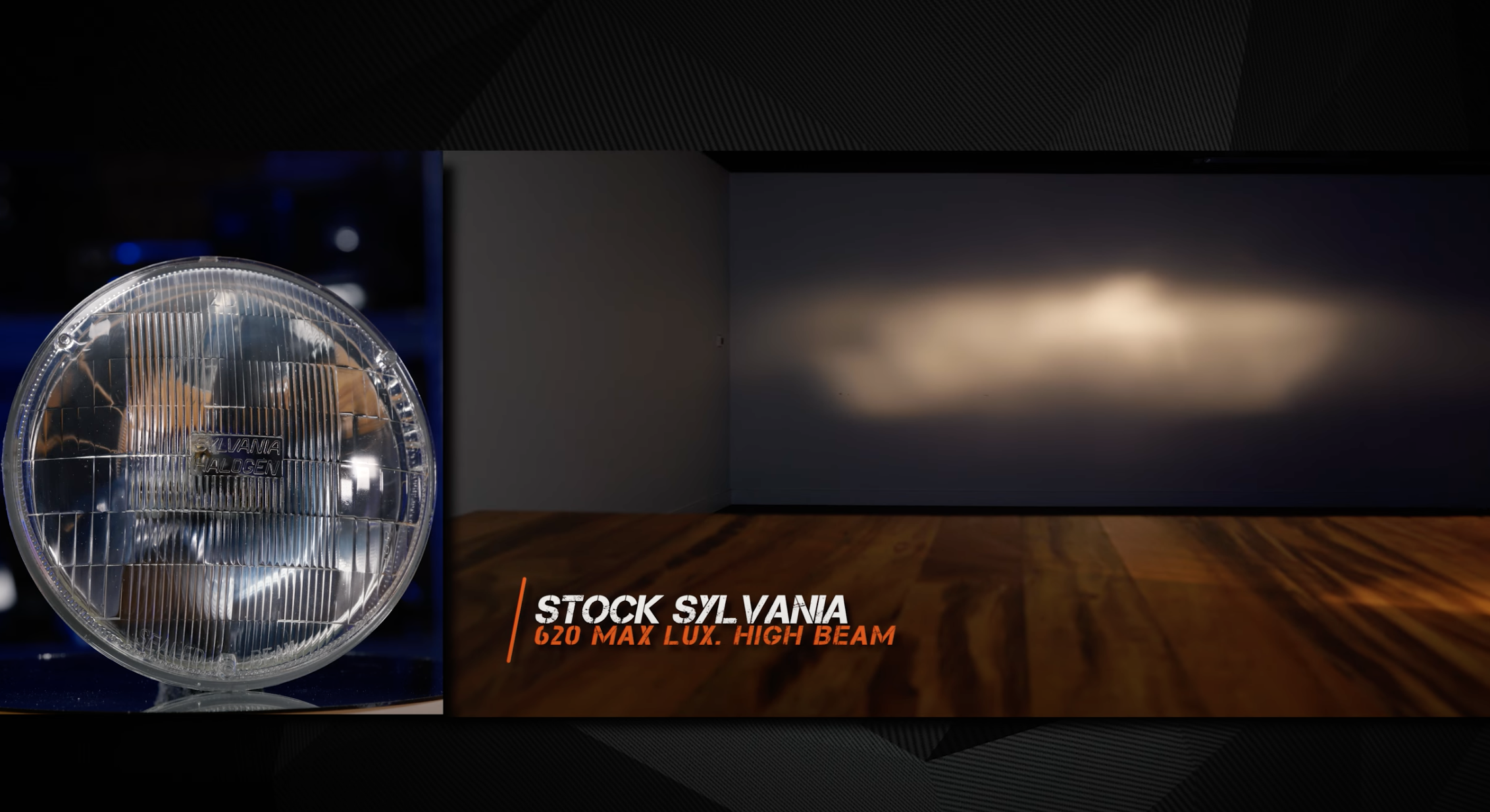 When you switch to a high beam, the brightness goes up three times, but it's still not as bright as the low beam on some new models.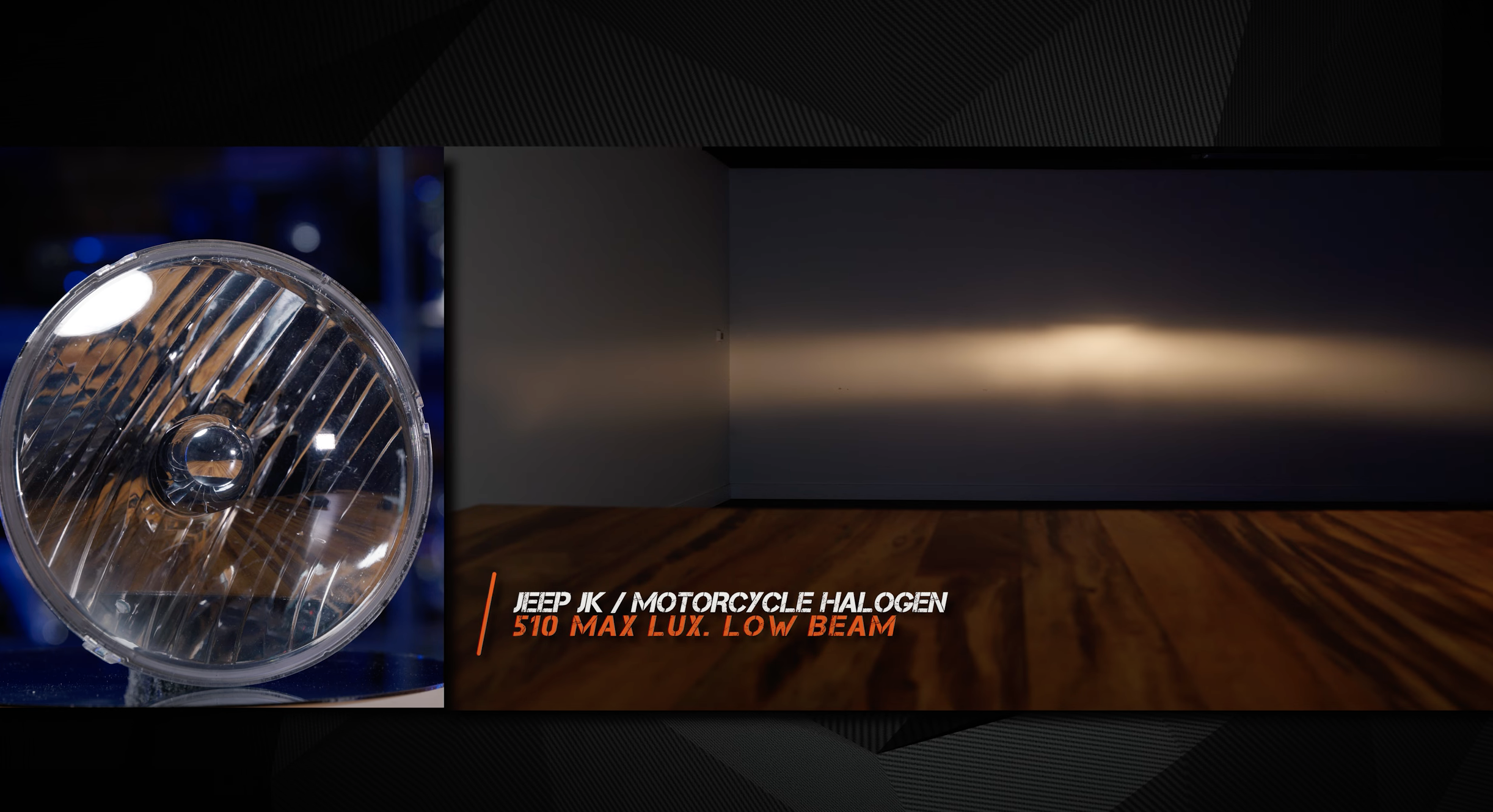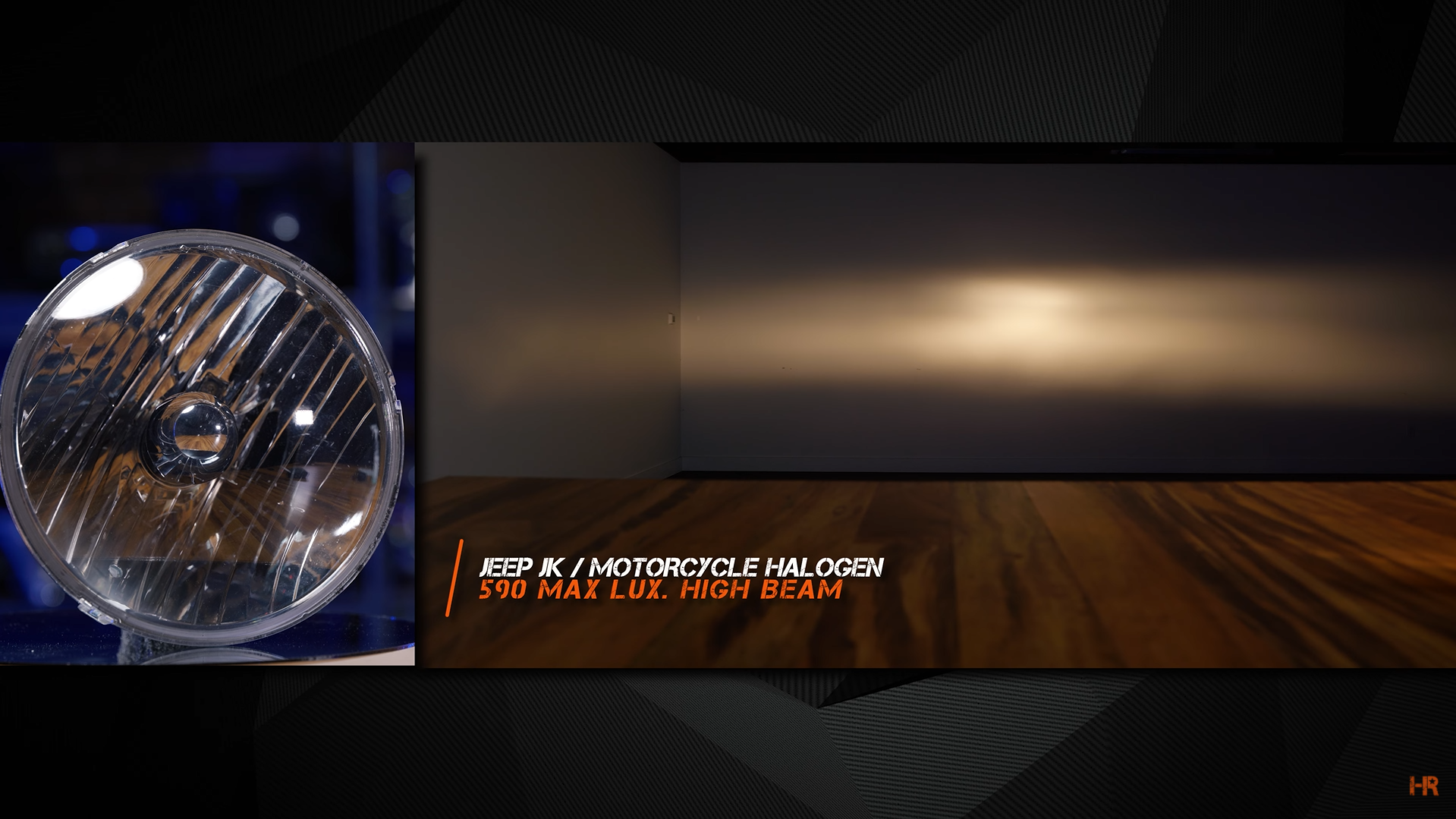 Jeep JK/Motorcycle Halogen
510 Max. Lux (Low Beam), 590 Max. Lux (High Beam)
If you have a Jeep or Motorcycle with modern 7-inch round headlights, you are going to be seeing something like this, coming at about 510 maximum Lux. It has that defined hot spot and more width than the old school headlight, but we can still do better. Interestingly, when you turn on the high beam, it does not get a whole lot brighter. Only 80 maximum Lux and the beam pattern will grow in height. Trust us when we tell you better options than this for the 2020+ Jeep Gladiator and Wrangler with factory LED headlights.
---
Introducing the Holley 7 Inch Round Sealed Beam Headlight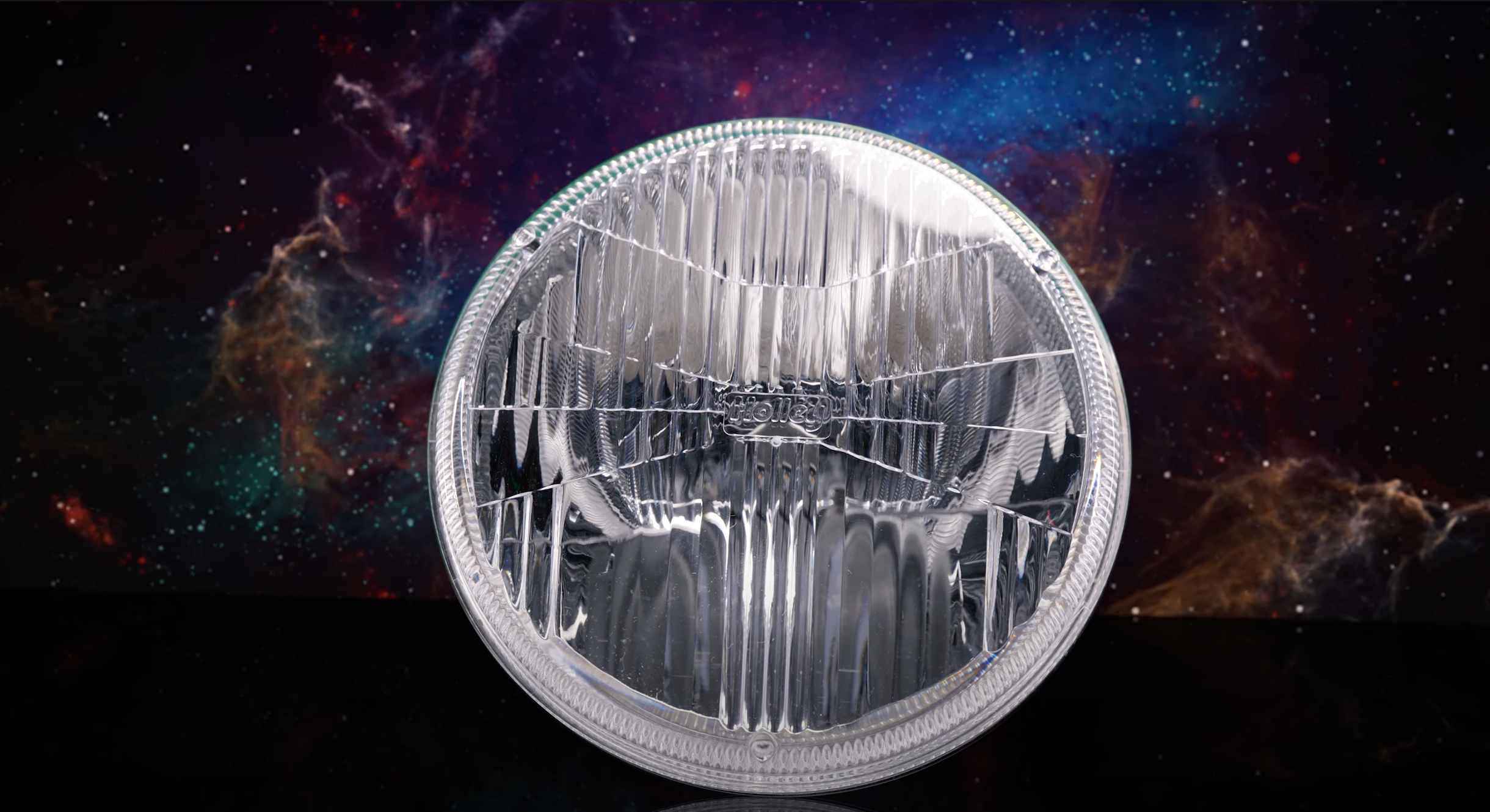 Before we jump into all the modern style headlights, let us show you this one from Holley. That is right, the world-famous engine parts builder now has a classic sealed beam headlight, and it is incredible. There are many headlights out there that try to look period correct, and a lot of them have projectors and LED accents.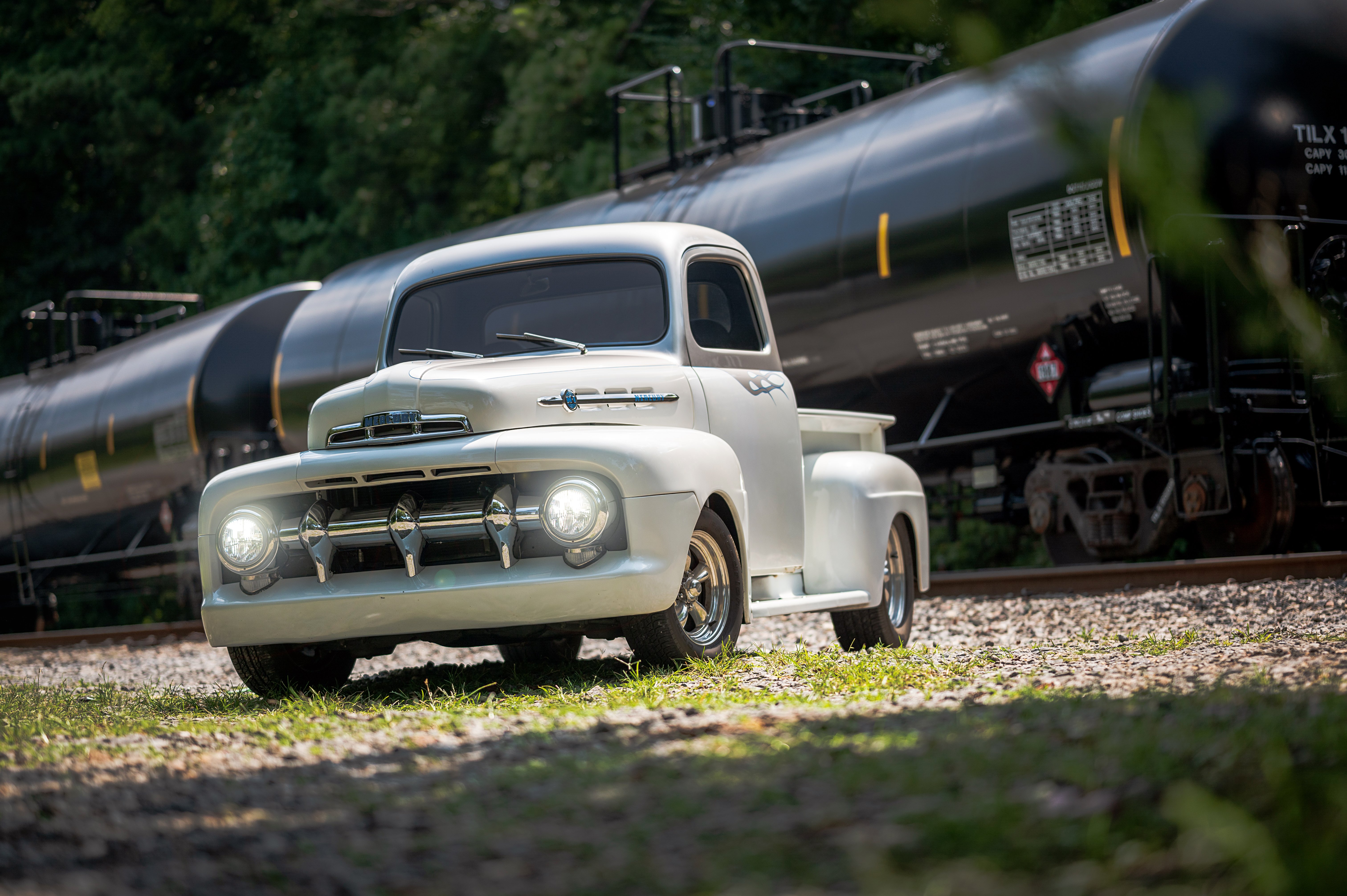 If you want something that's going to trick everybody in the world into thinking you have your original headlights still in place, but you want modern performance, you're looking at the Holley sealed beam headlight. This headlight uses a traditional sealed beam type lense and a reflector with an integrated LED system.
Depending on what color you want your light to be, the LED module is easily replaced with its plug-and-play install process. We have one 3000k version and one 5700k version. Essentially, can remove the 3000k cartridge and replace it with the 5700k version if needed, but you would maintain the same headlight assembly.




Holley Retrobright Classic LED


780 Max. Lux Low Beam, 1240 Max. Lux High Beam
Top 3 Worst 7-Inch Round
The first three aftermarket LED headlights we're testing are some of the worst, and I'm going to show you why. We've got headlights from Movotor, Quake LED, and Sup-Light. Each with its own list of issues and complications.

First of all, the middle one from Quake is just a blatant rip-off of JW Speaker. Stealing is never cool, but the least Quake could have done was make a comparable product and they did not even do an excellent job on that end! This headlight is terrible.

None of them are perfect, and the craziest thing is we see more people running around with headlights that look like this from Sup-Light than anything else. It is a danger to drive with, and you're going to see why.

1.) MOVOTOR HALO

160 Max. Lux Low Beam, 690 Max. Lux High Beam
The Movotor Halo low beam comes in at 160 maximum lux. That's 40 Lux less than the old-school seal beam headlight, not to mention the beam pattern is worthless. When you flip it to a high beam, sure, you get 690 maximum lux, but it is a terrible headlight with an unusable beam pattern.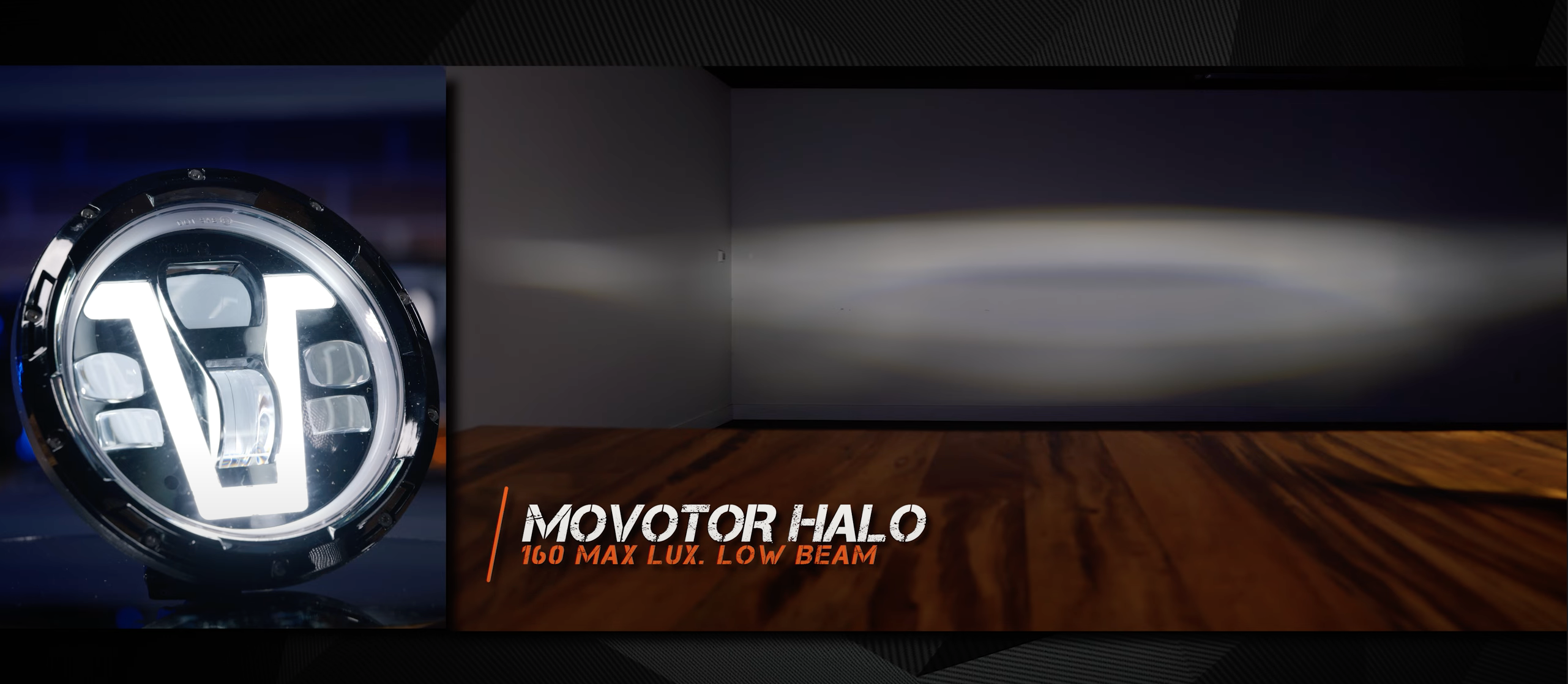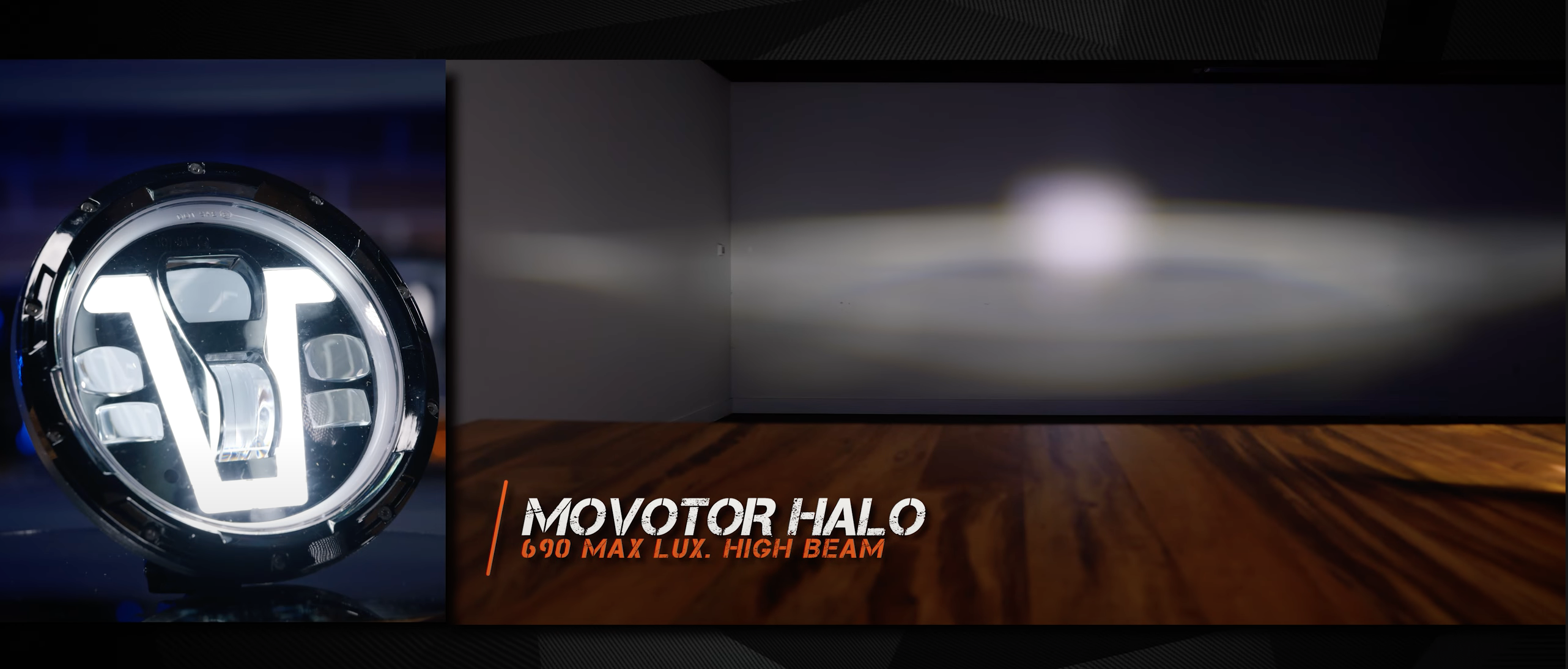 2.) Quake LED


230 Max. Lux Low Beam, 490 Max. Lux High Beam
Quake led seems like a pretty popular brand. I've never used them, and this is why. This Quake LED headlight only comes in at 230 maximum Lux? That's awful, and why is the beam so blue? This headlight is straight-up dangerous to drive with.

To make matters worse, when you flip it to a high beam, it only goes up to 490 maximum Lux. Junk!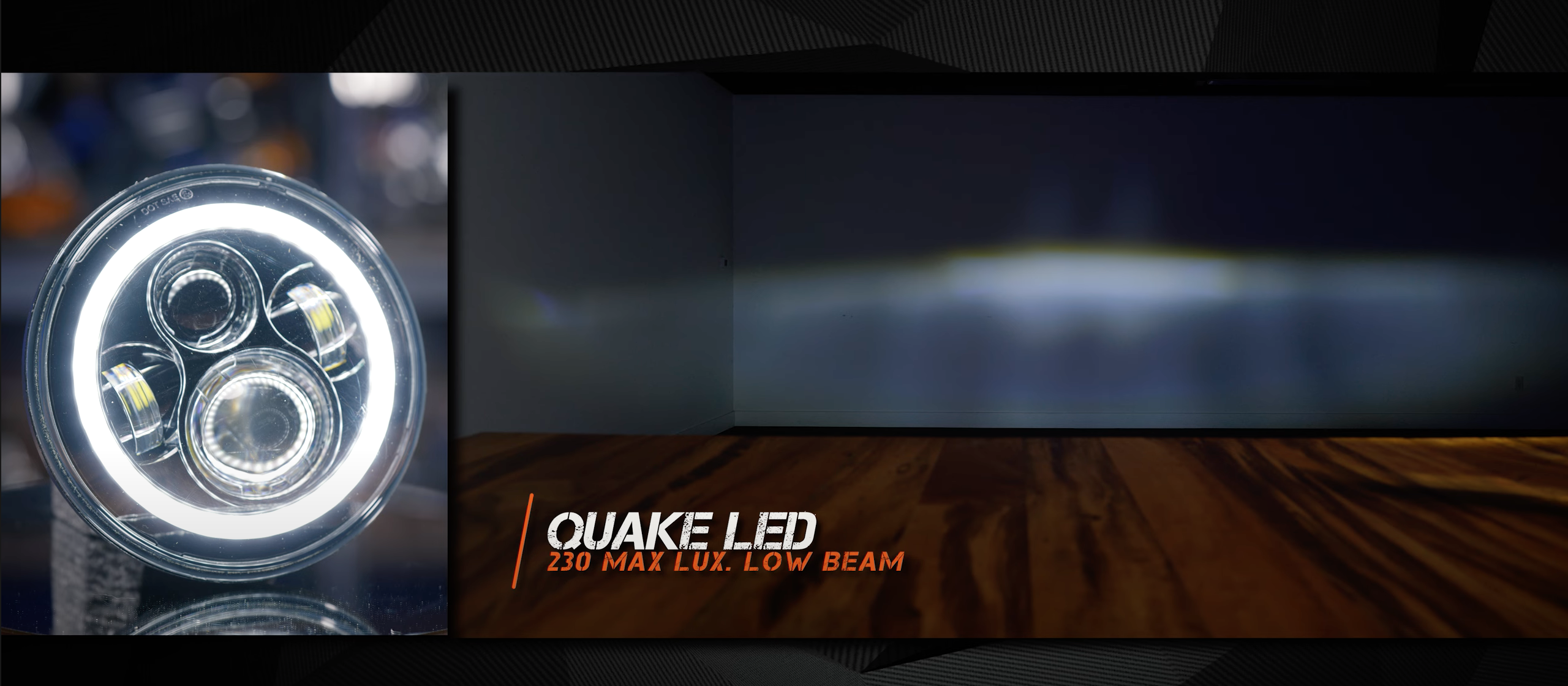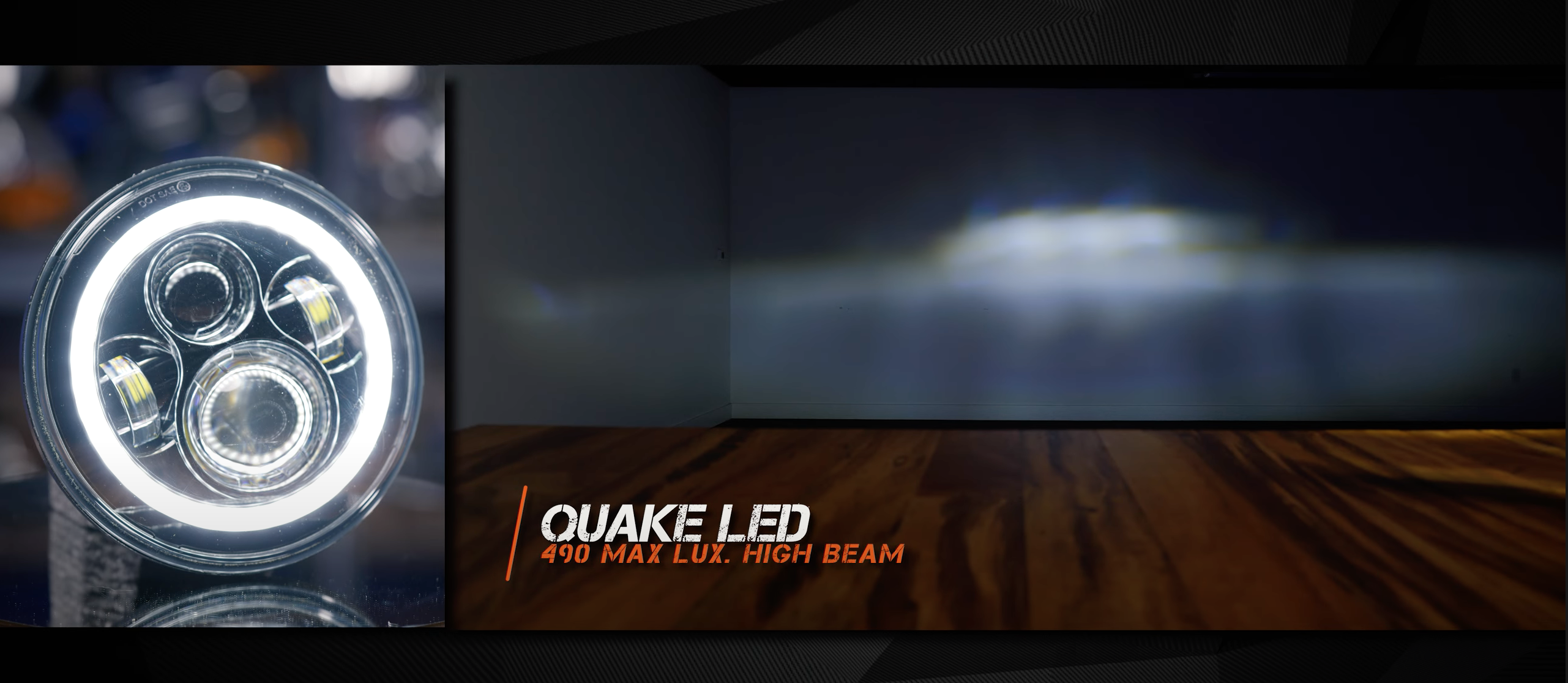 3.) Sup-LIGHT


140 Max. Lux Low Beam, 710 Max. Lux High Beam
This is the one that you see everywhere. Why is everybody using this headlight? This headlight by Sup-Light costs around 60 bucks, and I guarantee you're going to crash. How much is that low price going to cost you?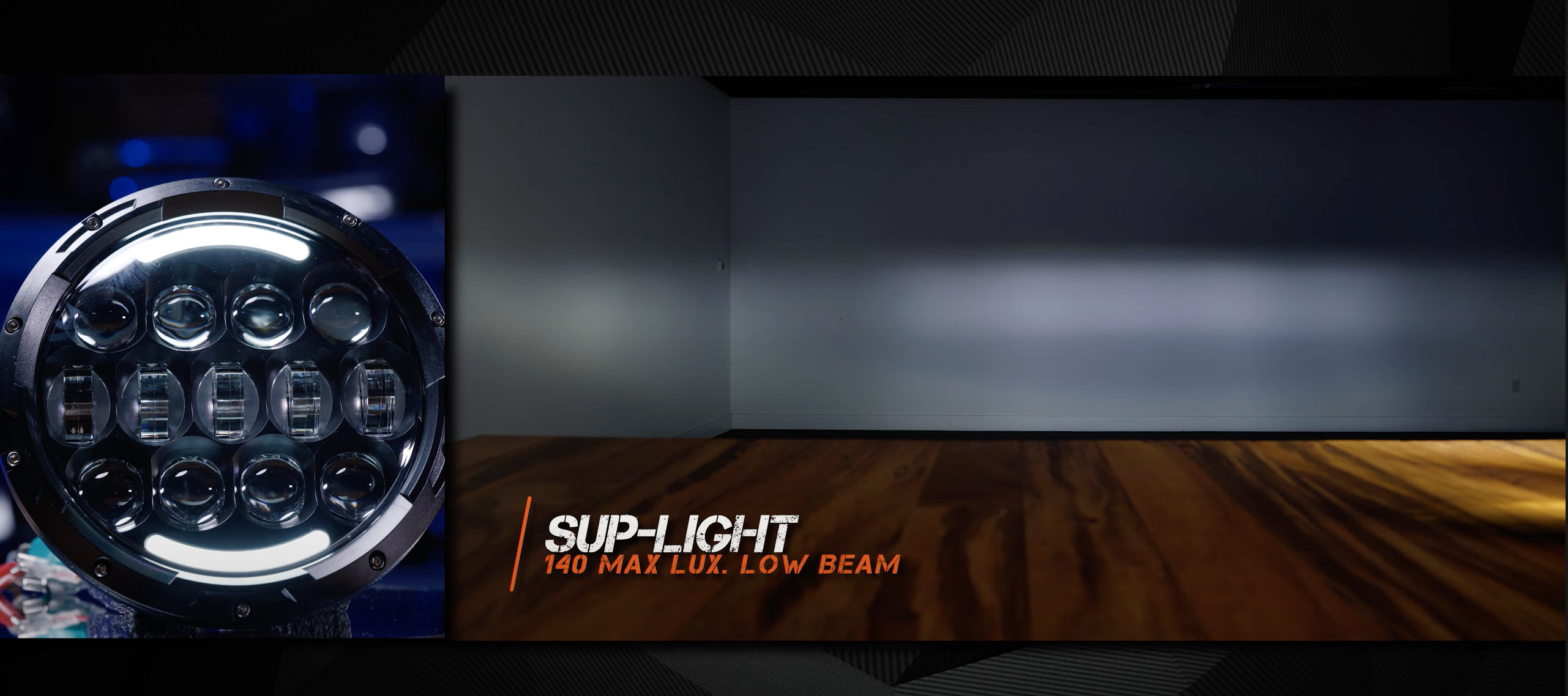 Coming in at only 140 maximum Lux, this is one of the worst-performing headlights in the world. When you go to high beam, it's 710 maximum Lux, but that is still not very good. Since you drive with your low beams 90% of the time, having a good maximum Lux is important. Frankly, this headlight should be banned from the USA considering how dangerous it is.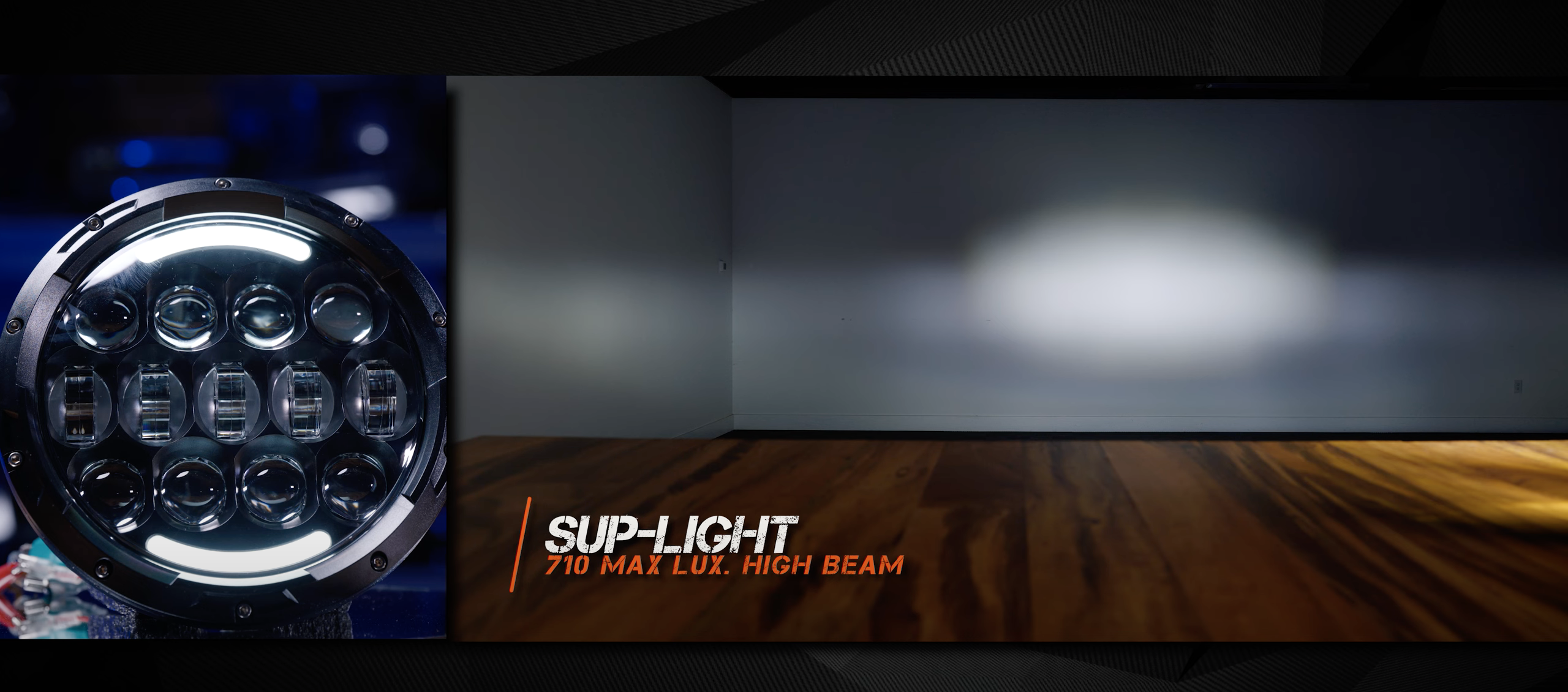 ---
Morimoto Super7 7-inch Round
Earlier this year, Morimoto upgraded their LED projector, the MLED 2.0, to the Super 7. So now this thing is even better and brighter than it was last time.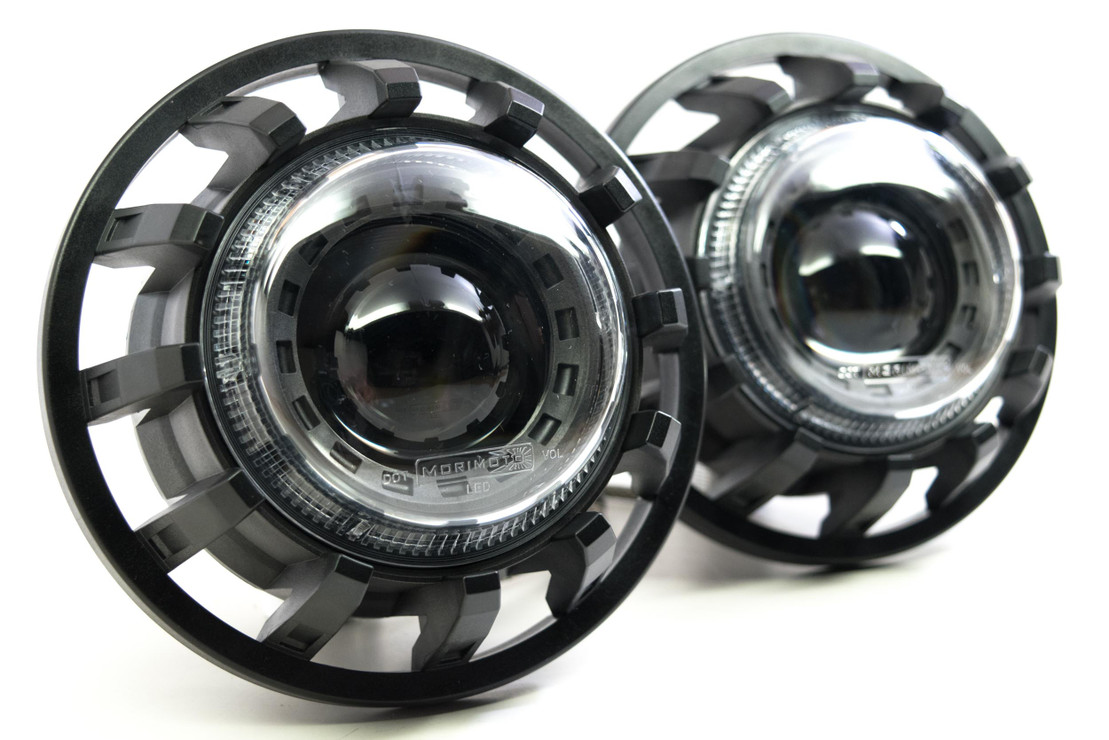 We tested it, and it is still reigning supreme due to its modular construction. The headlight is customizable, but it is a thicker unit compared to others. As a result, this thing does not fit in most applications outside of a Jeep Wrangler or a Jeep Gladiator. It is possible to put it in a motorcycle but it is specifically designed for the Jeep market and is something to keep in mind when you are considering purchasing a Super 7.


The Super 7 has a massive LED projector with this cool, customizable passive heat sink that allows you to create massive amounts of light on your seven-inch round project. The beam pattern is perfect and should serve as a benchmark for all other headlights.

Morimoto super 7 2.0
1,460 Max. Lux Low Beam, 1,780 Max. Lux High Beam

---

KC Hi-Lites Gravity Series LED


I have been a massive fan of the KC Hi-Lites Gravity series of LED headlights ever since they came out. When I had my Jeep, this is what I had on it. It is one of the best performing drivable headlights I have ever seen.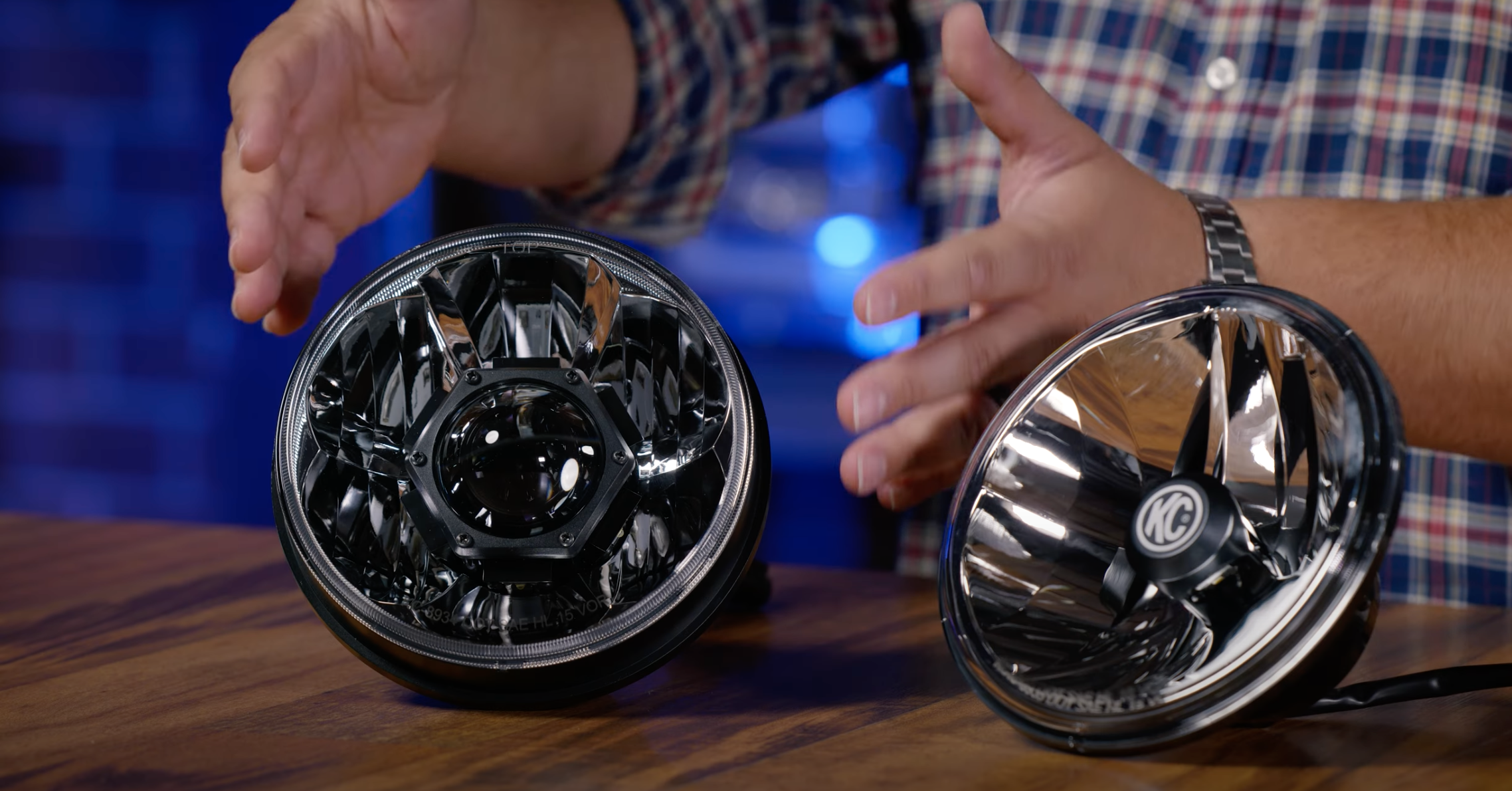 You have the KC highlights Gravity Pro, which uses a projector, and you have the regular KC Highlights Gravity LED reflector headlight. Both will work for a motorcycle or Jeep, but the KC Highlights Pro is a better choice for more depth. Chances are it is going to fit the best in a Wrangler or Gladiator.

kc hilites gravity reflector





KC HILITES GRAVITY REFLECTOR




700 Max. Lux Low Beam, 1,130 Max. Lux High Beam
Between these two options, you really can not go wrong. When choosing between these two, it just comes down to personal preference. If you are looking for more of an everyday usable pair of headlights with added strength in the maximum lux department, theKC Highlights Gravity LED is the one to go with. As we mentioned before, if you are wanting some more depth to your lights, the KC highlights Gravity Pro has got you covered on that end. Both have excellent beam patterns with the KC highlights Gravity Pro having more of a focused spread than that of the KC Highlights Gravity LED

kc hilites gravity projector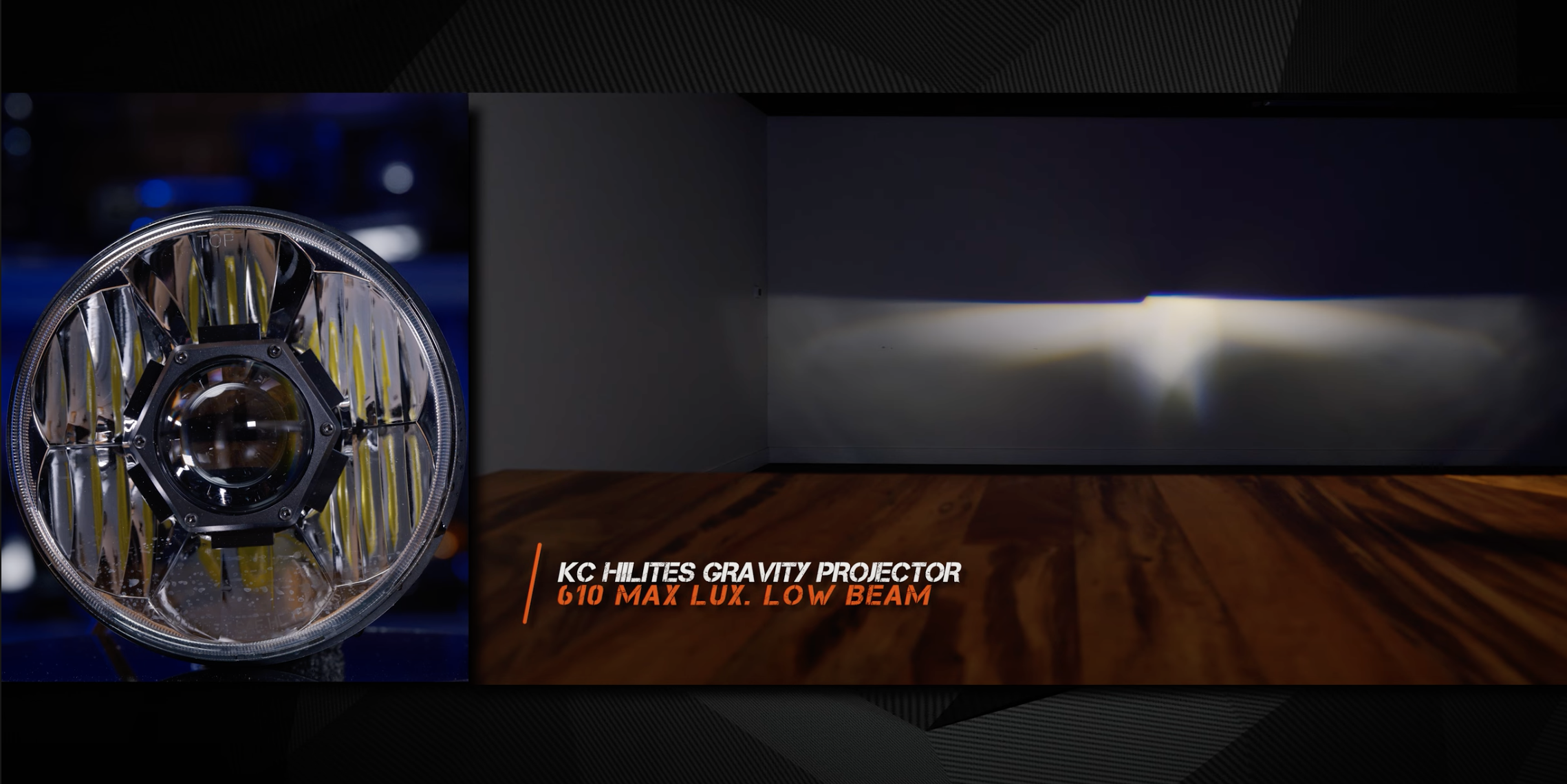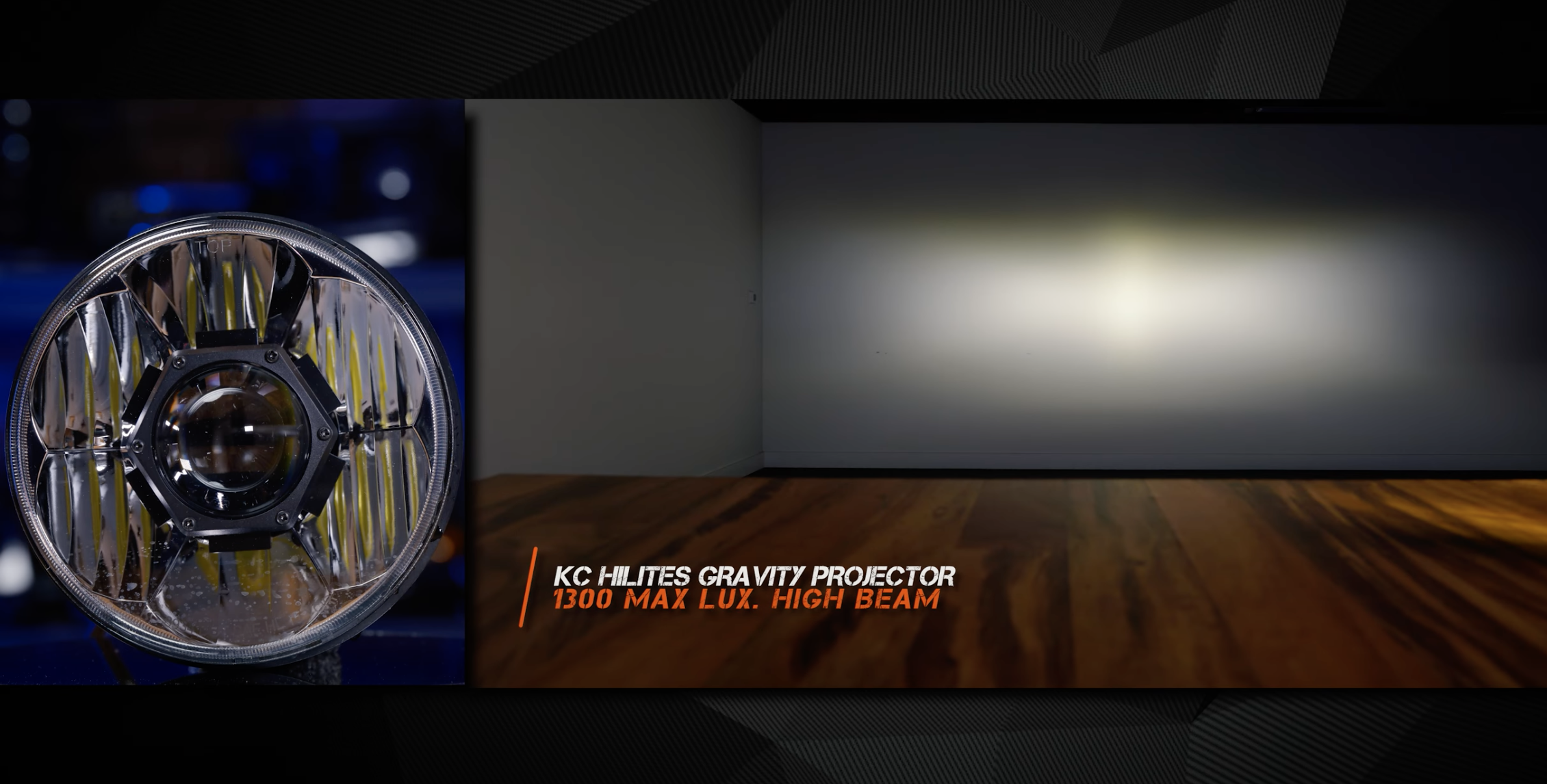 KC HILITES GRAVITY PROJECTOR




610 Max. Lux Low Beam, 1,300 Max. Lux High Beam
---
3 Terrible 7-inch Round You've Never Heard Of
Next, we are going to talk about three losers you likely have never heard of Beeyeo, ZMoon, and Wisamic.
If you see any headlights that I show you today that look like a different brand on Amazon or eBay, I guarantee you it's just the same thing marketed by a different importer from China. These types of products lure you in with a wallet-conscious price tag but a poor product that straight-up lies to the consumer.

beeyeo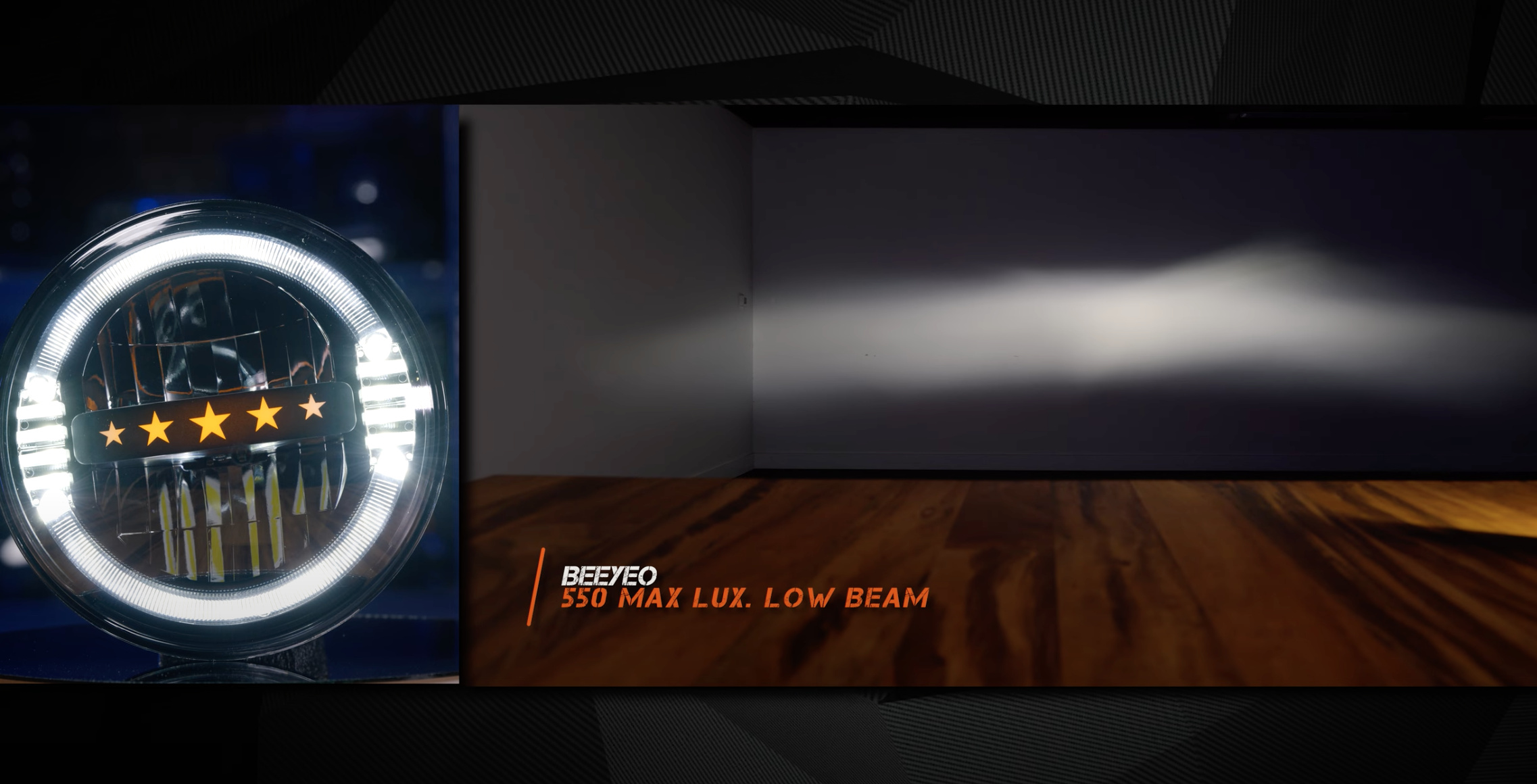 BEEYEO




550 Max. Lux Low Beam, 1,470 Max. Lux High Beam

I guarantee if you spend 50 bucks on these, you threw your 50 bucks in the garbage. These headlights create less light output than your stock headlights. Stop buying garbage! This is a prime example of getting what you pay for. These headlights are dangerous and can lead to needlessly dangerous scenarios on the road. They are not legal despite the listing mentioning their approval by the DOT.

Zmoon
This headlight can hardly be called a headlight. Zoom created this oddly shaped beam pattern that is decently bright but rendered useless by the pattern.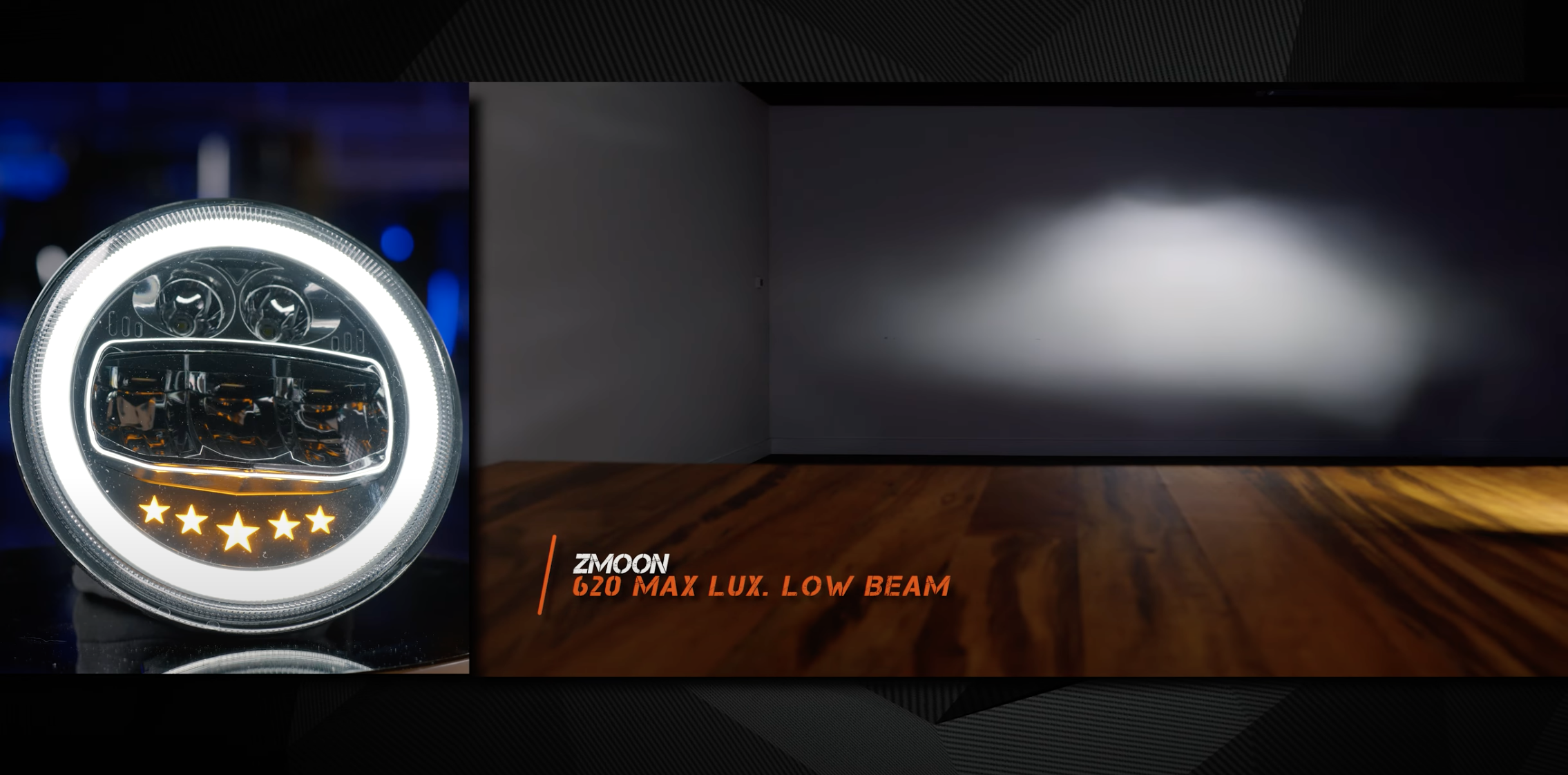 ZMOON


620 Max. Lux Low Beam, 920 Max. Lux High Beam

wisamic
Now, these are a strange set of headlights. The beam pattern looks like a venus fly trap and the brightness barely rivals the flashlight in your toolbox. The high beam is surprisingly bright, but we are not sure what is going on with the strange beam pattern. Perhaps if you only drove down alleyways, then the high beam may be useful. If you are thinking about buying these, please do not. Save the cash and put it towards something reliable, like our next contender.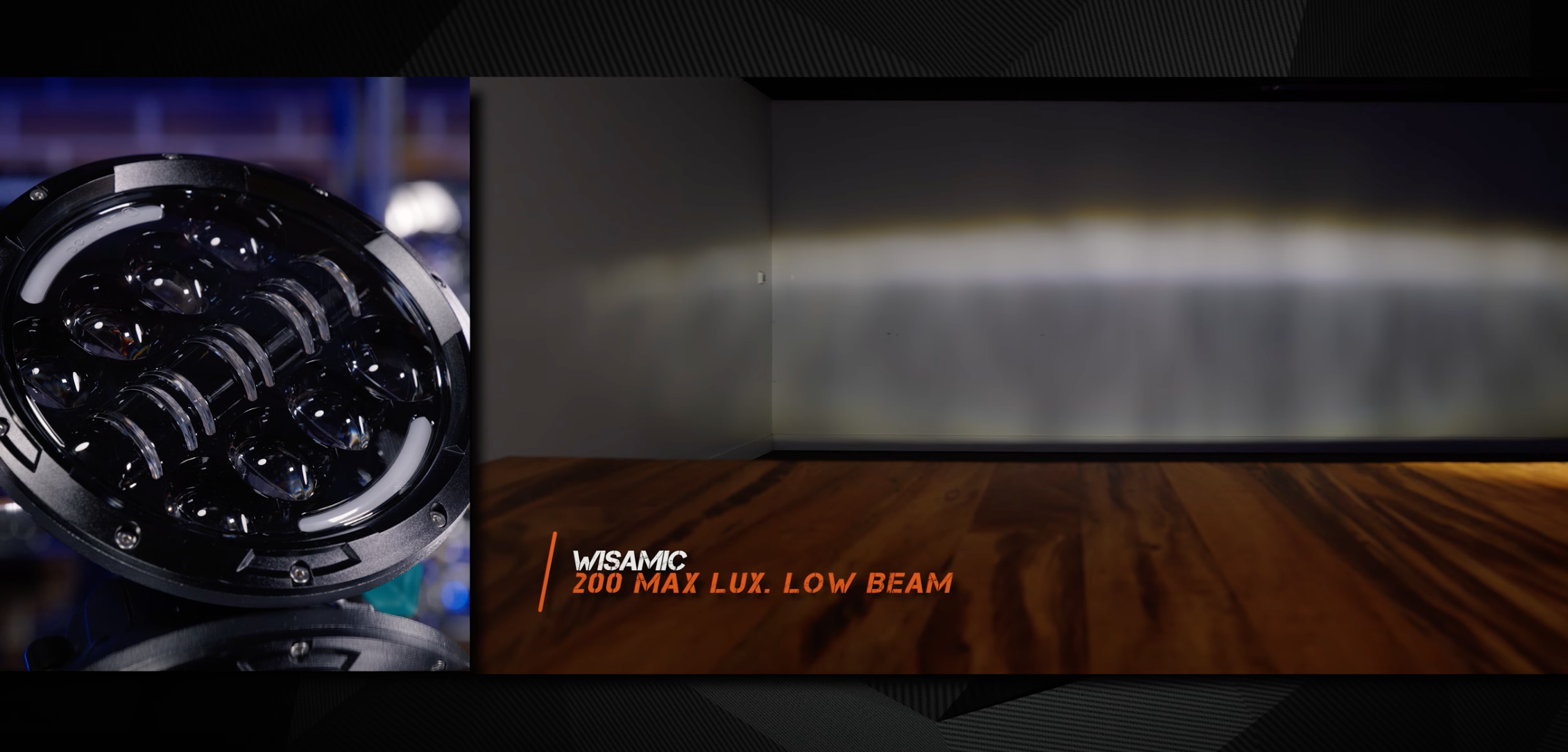 WISAMIC




200 Max. Lux Low Beam, 890 Max. Lux High Beam
---
JW Speaker 7-inch Round
When talking about 7-inch round LED headlights. You cannot look past JW Speaker. In the world of Jeeps, these are the gold standard. Harley Davidson chose JW Speaker to make their Daymaker headlight. JW also makes stock headlights for Polaris, city buses, motorhomes, and many other vehicles on the road today.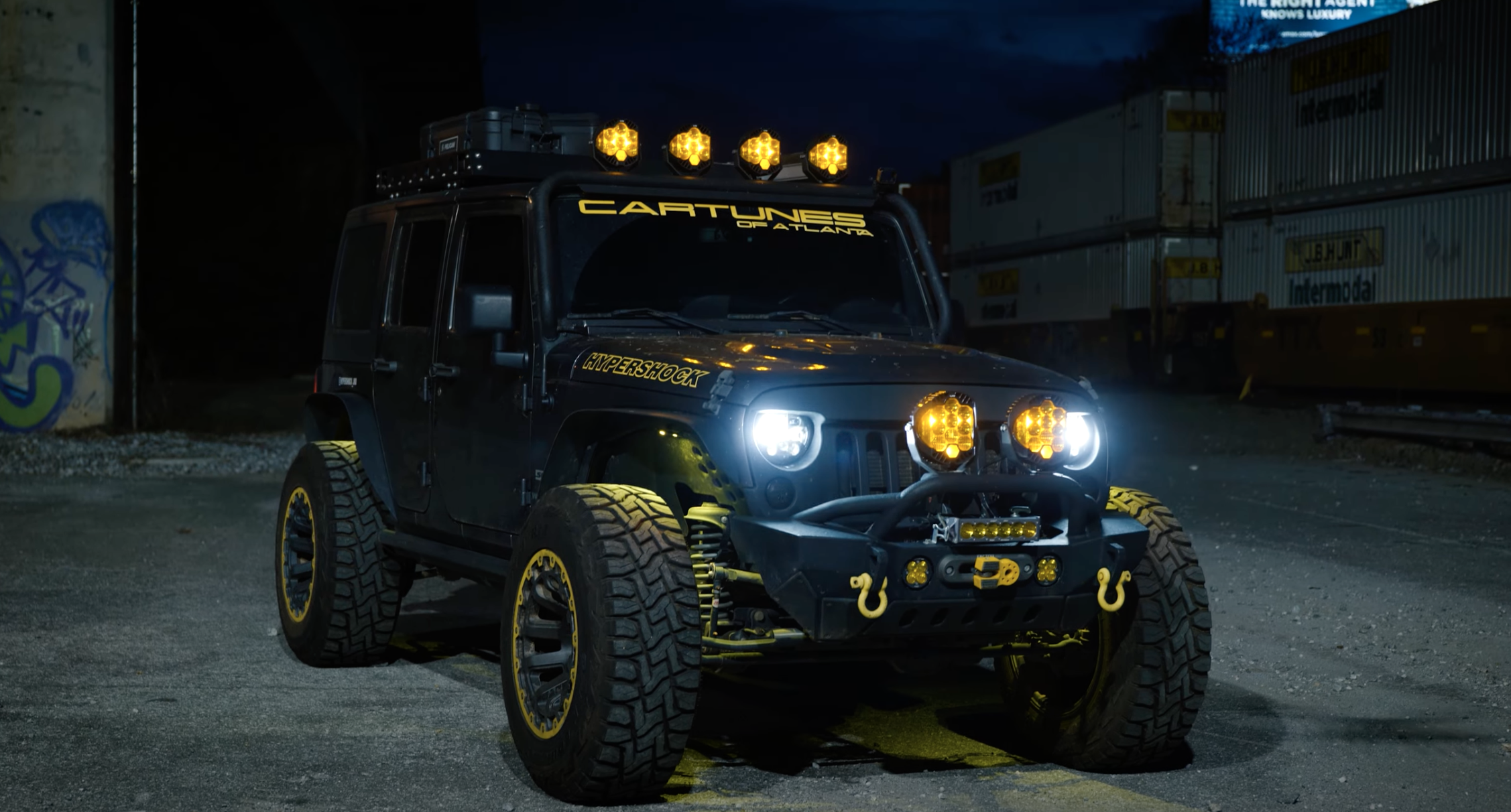 jw speaker 8700 j3
Among the three most popular 7-inch round headlights, you have got the JW Speaker 8700 J3, designed for Jeep Wranglers. This headlight is left and right-specific with bells and whistles that you might want. If you have a Jeep, check out our specific in-depth review video on the Evo J3.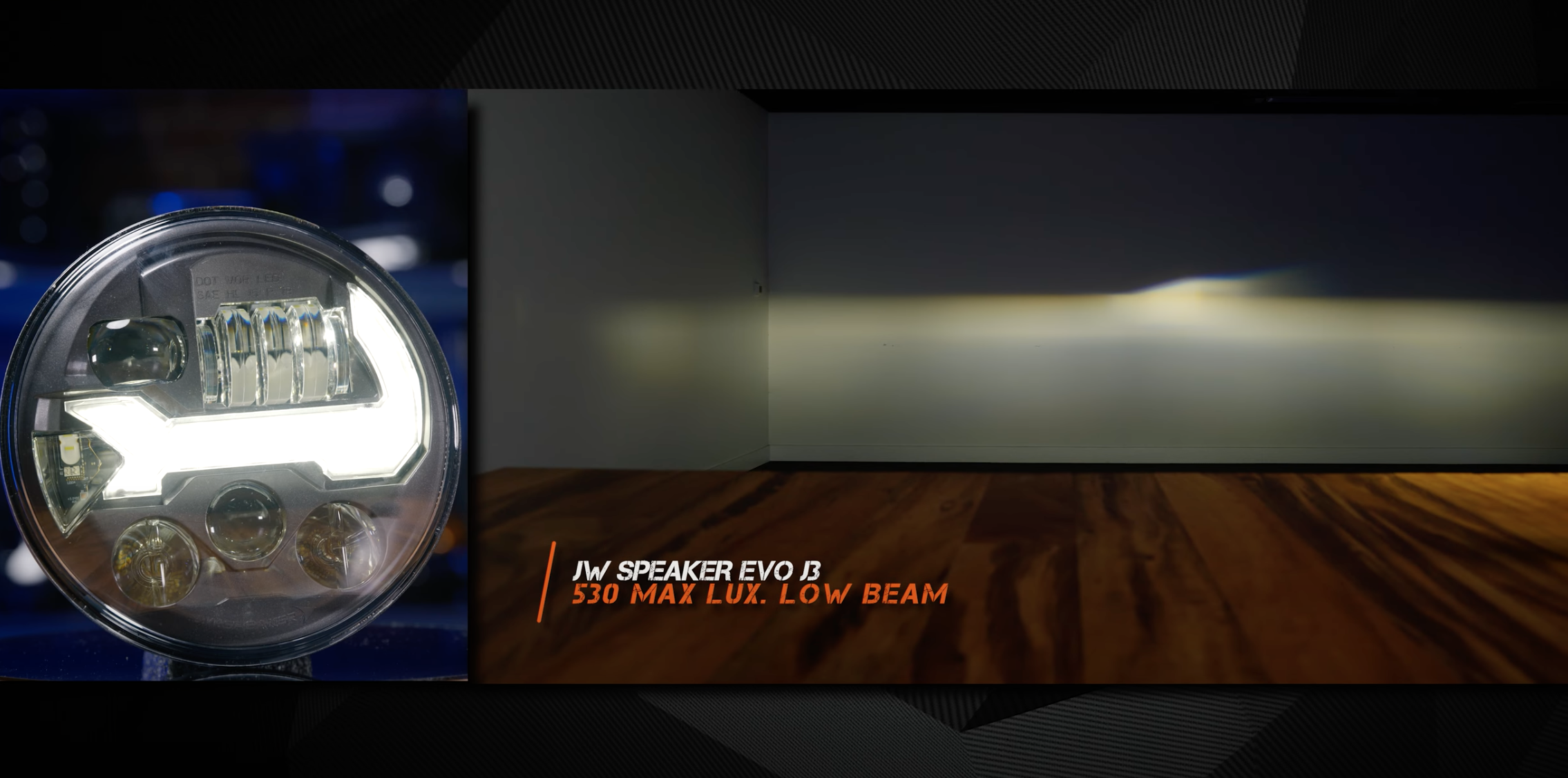 JW SPEAKER EVO J3 (Jeep Wrangler)


530 Max. Lux Low Beam, 1,680 Max. Lux High Beam


jw speaker 8700 evo 2
There is also the tried and true gold standard JW Speaker 8700 Evo 2. This model fits almost everything you put it in, all while boasting excellent performance and reliability.



JW SPEAKER 8700 EVOLUTION 2




670 Max. Lux Low Beam, 1,270 Max. Lux High Beam
Lastly, if you have a motorcycle, you might be interested in the 8700 Adaptive. The 8700 Adaptive is less bright than the others, but it has got some pretty cool features that you might want if you do a lot of twisty mountain driving on your bike.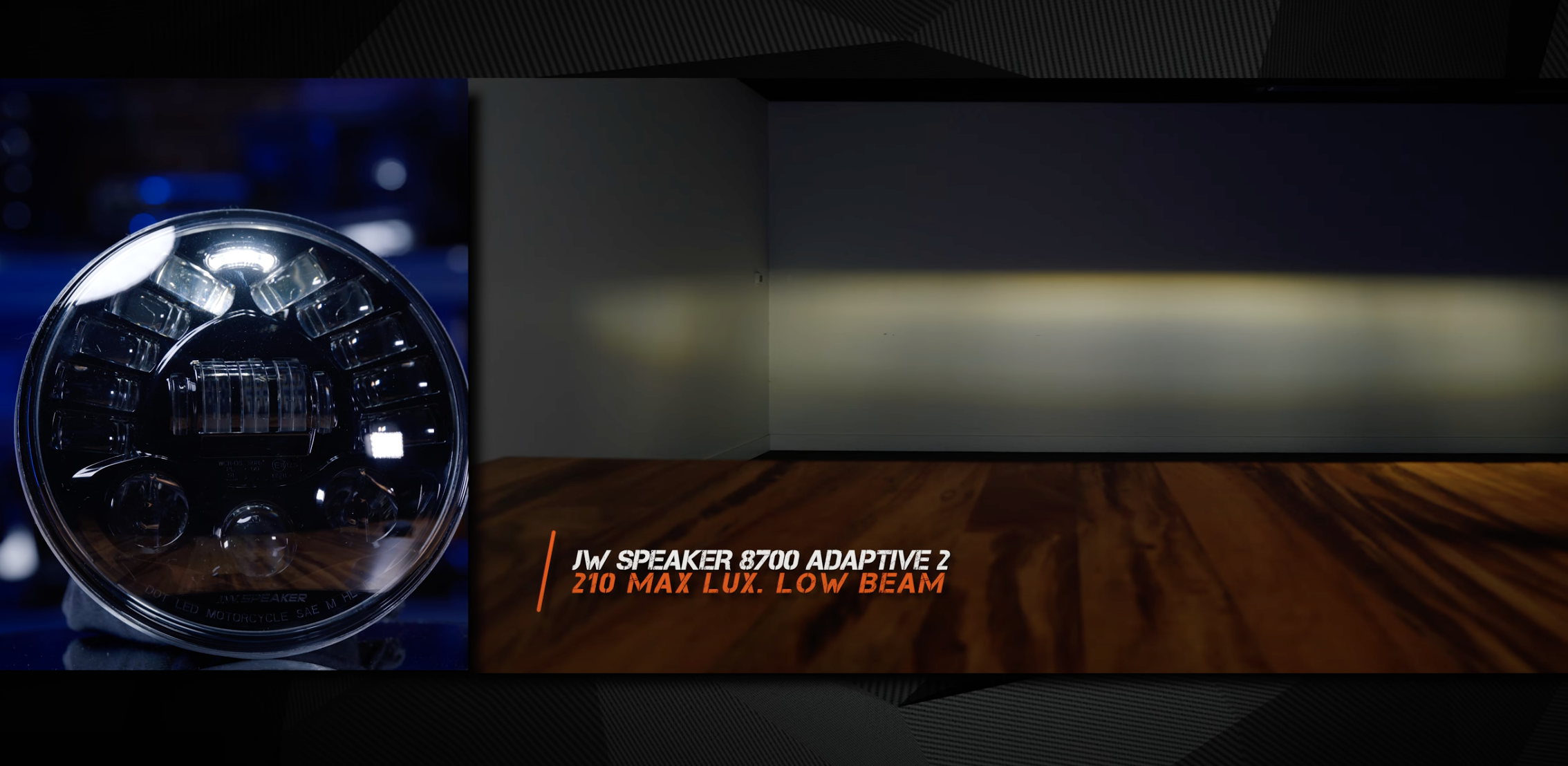 JW SPEAKER 8700 ADAPTIVE 2 (MOTORCYCLES)




210 Max. Lux Low Beam, 1,290 Max. Lux High Beam
---
AuxBeam 7-inch Round
The LED projector headlights from Auxbeam are definitely not the brightest option out there, but they are better than a lot. They do a good job executing the actual beam pattern, but that is not all that matters when selecting a headlight.

How about the style and the way they look? These lights are definitely not for everyone and they also are not always going to fit the vibe of every make and model. In regards to fitment, these are huge! The Auxbeam is not going to be fitting in most motorcycles and definitely not in a classic car. As far as reliability, airing on the side of caution would be best as long-term reliability is questionable for the Auxbeam.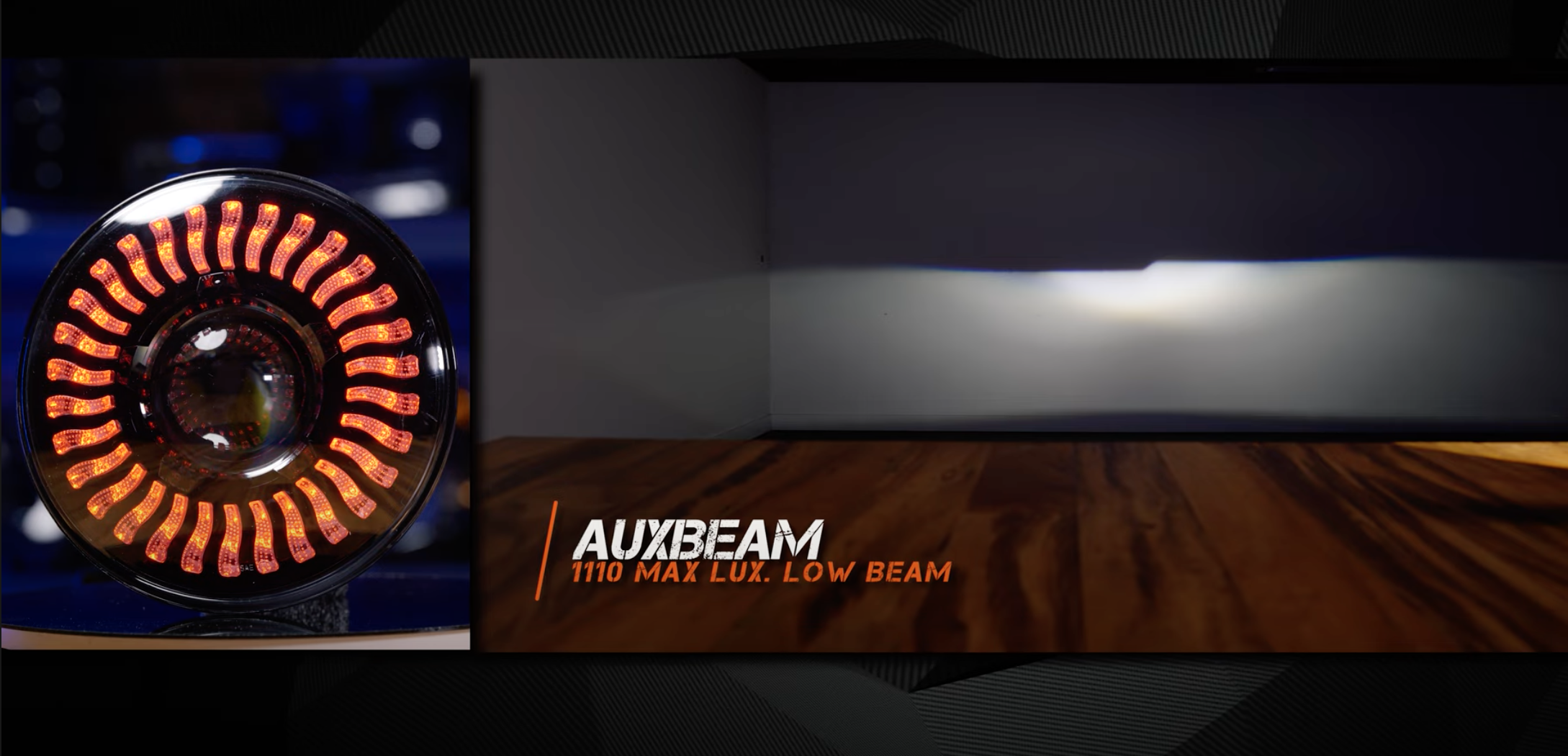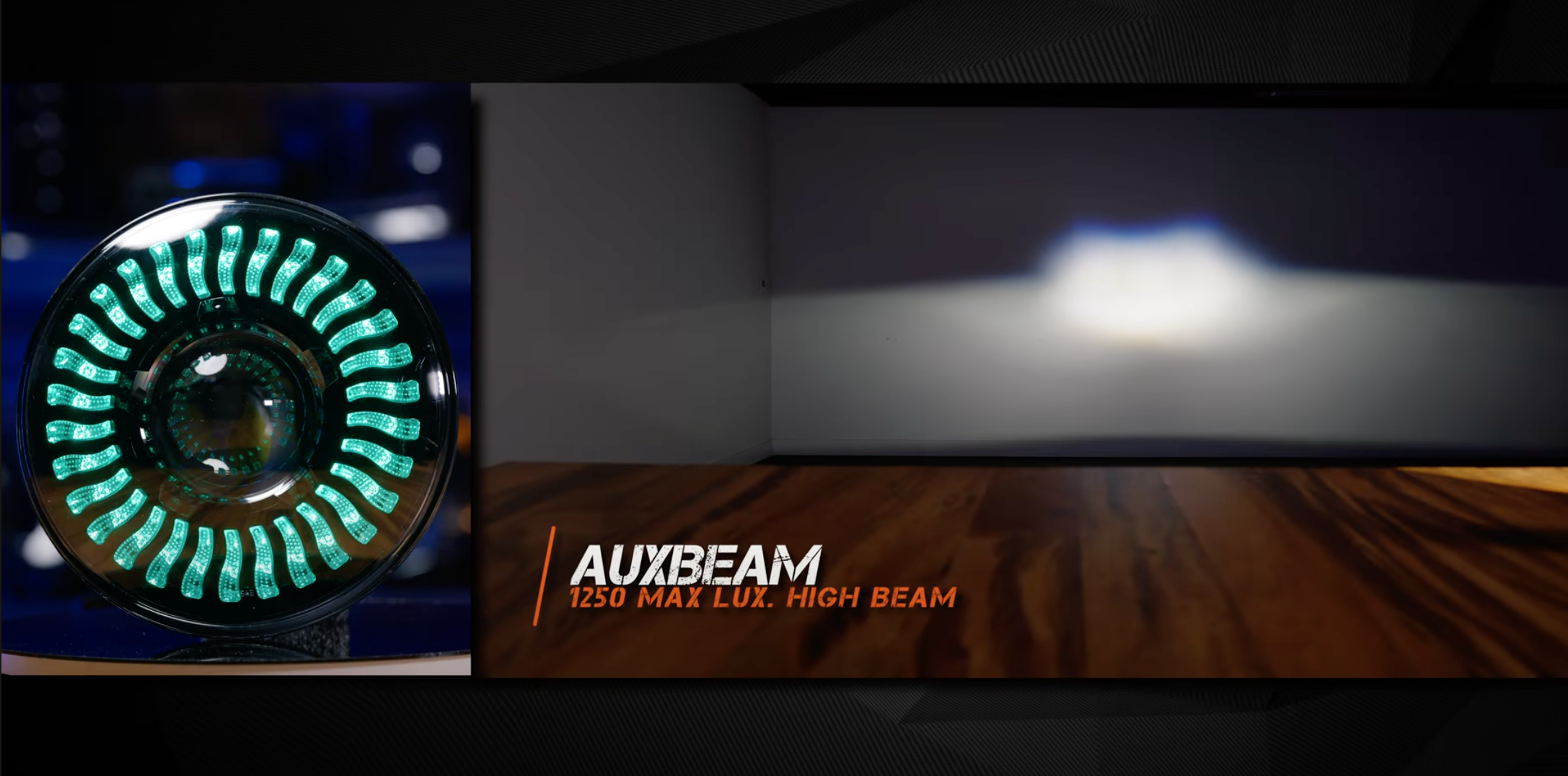 1,110 Max. Lux Low Beam, 1,250 Max. Lux High Beam
Beyond their aesthetic appeal, both the Auxbeam and the Auxbeam Triple Beam offer solid maximum Lux ratings. The standard Auxbeam comes in at 1110 maximum Lux for the low beam and 1250 maximum Lux for the high beams.
auxbeam triple beam
A similar story comes with the Triple Beam version where they provide an extra 20 maximum Lux for the low and high beams. The Auxbeam Triple Beam offers a cleaner, and less busy design if that suits your taste.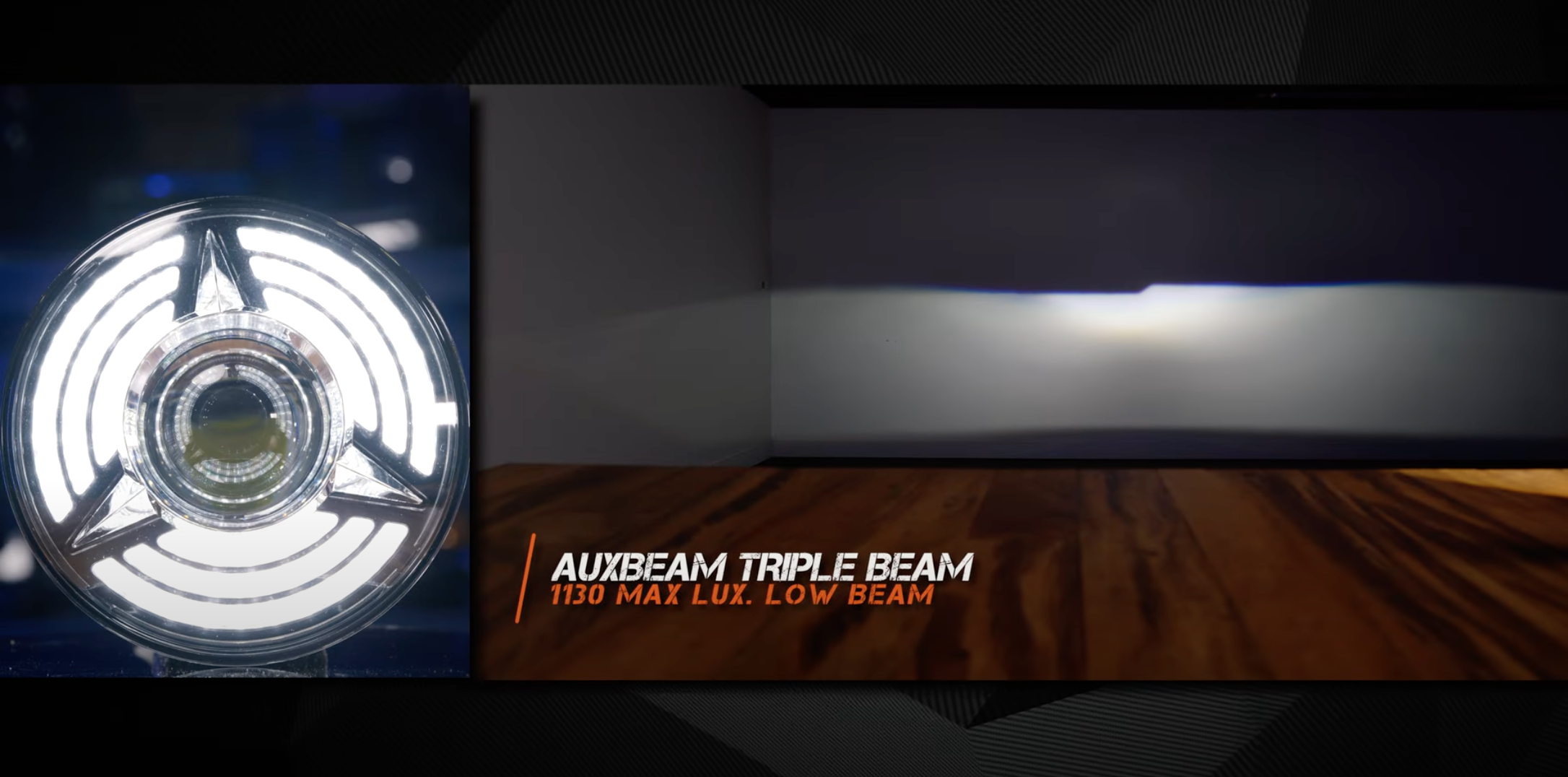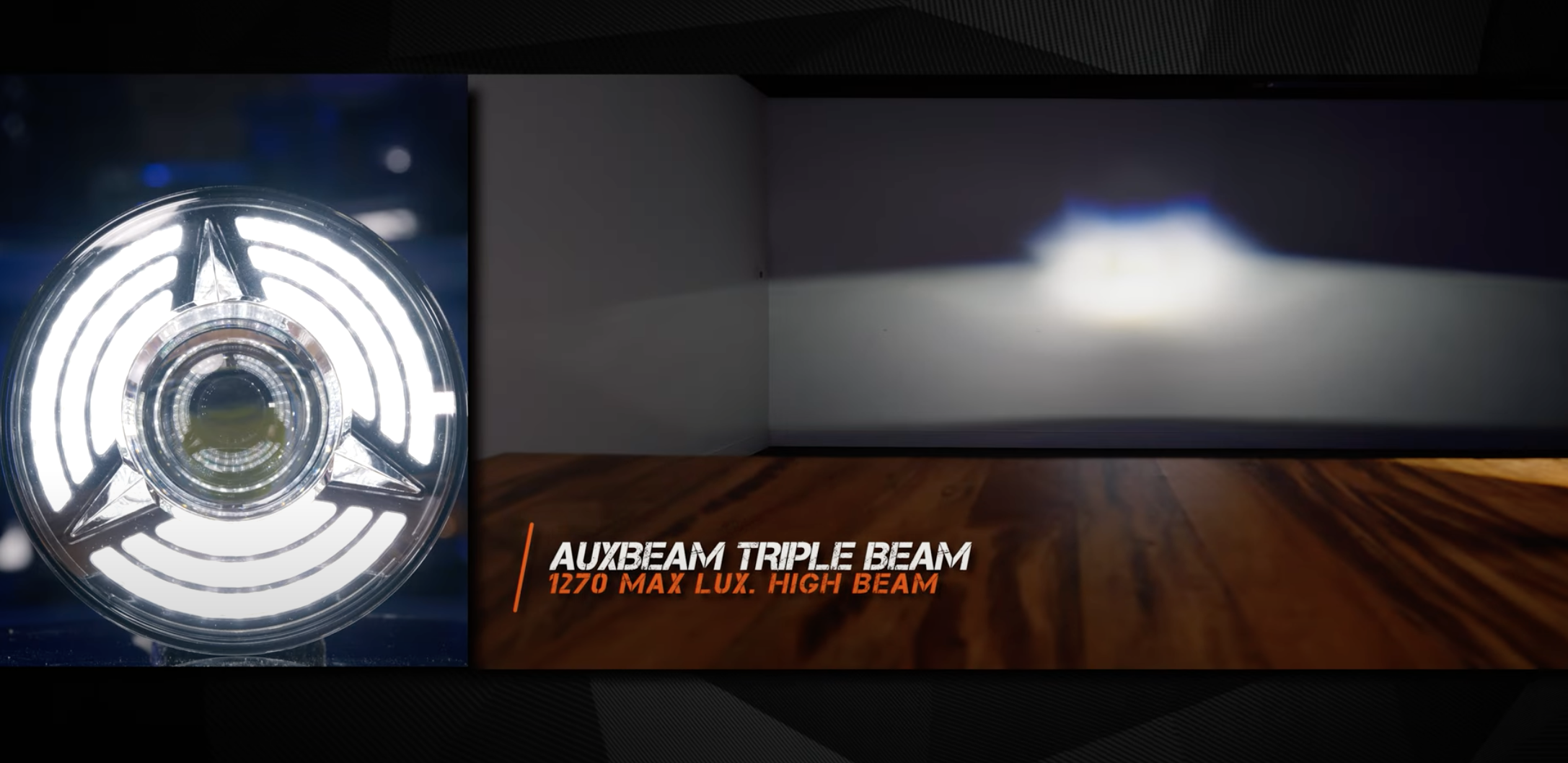 AUxbeam triple beam




1,130 Max. Lux Low Beam, 1,270 Max. Lux High Beam
Top 3 Worst: Design Over Function
We are here to offer a lesson in when a company puts design above function for this group. Looks can be deceiving leading us to discover that the performance of these three models comes short of their design.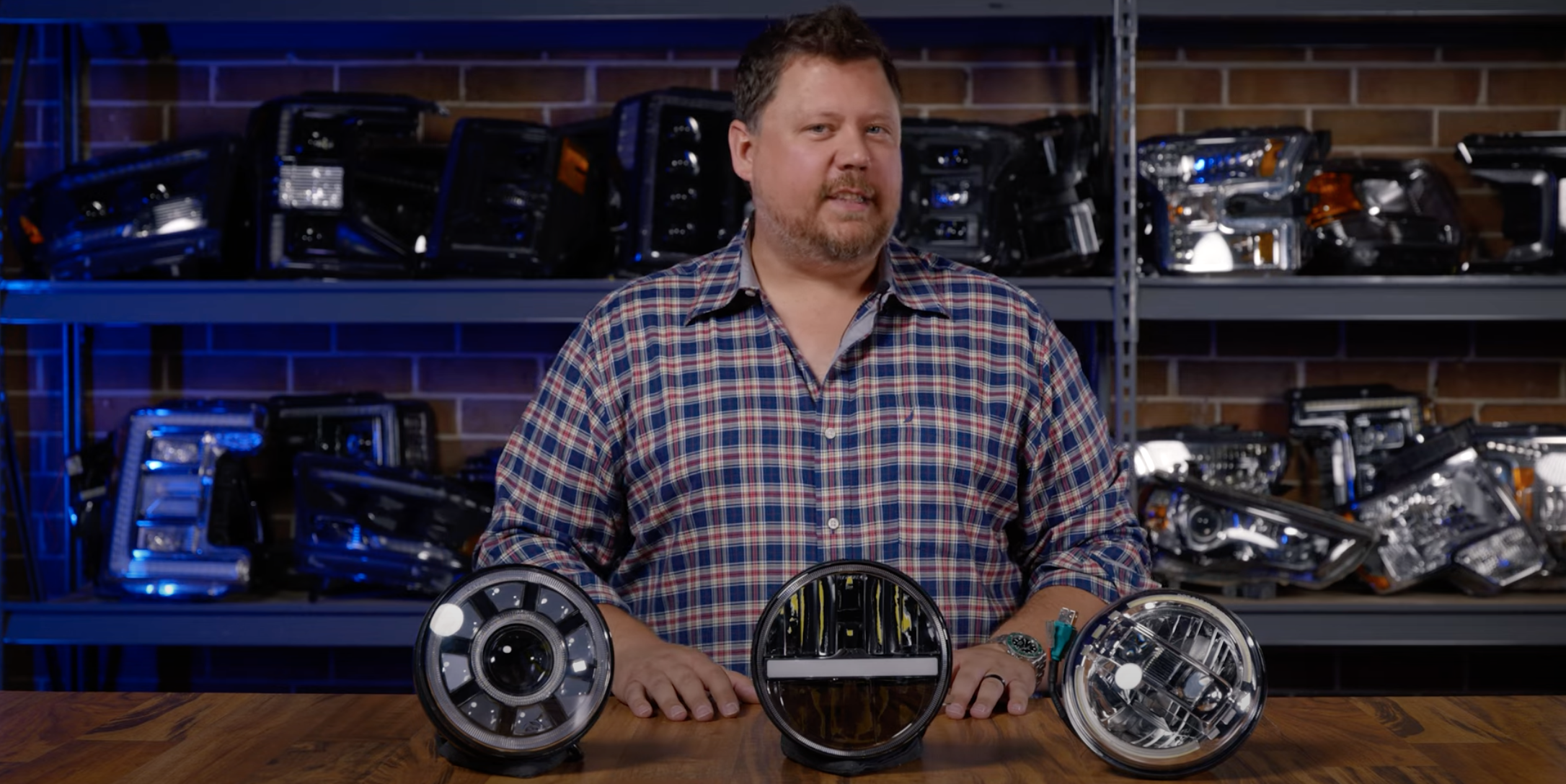 movotor
This headlight from Movotor with all of these individual lenses kind of looks like a flower. Something that would look right at home on a Miata or Beetle. It's got the desired look most will want,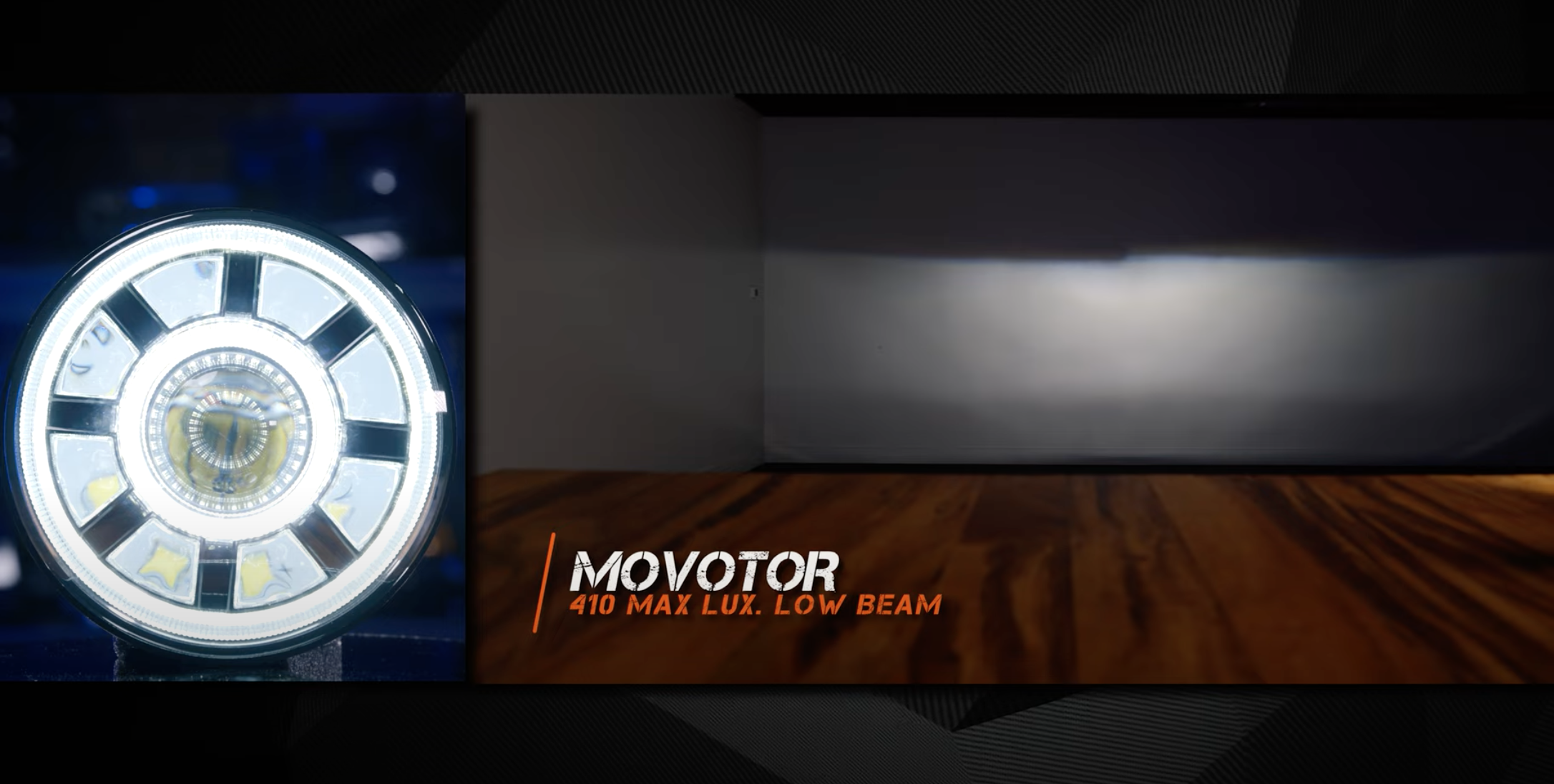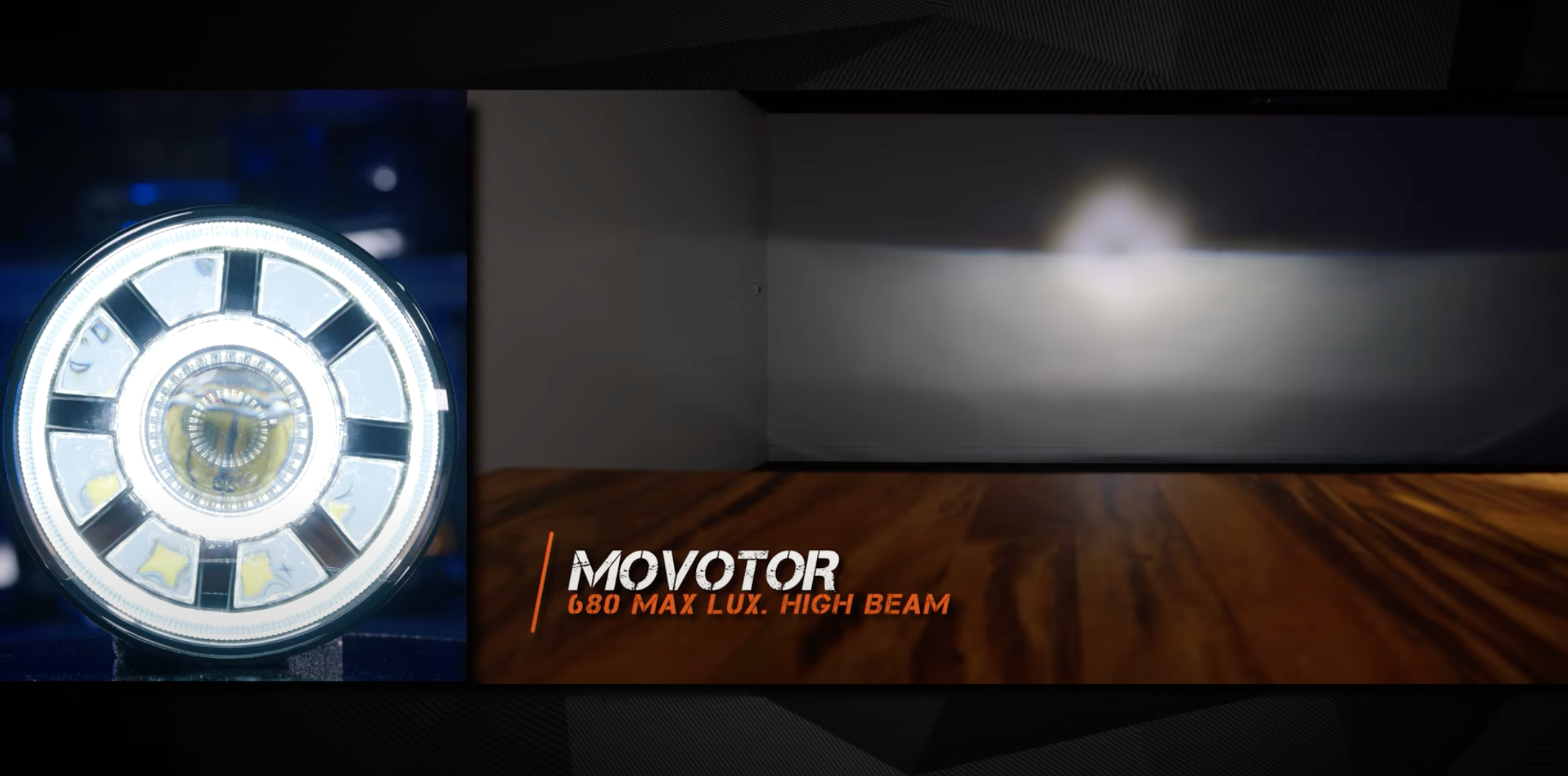 MOVOTOR


410 Max. Lux Low Beam, 680 Max. Lux High Beam


uni-shine
This headlight is from Uni-Shine and is obviously a ripoff of the popular headlight from Truck-Lite. Just as Quake did with their LED headlight, Uni-Shine did not worry about how the headlight works. They just created something that looks like the real deal in order to trick you into buying it.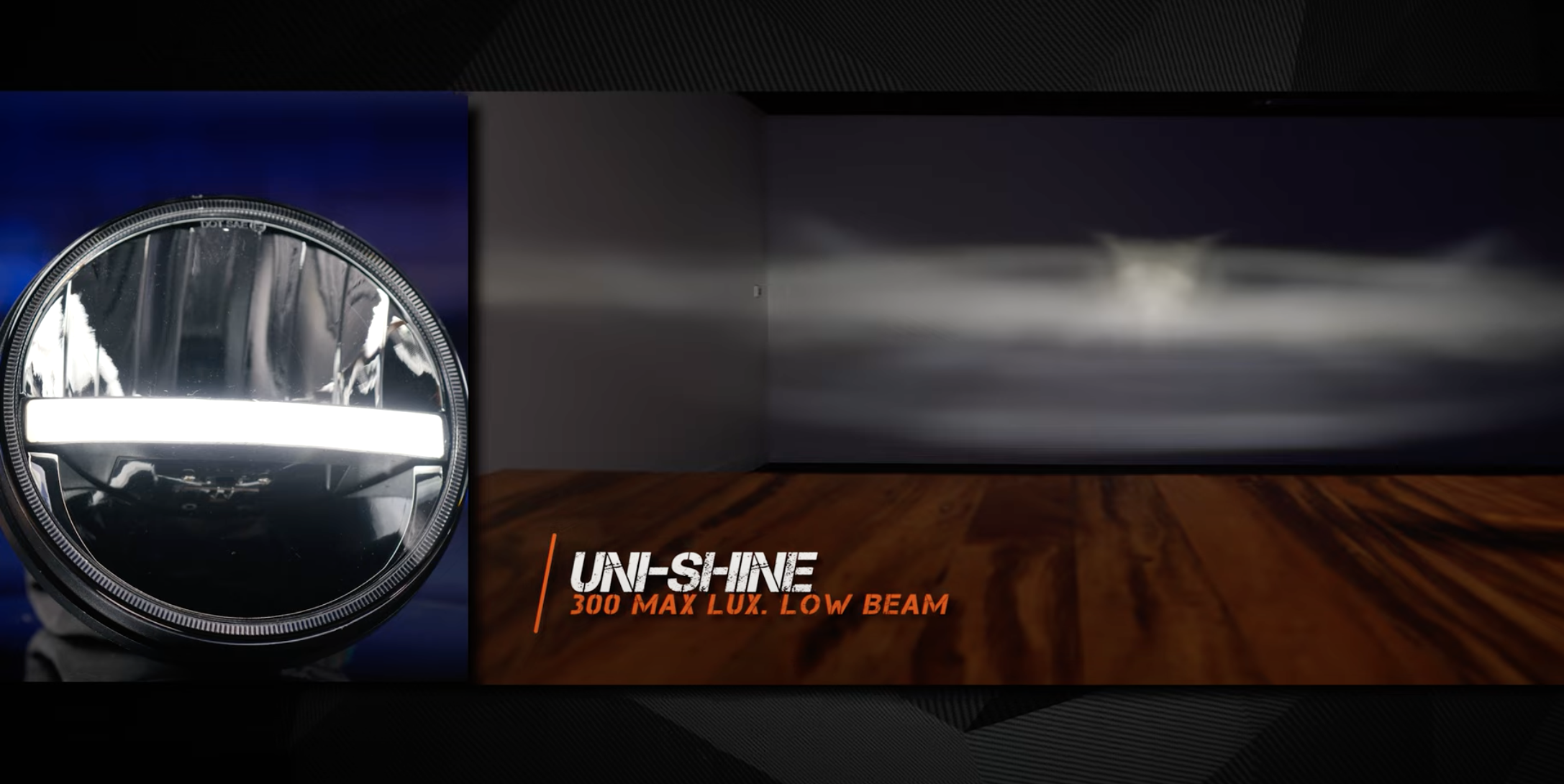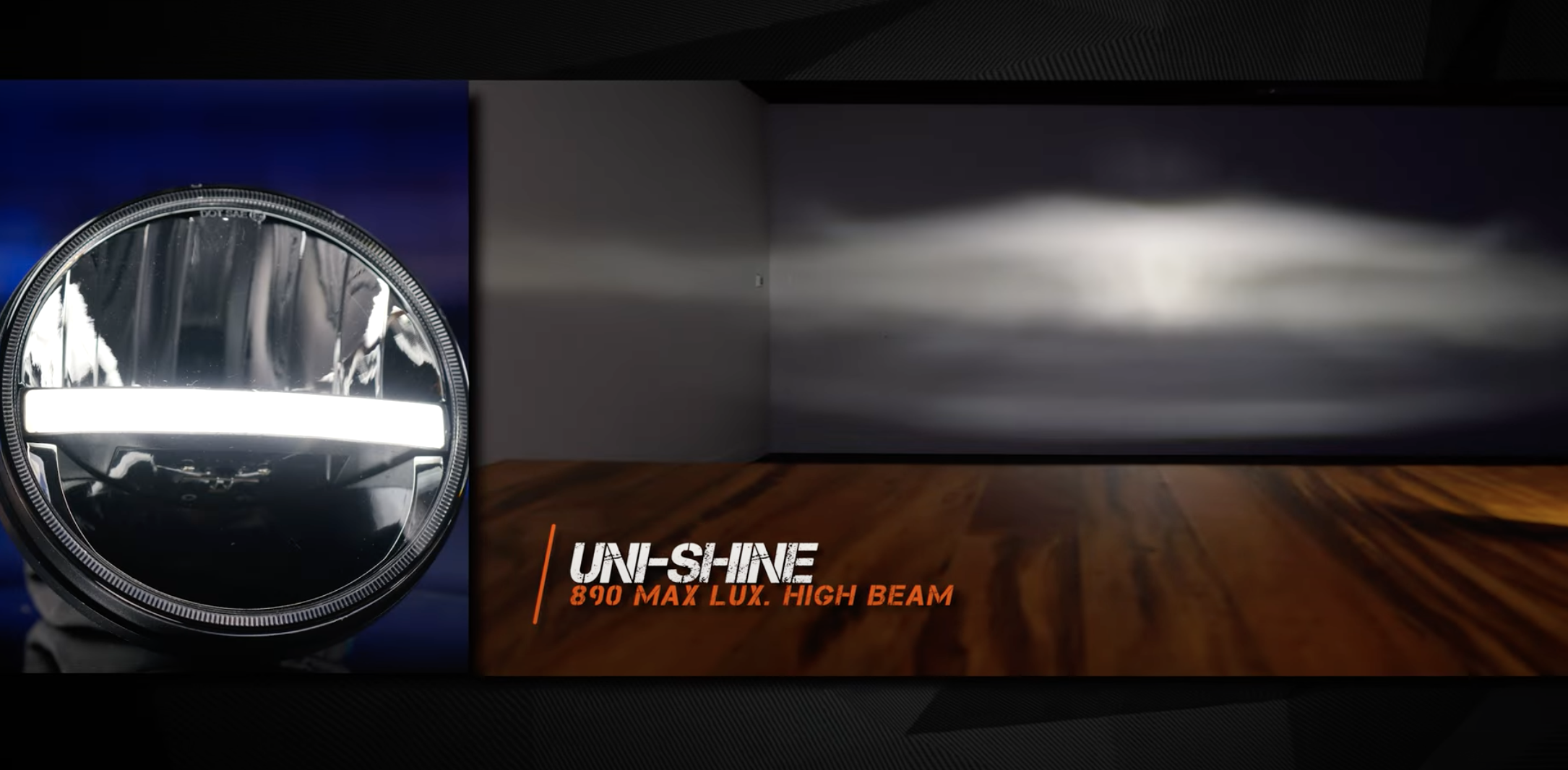 Uni-shine


300 Max. Lux Low Beam, 890 Max. Lux High Beam


Online LED Store
The style of this headlight from the Online LED Store looks like it was designed to be a copy of the factory Jeep Wrangler JL headlight. They tried to make it look a certain way before ever thinking about how it performs and the light output shows. The maximum Lux on the low beams is competitive with stock but the beam pattern is atrocious. While the high beams certainly best the stock ones in their Lux rating, the beam pattern hinders this light massively.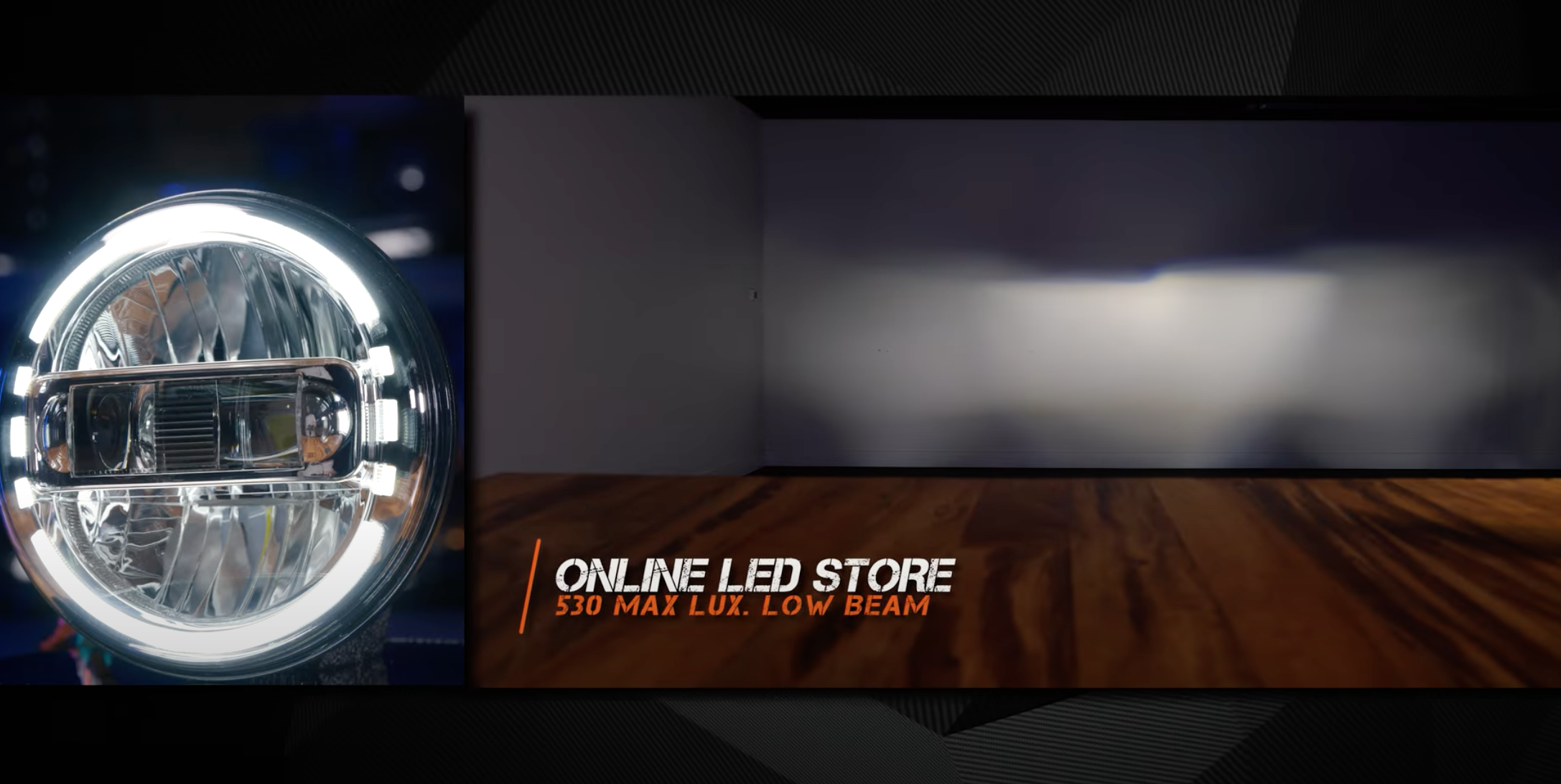 online led store




530 Max. Lux Low Beam, 1,700 Max. Lux High Beam

Truck-Lite sealed beam
Back in the day, Truck-Lite invented the world's first LED sealed beam headlight for military use. Then, they came out with this. This is the 27270c headlight from Truck-Lite, and it still, after years of testing, has the best and brightest high beam that you're going to find.

This is not a knockoff. This is the real deal, and this is what a reflector LED headlight beam pattern should look like. Yes, most of the brightness is concentrated into that little square hotspot right in the middle at the top of the beam. That's ok because that will produce a massive amount of downrange lighting at hundreds of feet in front of your vehicle.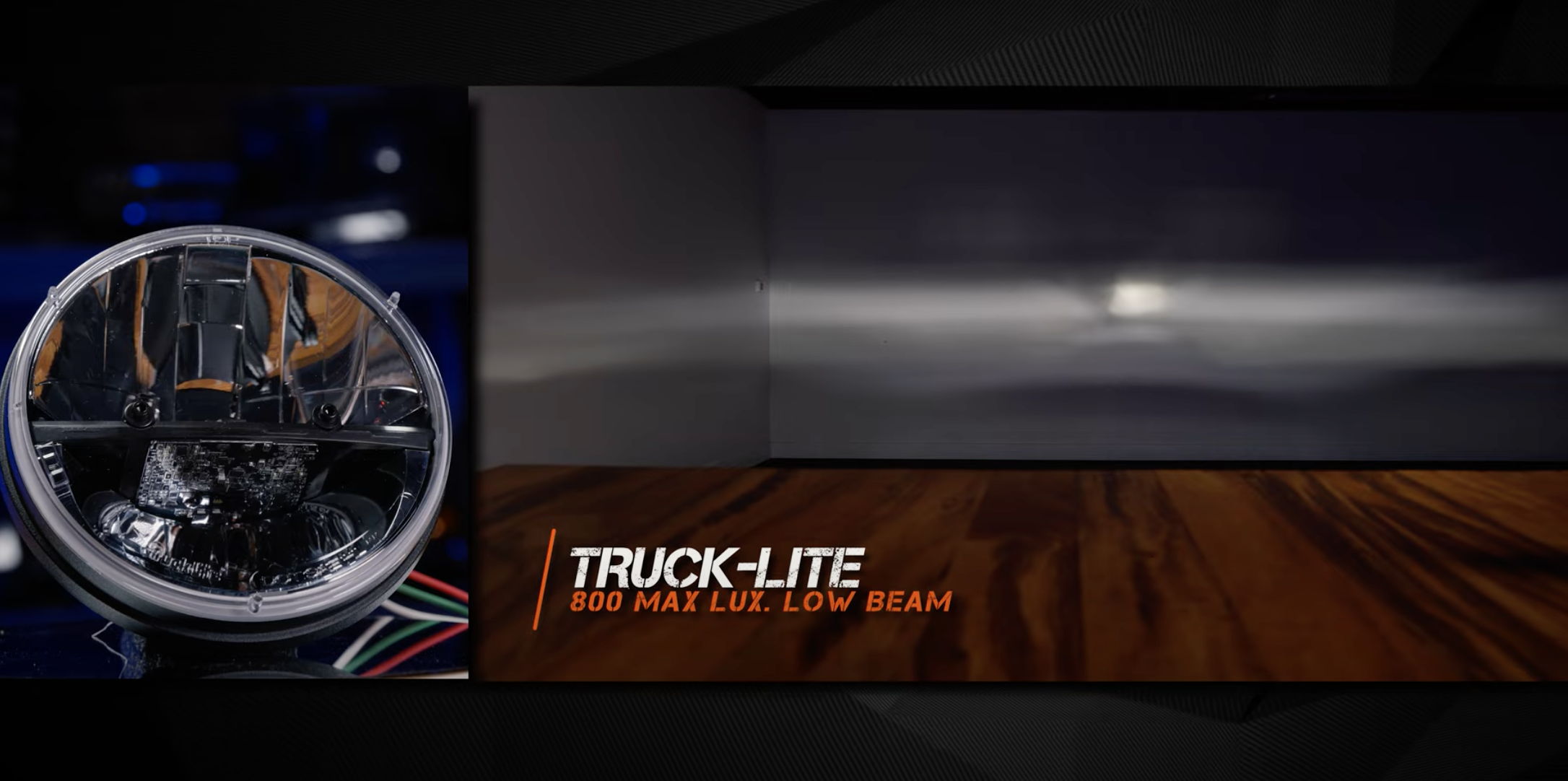 truck-lite




800 Max. Lux Low Beam, 2,010 Max. Lux High Beam
---
Morimoto Sealed 7

The Morimoto Sealed 7 is one of my favorites because it has arguably the perfect beam pattern. Some headlights are brighter than this one, but they don't all fit the same as this headlight does. It's a great option for pretty much any application. While the Super 7 is available now, the older Sealed 7 still has a lot of viability.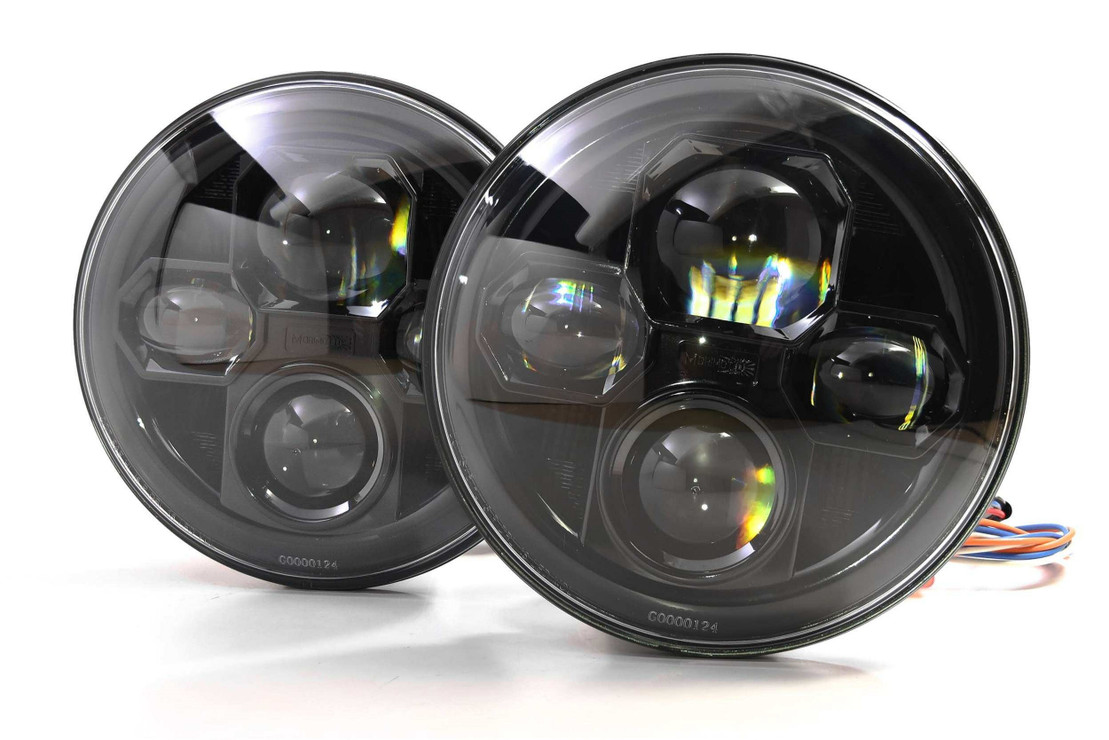 Here's the low beam. I love the fact that it has a super-wide projector shape, with a sharp cut-off, and all of the light is focused in that top band of light. This is a great example of a perfect beam pattern where you do not have a big weird shape like some of them.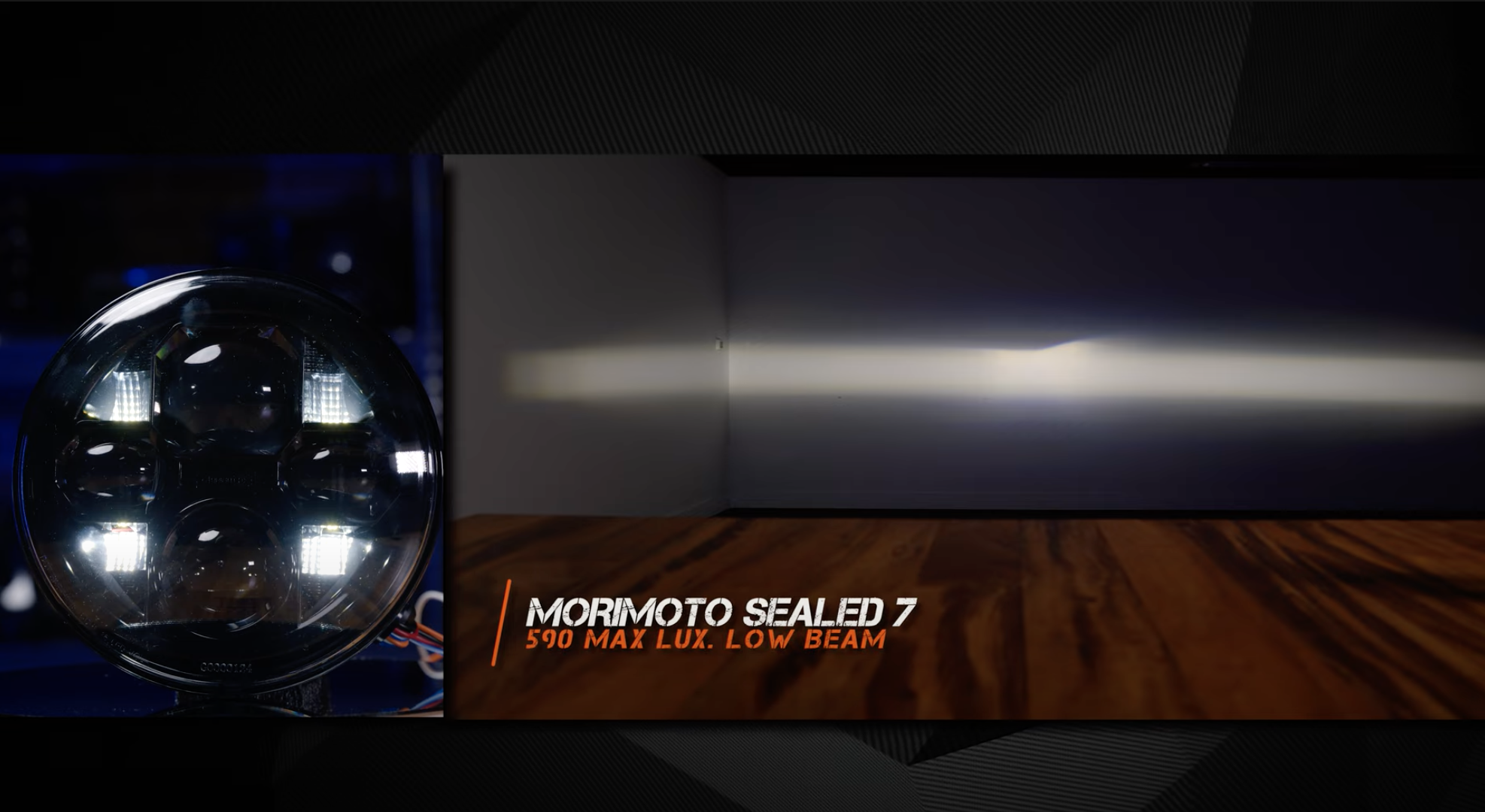 MORIMOTO SEALED 7




590 MAX. LUX LOW BEAM, 940 MAX. LUX HIGH BEAM
This is just a textbook perfect beam pattern with light in all the right places. With a beam pattern like this, you're much safer driving at night compared to some of the other options out there. If you're buying headlights for a loved one, and you want a headlight that doesn't break the bank, you're looking at it.


Razor Off-Road
This headlight from Razor Off-Road has a unique look because it has that great big accent light built into the face of it, but how good can the beam pattern be with all that decoration. Once you flip them on, you realize that the beam pattern is not even half as appealing as the headlight design. No focus to the pattern or a definitive spread.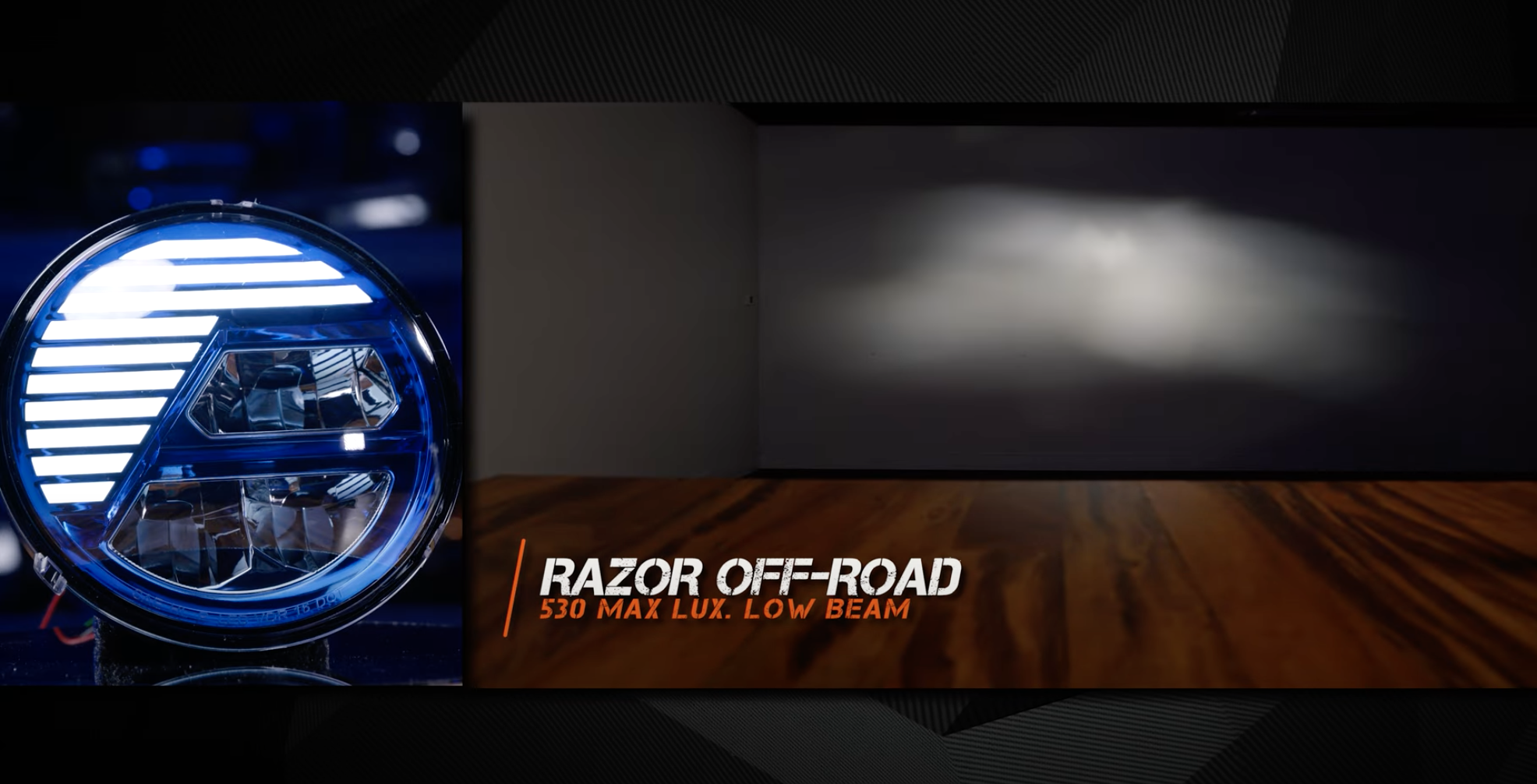 R

AZOR OFF-ROAD
530 MAX. LUX LOW BEAM, 470 MAX. LUX HIGH BEAM
---
XPRite
The same can be said with this headlight from XPrite. It actually looks really similar to the JW Speaker adaptive headlight but without any of the same technology. It doesn't matter which of these headlights you buy; there's a whole bunch of them on Amazon that look the same, even in different decorative colors like red and blue. You're going to get all the same ugly unusable beam pattern.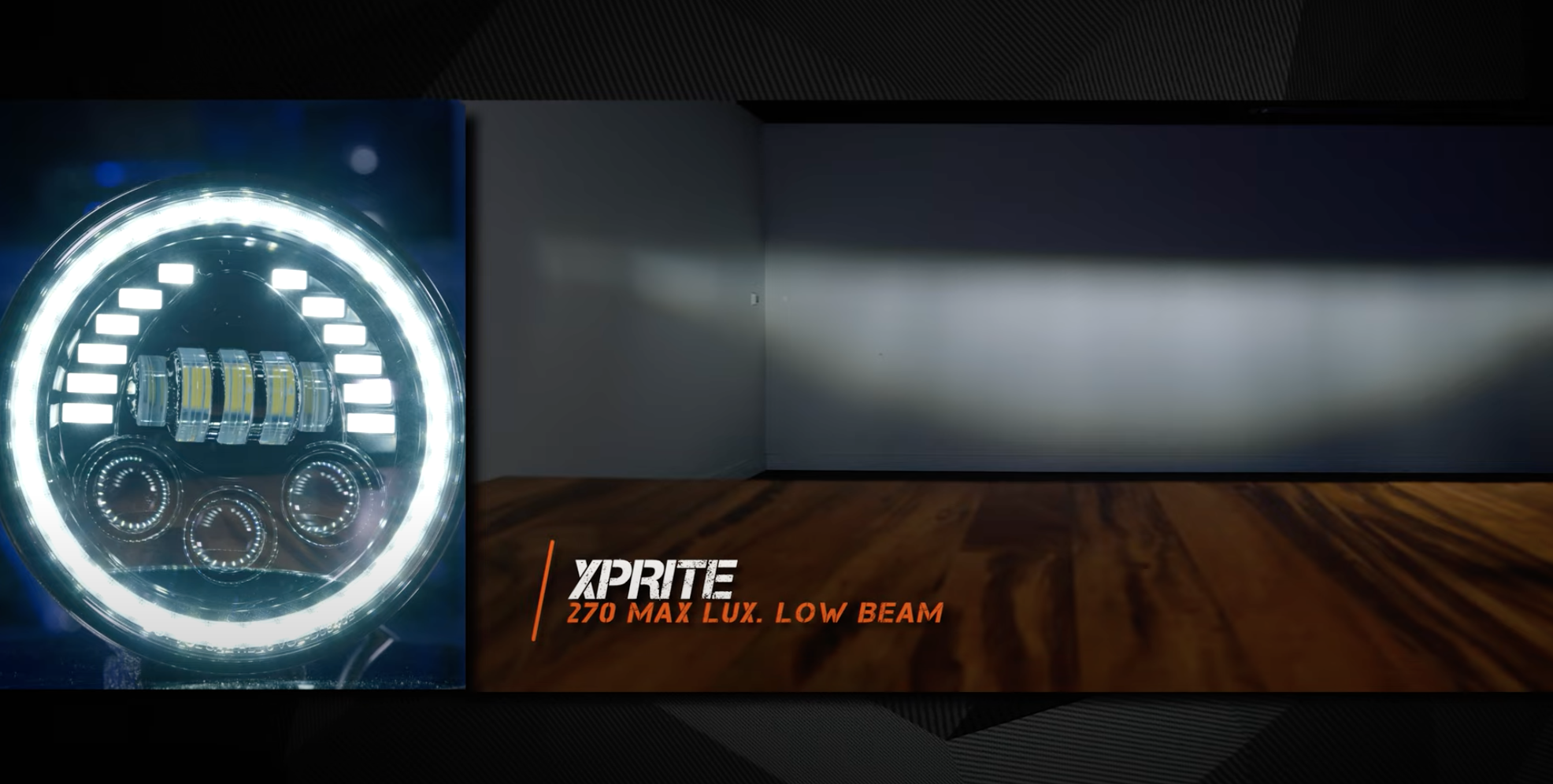 XPRITE


270 Max. Lux Low Beam, 1,400 Max. Lux High Beam



---
VISION X VX SERIES
The VX series headlight from Vision X is an interesting option because these guys make light bars, and they took that same iris technology out of their XPR light bars and put it in the high beam. This headlight is very popular in the Harley and Jeep communities.
If you're a fan of beam patterns that do not have a sharp cutoff, typically reflector-based lights, then this is a great option. It is also important to mention that the low beam comes in at 1140 maximum Lux and then boosts its way to 1810 maximum Lux when paired with the High 4 Adapter. This can be toggled on and off.


VISION X VX SERIES
1,140 Max. Lux Low Beam, 670 Max. Lux High Beam (1,810 MAX. LUX HIGH BEAM WITH HIGH 4 ADAPTER)
---
CONCLUSION: THE FINAL 6
And that's how we got here! To round this up, we compiled a list of the best of the best for you. Without further ado, and in no particular order: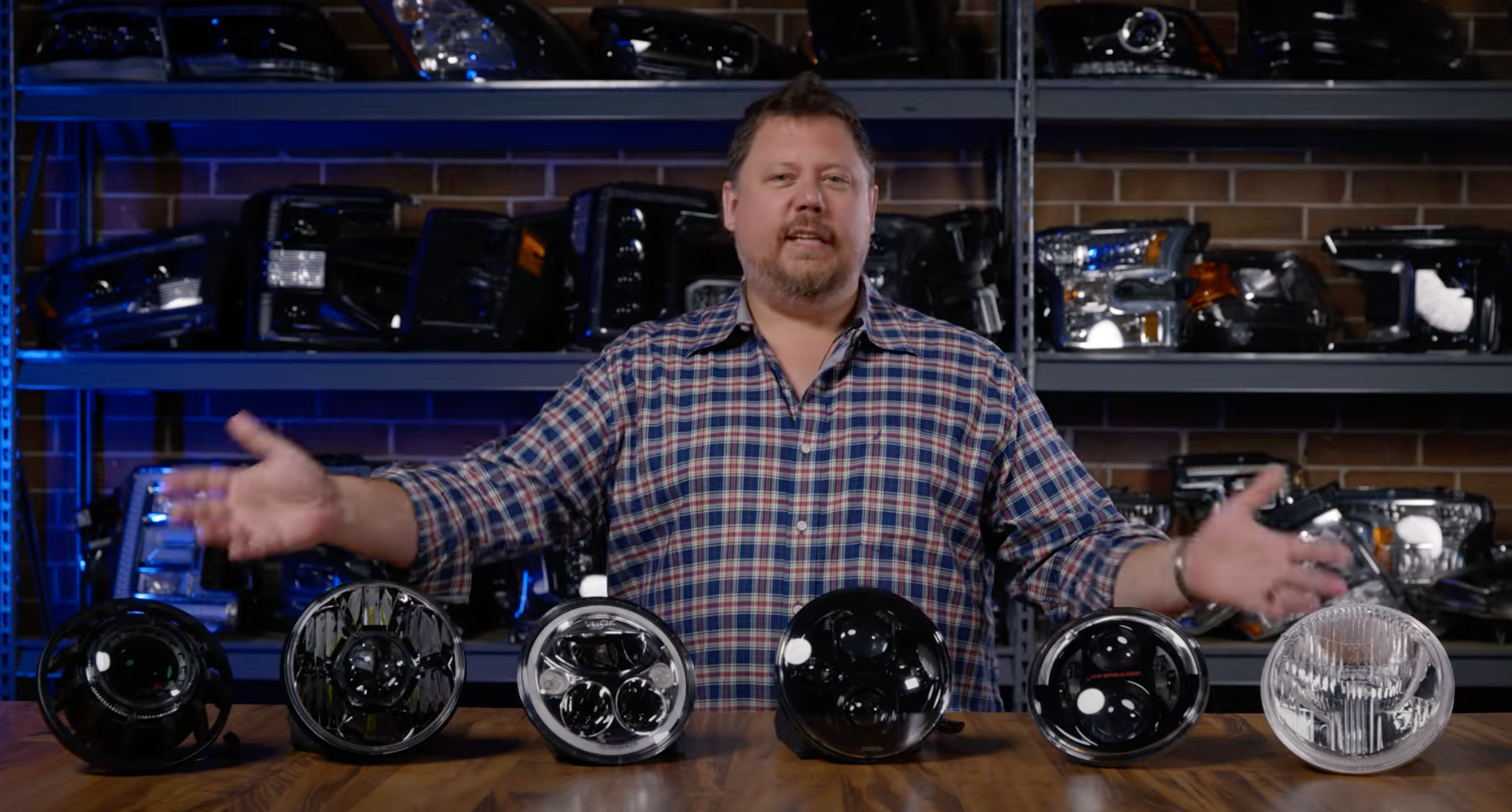 These six headlights are the best options for any application, whether you have a Jeep, Motorcycle, RV, or commercial vehicle. I do not care if it has a seven-inch or nine-inch headlight; these are your best options. Everything else is going to leave you disappointed and wishing you took my advice and picked up one of these.
Now do not stop at headlights! We've also got videos and information about taillights, off-road lighting, interior lighting, and more. Go to HeadlightRevolution.com, put in your year, make, and model, and we will show you what fits your vehicle.
For the full video covering what we discussed in this article, and some fun target practice with THE headlight losers, check out this video! While you're there, make sure you give the video a thumbs up and subscribe!


(*Video Disclaimer: We believe gun safety is essential. The target practice and the explosions shown in this video were performed by professionals following all safety precautions in a controlled environment)