Ultimate Rock Light Shoot Out | Headlight Revolution
With a myriad of LED rock lights to choose from, it is best to do your research on which one is the best fit for your build. This is of course regardless of whether your truck is a true off-roader or a mall crawler.
Through our tests, we will be going in-depth to cover nine different rock lights so that you do not have to. Brightness, ease of install, build quality, and control are just a few of the points we will cover for the rock lights so that you can make the most informed buying decision on your LED off-road lights.
We would also like to note that you need to check your local laws about vehicle lighting to know if these are legal to use on the roads you drive on.
Contents
KC Hilites Cyclone LED Rock Lights
Profile Performance Pixel LED Rock Lights
Rigid Industries Rock Light Kit
OPT 7 Aura Quantum Rock Lights
---
WHAT WE LOOK FOR
Before we break down what the best pick is, we need to lay out some criteria so that we know what we are up against.
First, we will be looking at mounting and how easy it is. No one wants to turn their wheel well into Swiss cheese, so it is important that these are easy to install and how they will be mounted. Like one in the center or two on either end of the wheel well.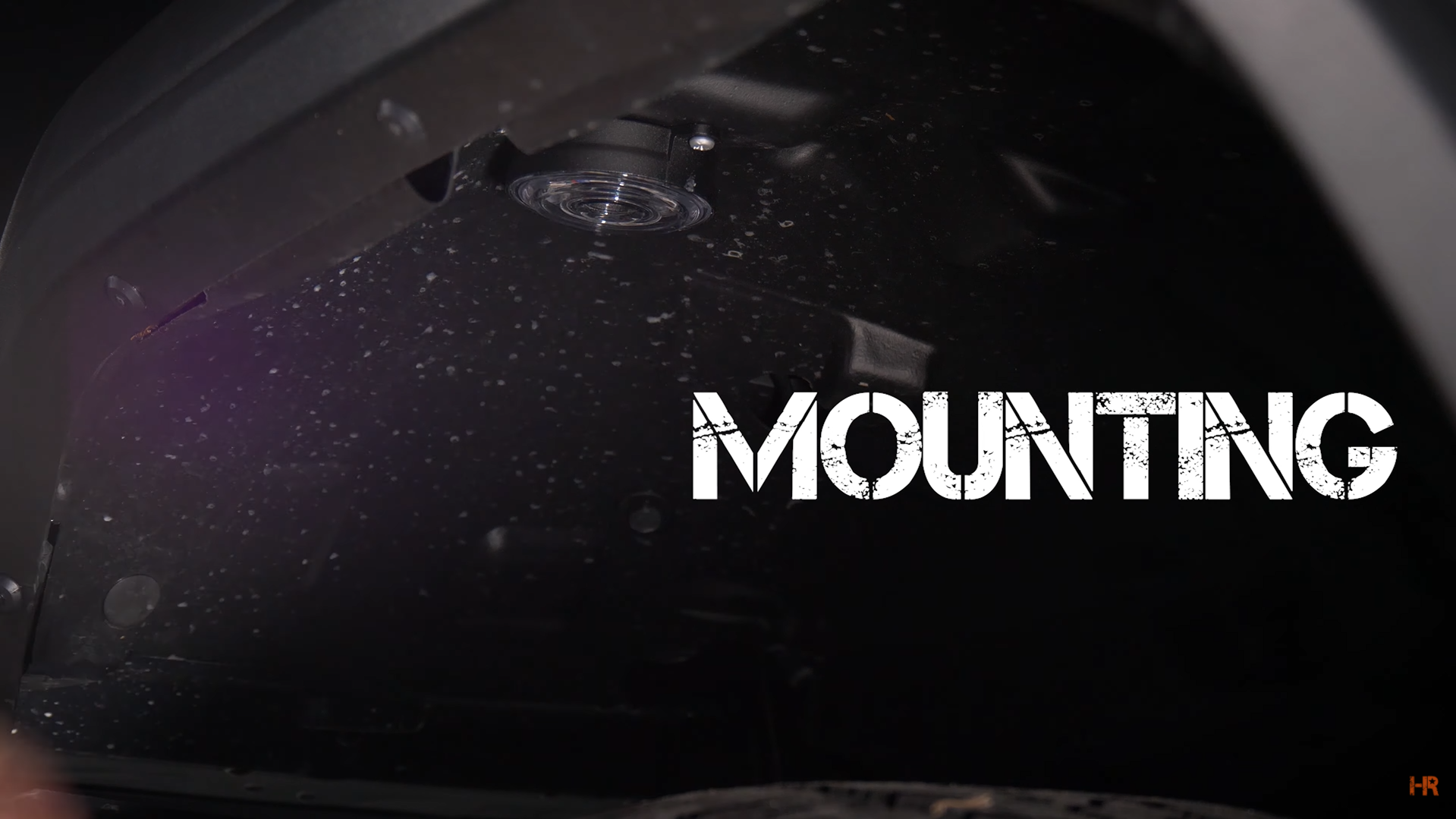 Second, we have wiring. Are there waterproof connections? Is there enough wiring? Is it easy to use? These will all be answered. This is probably the most important criterion. Without solid wiring, how can the rock lights even be rock lights?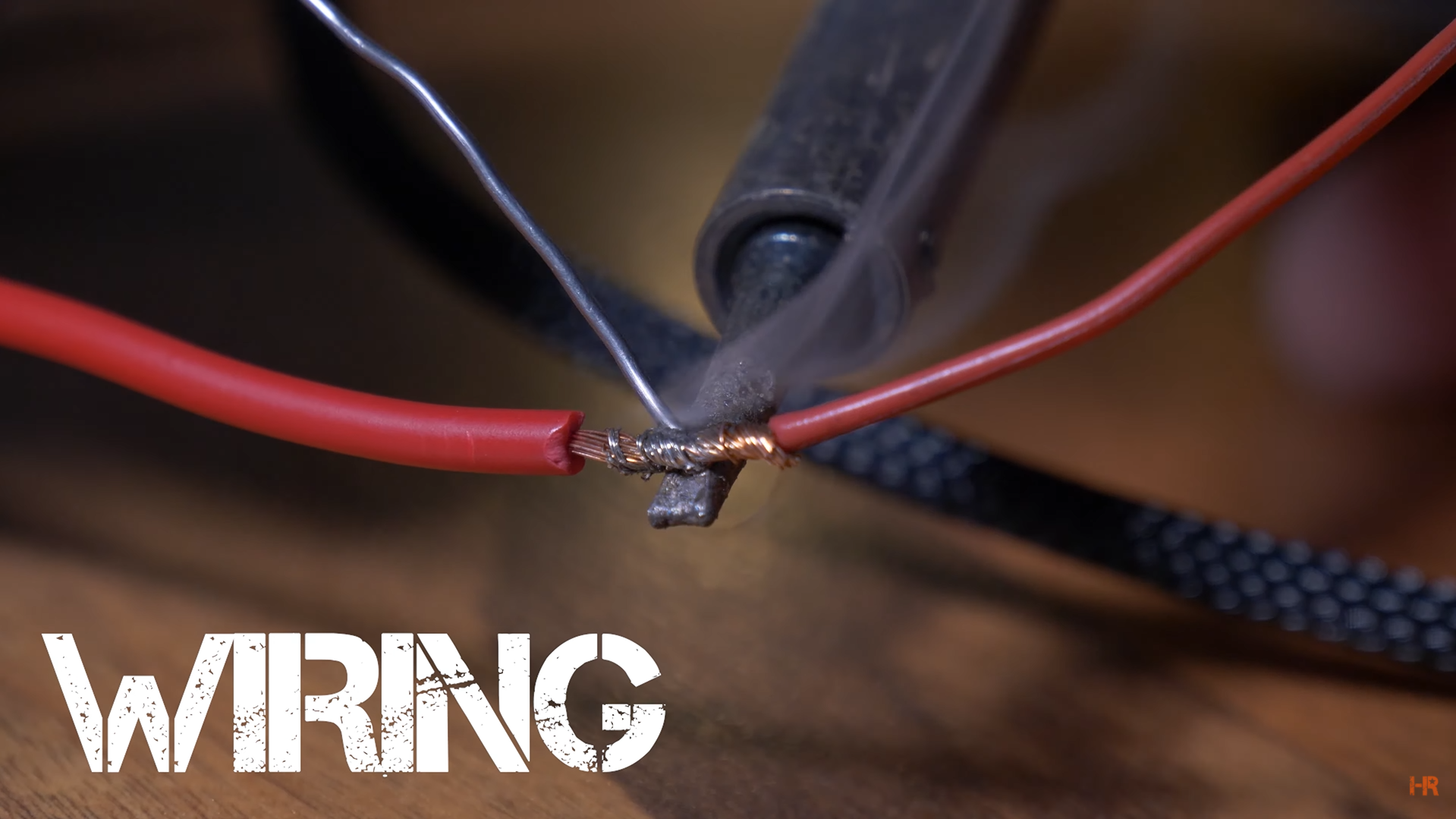 Next, we have control. We are looking for something that is designed within a system. One that is meant to be turned on and off or even allow for changing colors, if the unit permits. If we have to do our own switching system, it will be less than ideal.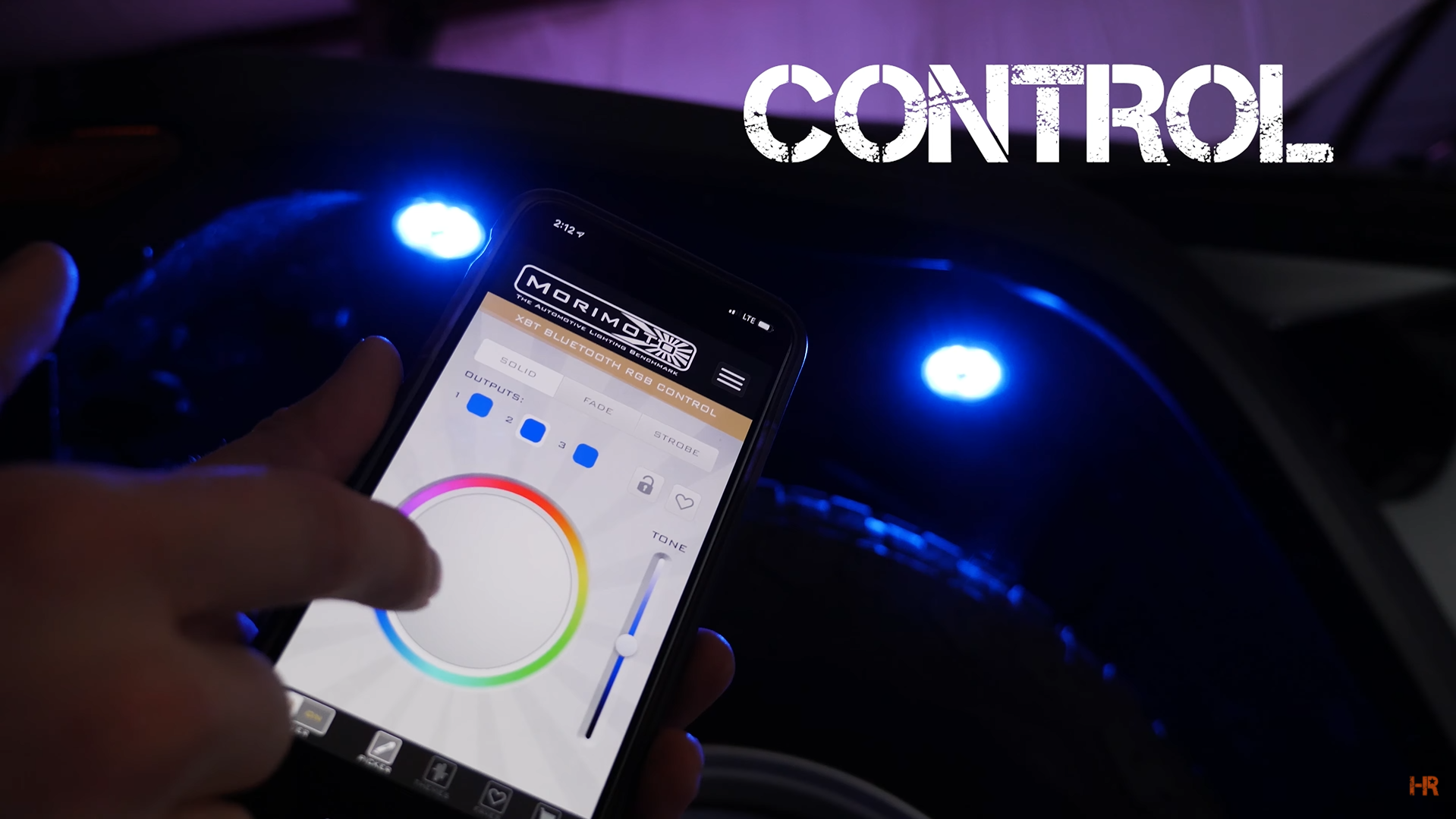 Fourth, we have color options and capabilities. We want to know how rich the color is and how many options are offered. Some of these even allow you to change the color, so we would want to know how well that works.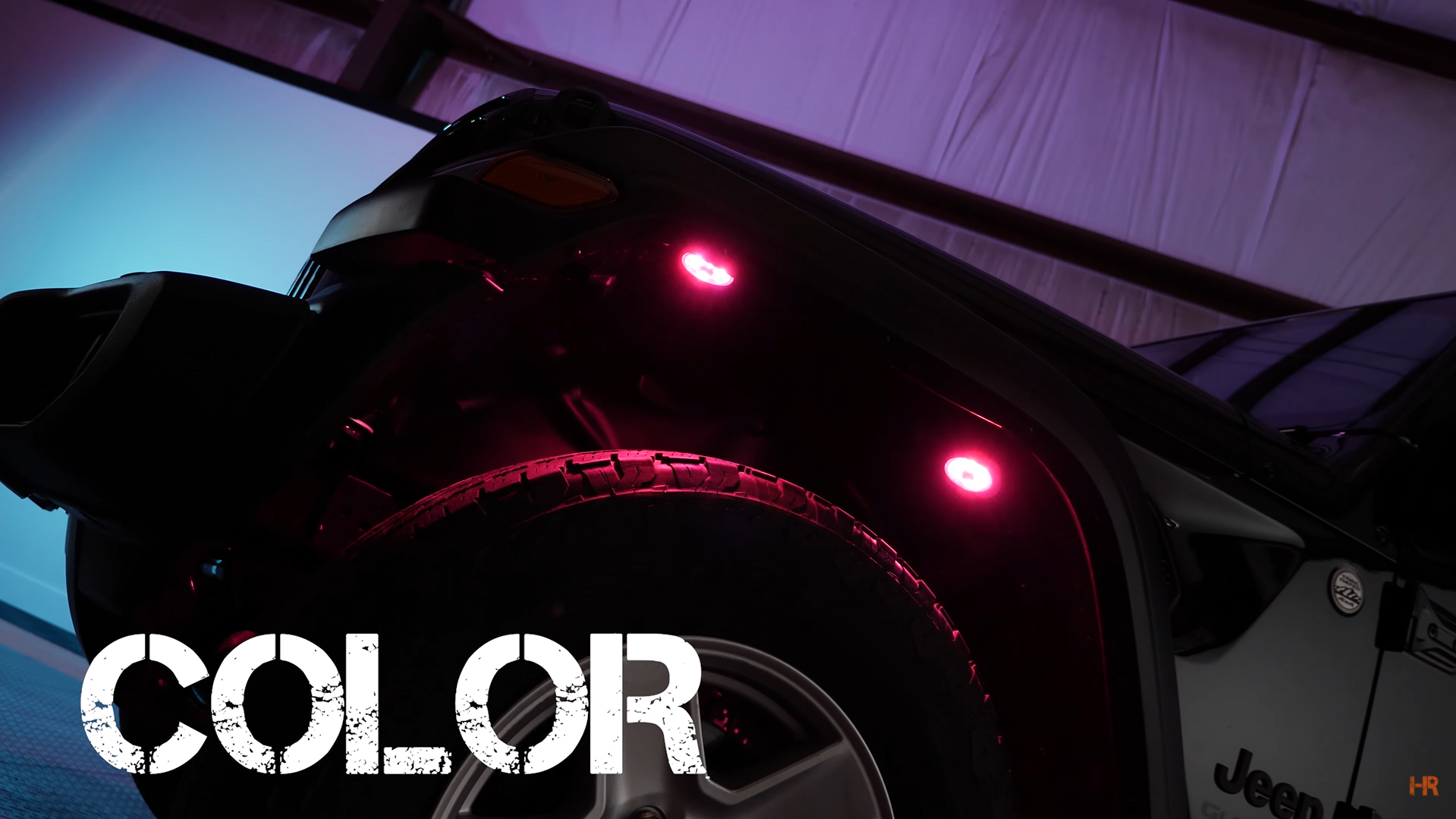 The last piece of criteria is brightness. At most, you are going to want two or fewer LED rock lights. Any more would be overkill and complicate the wiring harness. So, brightness is a huge component of this test.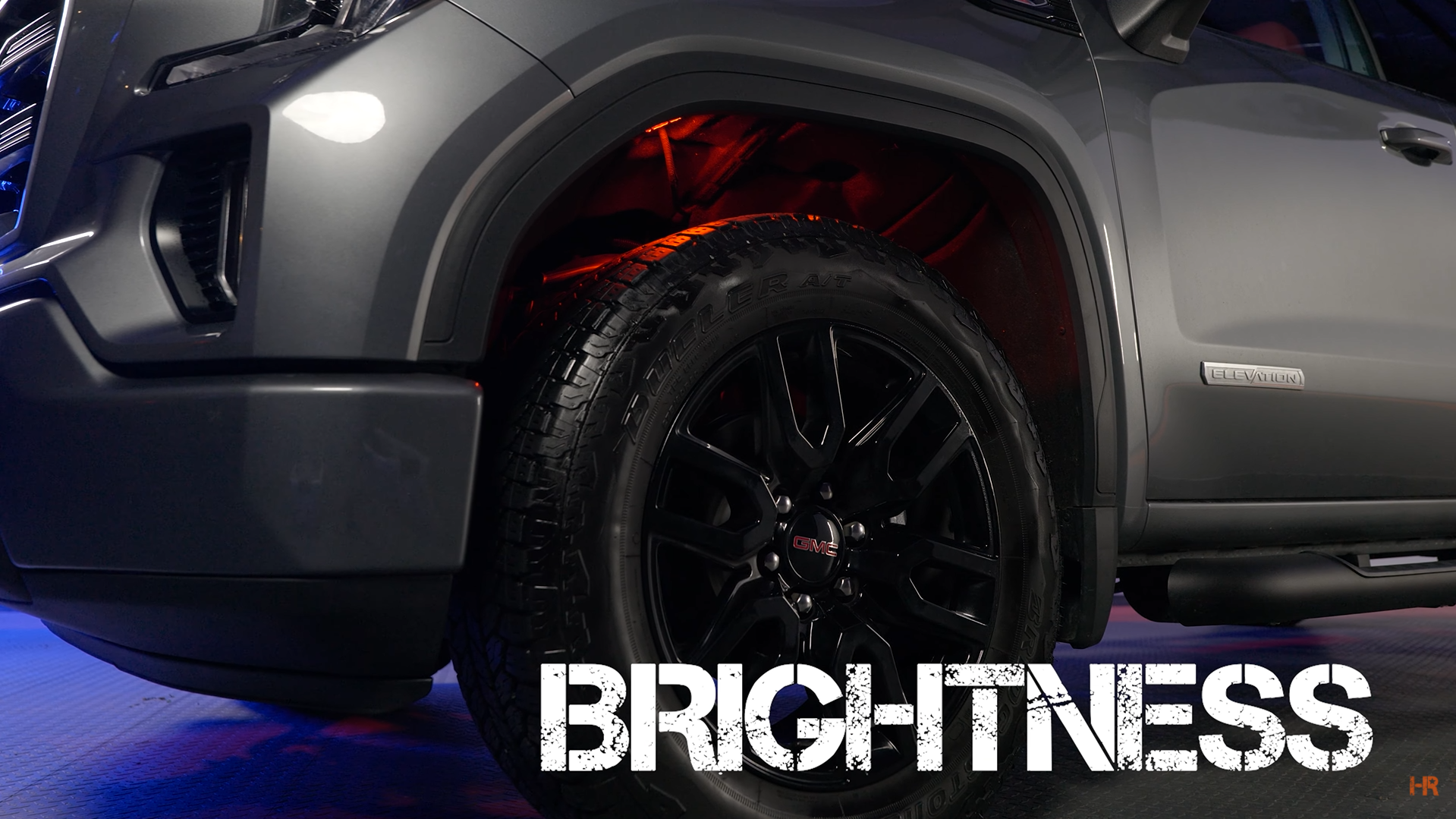 THE TEST
This set has been known to be super versatile. We have seen them used as rock lights, signage, fog lights, for truck beds, and for mounting beneath the hood. So, this was not a purpose-built rock light.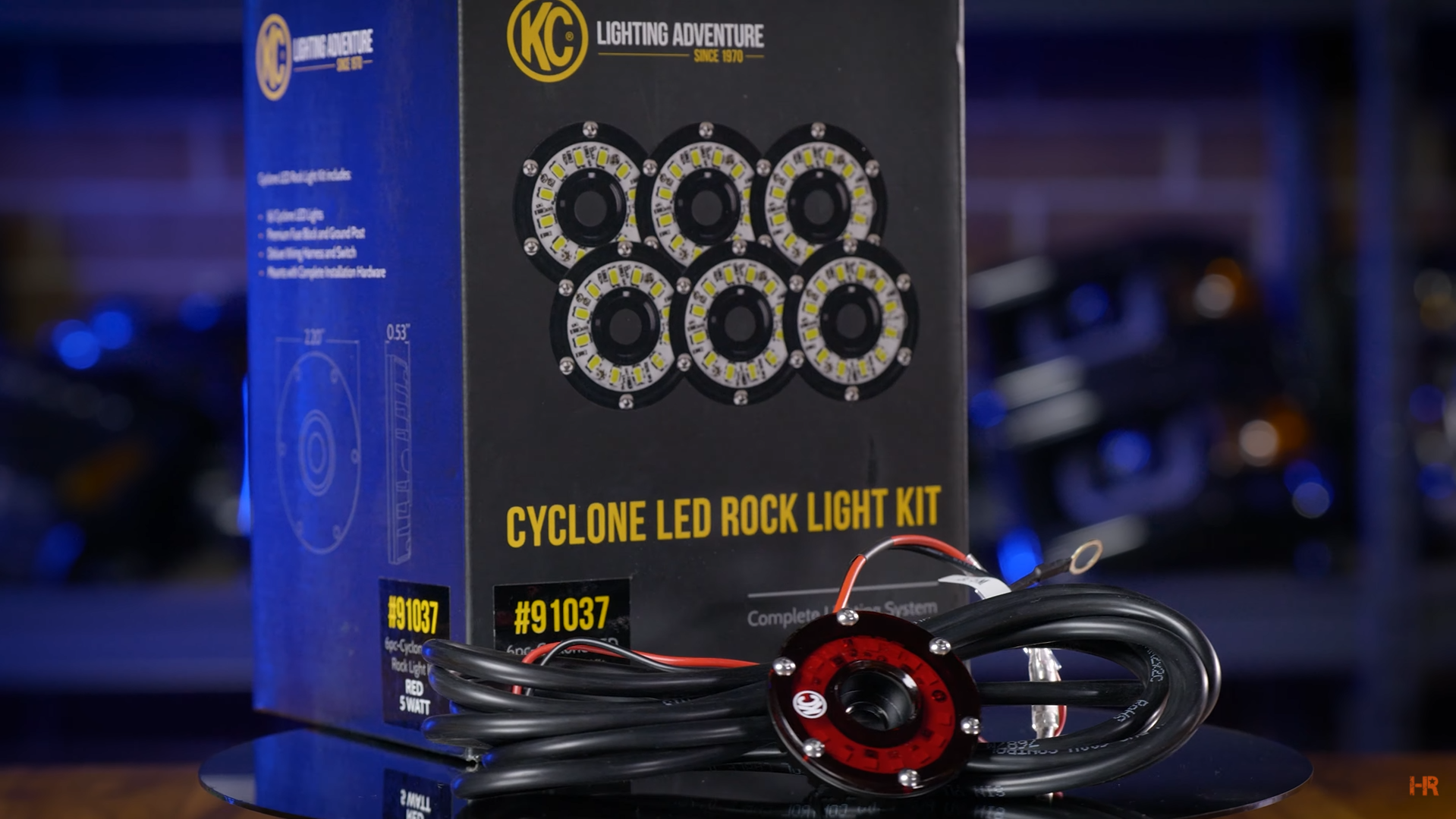 However, it has some incredible mounting solutions. The rear has black metal and heat sink with the front being the colored lens. This set comes with different types of mounting brackets and screws to give you options when mounting.
If you are not into drilling holes into your wheel well, KC Hilites does give you the option to use the existing plastic push pins that line the wheel well. They allow you to replace your stock push pin with the Cyclone mount.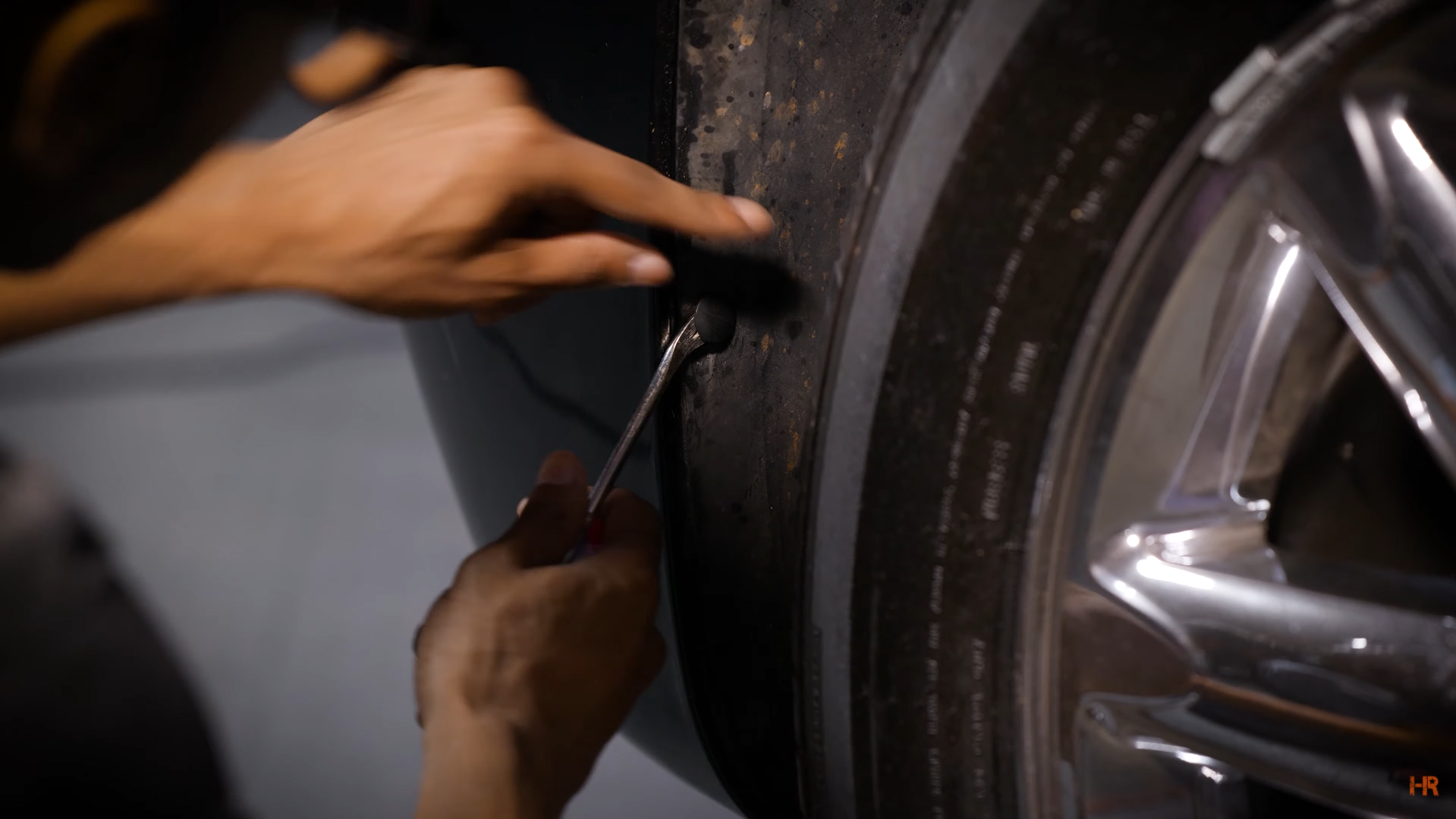 For the wiring, have a red and black wire with crimped terminals. The corresponding wire kit connects with the corresponding colors and into the distribution block (a universal fuse block that taps into the battery, distributing power to the lights). The wire kit comes in various lengths to ensure it reaches each wheel of the vehicle. Once the wires are connected to the fuse block, the ground (black) wires can be sent to the ground post.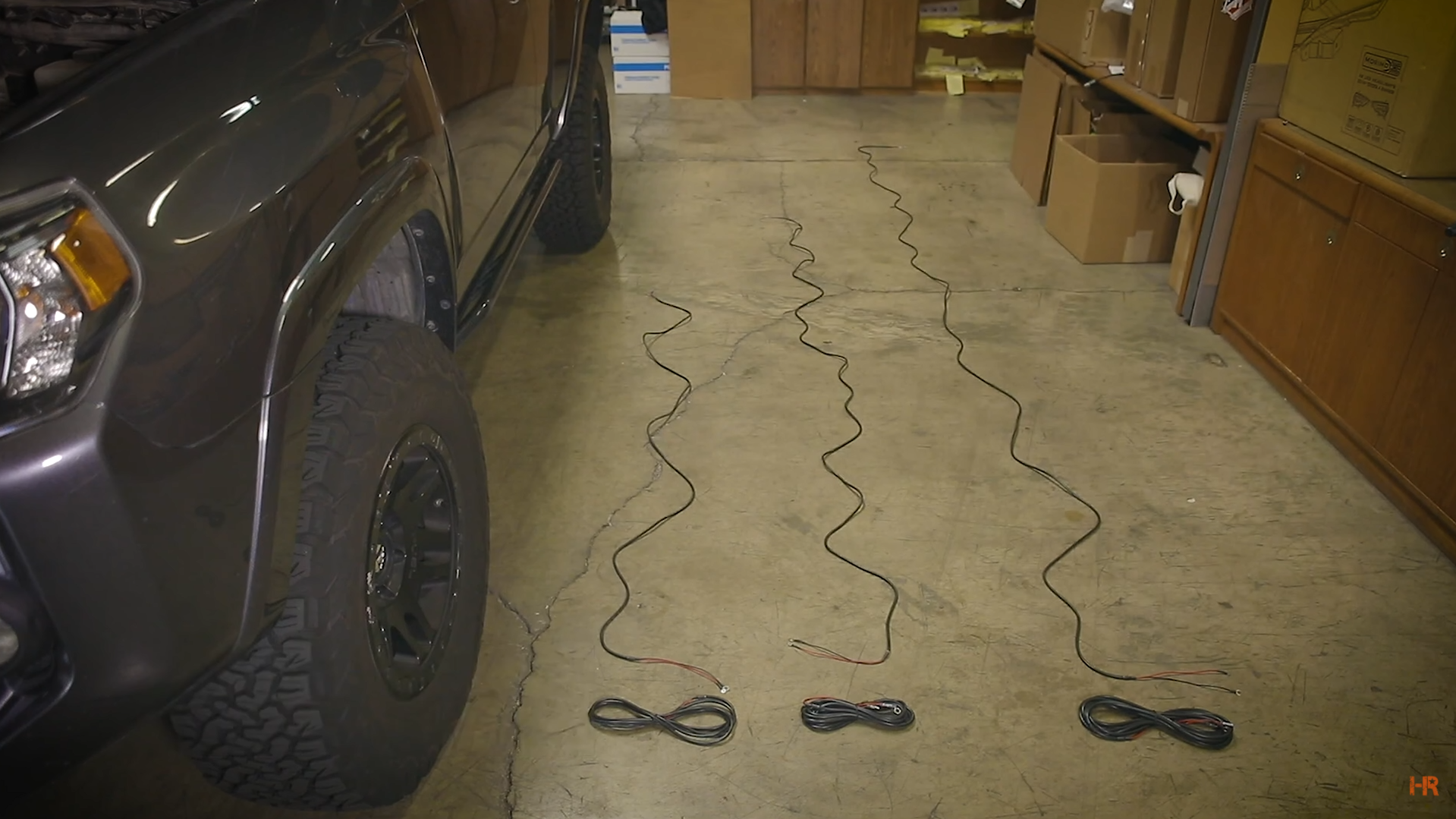 There is also a red switch that they give you. This is wired up by drilling a hole into the vehicle and mounting the switch somewhere accordingly. As long as you are okay with popping a hole in your dashboard and using the supplied switch, you can do that.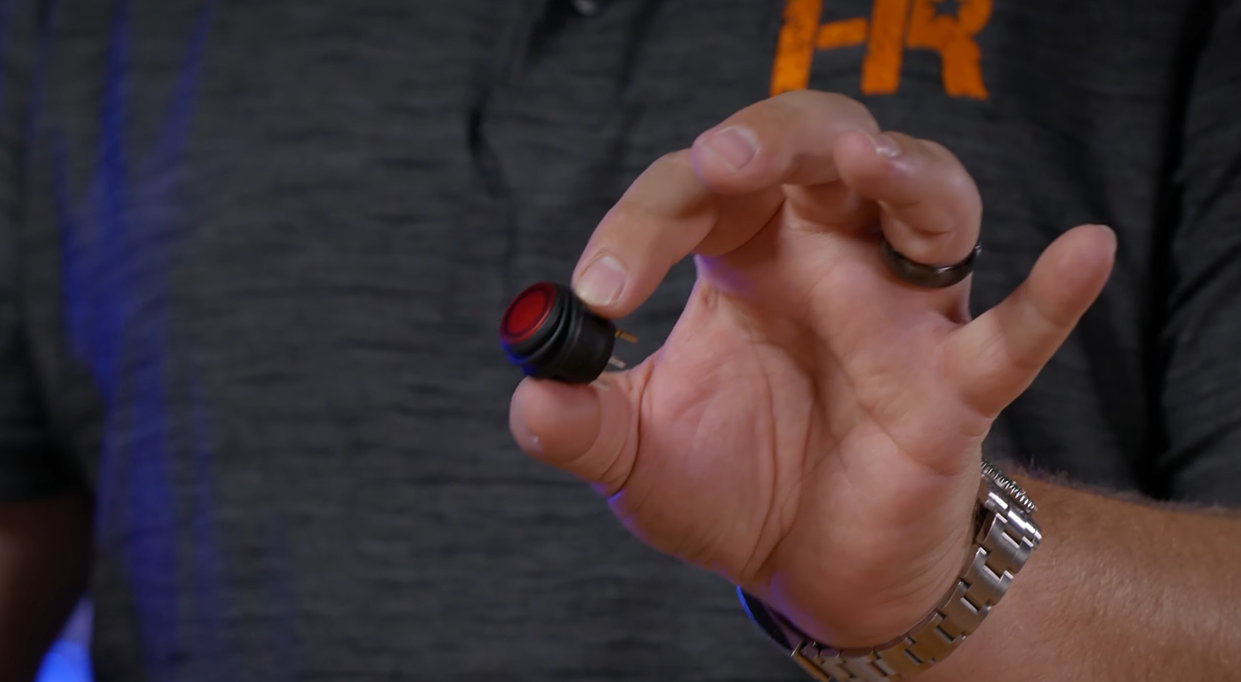 This rock light is only available in single colors, so far only white and amber. In our V1 example, the color is fantastically rich, but the level of brightness leaves much to be desired.
At the time of testing, the V2 had not been released yet. Currently, you can get an updated version of these lights. Unfortunately, they still only come in amber and white.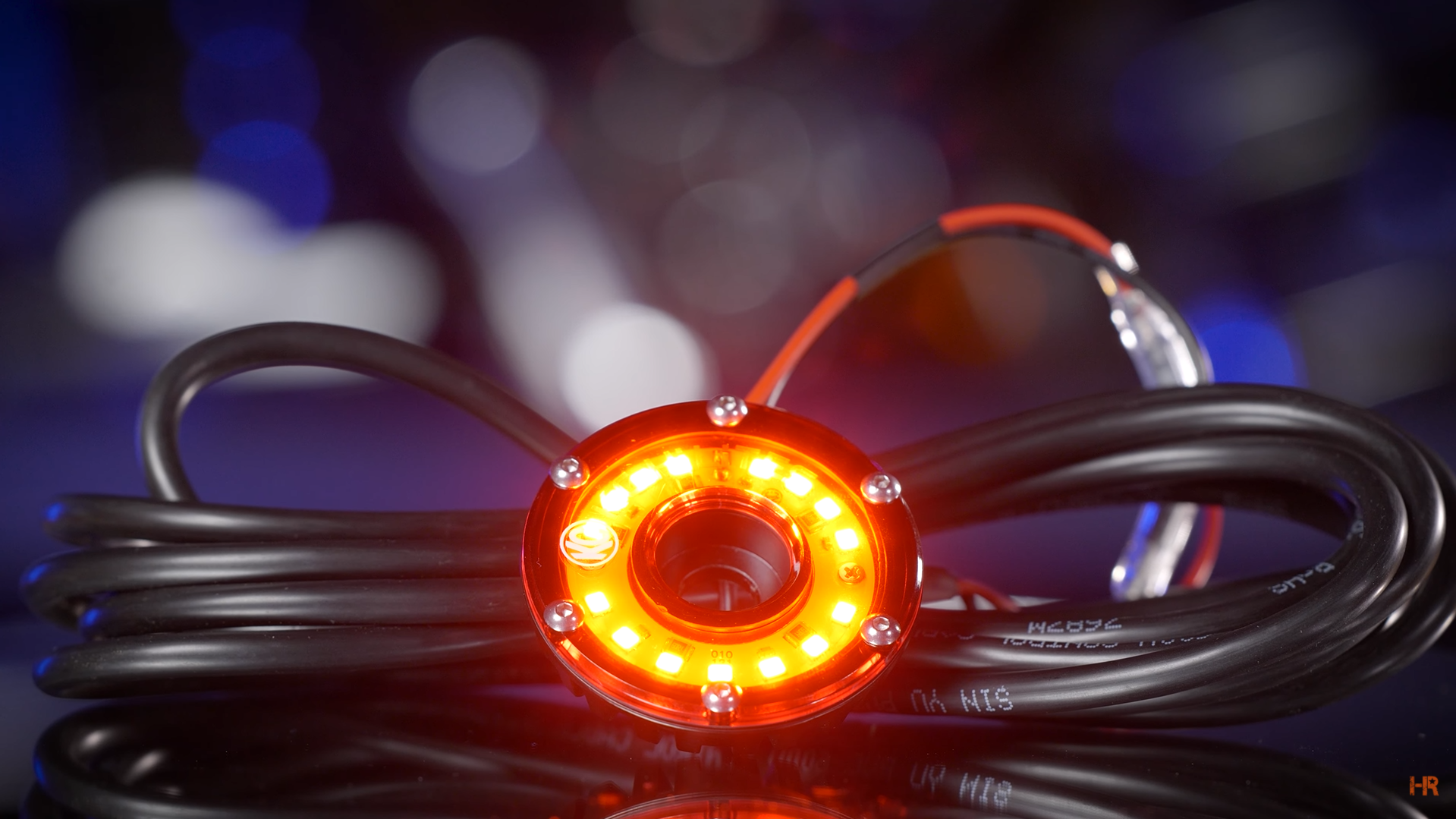 While not the brightest set out there, KC HiLites shows up to the game with great performance. You can get your own set of KC HiLites Cyclone LED Rock Lights here!
---
We chose to showcase these next because there seems to be some design elements borrowed from the KC Hilites set we just looked at. That being said, they do compete pretty well with the Cyclones.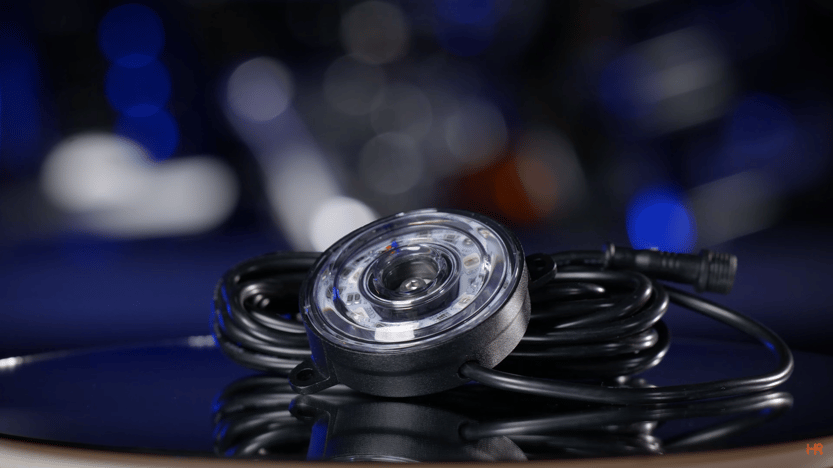 Firstly, these have the best mounting solution we have ever seen. There are low-profile, sturdy metal mounting tabs that allow small screws to go in. There is also an awesome magnet mount that you can choose to use if you have anything steel to mount it to. The magnet mount is definitely strong for this application.
For wiring, Profile Performance has it nailed down. The connectors are great, the wiring makes sense, there is plenty of wiring, it is entirely waterproof, and it is modular. This means that you can extend the wring if need be. Furthermore, the way it connects to the controller is easy and if you have RGB or single color, the wring is about the same.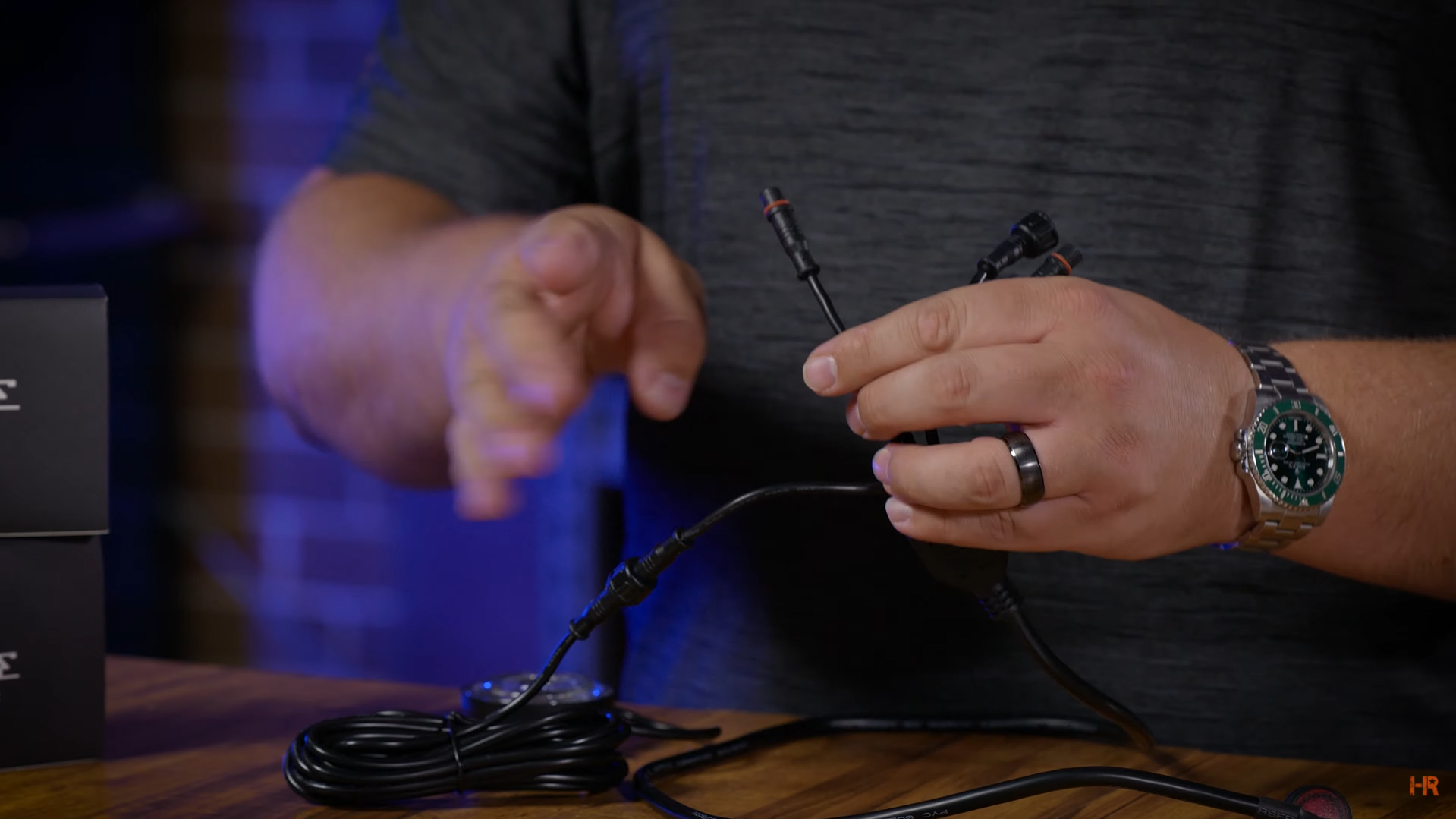 The RGB wire connects to a splitter and the splitter connects to the Bluetooth app. Each spitter is designed to handle four sets of four rock lights. If you have a single-color system, the cables are very long, waterproof, and have exposed cables at the end for connecting.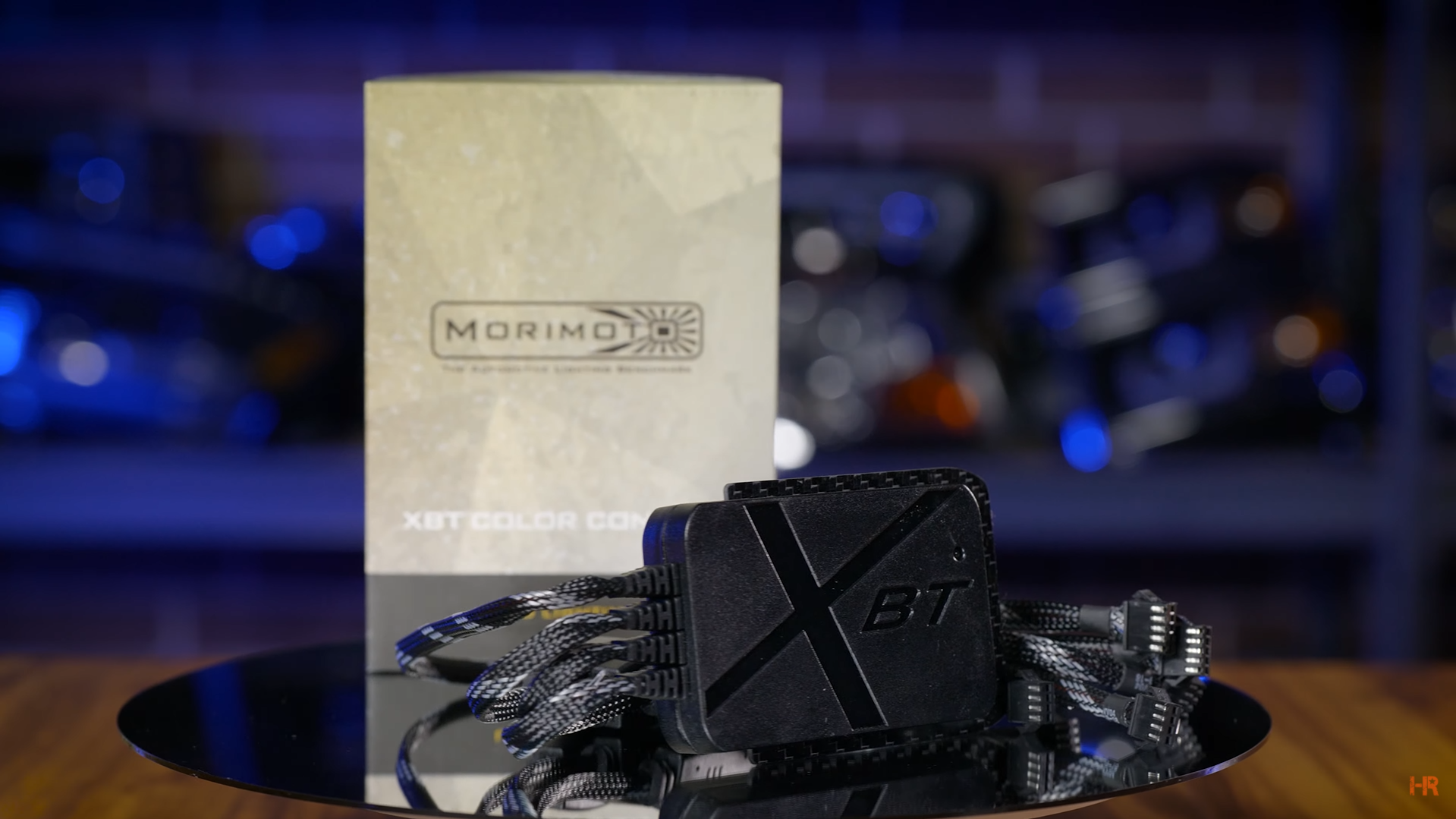 If you get the Morimoto XBT Color Controller, you can alter the lights on the whole system through the Bluetooth controller. Not only do the RGB lights come in any color you want, the single-color systems have color LED chips, meaning you get a great color profile.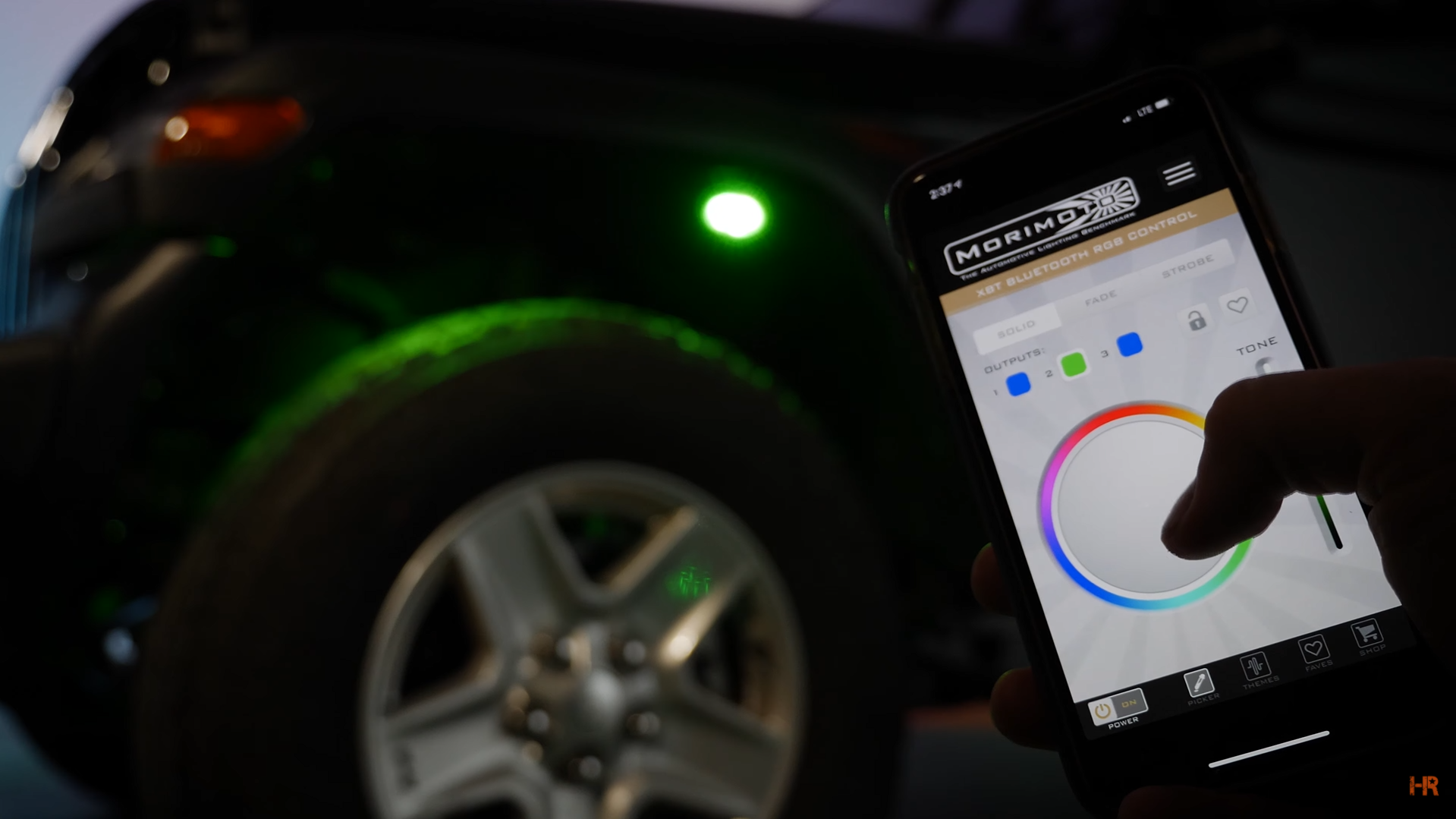 As for the brightness, these have great performance. The light is bright and due to its circular layout, the coverage is excellent.

The Profile Performance Pixel LED Rock Lights offer fantastic performance and usability. You can pick up your own set here!
---
C4 LED Rock Lights
These come from C4OffRoad.com and are not explicitly stated to be LED off-road lights, but all the photos and marketing material show them being used as such. Interesting.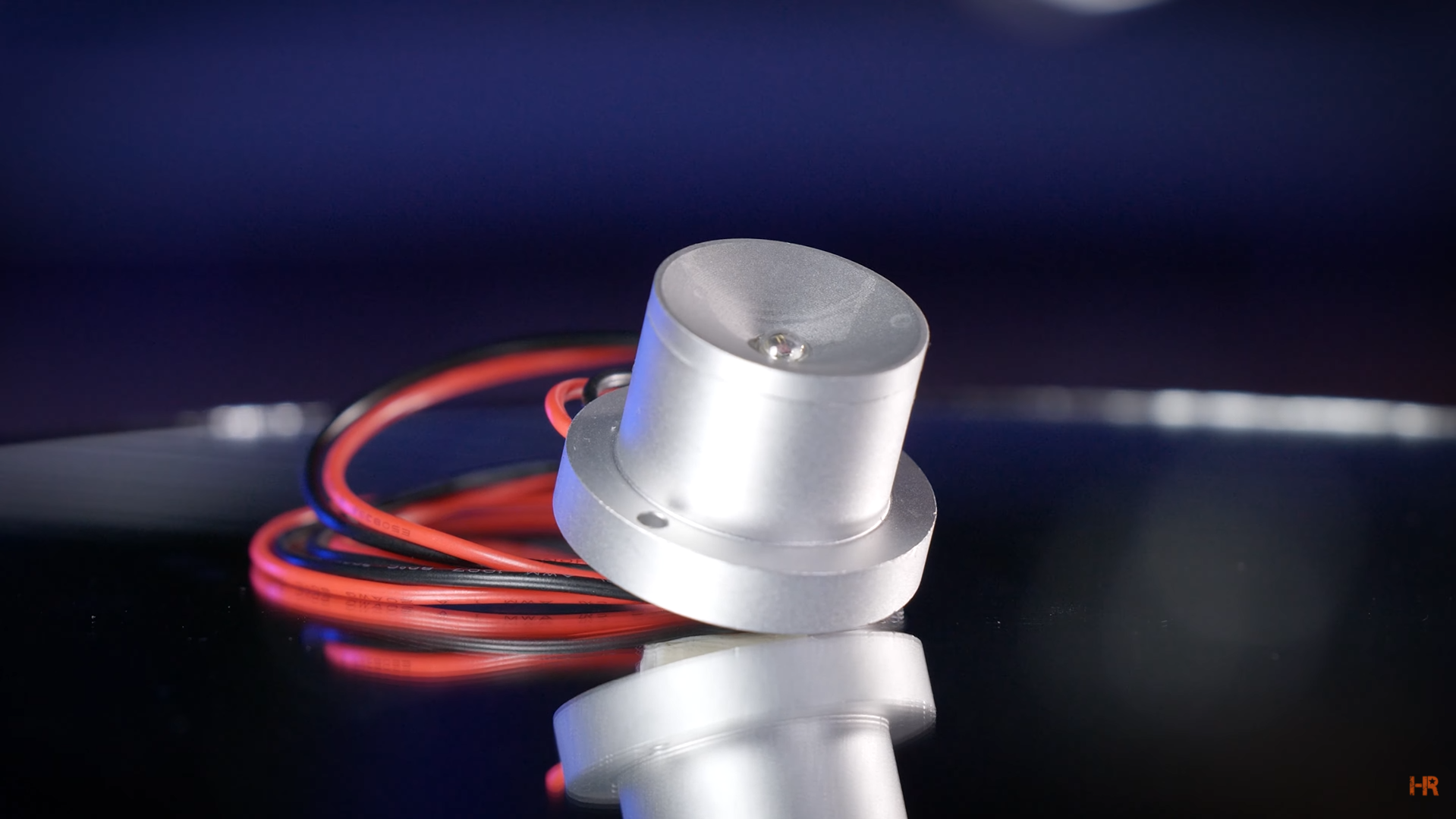 Mounting is abysmal with a non-water-proof cylinder with very tiny screw holes for equally small screws. This thing could maybe handle a few mall crawls with the boys, but I would not trust it to do any more than that.
Controlling is figured out on your own. The light comes with two bare wires and it is up to you to figure out the wiring.
One thing we can attest to is the light itself, not too bad. It is a very vibrant red color. But it is definitely not waterproof. The LED chip is exposed with no lens to protect it. The brightness is equally concerning as the lack of waterproofing.
You do get a sticker with the packaging, which is nice.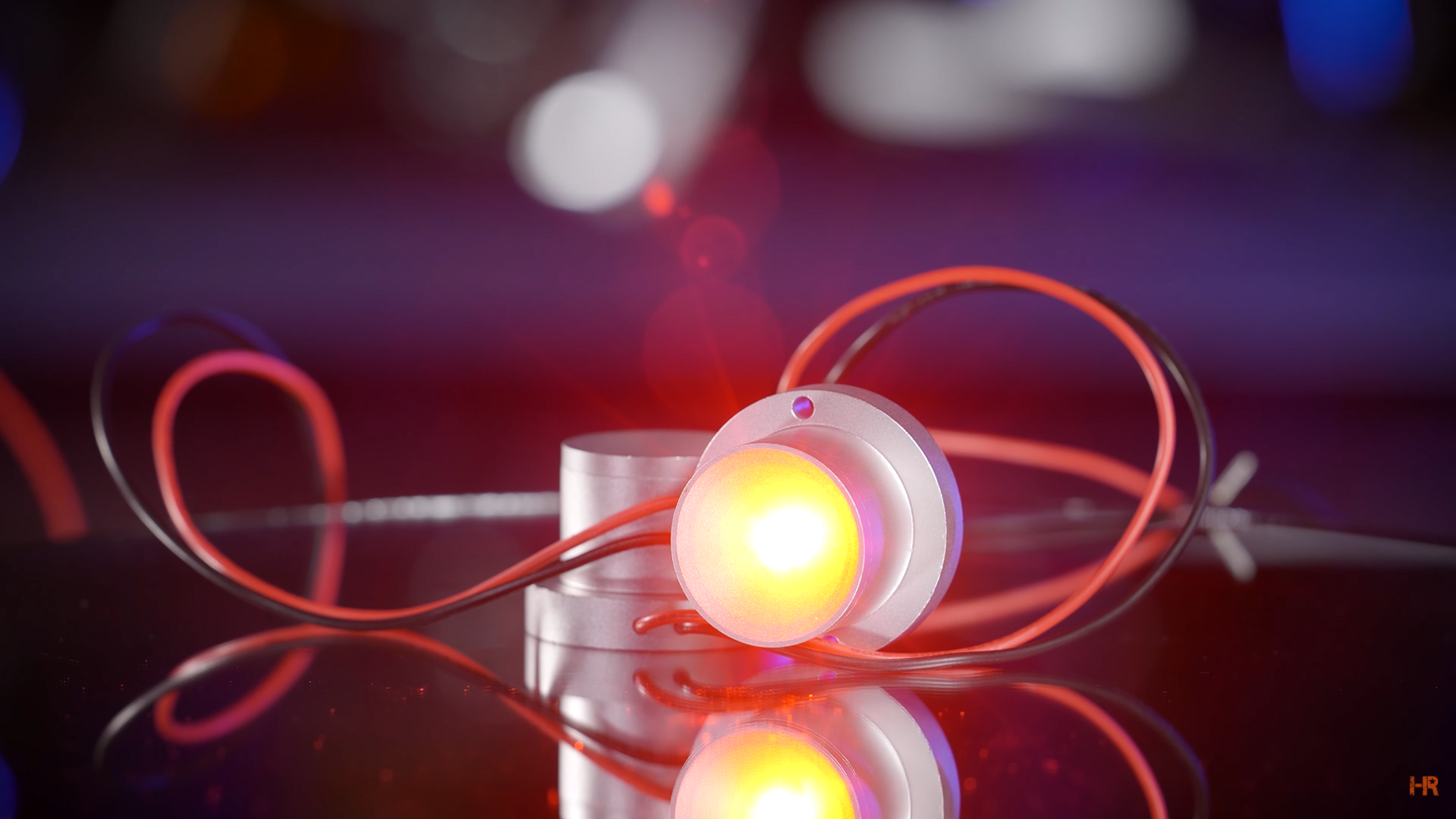 We do NOT recommend buying these C4 LED Rock Lights. Frankly, we do not know how they are even still on the market.
---
eBay Rock Light
We also tried out a random one from eBay. To be honest, this is probably not what it looked like in the listing photos. All it is, is a lot of plastic and zero waterproofing of any kind. You can even see the exposed wires inside the housing.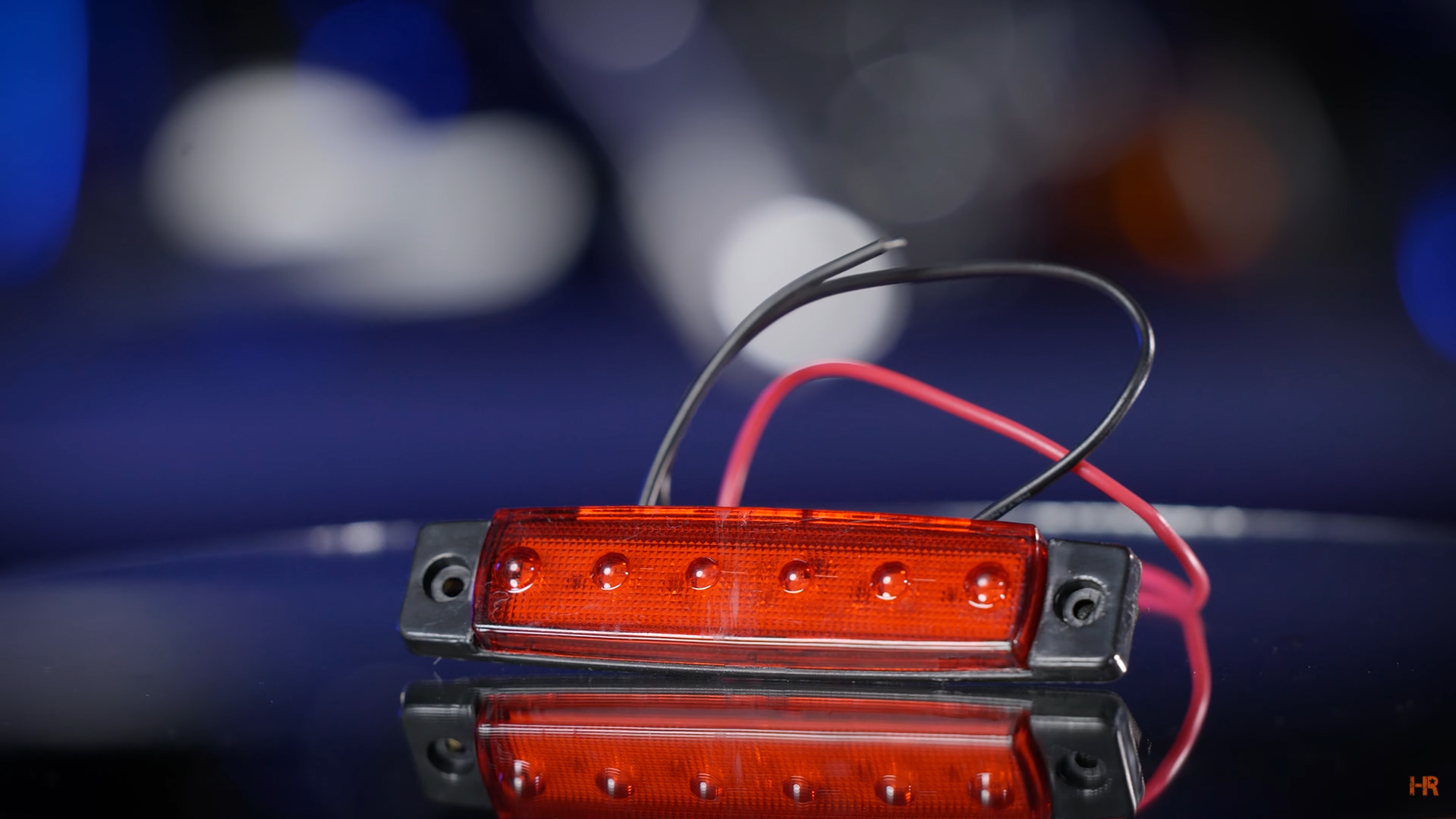 No amount of money is worth being spent on these. There are no accessories and only 10-inches of red and black wiring. Good luck sending this to each wheel of your truck, let alone whatever you use to control it.
Performance-wise, it is only some white LEDs shining through a red piece of plastic. Very little light is given off and it is not very vivid either.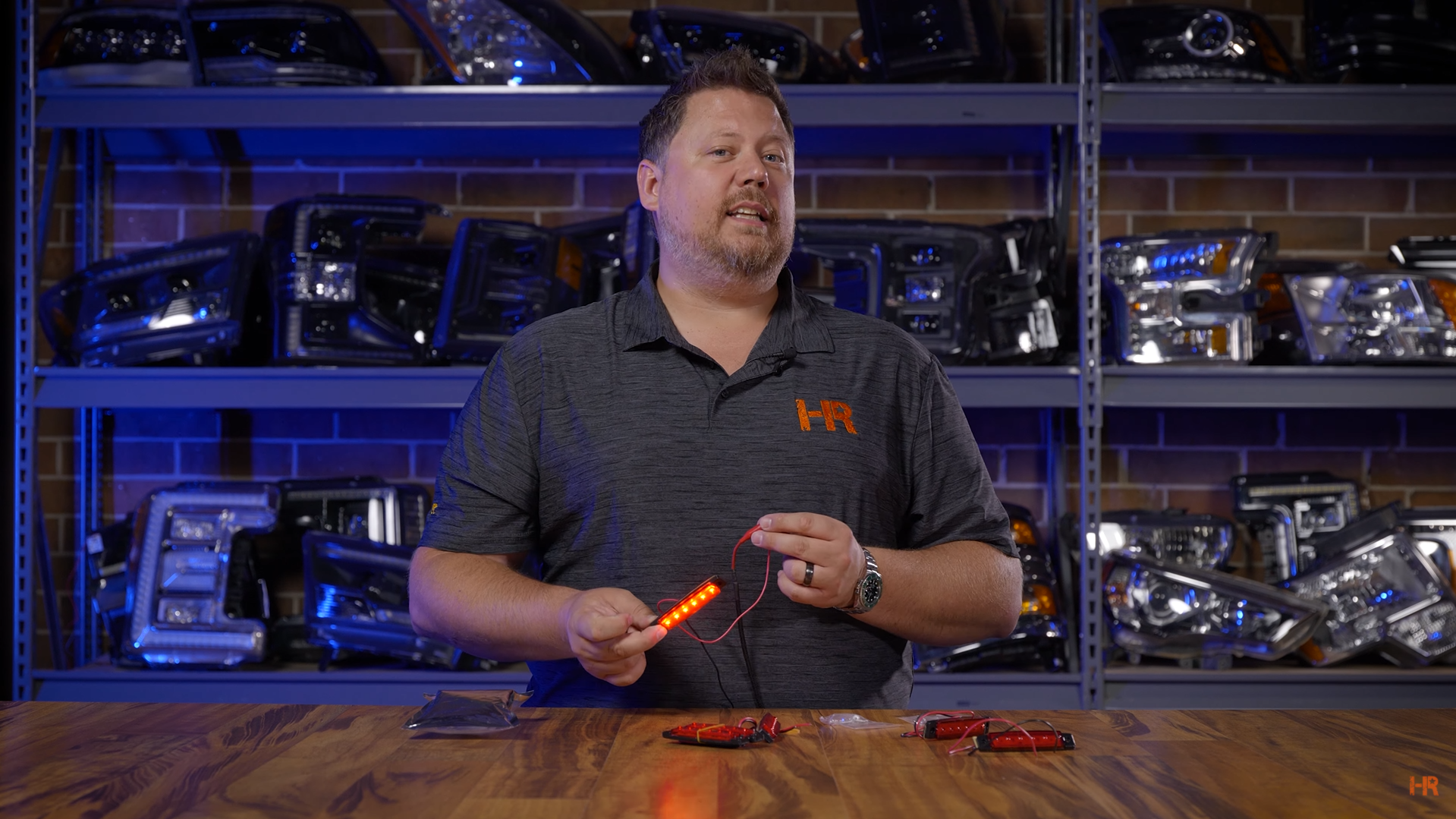 This one should be a no-brainer, but in case it is not. DO NOT BUY THESE.
---
LED Mircy
Just like the eBay set, this is another no-name LED rock light we found online. This product did not advertise as the LED Mircy brand and we were surprised to see it. It also stands to be said that we have tested their products before in headlight form, and those were terrible.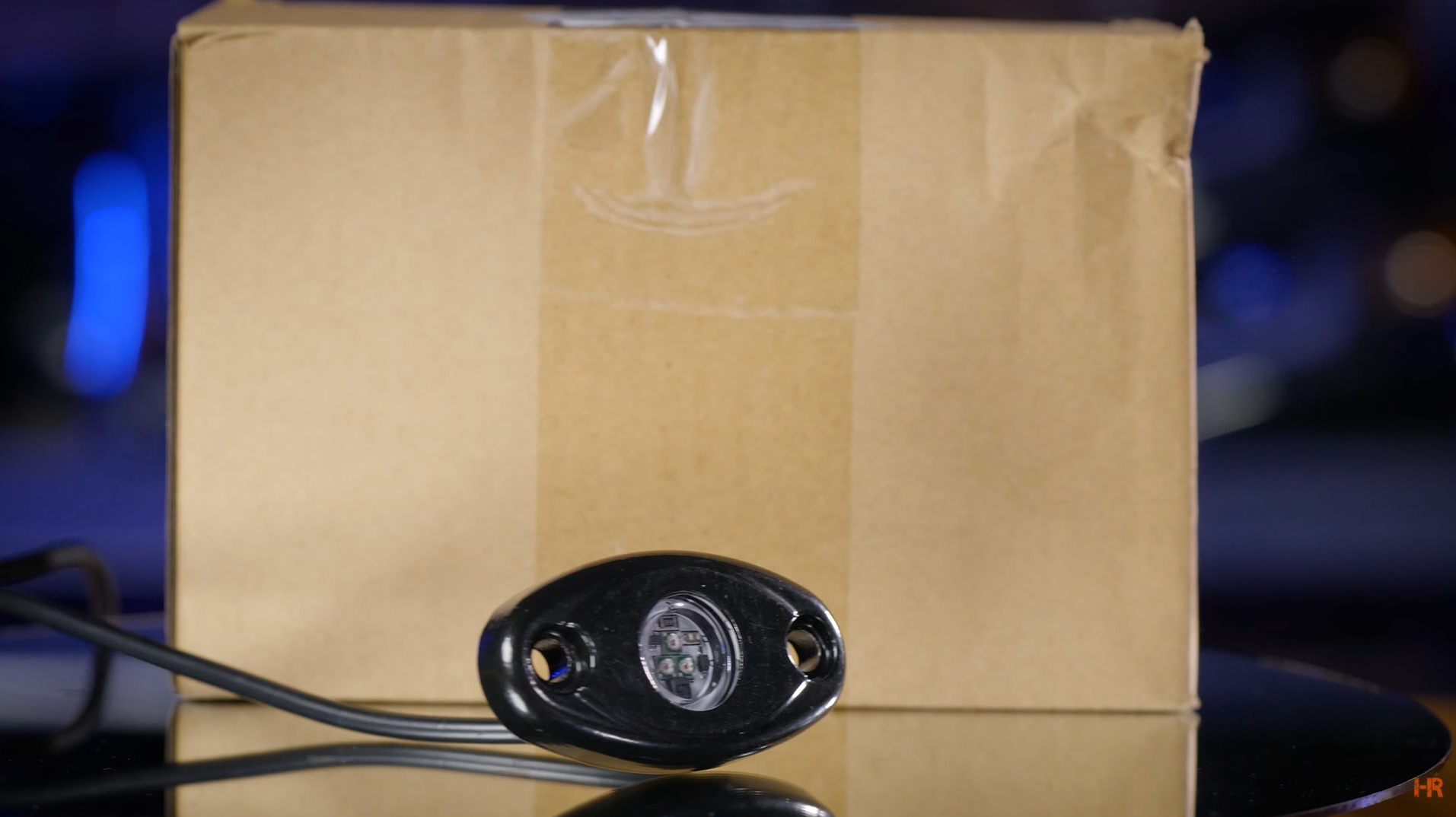 This set only comes with about a foot of wire coming out of the rear of the rock light. Meaning you will need lots of extra wire to completely light up your vehicle.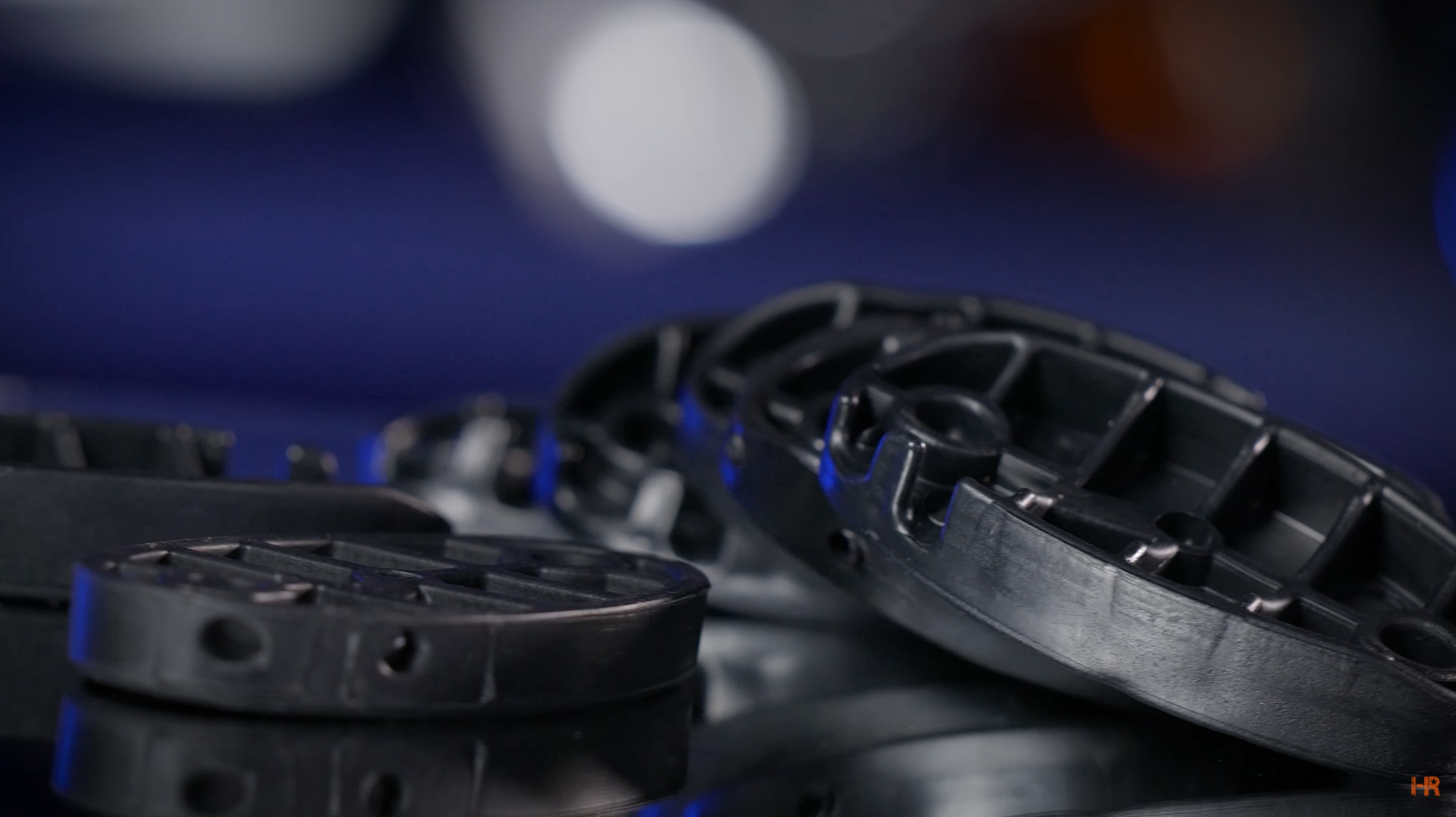 Speaking of mounting, the wiring comes out of the back of the unit which means that you will need to drill three holes to fully mount this thing to the wheel well. The hardware that comes with it is also just as inconvenient. Cheap and sort of stainless steel, the screws may be enough for the whole kit but I cannot promise that. There are also several adapters with the kit, and some of the adapters do not even work with the rock light due to its wire position.
These lights do not come with any out-of-the-box control system, meaning it is up to you to figure out how to turn them on. Once you do, the three LED chips operate with the specific color you want. The brightness is okay, but the color spread and vibrancy are weak.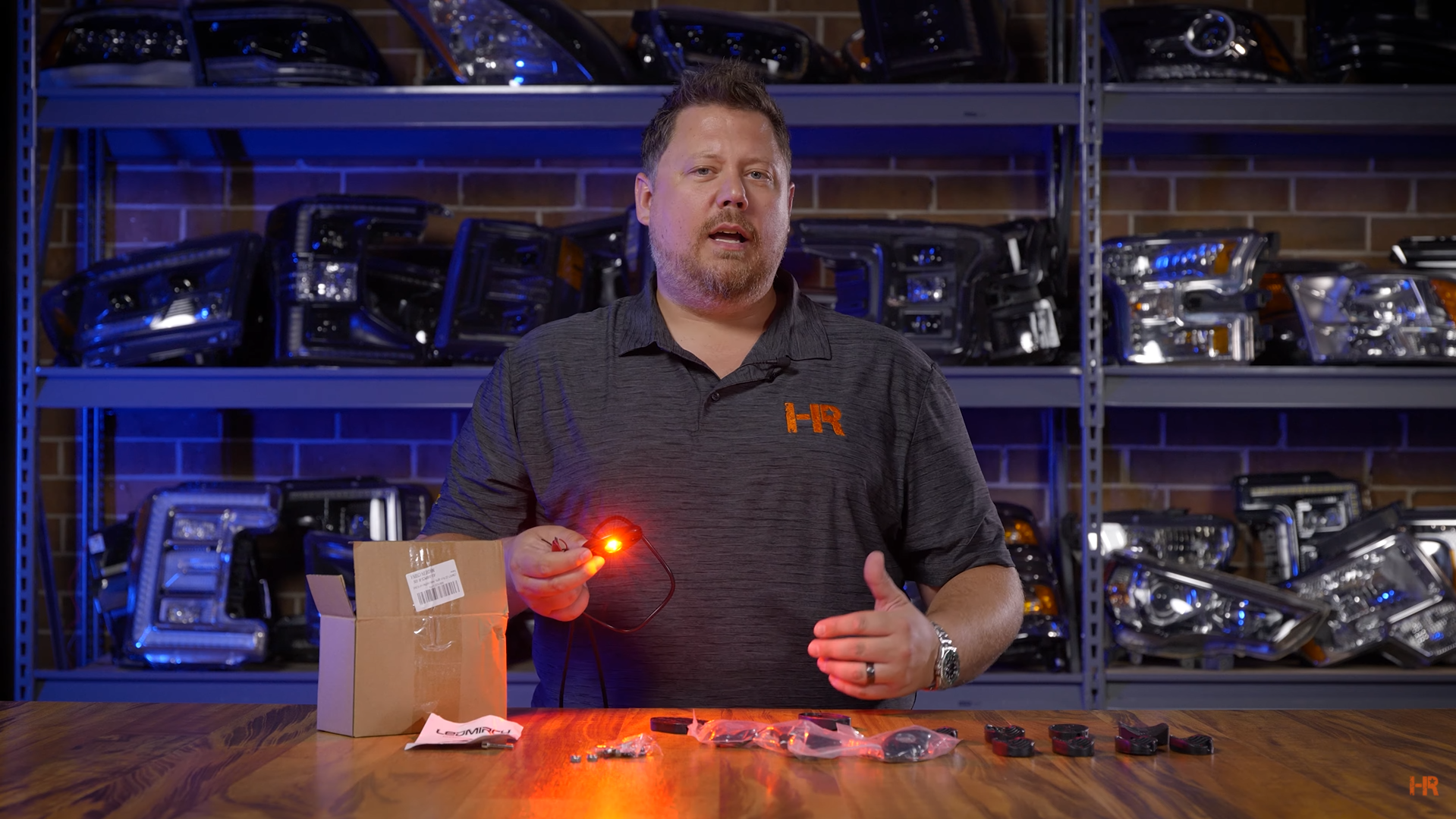 Another disappointing member of the rock light club. We do NOT recommend buying these.
---
LY8 Rock Light
This looks almost identical to the LED Mircy example we just saw. The only difference is the number of LEDs in the light and the type of LED chips. Otherwise, identical.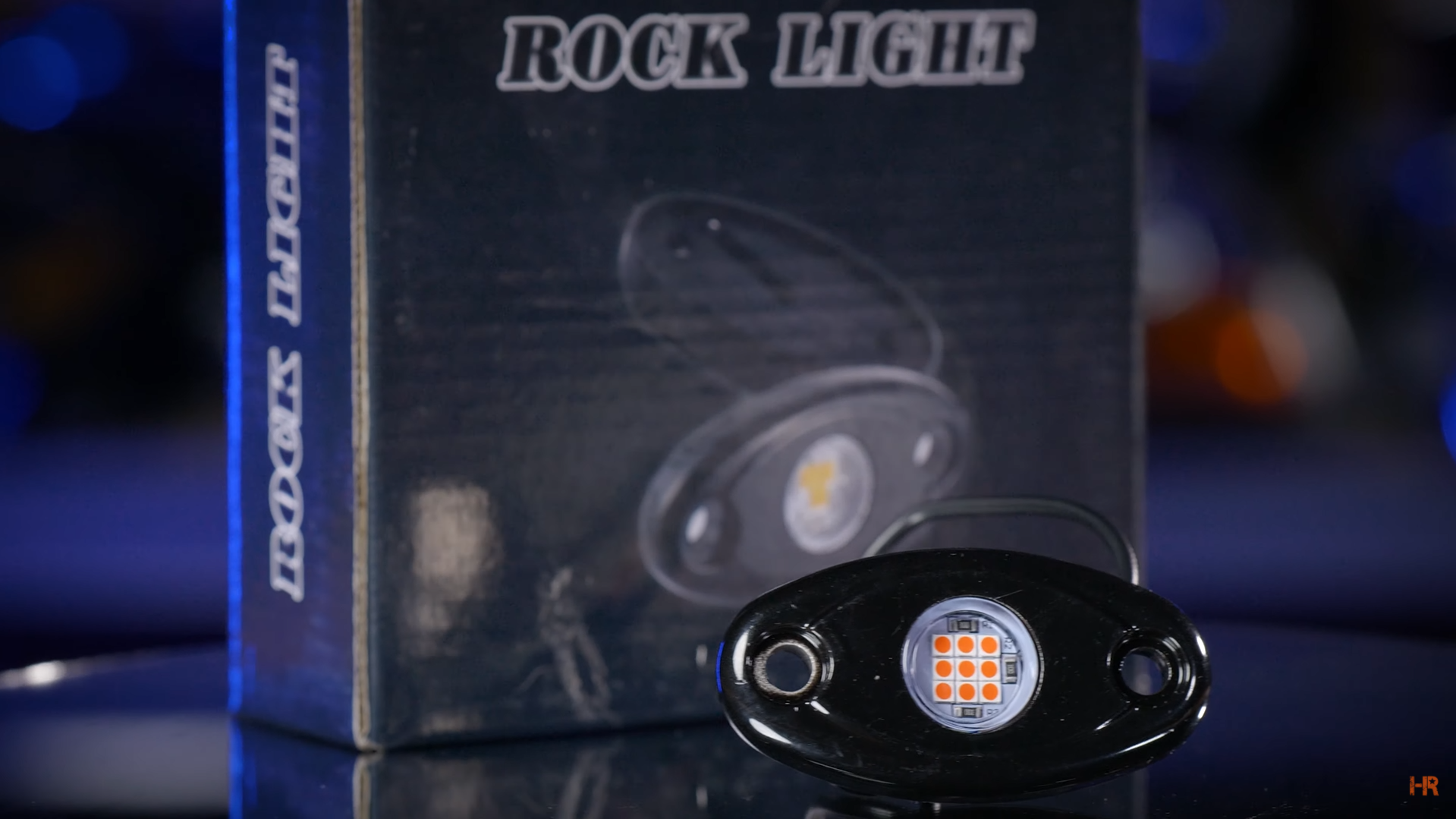 When mounting, the same problem with the LED Mircy examples comes into play with the wire location. Additionally, the screws are fake stainless steel and if you use the spacer, the screws are not long enough to reach anything meaningful.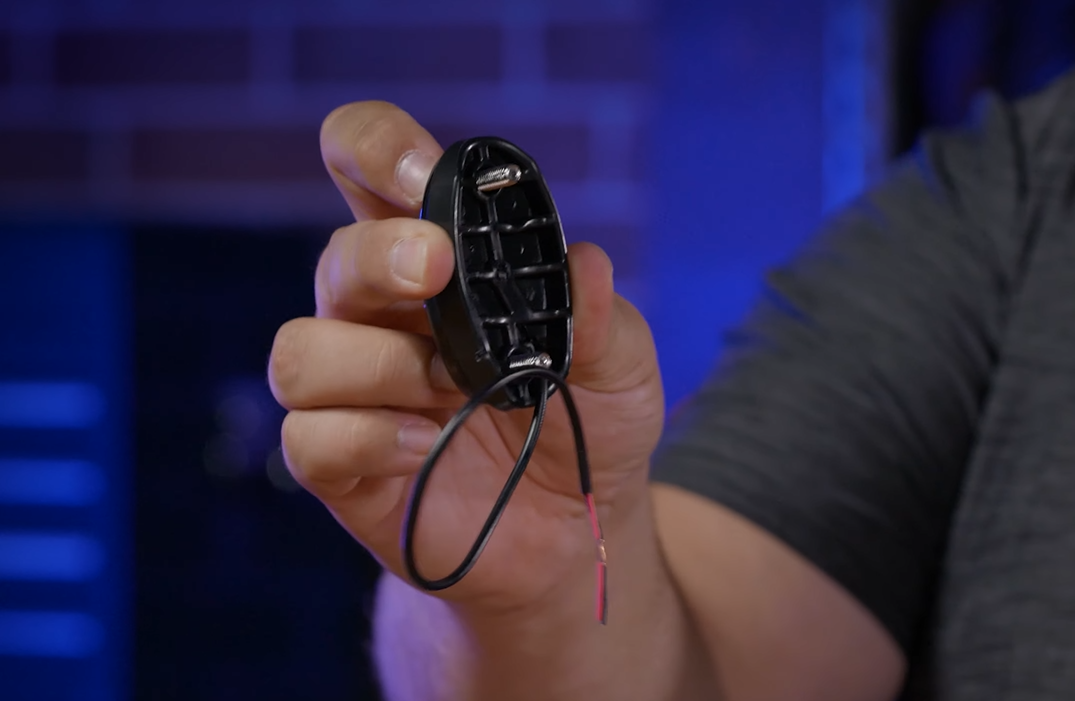 Wiring is just as concerning with less than a foot of wire. There are bare leads and it lacks the leads and switches needed to make these usable. If you are wanting to turn these on, you will have to figure that out on your own.
As for the lighting, the extra LED chips do give you a nicer color but are not any brighter than the LED Mircy example.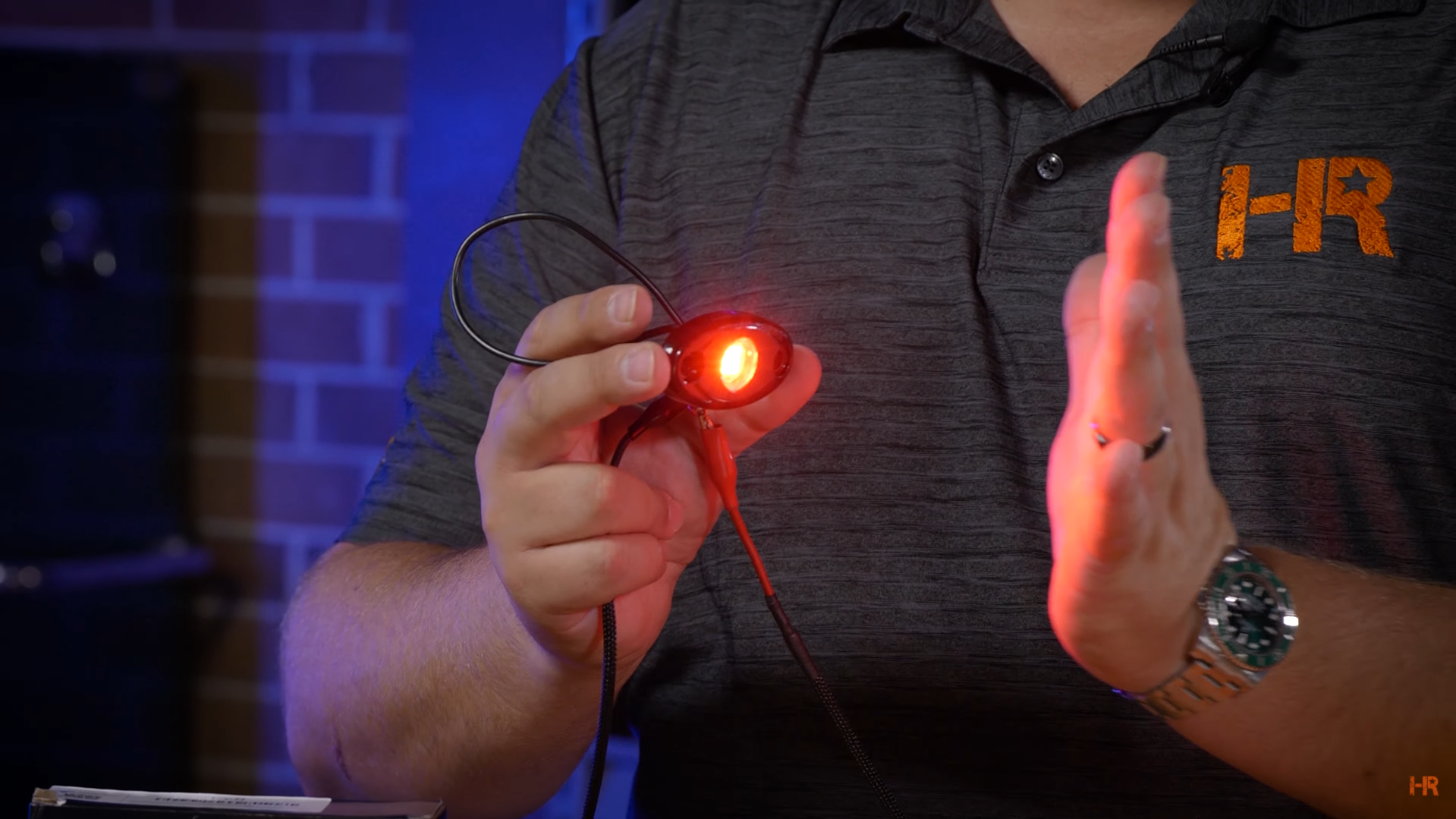 If you are going to copy someone, at least do it better than the previous example. We do not recommend purchasing these LED Mircy lights.
---
The hardware is pretty familiar to the LY8 and LED Mircy set with the same visual construction with the wire on the rear of the light. It does, however, come with spacers meant to cater to curved surfaces in your wheel well.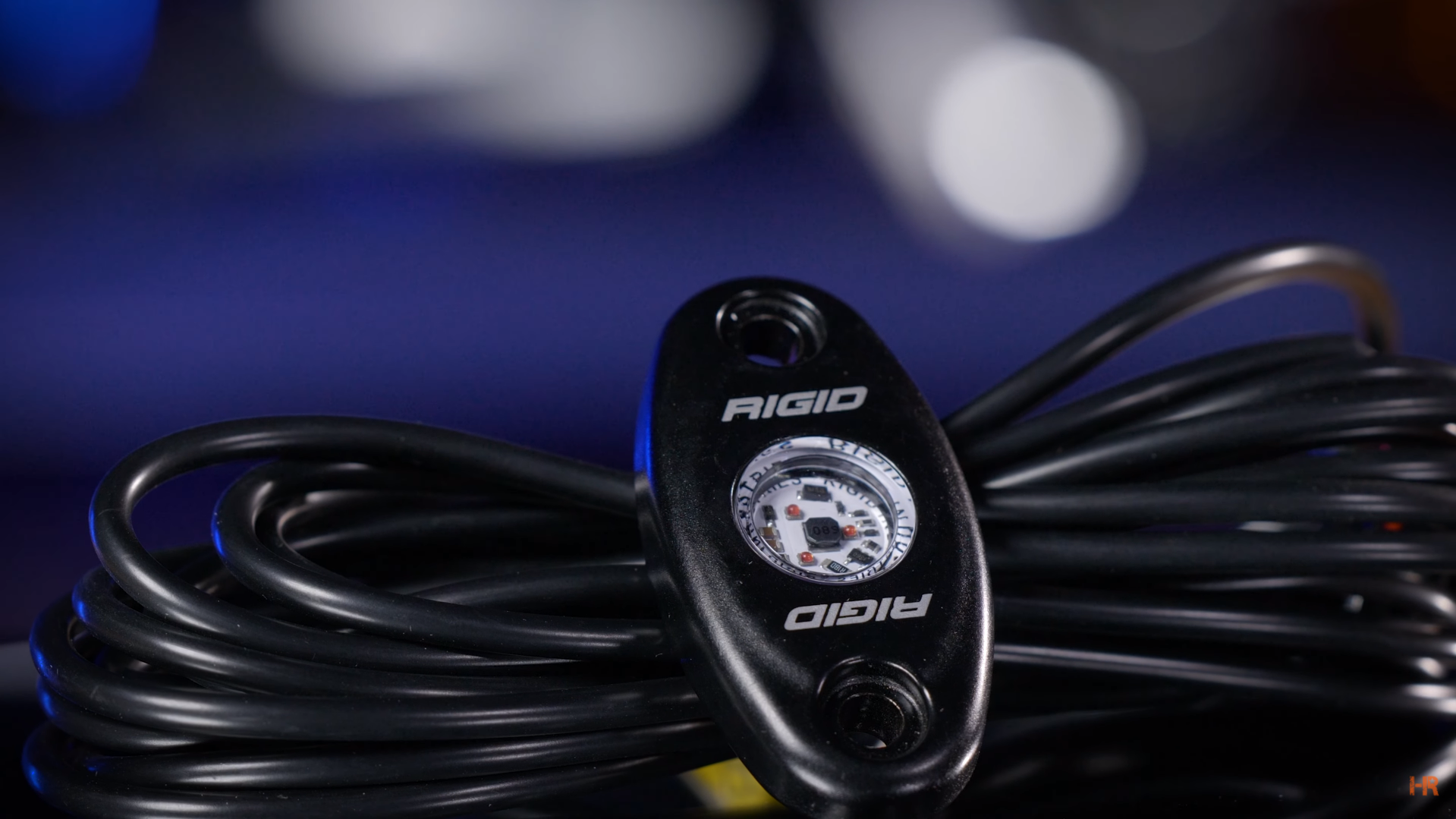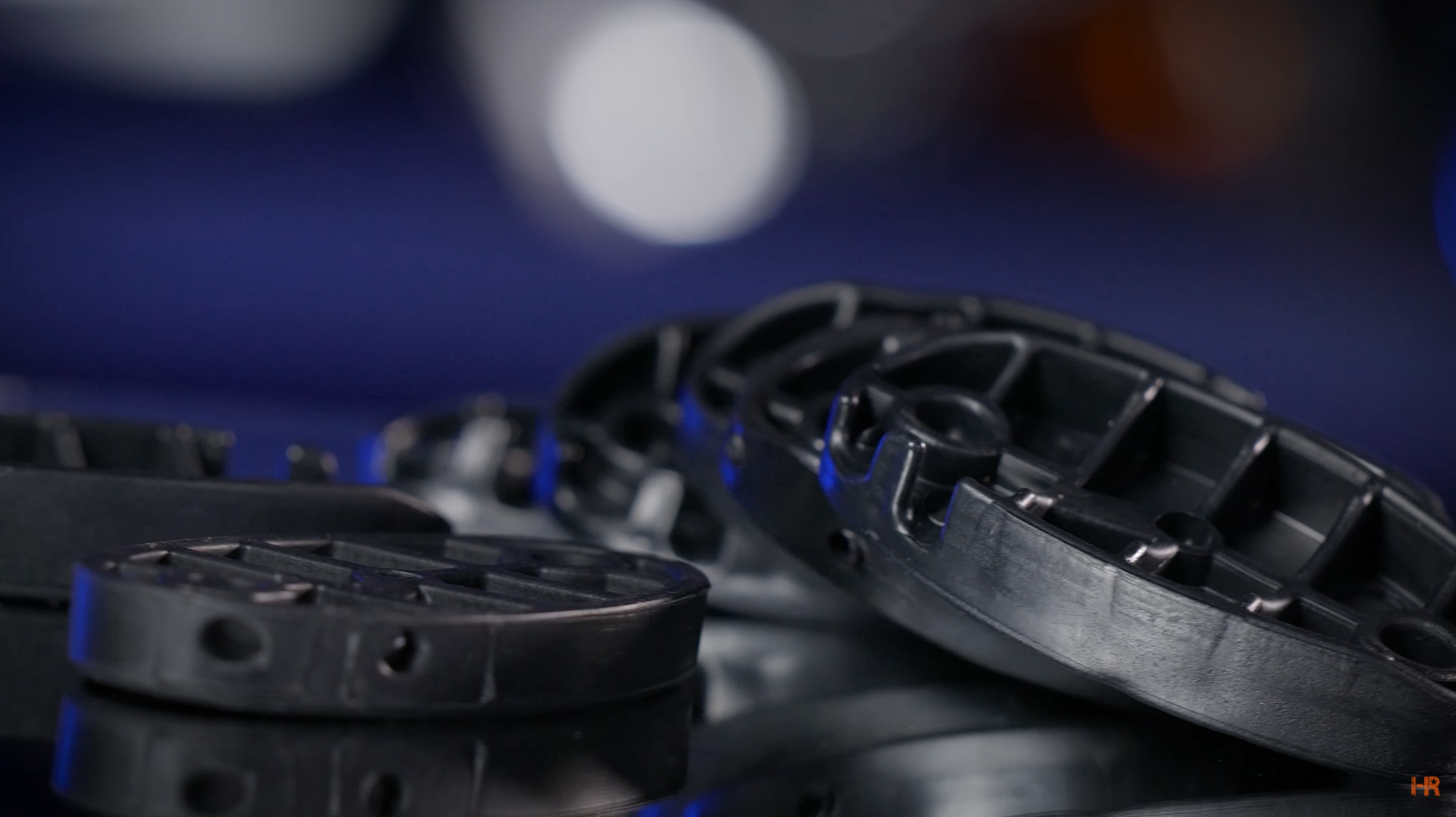 If there was a presentation category for this test, the bag-o-nuts and bolts that come with this set would certainly fail. Practically speaking? There are a ton of long, stainless metal self-tapping screws and a number of bolts and nuts that can be used for seemingly any application.
The wiring is pretty bare-bones with exposed red and black connections and some wiring that goes to the battery with a fuse and connection. There is also an extension wire that might go to a switch and a long black wire that goes from your battery to ground.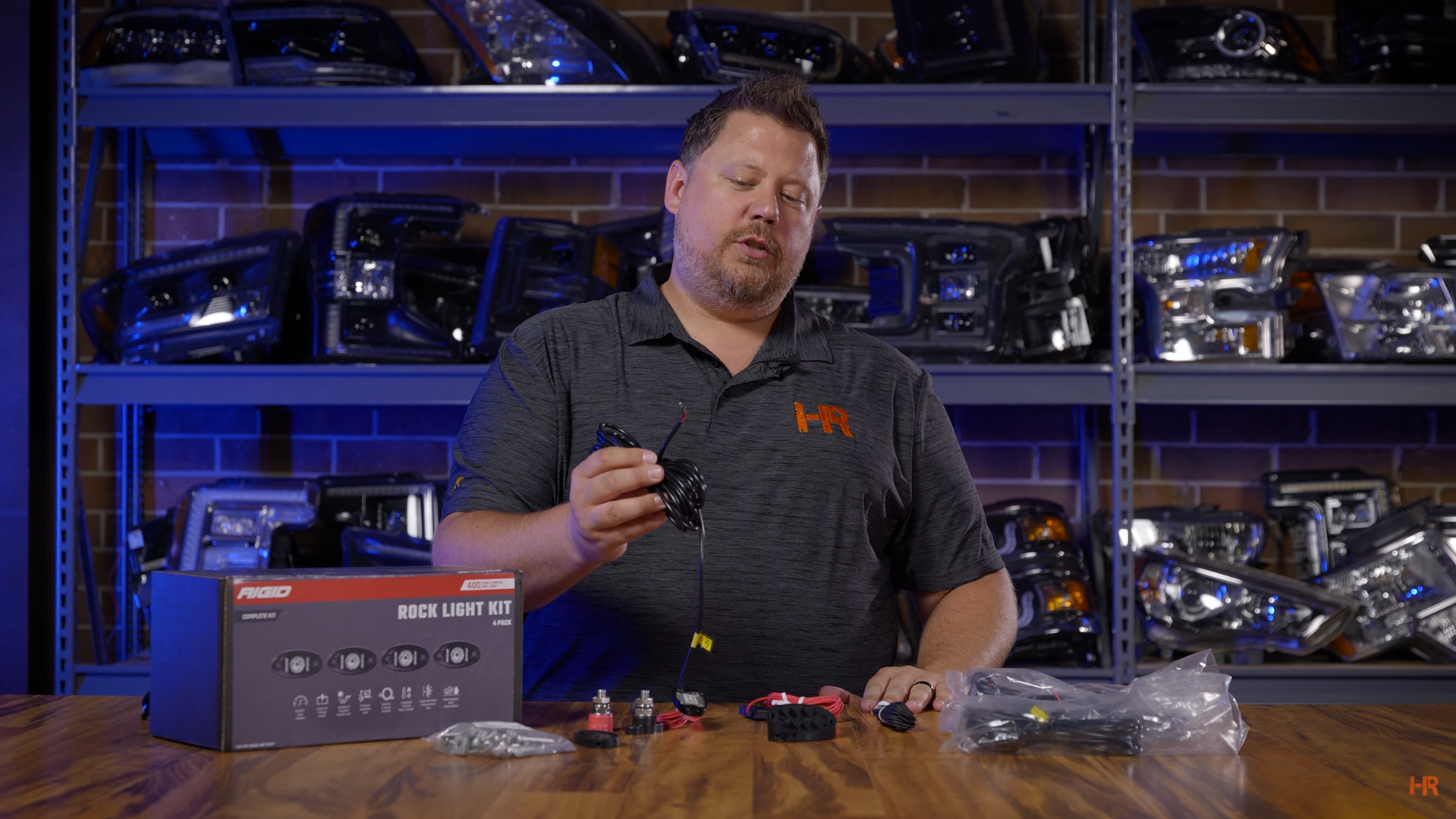 We assume it is supposed to work by using the battery terminal distribution blocks that you run a cable to the corresponding positive and negative wires. You then terminate all four corners of your vehicle to the two blocks.
To utilize the set, the control system is just a single red-illuminated rocker switch. While simple in its presentation, this switch is very DIY and we recommend finding a professional to install if you are not familiar with electrical wiring.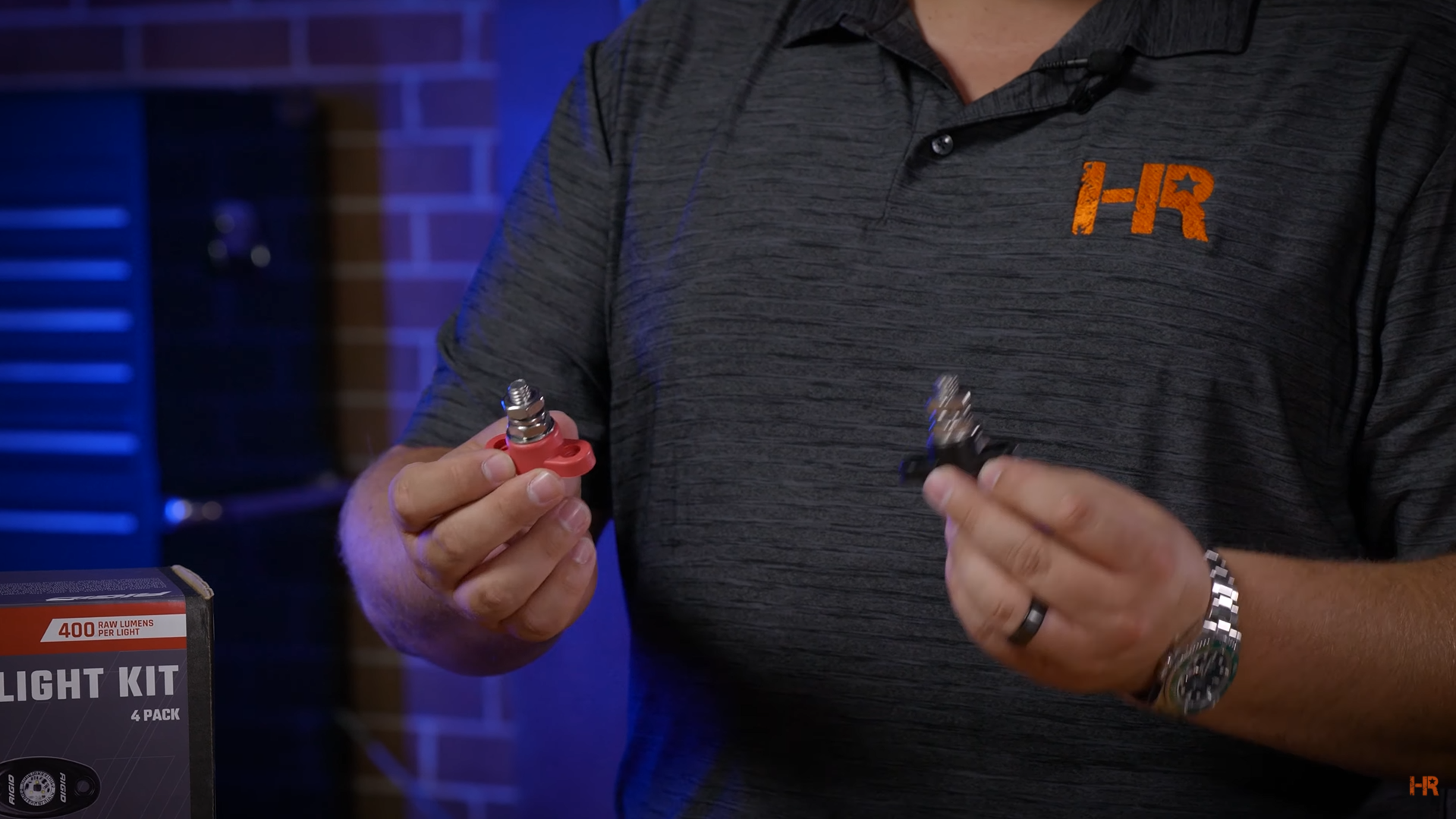 As for the performance of the light, the color is excellent due to the true red LED light that you cannot find on any other LED light out there. It comes in white, red, blue, yellow, or green. The brightness is equally as powerful and at least one of these would completely fill your wheel well.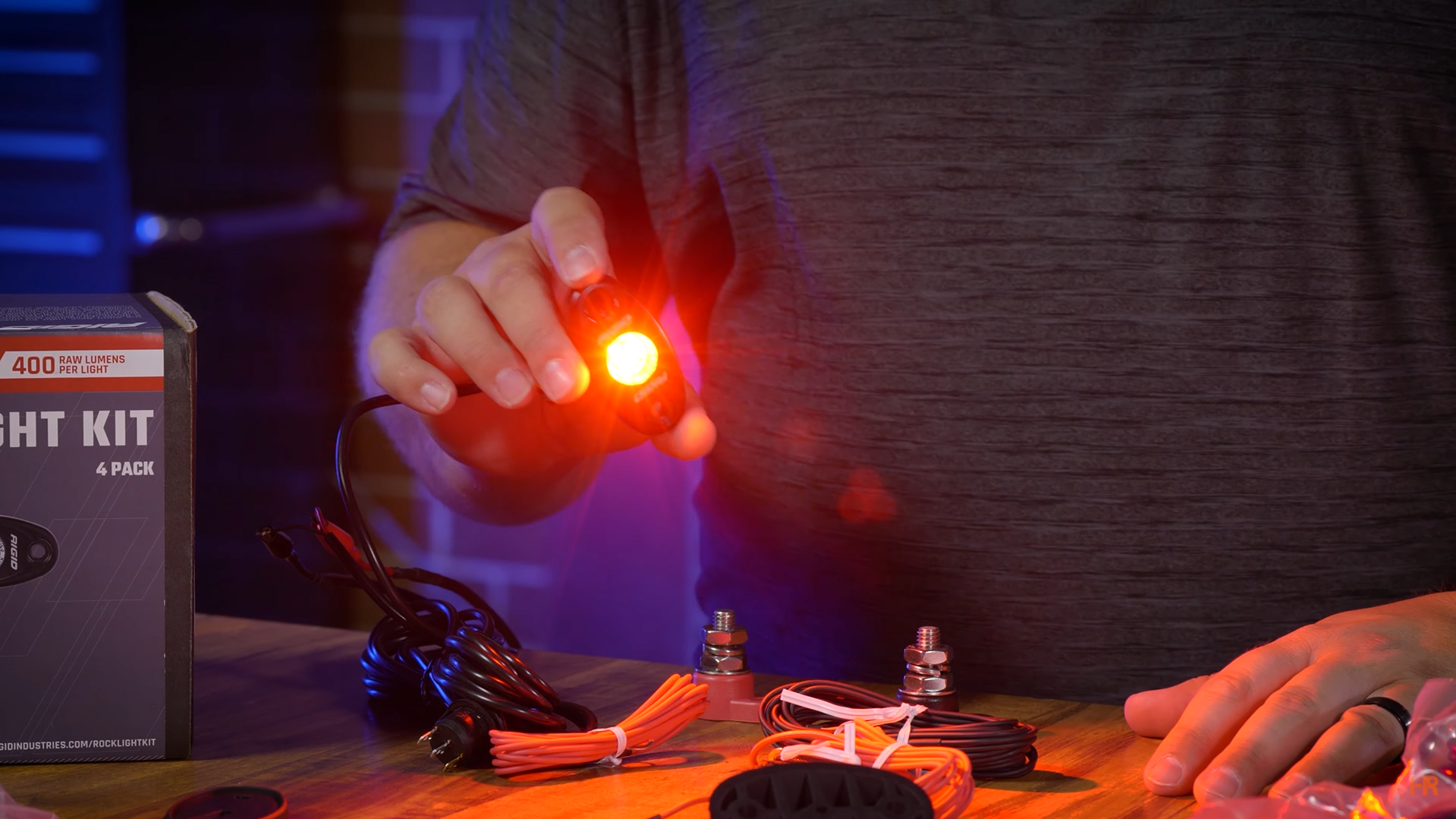 While the wiring requires a little DIY action, these RIGID Industries LED Rock Lights are a decent option for your rock light application. You can find a set here!
---
OPT 7 Aura Quantum Rock Lights
If we were judging lights on product packaging alone, the Opt 7 would win on that alone. The excellent presentation is unfortunately not enough to take this set to the winner's circle.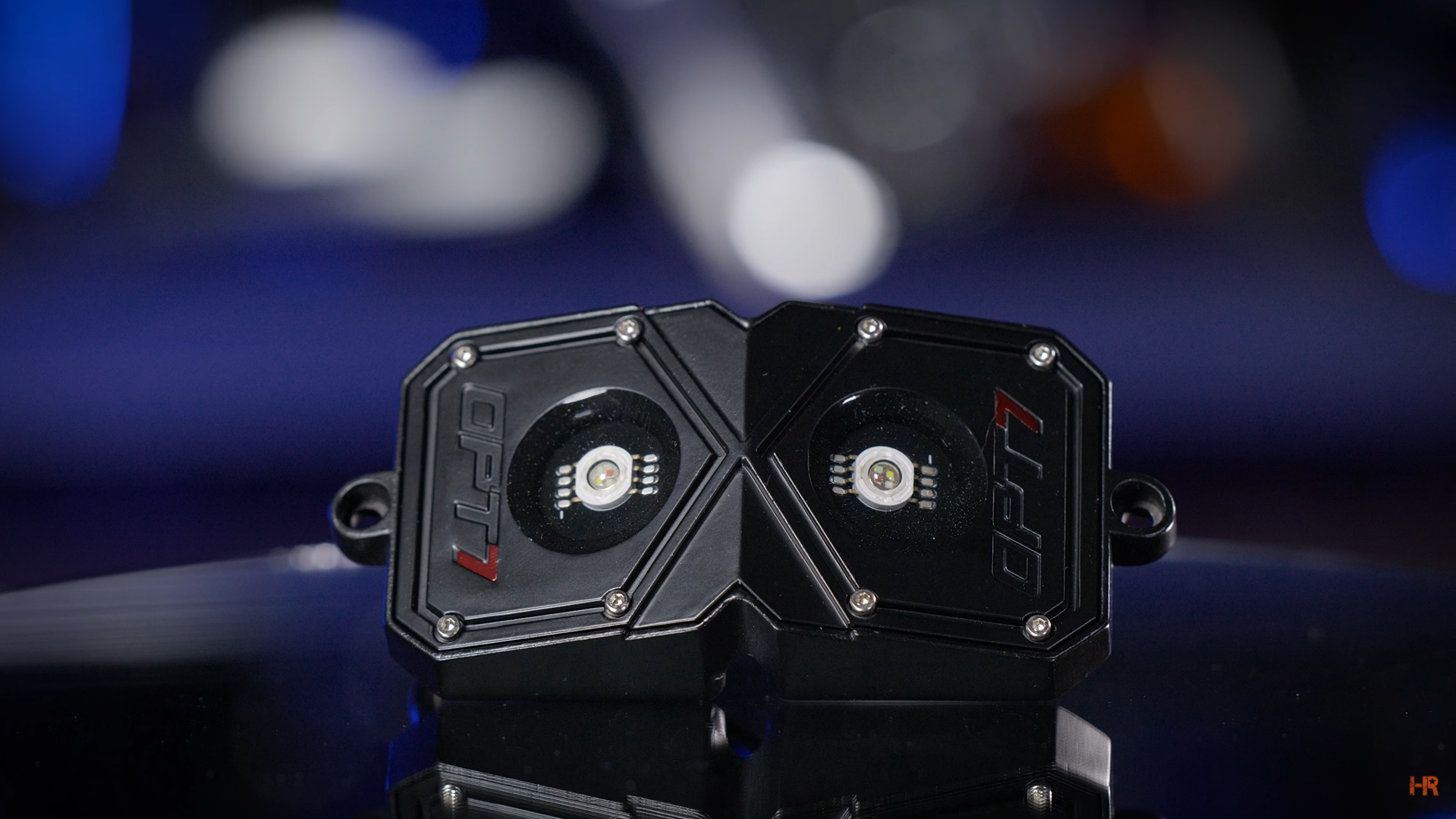 These Opt 7 lights have a lot going on with their waterproof connectors and super long extension harnesses to reach each corner of your vehicle. When it comes time to plug it into your vehicle, it gets a little confusing.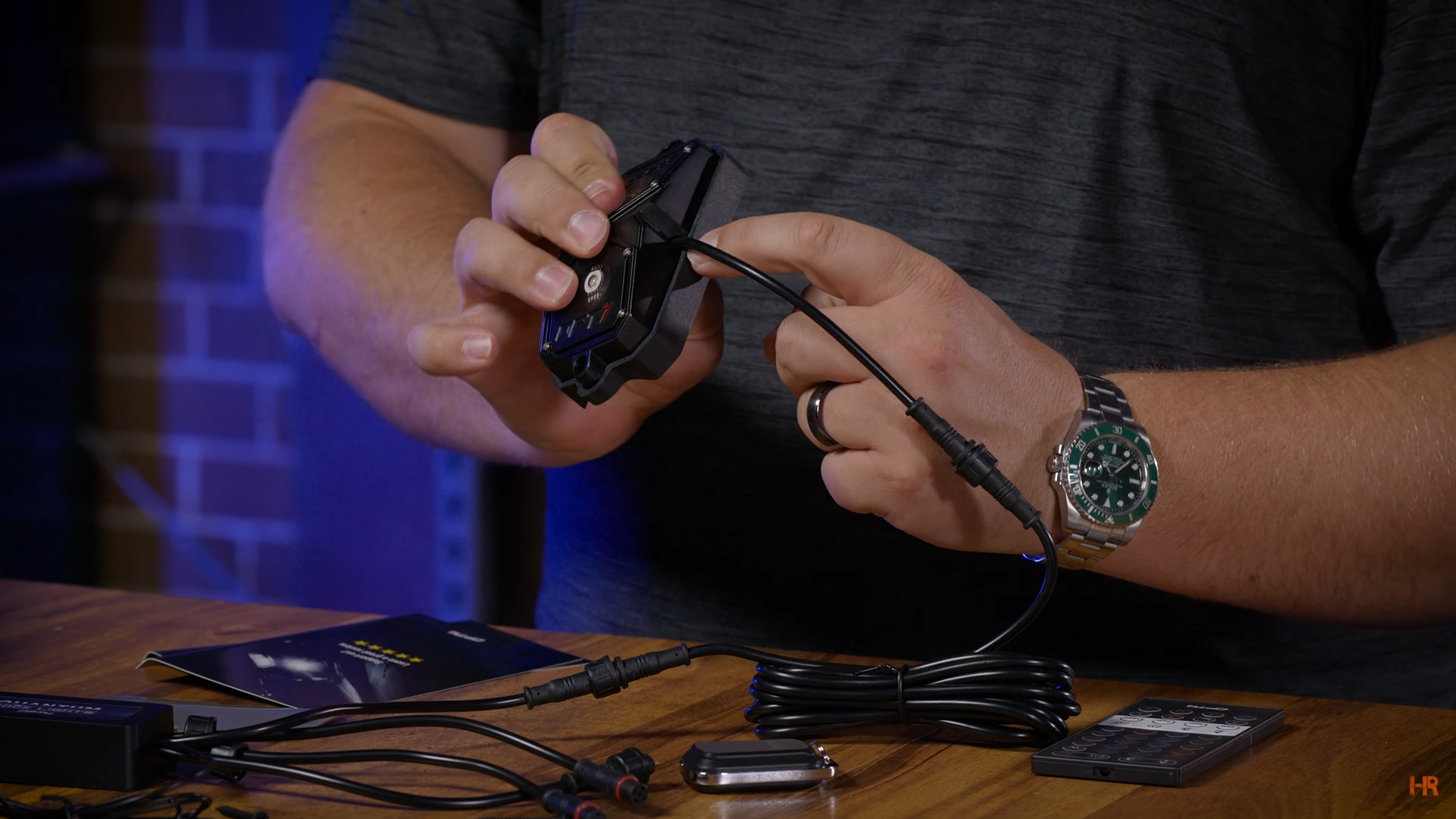 There is the world's smallest ground wire that connects into another super tiny wire set. Once that is done, it then plugs into what appears to be a cable from a laptop charger which then goes to your battery. While not super waterproof, it does have a solid idea that reminds us of Profile Performance.
They also send you some fuse tap kits if you want to avoid wiring the kit. So you can find an ignition or battery fuse and pop it in there. All that is left is to figure out the ground, pretty easy.
The construction itself is honestly pretty cool looking. It has two mounting tabs on the sides and while they look strong, the screws that come with it do not appear to be so. We recommend using screws of better quality. Opt 7 also comes with a rubber spacer for mounting on a roll cage.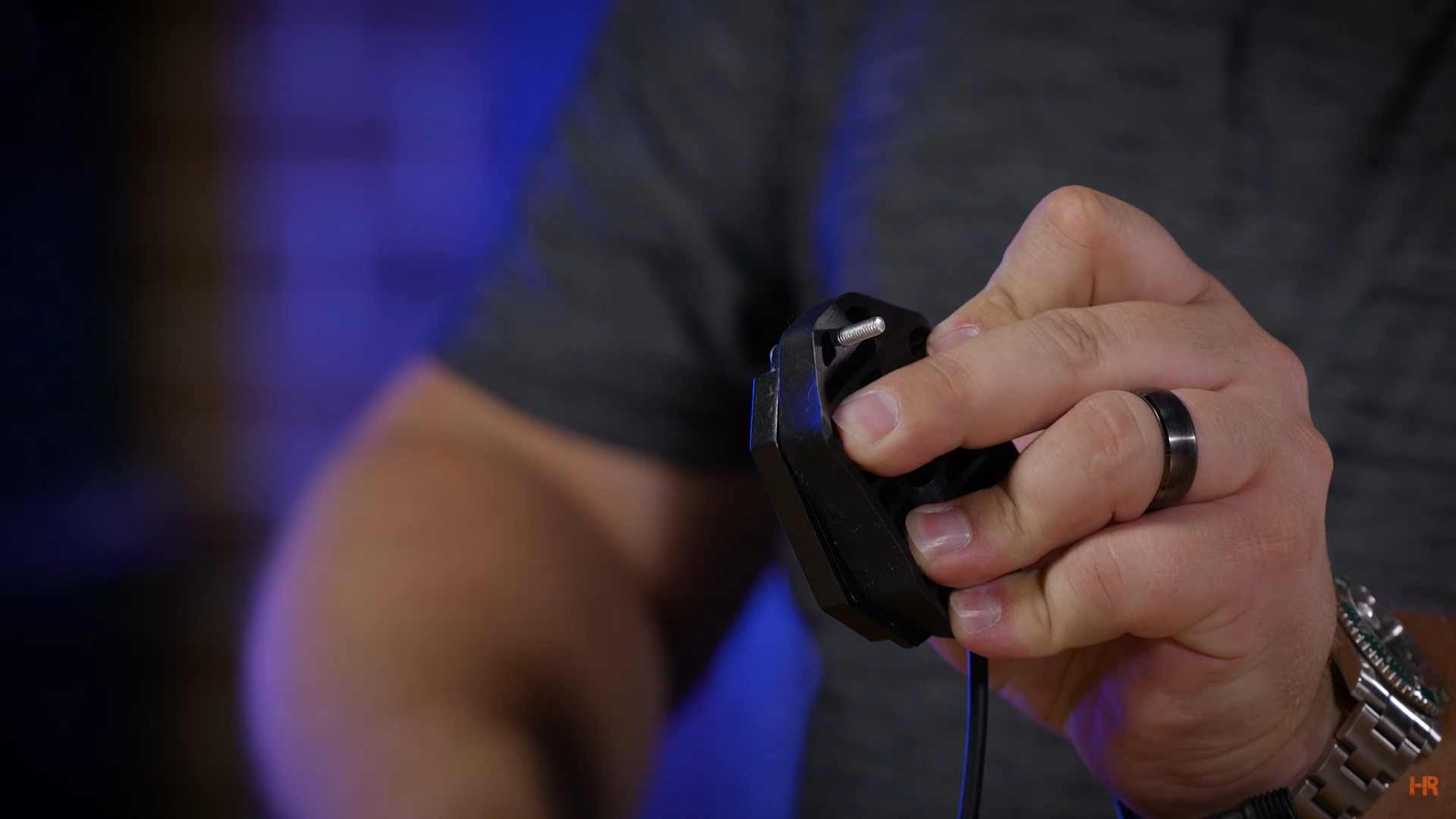 To control the set, it has a key chain remote control fob and TV-remote style to manipulate the color of your lights. However, the brightness buttons on the remote do not appear to work.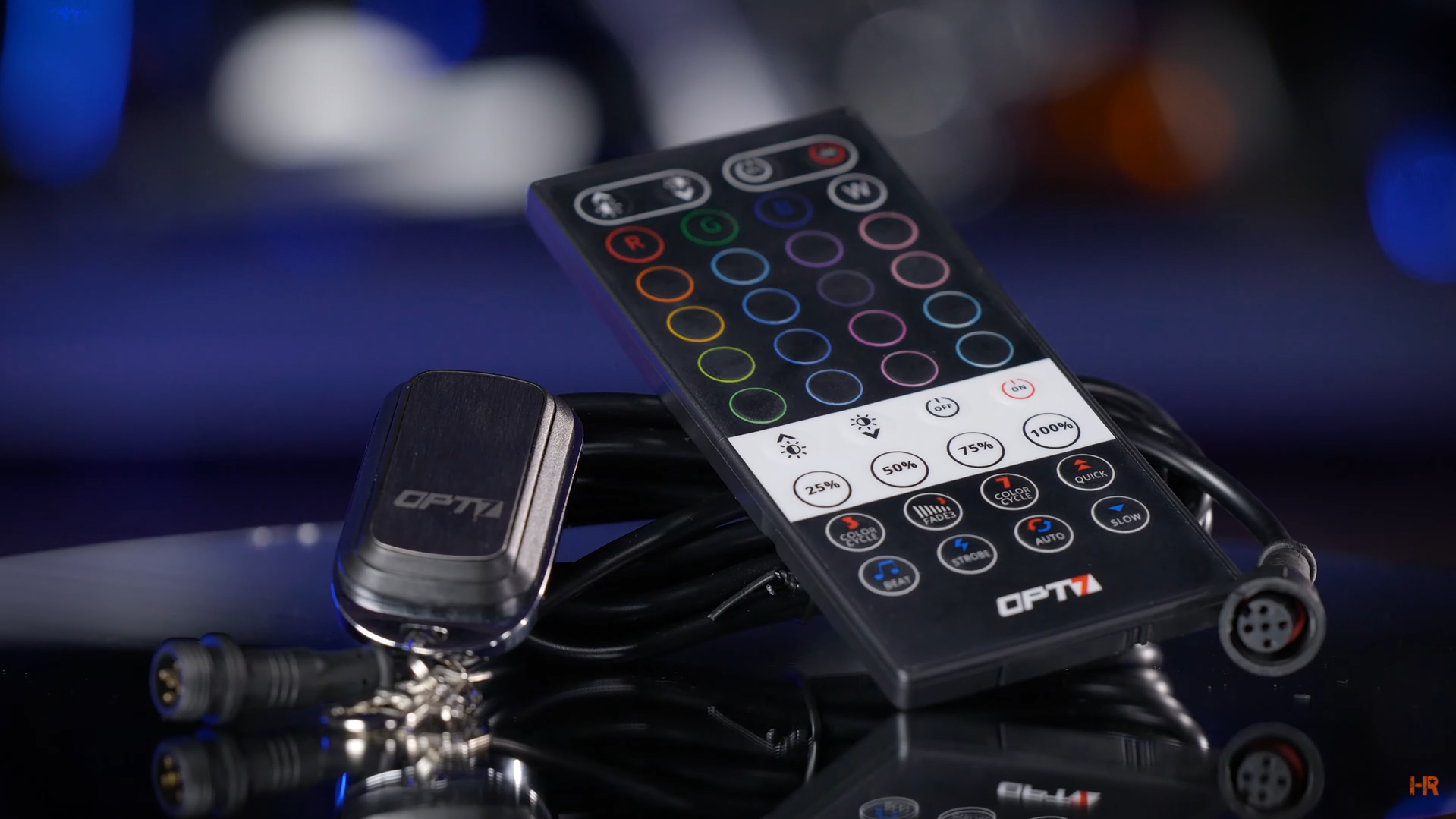 Overall, the lights are really cool looking, have decent wiring, and offer unique control options. However, the unit size is a little bigger than we would want and the brightness is not all that great.

With the OPT 7 Aura Quantum Rock Lights, you get a pretty package but not a pretty result. We do not recommend hooking these up to your car.
---
Vision X has a great history as they were the first to introduce LED light bars to the off-road market. The pods themselves have a very industry-standard footprint with reinforced, side-mounting posts.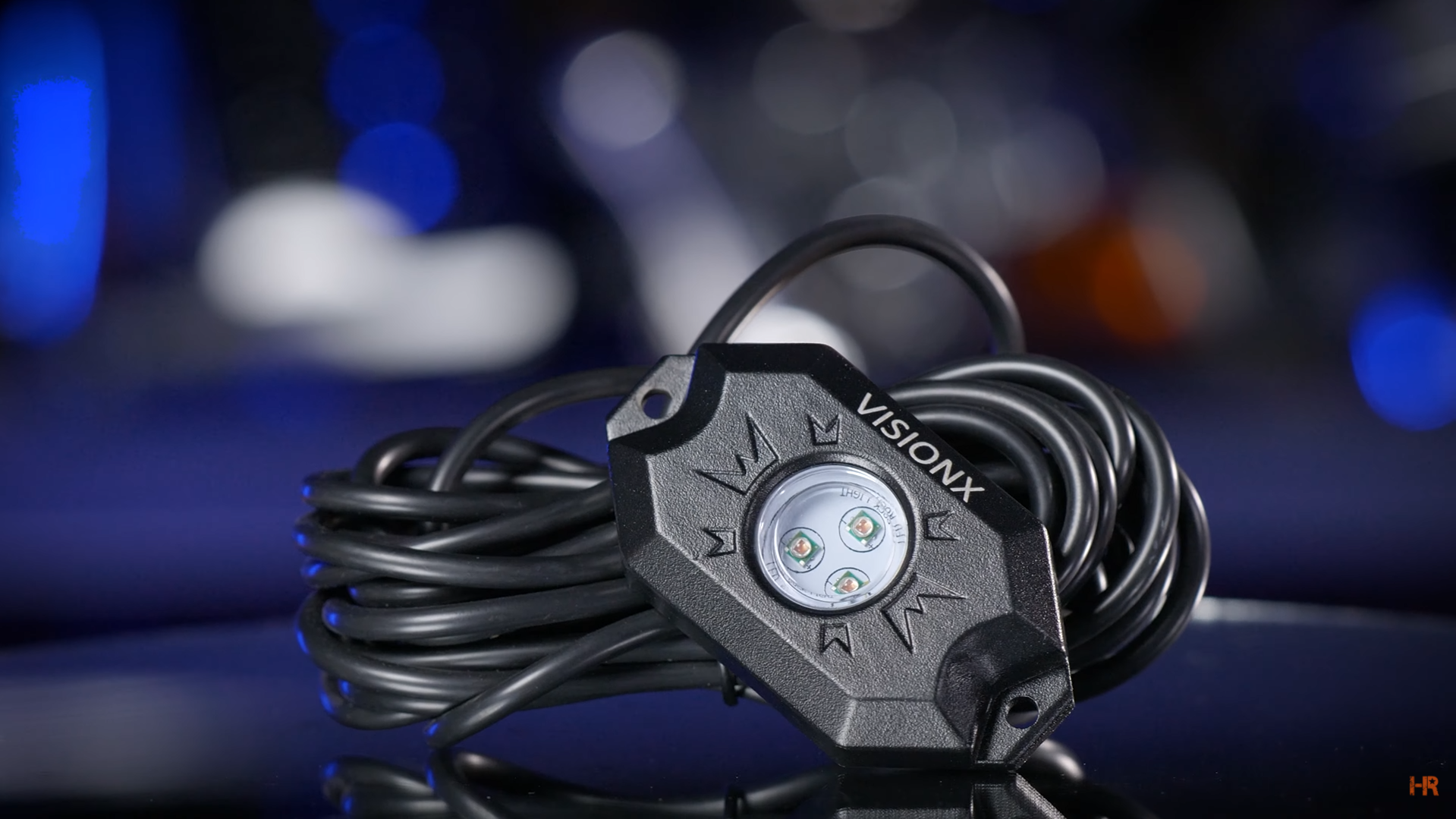 The mounting kit comes with a bunch of different spacers and bolts to cater to your installation needs. Some of them are a little too small for some applications. It is clear Vision X spends a lot of time around ATVs as there is a pole mount for that application. There is also a spacer if you need that as well.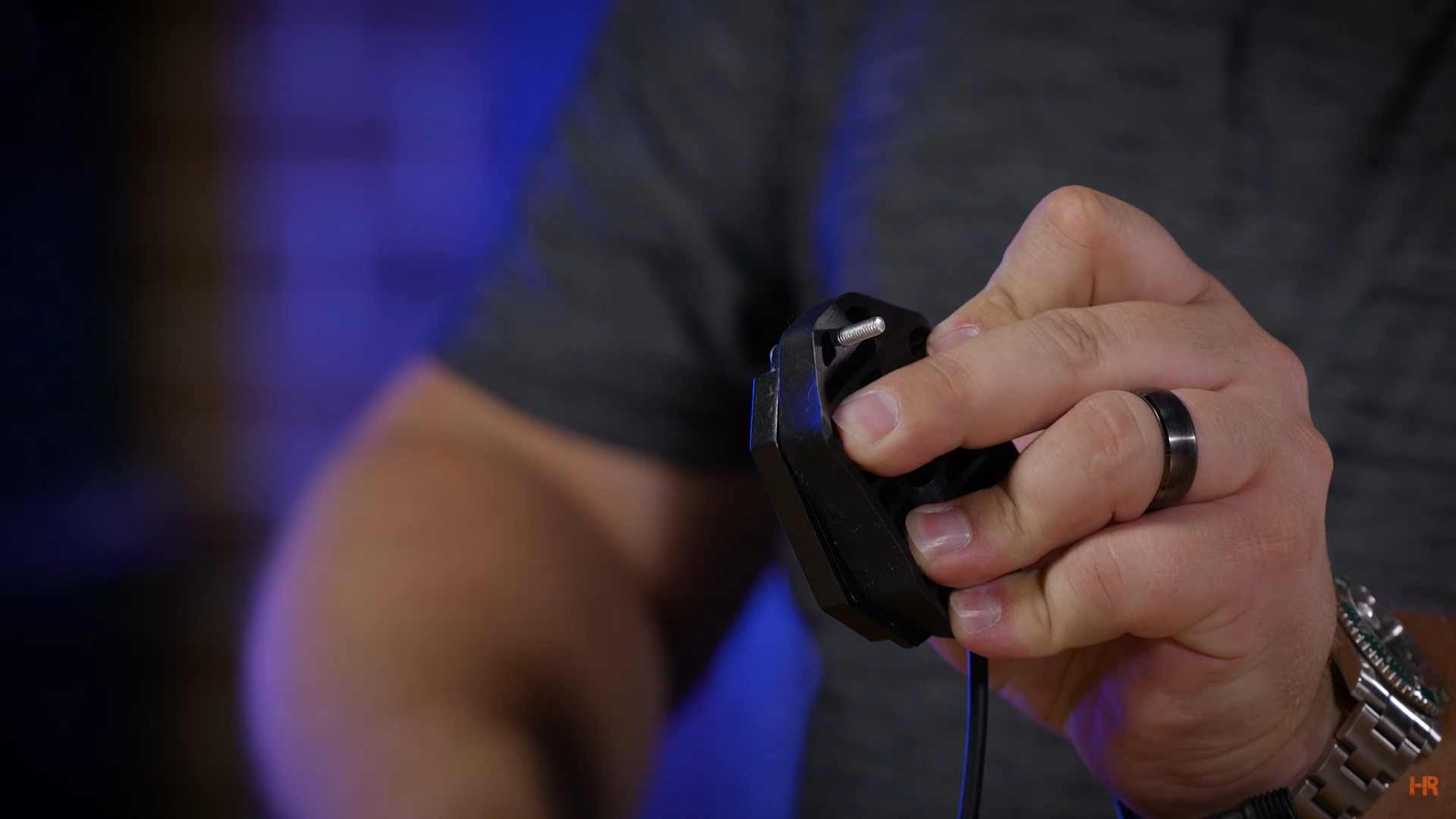 The wiring system is pretty impressive for a single-color light. It has waterproof connectors, a long harness, a relay, and battery connections. Vision X's wiring system is very nicely done and there is plenty of wire to reach each corner of your car.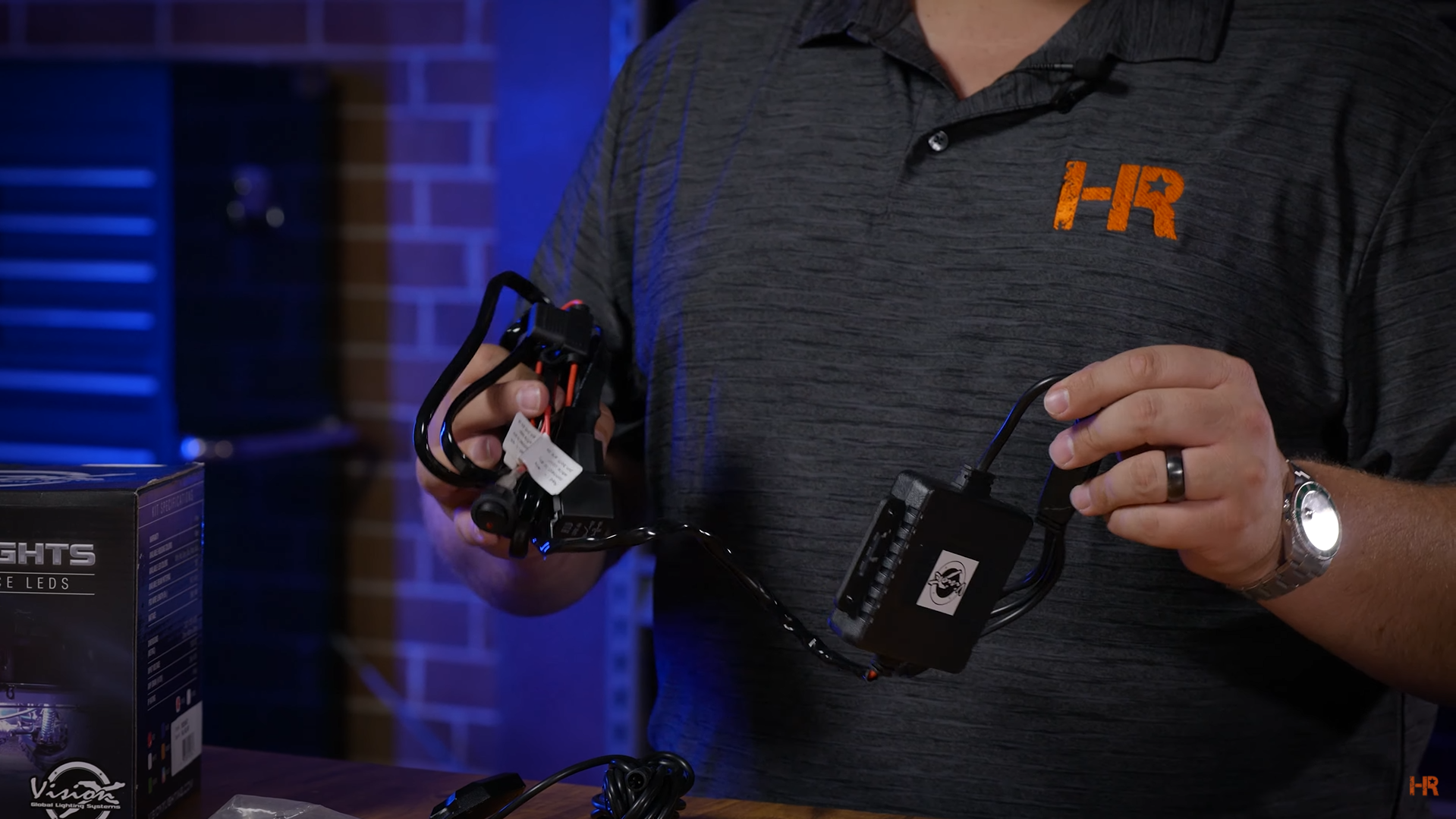 Vision X's controller for these rock lights is very well thought out. It connects to a splitter that is built into a distribution box. That distribution block uses a relay harness that connects to your battery's positive and negative terminals. It also comes with a built-in switch to make controlling your lights easier.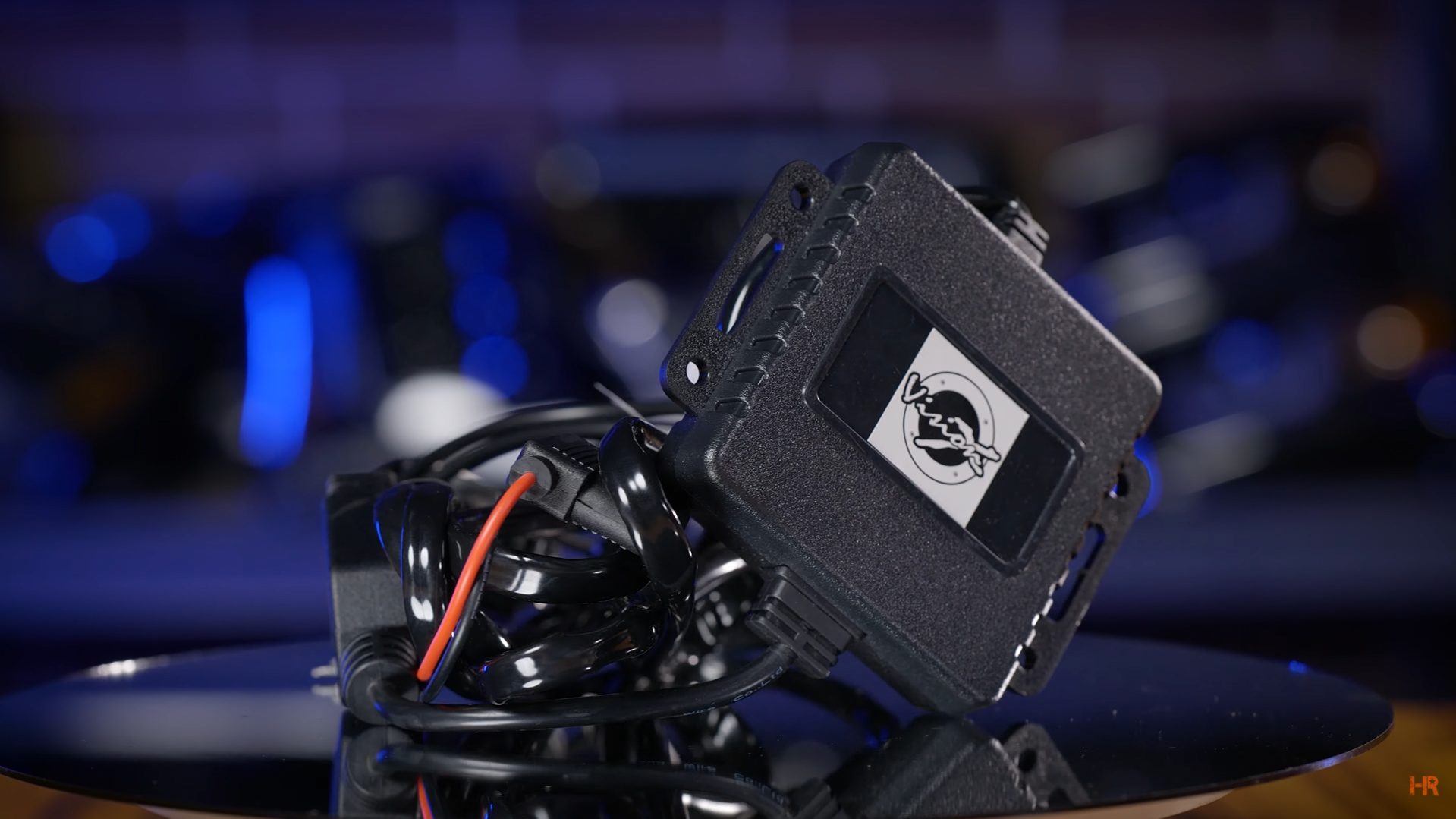 When it comes to performance, the LEDs are very high-quality cree units that are commonly found in accessory lights. These uniquely filtered, automotive-grade light produces a sharp color. As expected, these are an extremely bright LED rock light option. Having two of these in your wheel well would be more than enough.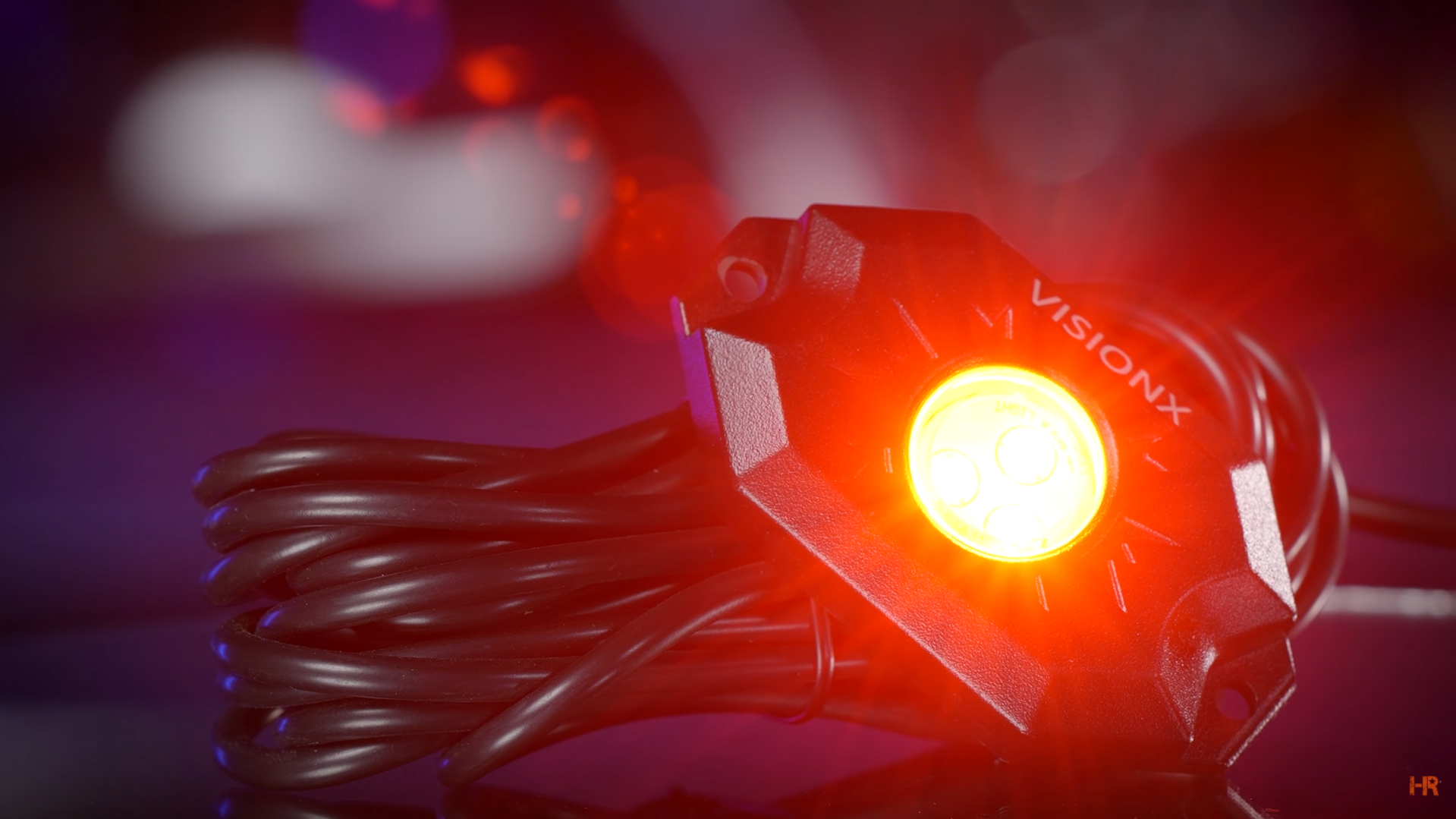 While not the most ergonomic design, the Vision XXP Rock Lights definitely carry their weight in respect to performance capabilities. We recommend picking up your own set, which you can find here.
---
The Finalists
To wrap up our test, we put together the three best. No matter what is important to you, this is where it is at. Putting the best of the bunch together will help us choose which one stands out as the best in quality, brightness, wiring, mounting, and control.
So far, we have the Profile Performance Pixel Rock Lights, the Vision X XP Rock Lights, and the Rigid Industries Rock Light Kit.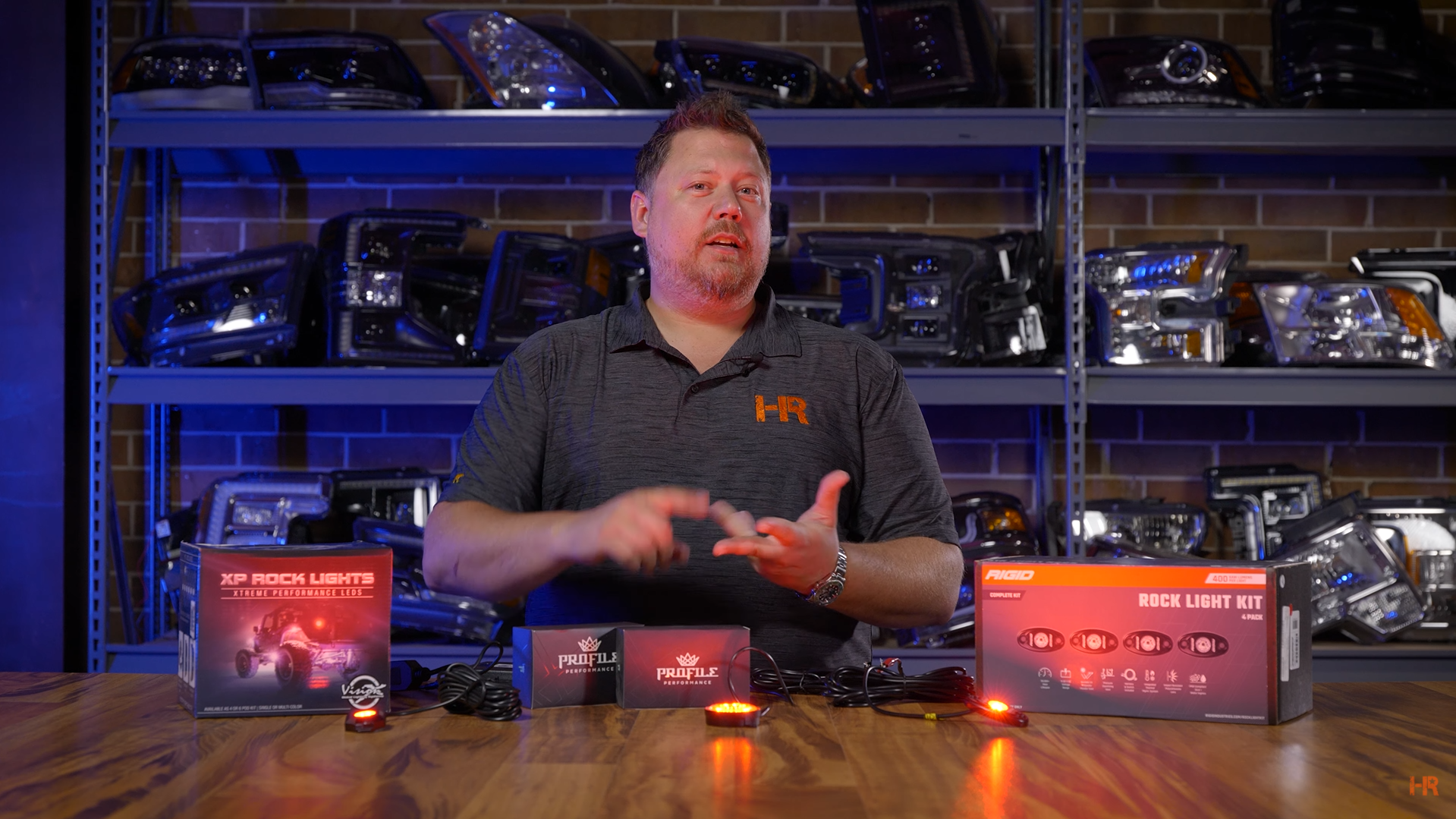 Just by looking at the Profile Performance kit, the brightness does not stand up against the other two. We really like the mounting system and that Bluetooth controller. While not the brightest option out there, the other components more than make up for the brightness. Despite that, two of these in your wheel well would be more than enough light.
If you are looking for the absolutely brightest possible light, look no further than the Vision X and Rigid Industries Rock Lights. Their wiring is not the best, but the brightness is off the charts for both. The main difference between the two comes down to their light spread. Vision X has a wider beam than the Rigid Industries set. However, the difference is negligible.
Made your decision? Check out the links below to pick up a set for your build!
RIGID Industries Rock Light Kit
Profile Performance Pixel Rock Lights
---
If you are looking for some other accessories or LED off-road lights to decorate your vehicle, check out our website HeadlightRevolution.com to check out our universal options. You can also put in the Year/Make/Model of your car, and see what options are available to you.
If you are more of a visual learner, be sure to check out our video on these new headlights. While you are there, make sure to like and subscribe to our channel for the latest lighting upgrades for your vehicle.
Have any questions about one of the products we mentioned? Contact us today, and our customer service team would be happy to help.