The first Upgrade You Should Do on Every Car...
This article is written by guest writer @gun.rnr on Instagram.
So, you have just picked up your new set of wheels. Before you have even signed the papers, or even found the car you are looking for, you know where the next $5,000 worth of mods are going. A set of coil-overs, fancy wheels, a bumping stereo, straight pipe exhausts, a fat turbo, you name it. But have you thought about the basics?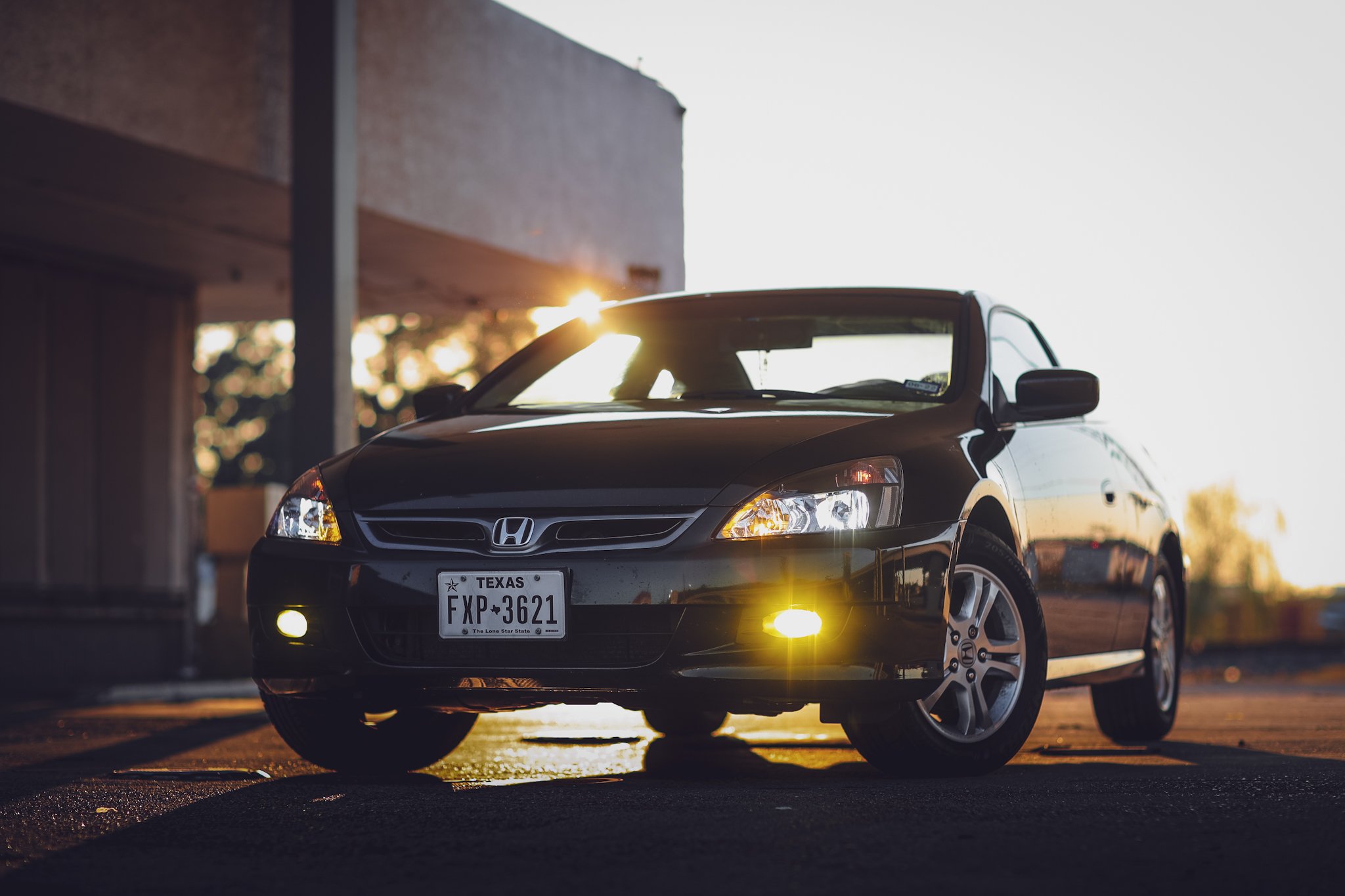 Often, we plan out all the glamorous mods and leave little budget to the everyday "utility mods." These "utility mods" are modifications that offer significant improvements to your factory equipment that make driving the car more enjoyable. A utility mod enthusiasts tend to overlook, are their headlights.
Despite modifying my last ride extensively (including a bunch of stuff I did not need), I always found it important to upgrade the "utility mods" first. They are often mundane and not very glamorous, but really improve the driving experience. When I got my 4Runner, the first thing I looked to upgrade was my headlight bulbs. Even though the 4Runner is long gone, I still carry over the same mentality on my other vehicles.
Even on my very beat and beige 2007 Honda Accord that sat vacant in someone's driveway for nearly 3 years, I set out to improve the factory lighting situation. The car was severely lacking in this department and despite my limited budget for the car, it was important to get a good set of quality bulbs installed to help with visibility and safety. Not to mention give the car a subtle bit of flair to update the looks of this 14-year-old beater.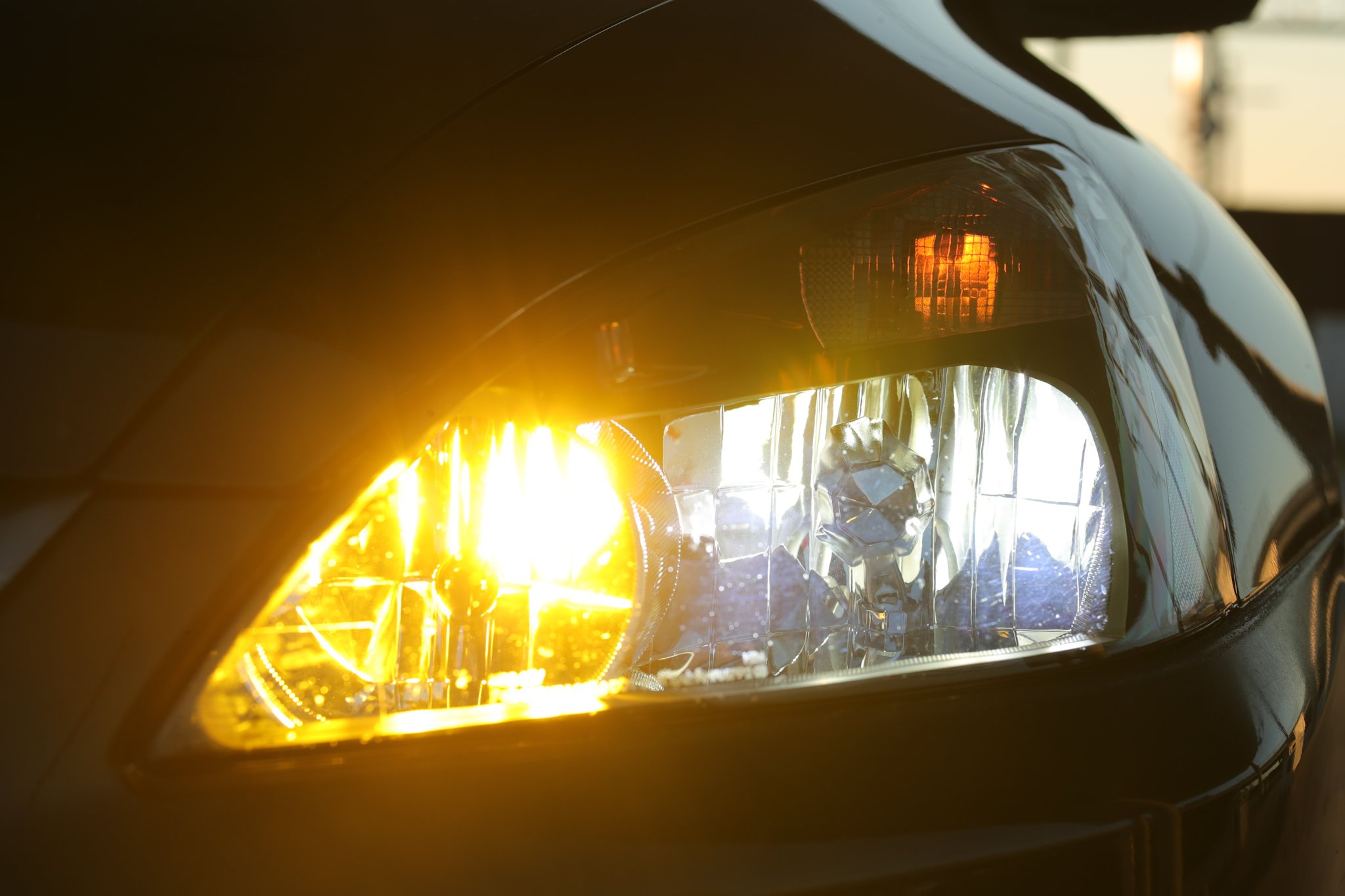 My go-to for lighting upgrades is always Headlight Revolution. I typically am looking for a good set of low and high beam bulbs, as well as an upgrade for the fog lights if applicable. This pretty much solves all your forward-lighting components and will not break the bank.
I snagged a set of the S-V.4 LED bulbs for my low beams and fog lights (In amber) and a set of Morimoto 2Stroke 3.0s for my Highs (also in amber) and an anti-flicker Daytime Running Light (DRL) Module by GTR Lighting. Why the different products? The 2007 Accord DRL's run voltages too low for the S-V.4.
Initial unboxing of the lights revealed some super high-quality units. You will not find any plastic or cheap materials when you pop these guys out. Both the S-V.4 and Morimoto's are built from high-quality materials that are easily detected by touch.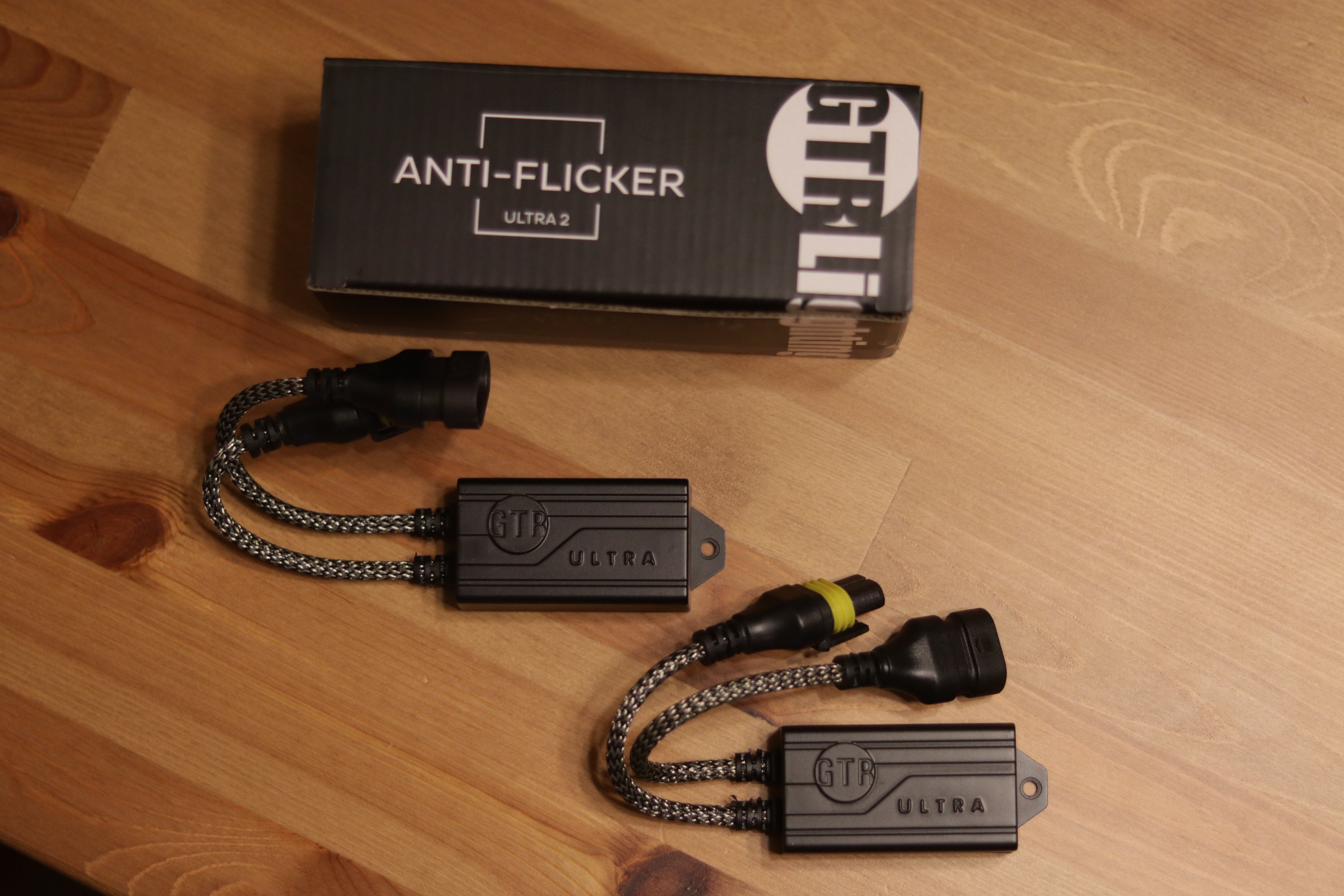 The S-V.4's use 6063 Aluminum that is supposed to help with corrosion and heat dissipation. On top of that, they have actual fans built into each bulb to cool the bulb. FANS! Even with the fans built into the bulbs, the increase in bulb footprint was not super noticeable. To be completely honest, I was super impressed with the fans. I'm used to seeing heat syncs or bladed/petal designs to help with heat management, but the fans are on another level.
These S-V.4's are reported to have an output of 3600lm per bulb at a cool 6000K which looks like a crisp white with a slight blue tint. The amber fog lights give off a clean yellow color as opposed to the more orange "amber" that you see on many off-road/auxiliary lights.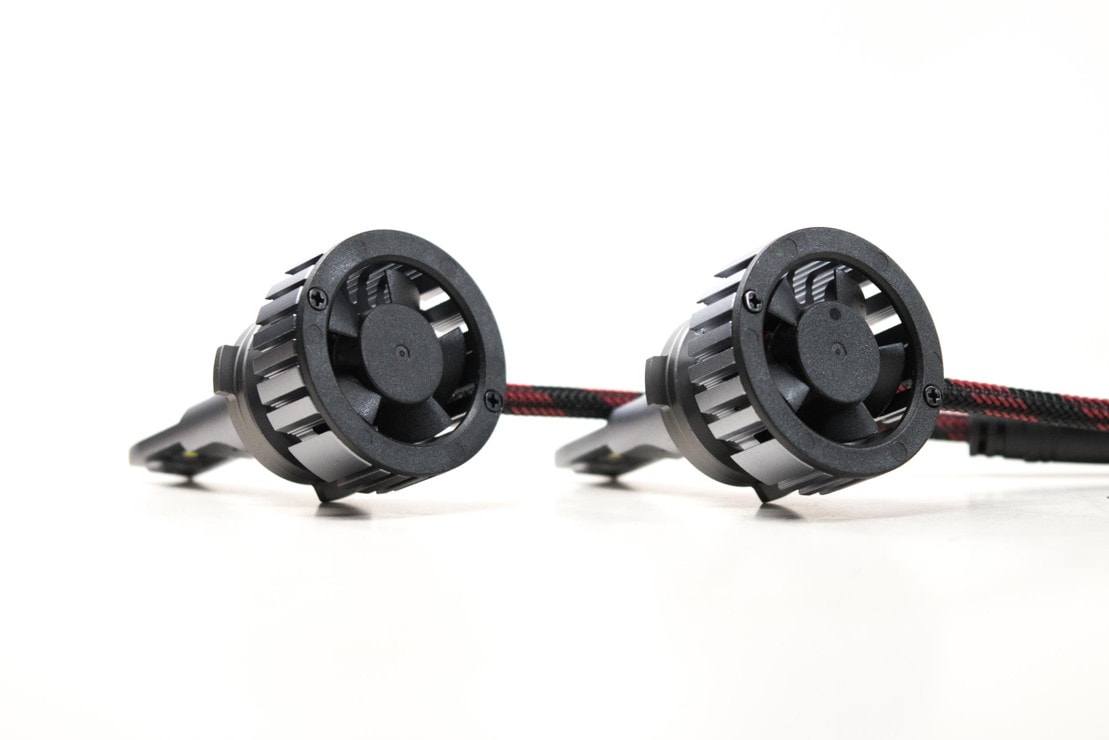 As for the Morimoto's, they are also constructed with quality. They also feature a cooling fan like the S-V.4, but this one is actually built into the bulb and completely sealed. Output in these guys is a little lower than the S-V.4's at 2600lm, but it was a necessary trade-off given how the Accord lights are set up.
As an added measure, the Morimoto's are thoughtfully designed to give them a nice appearance in addition to their output, which is a nice touch.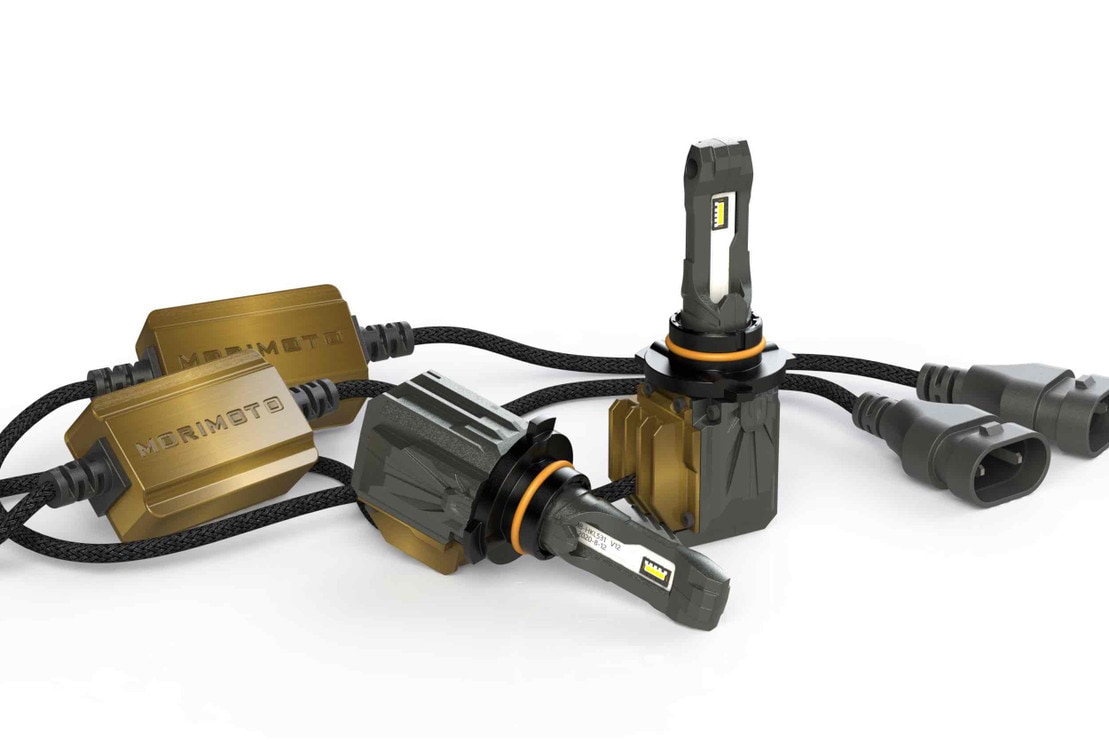 Install on an Accord is a little more involved than on the 4Runner. If you do care about your knuckles, the easier way to swap out the factory bulbs is to remove the front bumper and the headlight housings to access the rear of them. Annoying? Yes. Difficult? Not particularly. Hopefully, the car you choose to mod is a little more forgiving.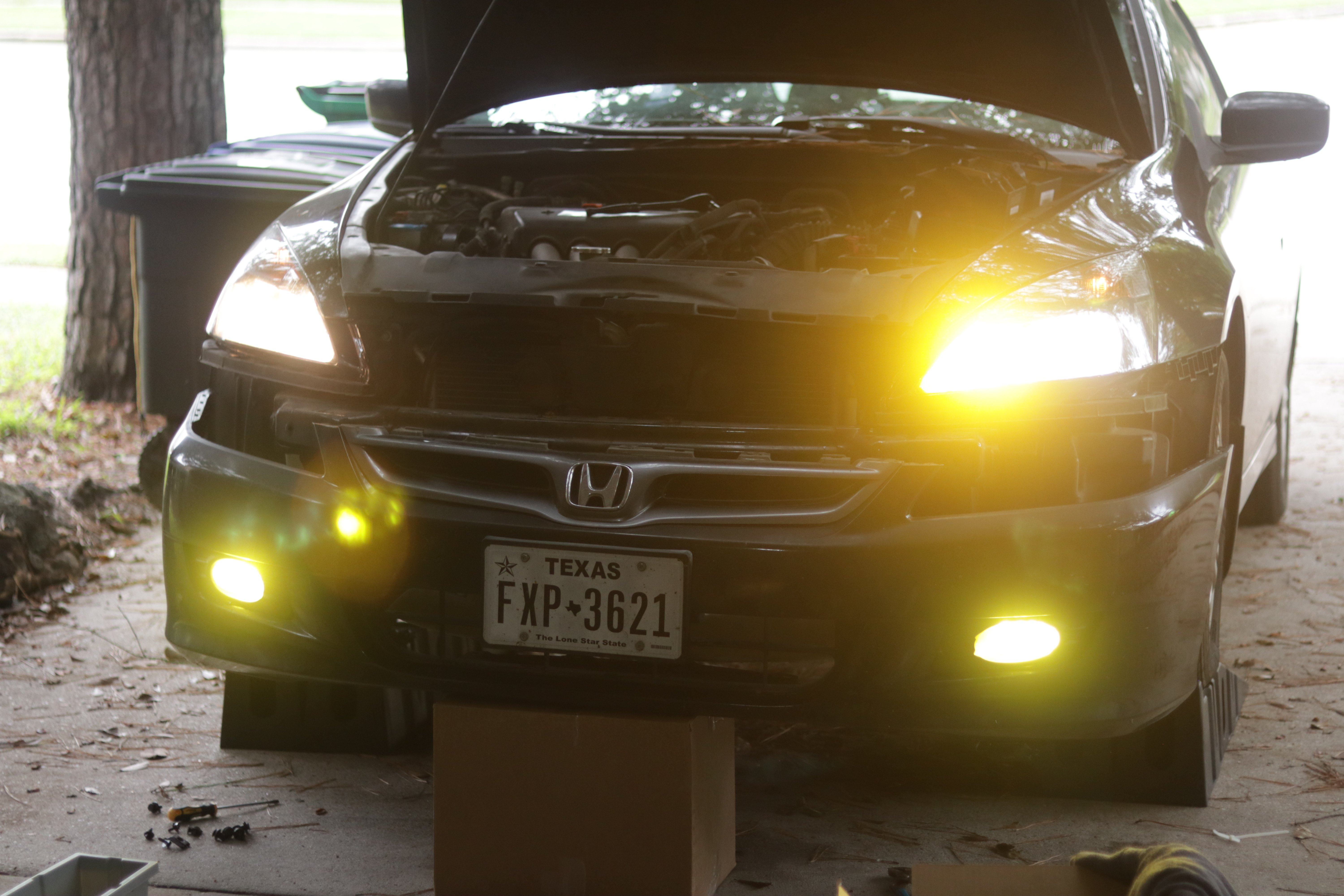 Nevertheless, once you have gained access to your old bulbs, it is super easy to switch out the old for the new. Install is 100% plug-and-play with S-V.4 and Morimoto's bulbs. Once you have them in the socket, you will have to secure the LED modules with some Velcro or cable ties. I elected for the latter.
Once installed, you'll immediately notice a huge improvement in forward projecting lighting. The S-V4's offer a crisp, high-intensity beam that helps to light the dark roads ahead. Intensity improvement is hard to describe in words (and a bit subjective) so I left some before and after photos below.
| | |
| --- | --- |
| Before Low Beam | After Low Beam |
| | |
| | |
| --- | --- |
| Low Beam and Fog Lights | High Beam and Fog Lights |
| | |
The 6000K low beams are supplemented well by the yellow/amber S-V.4 fogs that illuminate your periphery and blind spots immediately in front of your vehicle. I prefer mixing amber and white light to help with different lighting situations. Amber lights tend to help cut through particulates in the air (dust, fog, rain, snow). White light will refract off the particles and shoot back into your face. By running both colors, you have the crisp high-intensity white light for optimal visibility in clear conditions and a nice rich amber color to fill in the gaps.
The 2-Stroke amber high beams are noticeably more "orange" than yellow. It honestly took me a few days to get used to, but I don't mind it much now. It's kind of cool having three separate colors of light to illuminate the road.
Unfortunately, my car was only equipped with reflector-style headlight housings, so the beam patterns on all the light bulbs were not 100 percent ideal. I can only imagine how much better these guys can be on more modern projector-style housings.
Overall, I'm pleased with the upgrades, and I'll continue the approach of upgrading headlight bulbs on all new builds that I do. It is such a simple mod for such a huge benefit that you'll gain from every single day.
DISCLAIMER: In the United States, lamps, reflective devices, and associated equipment are regulated by the US Department of Transportation (DOT). Even though these types of LED lights can be used in place of an original halogen light bulb, it is not legal to use on vehicles registered for on-street use. This type of modification can only be done when used in a fog lamp application, dedicated off-road application, or in jurisdiction outside the USA where this is allowed. For more information on how to determine if this type of product is safe to use, and legal to use on public roadways in the USA, Click Here for a more detailed breakdown of compliance.